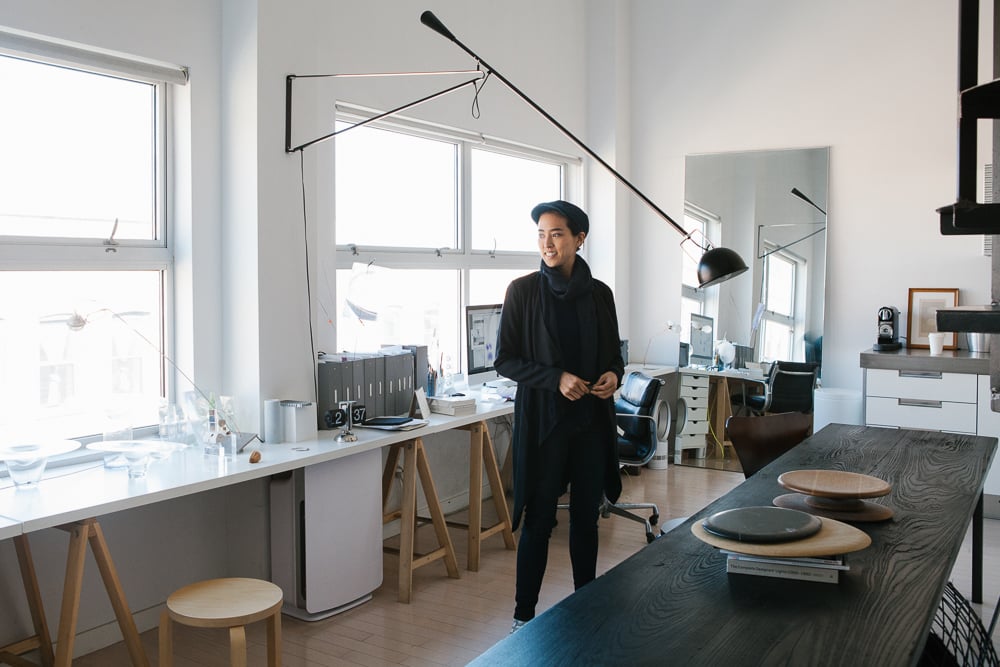 February 27, 2017
Spotlight: Five Asian American Women in Design
While women of color continue to face challenges in the design professions, these five designers are scaling new heights—and should be on your radar.
Designer Nao Tamura in her Brooklyn studio, with prototypes for installations and products for Lexus and Wonderglass.
Courtesy Laurel Golio
---
Last week, the editors at Curbed put together an extremely timely investigation into the intersection of architecture and race—one that reminds us of the historic contributions of architects of color and the challenges current practitioners face. Women of color, in particular, face disheartening hurdles, as architect Roberta Washington explains. "Sometimes, I get calls or emails from young black women who are in the field or trying to get into the field, and who are so discouraged…They want to hear from me because they think that since I've gone through it, I have something to say," she says. "I try to be supportive, but I don't think that their chances are necessarily better."
This is not to say that there aren't signs of hope, as we have reported at Metropolis. Last year we spoke to Cara Michell and Courtney D. Sharpe, two young women who spearheaded the Black in Design conference at Harvard GSD. Their school made it into our recent list of "Diversity Champions", which recognizes educational institutions that are working to correct the profession's racial imbalance. And in recent years we have seen a number of women of color scale new heights in the professions of interior and product design—including these five Asian American designers who should most certainly be on our readers' radars:
This cross-disciplinary designer won the prestigious Salone Satellite Award in 2010, and has since worked with companies like Artek, Nanimarquina, and Wonderglass. She was featured on the cover of our May 2016 issue.
​
Tamura's Momento chandelier, shown at Chamber Gallery during NYCXDESIGN 2015
Courtesy Nao Tamura
​
Syrette Lew, Moving Mountains
Brooklyn
Lew, who was profiled in our November 2014 issue, was born and raised in Hawaii. Her finely crafted, whimsical designs are generally made to order, but are also available through New York-based retailer Colony.

In Lew's Confetti Credenza, maple drawers with marquetry in dyed anigre wood are framed in ebonized ash and sit on a base of blackened steel.
Courtesy Hannah Whitaker
Mimi Jung, Early Work
Los Angeles
Along with partner Brian Hurewitz, Jung started out by specializing in product design, before creating retail and corporate interiors for some of the most exciting start-ups in the United States. Early Work's office for fashion start-up Everlane was the cover story of our June 2016 issue.
Courtesy Mimi Jung
Jung's firm Early Work expanded Everlane's Los Angeles offices, designing a new workspace and retail outlet.
Photography by Aaron Wojack
​
Airi Isoda, Wrk Shp
Los Angeles
Isoda, a trained architect who has now turned her hand to fashion, co-founded L.A.-based studio Wrk Shp with her husband Ryan Upton. "They have made a life taking what shouldn't work together and making it work as if it always has," says A+R's Rose Apodaca, who nominated Wrk Shp as one of our 2014 New Talents.
Skating park–inspired clothing from Wrk-Shp's spring/summer 2015 collection
Courtesy Wrk-Shp
​
Wonhee Arndt, Studio Gorm
Eugene, Oregon
In addition to running a studio specialising in products and interiors, Arndt and her partner John are both professors in the product design department at the University of Oregon. Last month, Bernhardt Design and WantedDesign named Studio Gorm as this year's recipient of the American Design Honors, awarded each May during NYCxDESIGN.
Objects from Studio Gorm's New Frontier project.
Photo by Charlie Shuck