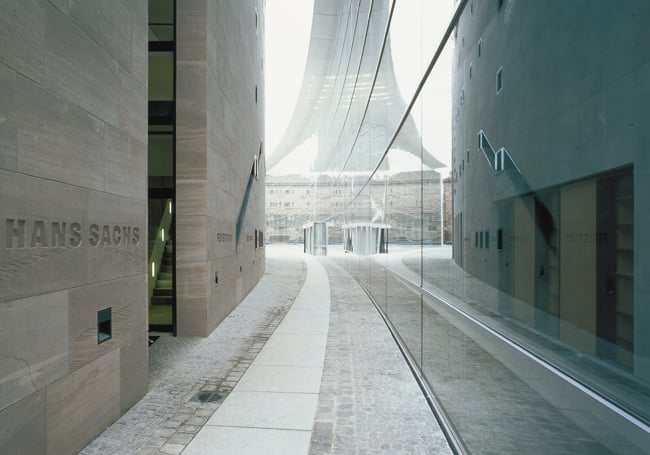 February 15, 2017
Staab Architekten Takes Design History Into Its (Able) Hands
The extension to the Gropius Bauhaus Archive will raise this contextually sensitive firm's international profile—a recognition a long time coming.
Staab Architekten's proposal for the extension to the Gropius Bauhaus Archive
Courtesy Staab Architekten
---
A woman stands mournful, her gaze fixed to the ground. She holds an umbrella above her, though there seems to be no rain. Behind her a tall pavilion-like structure rises eerily, each floor standing on stick-thin pylons. The gossamer volume is almost wispy, except for a dark, snaking stairway within. The sky is grey. The whole ensemble feels like a neo-Noir film poster—not like the architectural rendering it actually is.
The image is by Staab Architekten, the firm chosen to design and build a 72,118-square-foot extension—that ghostly tower—to Gropius' Bauhaus Archive complex. Save for the original school in Dessau itself, few sites in Germany carry as much architectural and design weight as the complex, first designed in 1964 and completed in 1979. Any practice taking on this project, so contextually tied to design history in this way, must confront inevitable—and unenviable— comparisons with the work of the Bauhaus' iconic founder. Lesser firms would fade anonymously into the background or stick out in a sore grab for attention. Under the watchful eye of founder Volker Staab, however, who will be presenting the project at MIT on Thursday, it seems the future of Germany's design history is in safe hands.
The Bauhaus project, due for completion in 2021, is sure to raise the firm's international profile—a hard-earned recognition that has been a long time coming. Staab Architekten has been quietly making a name for itself across Germany, and occasionally further afield, since 1991. As the images accompanying their winning proposal (devoid of blue skies, shiny happy people, Instagrammable architectural forms or any other such CAD-clichés) suggest, this project will be typical of the understated yet confident architecture that the Berlin-based practice has been producing for the last 26 years.
"Hardcore contextualism" is how Florian Heilmeyer, author of Staab Architekten; Kindred Objects (Hatje Cantz: 2016), characterizes the practice: their work "weaves itself into the surroundings so intimately that it is actually difficult to spot at times." The newly published monograph details 15 of Staab's 44 projects—from the Neues Museum in Nuremberg, completed in 1994, to an office building at Schinkelplatz, Berlin completed last year. The book itself is beautiful, expensive, chunky, and arranged with tasteful graphics and plenty of white space. So contextualised is much of their work that an initial flick-through is like a game of Where's Waldo?: a Berlin office building nestles amid the capital's cityscape; the extension to the Richard Wagner museum in Bayreuth hides stage right; the faux-thatched roofs of the Kunstmuseum Ahrenshoop blend into their rural surroundings.
Neues Museum Nuremberg
Courtesy Spiluttini Gasse
---
Yet, like our red-and-white-striped friend, once you spot the project, you can't unsee it. Contextualism for Staab is not a case of merely blending into the background, but an engagement with the material and formal characteristics of site to produce a new space, place, even city. As Heilmeyer puts it, in Staab's work "[t]he complexity of a location is carried on or even amplified." The Neues Museum Nuremburg, which tucks its 16,6841-square-foot gross floor area into a highly irregular footprint, is case in point. Far from a Libeskindian sculptural statement, the museum matches the scale and shape of its medieval streetscape, while a curtain wall arcs down an alleyway into the city block, leading visitors to an entrance atrium flooded with natural light.
Such entrances, as well as passageways and staircases, are identified by Heilmeyer as one of Staab's "quiet hallmarks": the transitional spaces that give their projects—often public buildings—legibility. Staab's stairways are of particular note, often providing a striking counterpoint to otherwise muted atria and entranceways. Aside from the Neues Museum Nurenburg's free-standing spiral, a blood-red zigzag forms the central artery through a scientific research center at the University of Heidelberg (2007). The graceful terraced steps of the Albertinum Dresden (2010), another museum, punctuate its inner courtyard while also providing a viewing platform for live performances. Each acts as a standalone piece that is part-navigatory device, part-architectural flourish, instilling a subtle pleasure in Staab's interstitial spaces for museum-goers and office-workers alike.
Neues Museum Nuremberg
Courtesy Spiluttini Gasse
---
Voids, like stairwells, are another pseudo-signature. These openings connect rooms and form expressive interiors, such as at the Neue Galerie Kassel (2005). There, arches, open doorways and multi-storey foyers populate the minimal interior, alongside a collection featuring German expressionists and sculptures by Joseph Beuys. Similarly, the Museum Georg Schäfer in Schweinfurt (1997) draws visitors in through a void in the streetscape, which extends a public footpath running from the nearby market square up into the building. The museum is positioned as part of the civic life of the Bavarian city; the gaps in its voluminous mass complement and complete its public spaces.
Details such as these persist from research center to office to columbarium. Each typology is treated with the dignity afforded to the finest museums and galleries, a trait emphasized when the projects sit side-by-side in the monograph. The extension of the Nya Nordiska Headquarters in the historic town of Dannenberg, and the Berlin office block at Schinkelplatz, for example, appear aesthetically opposing: the former distinctly modern with its irregular form and aluminium cladding; the latter with historical elements, such as slender cornicing, a regular grid of windows and French doors, and a whitewashed façade. However, scale and color palette bring the Nya Nordiska HQ into close dialogue with the surrounding town, and the digitally designed façade relief on the Berlin offices brings dynamism to an apparently straightforward project. Like much of Staab's work, these projects coolly defy expectations by maintaining historical perspective through the lens of today. And, as ever, context is king.
NYA Nordiska HQ
Courtesy Marcus Ebener
Albertinum Dresden
Courtesy W. Huthmacher
Neue Galerie Kassel
Courtesy Werner Huthmacher
Museum Georg Schäfer
Courtesy Ivan Nemec
Richard Wagner Museum
Courtesy Marcus Ebener
Richard Wagner Museum
Courtesy Marcus Ebener