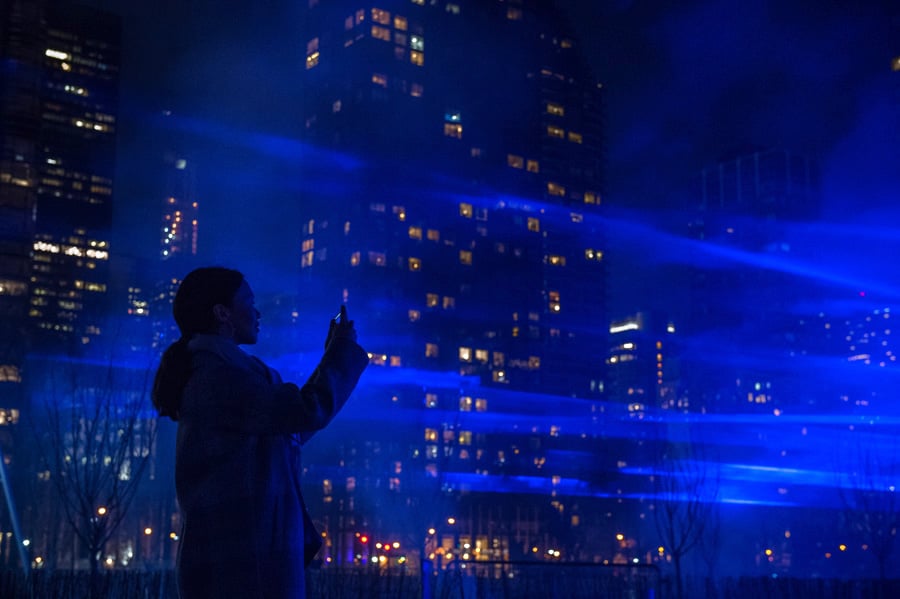 March 26, 2018
Studio Roosegarde Immerses UN Lawn in 'Virtual Flood' as a Sobering Reminder of Sea Level Rise
The traveling, site-specific installation, called Waterlicht, made a rare appearance on the United Nation's North Lawn last week to raise awareness for World Water Day.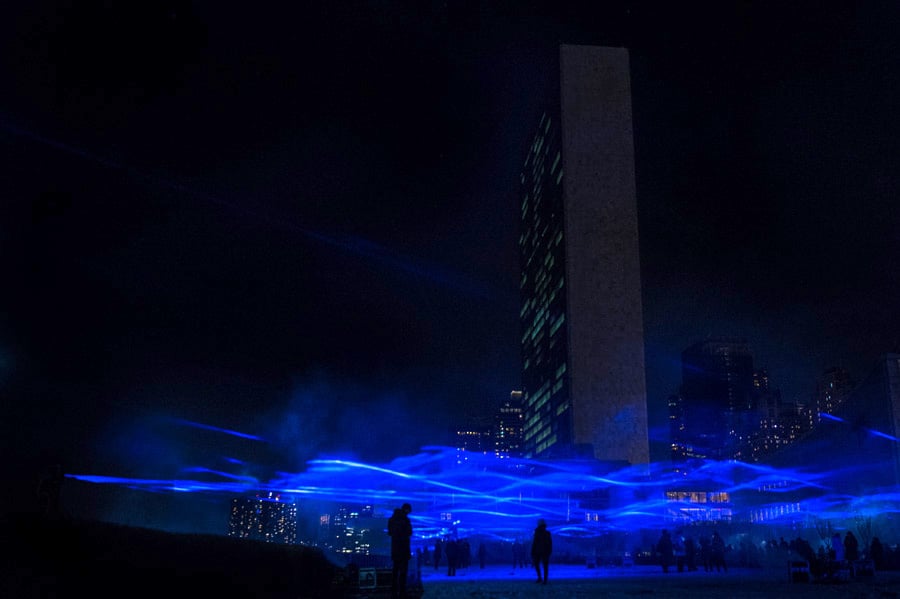 When Hurricane Sandy slammed into New York City's shoreline in October 2012, it caused waters to surge nearly 14 feet above normal levels, inundating vulnerable infrastructure, neighborhoods, and homes.
Five years later, standing within the comforting glow of the United Nations' Secretariat building located just 200 feet from the East River, it's hard to conjure up the extent of the destruction.  
Dutch designer Daan Roosegarde hopes to create a visual reminder of that devastation while recontextualizing the way we think about water. Last Thursday evening, Roosegaarde, in collaboration with the Dutch government, unveiled Waterlicht, an otherworldly, site-specific light installation, on the UN's North Lawn.
Installed for just two hours to commemorate World Water Day, the expansive artwork (which translates to "Water Light" in Dutch) served as a call to action against climate change and rising sea levels.
Created using blue LEDs, lenses, custom software, and fog machines, Waterlicht rushes like a swiftly-flowing current approximately one story over bystanders. The height of this "virtual flood" was meant to evoke the height of Sandy's—and future storms'—floodwaters.
"It's a memorial for Sandy but also an excavation of how can we can learn from it," studio founder Daan Roosegarde told Metropolis.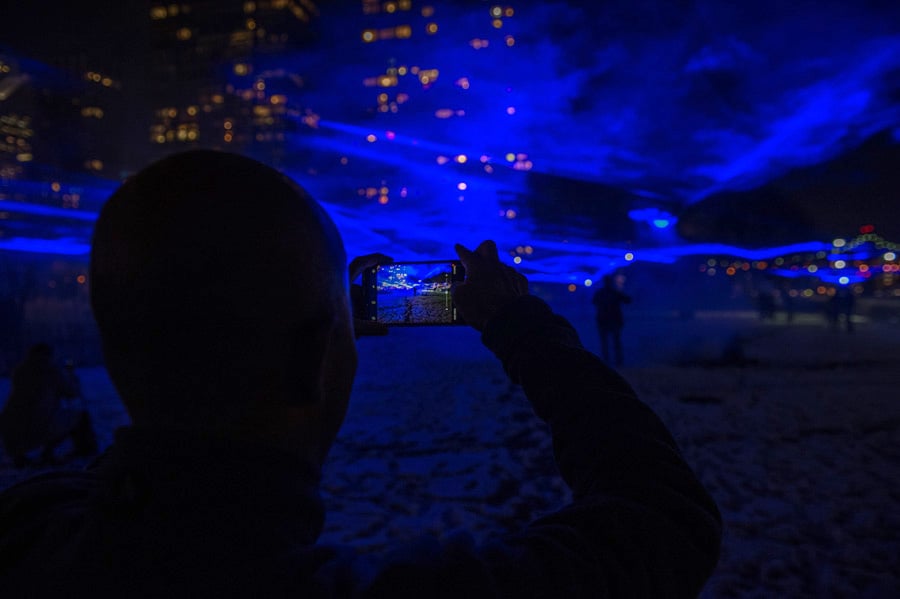 The ephemeral UN installation marks Waterlicht's tenth stop in a global tour, following editions in Amsterdam, Paris, Madrid, and others. (According to Roosegarde, he hoped to install Waterlicht at the UN in 2015, but previous attempts were derailed by the stringent security measures necessitated by back-to-back visits by Pope Francis and Barack Obama). It is next slated to arrive in Toronto. 
His Rotterdam-based studio has long advocated for sustainable cities through inventions such as a smog-cleaning tower, energy-generating kites, and involvement in resiliency projects such as Manhattan's Big U. At the Waterlicht unveiling, Roosegaarde said many of the globe's environmental issues are symptomatic of poor design thinking.
"We can do two things: We can hide, or blame other people," he said, or, "We can design our way out of it."
Flickering ethereally above freshly fallen snow and surrounded by Manhattan's glowing skyscrapers, Waterlicht was indeed a powerful picture—a hopeful symbol of what an innovative future could bring, and terrifying reminder of the alternative.  
You might also like, "Emerging Designers and Major Brands Alike Are Redefining What It Means to be Sustainable."