December 10, 2021
Supportive Housing Can and Should Honor Human Value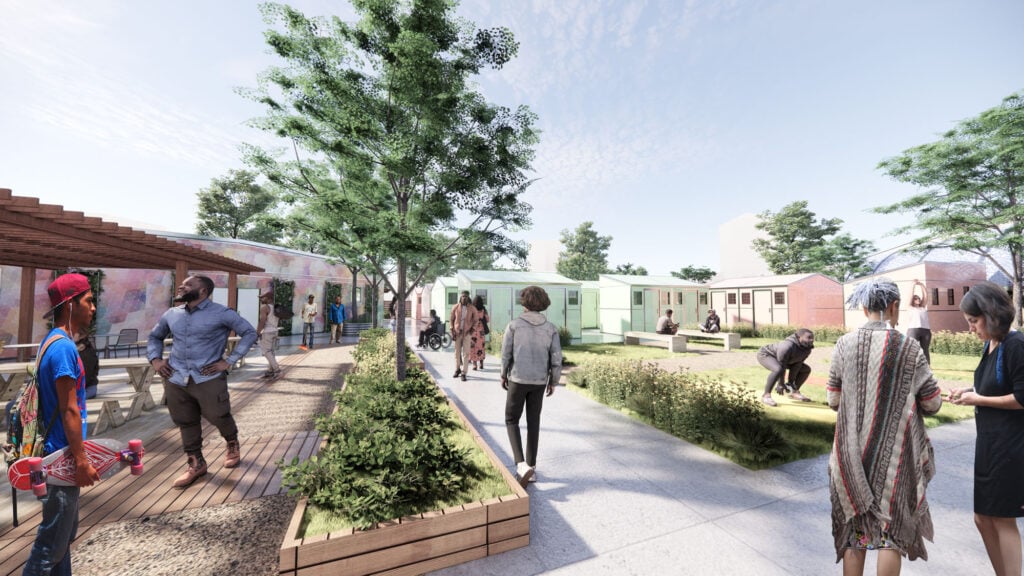 Local members of the design community recognized this pivotal opportunity to guide the City towards more holistic, flexible, and human-centered approaches to supportive housing. Members of the Urban Land Institute (ULI) and the American Institute of Architects (AIA) rose to the challenge. They reached out to DLR Group to coordinate a design effort for supportive housing typologies that center the physical, social, and emotional needs of Sacramento's unhoused residents.
With the goal of presenting three typologies to the mayor for implementation, DLR Group brought together advocates and designers. In collaboration with local advocacy group First Steps, we asked designers from Mogavero Architects and Dreyfuss & Blackford along with landscape architecture partners HLA Group and Atlas Group to consider the values, needs, and aspirations of future residents using the following questions:
How would users hope to feel in a supportive housing location?
What physical and emotional challenges might they be facing?
What might they value?
How would these needs and values translate into the experience and design of a space?

From with the responses to these user-experience questions, designers and advocates designed supportive housing typologies while the City worked to approve locations for supportive housing. Twenty supportive sites have now been identified and meetings are underway with stakeholder groups to share the three typologies developed by the design teams.
DESIRED OUTCOMES
According to their research in Sacramento neighborhoods and with those who are living on the streets, some of the community design considerations include the need for controlled access and security; code-defined infrastructure for electricity, water, and sewer; landscaping that would add shade, drainage control, ground cover, and community gardens; facilities for in-house and collaborative services; commercial kitchen certification; pet areas and kennels; and access to public transportation and community resources.
The community services most needed to make lasting changes and to elevate the quality of life for those experiencing homelessness include: Individualized and intensive case management; primary medical and dental health care; stabilization programs to support behavioral health; domestic violence support programs; employment training programs and jobs; housing navigation; and childcare.
VALUES DRIVEN DESIGN
Bringing together this research and personal experiences revealed a clear set of values and the following vision statement to guide design efforts: "Provide Sacramento's houseless residents with not just shelter, but with the support, community, and care needed to realize their independence, inherent worth, fulfillment, and quality of life."
The designs embody five elements of success identified through the experience of residents' needs. Driven by these stakeholder considerations, these elements or core values provided the foundation for the design, and all key elements relate back to the desired outcomes:

Support & trust – In a society that often blames, disregards, and polices the houseless population, residents need to believe that the supportive housing development is there to support them. This means providing services such as mental health and medical care, job training, and pet care built on a foundation of trust. DESIGN ELEMENTS: Permanent supportive structures; space for pop-up services and education; dog park & kennel for pets
Ownership & autonomy – Residents must be able to maintain the sense of ownership and autonomy that they experience outside of the housing development; they should have opportunity to engage with and shape their environment. DESIGN ELEMENTS: Public art locations where residents can contribute; community garden areas; outdoor kitchen/barbeque areas.
Sense of belonging – Residents should feel a sense of pride and belonging in the community within the development and have opportunities to connect with fellow residents and broader community members. DESIGN ELEMENTS: Space for community partners, community gathering spaces, shared community garden.
Flexibility & options – The supportive housing development should be flexible to accommodate the diverse and changing needs of houseless residents and care providers. DESIGN ELEMENTS: Variety of housing options; partner/education space; configurable interior or sprung structure.
Safety & security – Residents should feel physically, psychologically, and emotionally safe in the development, and should feel a sense of stability and predictability. DESIGN ELEMENTS: Locked storage for bikes and personal items; restoration gardens; dog kennel and pets allowed.
DESIGN CONCEPTS
By holistically examining the resident experience through design, residents are supported in one of five "paths" to realize individual fulfillment and elevated quality of life. The supported resident pathways include: newly engaged residents; fast-track engaged and employed residents; behavioral health track; AOD-recovery track; and families with children.
In partnership with Urban Land Institute Sacramento and the American Institute of Architects Central Valley, the design teams created concepts which could be adapted based on site requirements and community need. The variety of concepts offers flexibility based on site and community context within the multi-site masterplan. Each offers space for supportive services and community partners.
Campsite Concept. A tent-based system can be rapidly deployed to address unhoused populations at the neighborhood level. As populations flex and move around the city, these shelters can pop up on sites from one to two acres, providing protection from the heat and cold by utilizing smart design and local manufacturing. This provides unhoused neighbors with access to critical services within a community and prepares them for more permanent housing.
Tiny Home Concepts. These cost-effective modular housing solutions seen in many urban settings allow structures to be assembled structures offsite, to minimize waste. The premanufactured buildings are then delivered to a site and lowered onto a pedestal-style foundation. The modular building design is flexible and can even be attached together for multi-unit options for families. When the modular buildings are removed from the site (either to be relocated or for aftermarket sale), the 10'-width allows for easy transport on local roads and highways.
Hybrid Concept. This concept considers a unique integration of the five pathway options and the identified values. Because there was no set size or location the concept focuses on providing maximum flexibility to serve multiple resident pathways from newly registered to those needing specialized rehabilitation services and single occupants to families. Providing much needed services is at the heart of this hybrid 150-bed facility which emphasizes quick, low-cost construction methods mostly through modular/prefab building types. Initial engagement and services at modular/portable buildings can also house restroom/shower, kitchen and pantry uses. Additionally, acute care, dining and transitional services are included under a larger single roof Sprung structure. And the single or double occupant tiny homes or shelter palettes create private transitional housing.
A very deliberate community-facing facility with a dog park, community garden, and external partner space (community services or pop-up food/retail) are accessible to the neighborhood and establish a shared, unifying element between the neighborhood and the residents. All of the shelter and service buildings are planned around creating communal environment for residents through community gathering and spaces for reflection as well as recreational and active spaces.
NEXT STEPS
While the City of Sacramento begins the community engagement process in developing these sites and services, designers across the country are reaching out to cities to partner in creating holistic solutions for those who are experiencing homelessness—Solutions that go beyond a roof over the head, to offering supportive services to address a full range of healing and care that honors the full spectrum of the human experience.
---
Jose Sanchez, LEED AP, is a principal at DLR Group and the Mixed Use Studio design leader. [email protected]
Would you like to comment on this article? Send your thoughts to: [email protected]