November 17, 2020
A New Series of Talks is Shedding Light on the Impact of Architect Paul R. Williams
A new series of talks is underscoring the importance of work by Hollywood's first black starchitect.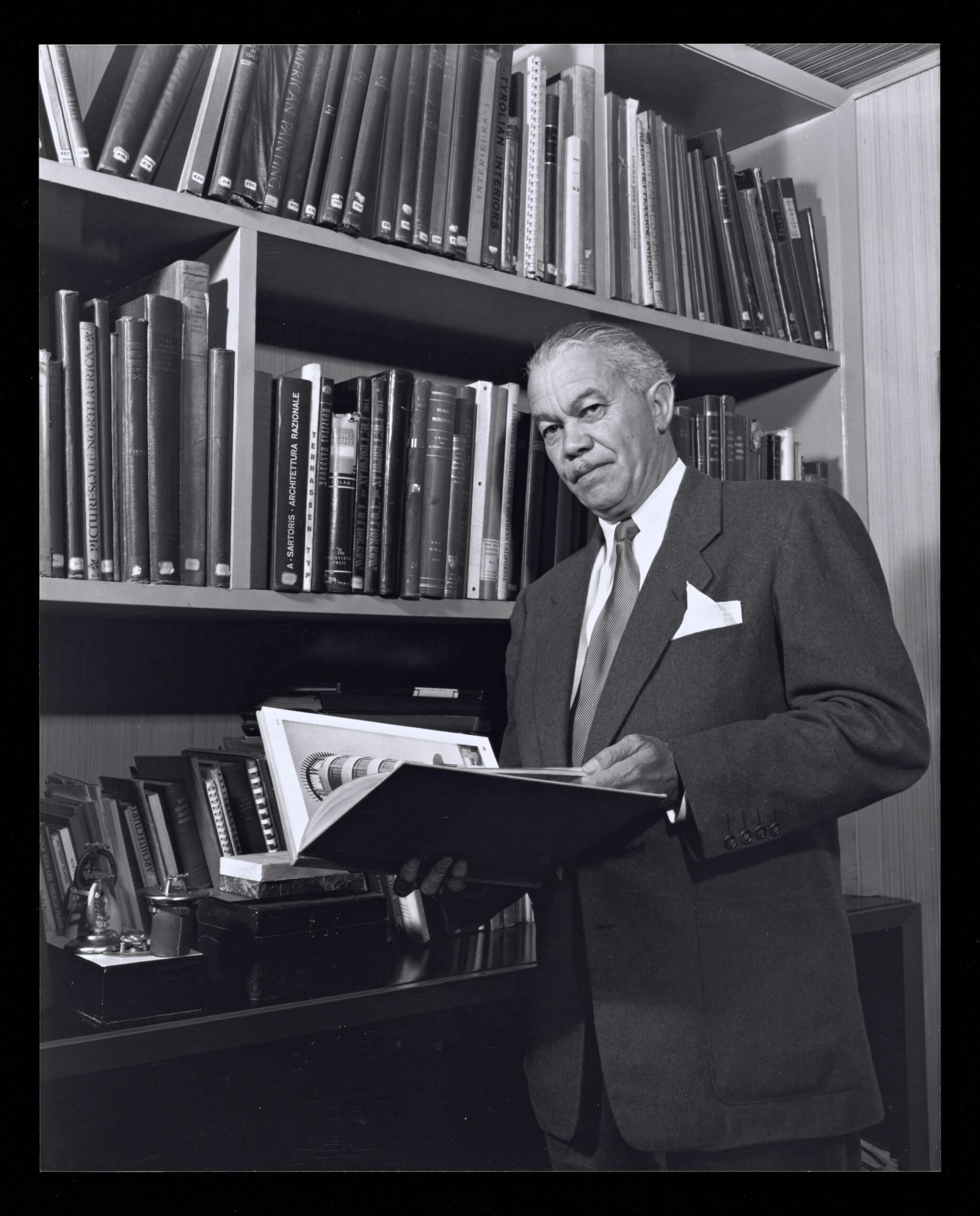 Paul Revere Williams, the late architect who was the first black member of the American Institute of Architects (AIA), has recently been receiving some long-overdue recognition. The AIA awarded him a posthumous gold medal in 2017; a PBS documentary "Hollywood's Architect: The Paul R. Williams Story" aired in February, and a book titled "Regarding Paul R. Williams: A Photographer's View" was published in September.
Now on the heels of jointly acquiring Williams' notable archives this June, the University of Southern California (USC) School of Architecture and the Getty Research Institute are also participating in a series of three panels based on its contents titled "Paul R. Williams: Rediscovering an Architectural Icon." (The organizers are SoCal NOMA, AIA Los Angeles, Architecture for Communities Los Angeles, and ULI-Los Angeles).
In the first event held virtually this month, panelists outlined the contents and impact of the historic acquisition. The archive's sheer size is remarkable given that many of Williams's records were lost to fire in 1992. Over 35,000 building plans and 10,000 drawings survived in the care of his granddaughter Karen E. Hudson.
Maristella Casciato, head of Architecture Special Collections at the Getty Research Institute outlined its range, "approximately 3600 projects nationally and internationally with an average of 80 new projects per year over a career of about half a century." The contents span commercial, residential, institutional, religious, transport, educational, and healthcare projects. Many are in Southern California but others as far away as Mexico, Cuba, Colombia, Brazil, Jamaica, and Liberia.
The size of the archive isn't its most salient aspect. Casciato observed, "it's the first African-American architectural archive of such a magnitude to be collected by a research institute." Williams has assumed a rightful place at the archive alongside peers like Lautner, Koenig, and Beckett.
LeRonn P.Brooks, an associate curator at the Getty spoke to this singular aspect,"What does it mean to have a rare instance of black remembering?" He noted that "African-American archives [are] as vulnerable as the people." Williams, born in 1894, a mere generation removed form slavery, was soon orphaned and overcame countless barriers of racism in the course of his career. His own archive faced similar challenges subsequently. "It's a unique instance of something which possibly should not exist because it's so improbable."
The drawings themselves contain subtle material traces of a career constantly forced to navigate issues of race. Prejudice famously prompted Williams to develop the unique skill of sketching upside down while presenting to white clients presumed to be uncomfortable sitting next to a black man, even one who was their own architect.
Milton S.F. Curry, dean of the USC School of Architecture spoke to the archive filling an important gap in their African American History curriculum, " in terms of delivering on an initiative that deals with African-American arts and culture, that's incomplete without African-American architecture."
He pointed out that UCSC intends to see to it that this archive receives broader attention in academia and the general public. An exhibit on Williams is planned in three to four years. It would follow very few predecessors. Curry pointed out that there have only been two exhibitions of black architects in the United States—ever. One was held at the Studio museum in 2004 and a second will occur at  the Museum of Modern art next year. "That's how far away we are."
Curry continued, "We have great institutions where you'd be hard pressed to find any mention of a black architect on a syllabi today and so we've really got to reckon with that." The archive isn't consequential merely for Williams' work but for opening the door to a number of other African-American architects who worked for or had some links to Williams such as Ralph A. Vaughn, Hilyard Robinson, and Norma Merrick Sklarek (some of whom will be the subject of the next panel in this series).
Brooks explained that this wasn't merely a rectification of past errors but an undertaking with implications for the future. "This archive can inspire young black people and people of color to think of themselves in spaces that they never anticipated they'd be accepted into."
There are other architectural lessons to be found in this trove. Curry suggested that the imprint of Williams' non-conventional rise through architecture can be evinced in the stylistic diversity of his project. He observed that the typical education for a white architect would have involved "assimilation to a kind of ideological and aesthetic construct" that was prevailing modernism. "By virtue of the fact that Paul Williams kind of constructed his own education, in some ways he curated his own education, he didn't necessarily have that same burden."
The archive, which still awaits much work of digitization and restoration offers testament to the fantastic breadth of Williams work, from homes for Frank Sinatra and Barbara Stanwyck, and work on the LAX theme buildings to funeral homes and African Methodist Episcopal churches, clients mighty and modest, black and white.
The implications again aren't merely the preservation of items on paper, but of a better tool for preserving built work. Brooks observed, "If his work was a library I feel like books are slowly being destroyed." Archival work may ensure that both books and buildings endure.