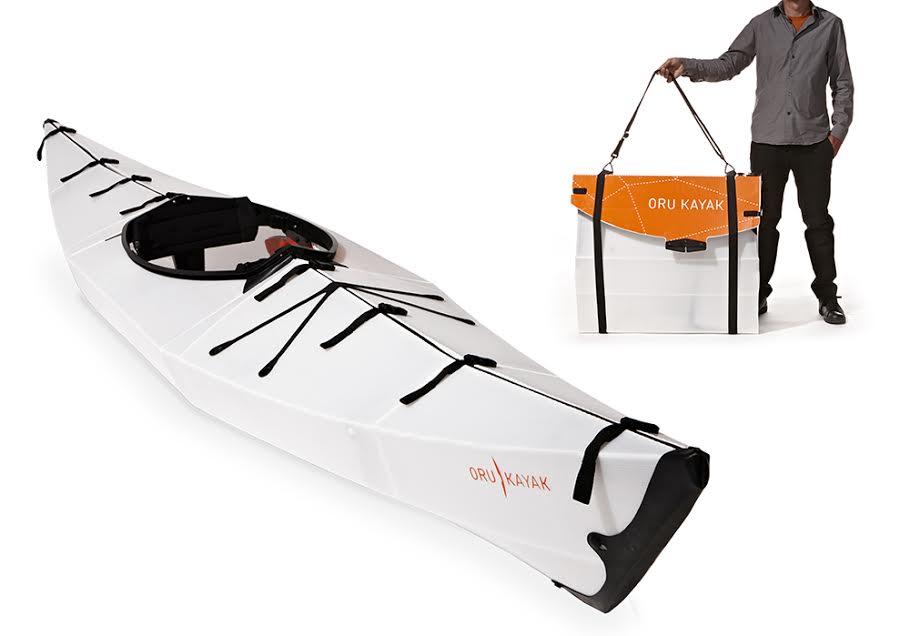 November 24, 2014
How Life Has Changed Since I Launched the Origami Kayak
The founder of Oru Kayak on how the business has changed and grown in the last two years
Oru Kayaks are now spotted regularly around the San Francisco Bay–as well as much farther-flung waters, from Norway to the Andaman Islands.
All images courtesy Oru Kayak
In the fall of 2012, I wrote about a new product I had designed, and the company I founded to produce it. At the time, our three-person company was in the midst of a Kickstarter campaign for the 12-foot Oru Kayak, which folds quickly and easily into a compact case.
Almost exactly two years later, we're thrilled to be launching our second folding kayak model, and it seemed an ideal time to look back on the highlights and challenges of our journey.
The past two years have flown by, thanks largely to the continuous challenges of scaling up production to meet demand and refining our product and business model. To date, we've sold and shipped over 3,000 kayaks across the globe, demoed the Oru Kayak before a national TV audience on ABC's Shark Tank, and tripled our staff.
An ongoing learning curve
Our successful Kickstarter campaign enabled us to hit the ground running, but it also created unexpected challenges. We initially sought $80,000 in seed money, which we used to set up our manufacturing facility. We were thrilled to surpass our goal quickly, but our success came with its own hurdles. By raising nearly $450,000, we faced the daunting task of building and shipping five times as many kayaks as we had anticipated. It was a great problem for a new company to have, but it also meant a steep learning curve—about everything from designing assembly facilities to setting up efficient operations to understanding international customs regulations.
The original Oru Kayak, the Bay. It transforms from box to boat in just five minutes. The recently launched deluxe Bay+ model, an update on the original Oru Kayak, is packed with features based on the feedback from our incredible community of customers.
To scale up production quickly, we set up manufacturing in Southern California, partnering with a company that provides the lightweight, durable plastic hull of the kayak. It was important to us from day one to make Oru Kayaks in the United States. Beyond the job creation and quality assurances, it gives us hands-on access to the production process. We spend a lot of time at our manufacturing facility—ensuring that every Oru Kayak meets our standards for safety, design, and performance. And recently, it's made the prototyping process for our newest model much faster.
Launching and scaling
We shipped our first kayaks in the spring of 2013 and started showing at trade fairs. The payoff for years of planning and months of working around the clock were the rave reviews we received from our earliest customers. These messages made our days, and seeing the joy on their faces in images they Instagrammed and posted online inspired us.
The original Oru Kayak won Outside magazine's Best in Show at the 2013 Outdoor Retailer trade show in Utah, and later took home Best in Show at the world's largest outdoor trade show, ISPO Munich 2014. As word spread quickly among design and outdoor enthusiasts, we sought exposure to a much wider audience on network TV. In the fall of 2013 we presented the Oru Kayak on ABC's Shark Tank, a show on which entrepreneurs pitch ideas to a panel of celebrity investors. While no offer was guaranteed, we reached a deal with one of the investors and gained valuable insight into what it would take to build a sustainable long-term business model. From the feedback, we knew that the Oru Kayak could be successful as a product, but that we would need to drastically increase our manufacturing output to become a successful company.
By the time Shark Tank aired in May 2014 to an audience of 10 million viewers, our manufacturing was running at full capacity and we were able to manage a spike in orders that accompanied broadcast. Since we filmed Shark Tank, the Oru Kayak has received more mainstream TV exposure, most recently as a prize on The Price is Right.
What's next?
We've come a long way in two years, but we are committed to looking ahead. Our newest model, the Bay+ deluxe origami kayak, is packed with features our customers have asked for over the past two years. We're constantly adding new, often custom-designed gear to our online store—from super-streamlined life vests designed in partnership with Kokatat, another California-made company we've long admired, to solar kayak lights that enable the Oru Kayaks to glow like lanterns on the water.
The Oru Kayak leadership team, from left: Roberto Gutierrez, Ardy Sobhani, and Anton Willis
Between growing our team and product line and smoothing out operations, we've had little time for actually getting out on the water ourselves. But as our customer base has grown, we've built a far-reaching community of paddlers who send us pictures, videos, and reports of new and exciting places they've experienced in their Oru Kayaks. Through their stories, we've been able to vicariously enjoy kayaking between medieval ruins in Ireland, island-hopping in the South Pacific, kayak fishing in the Caribbean, and more. It's this community that drives us to keep growing and improving.
---
Anton Willis is the inventor and founder of Oru Kayak. Willis and his design collective, Civil Twilight, won the 2007 Metropolis Next Generation Competition with their Lunar Resonant Streetlamp.