February 18, 2022
A Tomás Saraceno Retrospective at The Shed Questions Human's Relationship with Nature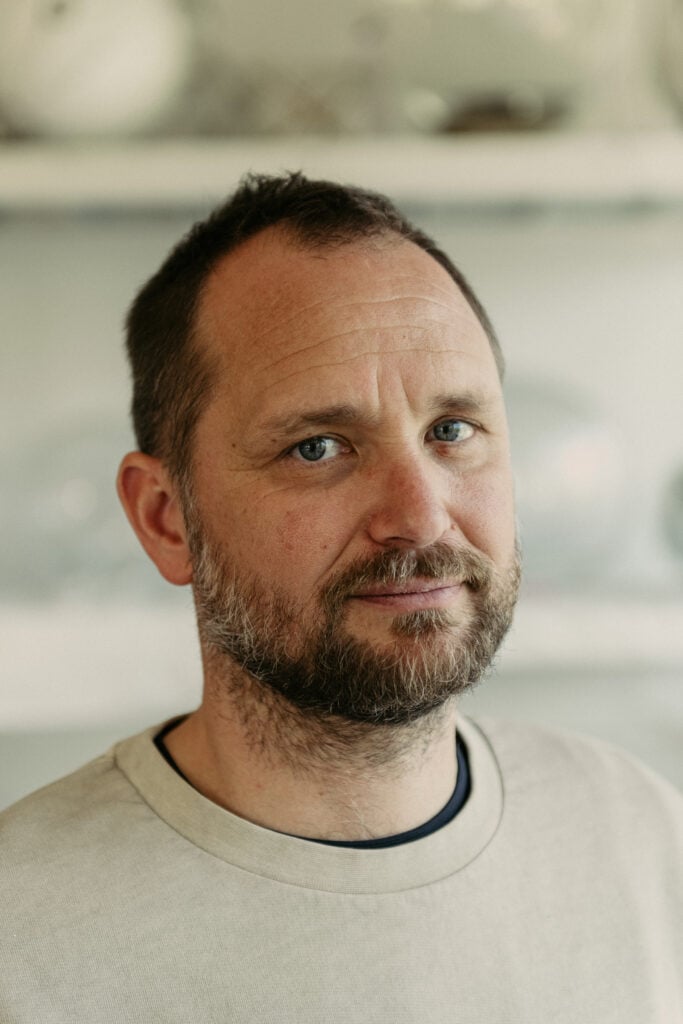 Particular Matter(s), a fully immersive exhibition mounted at New York's The Shed highlights the artists' ongoing lines of inquiry. At the center of the retrospective—Saraceno's largest U.S. show to date—is the massive installation titled Free the Air: How to hear the universe in a spider/web. Housed in the venue's 17,000-square-foot McCourt space, The 95-foot-tall, inflated sphere incorporates two levels of suspended web-like nets that pulsate to intermittent vibrations. Visitors are invited to enter the space, sit, lay, and bounce within the environment during a 20- minute light show simulating an arachnid's environment. "I wanted people to feel like they're entering the spider's world," Saraceno explains, "and help them understand that we share the earth with other species. We need to change our attitude and break down the separations we've built between us and nature."
The exhibition—on view until April 17th—also features a comprehensive survey of the artist's research including various controlled webs he grew with spiders sourced from different sites (including Hudson Yards) are juxtaposed with sketchbooks and other process material. In How to entangle the universe in a spider/web project, the artist employs infrared lasers to reveal the complex hidden three-dimensionality of webs woven by young versus elder spiders.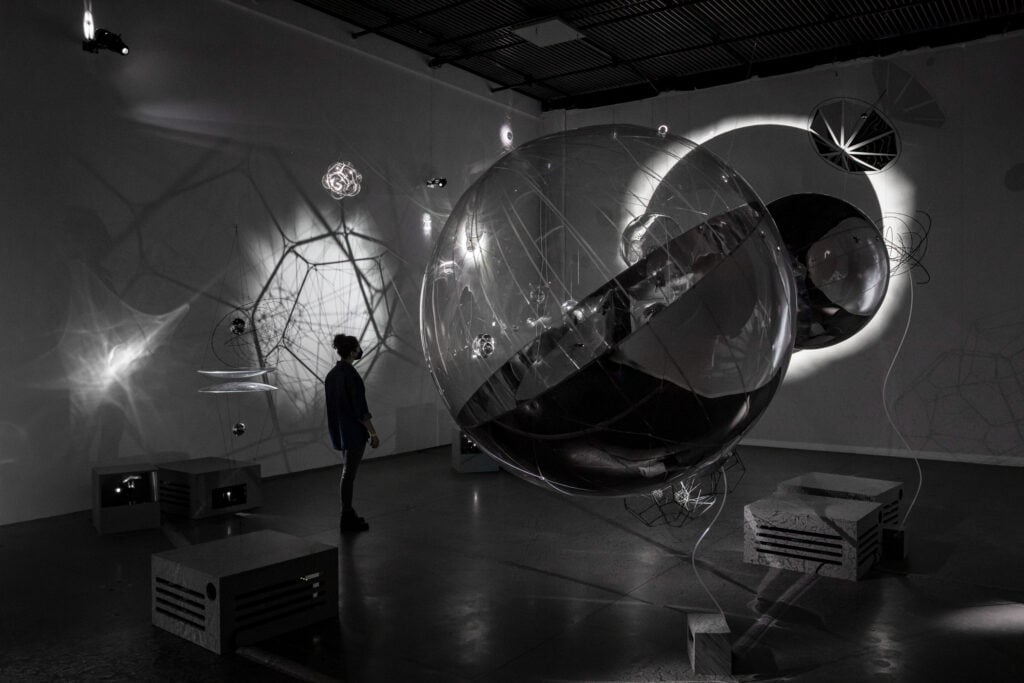 Saraceno's investigation of the racial imbalance that manifests within the frame of climate change is evident in the We Do Not All Breathe the Same Air project. Commissioned by The Shed, the distilled diagrams timestamp and map the air quality of various places throughout the United States in carbon soot printed circle. Beta attenuation mass monitors were used to measure pollution over the course of 24 hours in these locales. The data was then translated into these visualizations. They reveal that Black communities are more prone to these conditions than others. For this investigation, he drew inspiration from science journalist Harriet A. Washington's extensive writings on the topic. "Though we've just experienced one pandemic, another one has been going on for much longer," the artist explains. "In the United States, approximately one million people have died from COVID-19, but five times that amount have passed away due to the long-term effect of poor air quality.
Topping out the exhibit is a reconstruction of Saraceno's community-generated Aerocene initiative. Pieces of discarded fabric were stitched together to create a large balloon that uses no form of power other than air. The surface of the inflated form is intended to serve as both an impromptu curatorial platform and billboard freely disseminating important information. Adjoining the reconstitution is a tool kit outlining how any group of people could envision their own iteration.
"What's crazy to me is that all of the issues I've been exploring for the past 20 years—air quality and temperature, climate change, etc.—have become even more relevant in just the past two years alone," Saraceno concludes. "All of my work ultimately deals with the idea that we're living through the Capitalocene, not the Anthropocene, because it's the capitalist doctrine that has caused the destruction. We need to rethink how will counteract the worst effects."
Would you like to comment on this article? Send your thoughts to: [email protected]