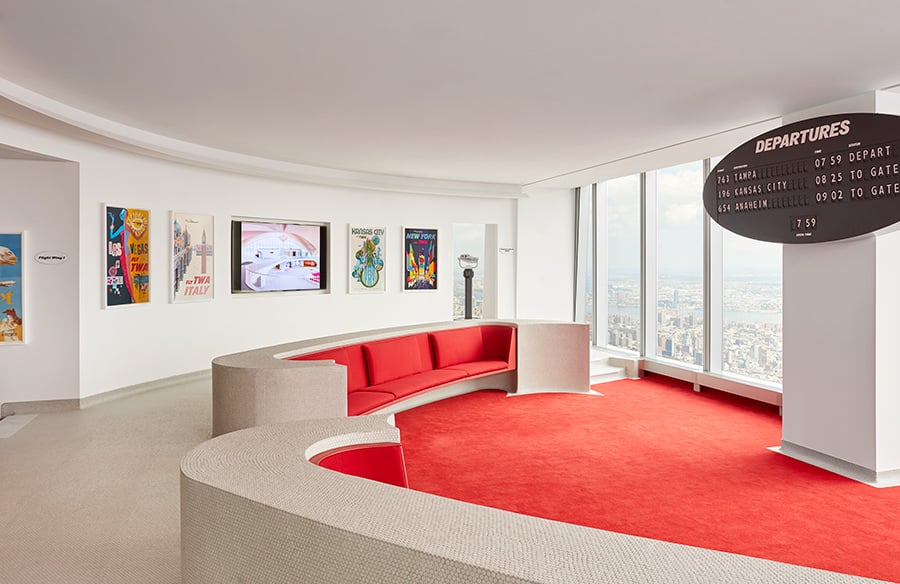 October 12, 2017
New Exhibition Showcases the Future TWA Hotel and the TWA's Past
All the items in the TWA Lounge at World Trade Center 1 will be on show in the TWA Hotel's on-site museum when it opens.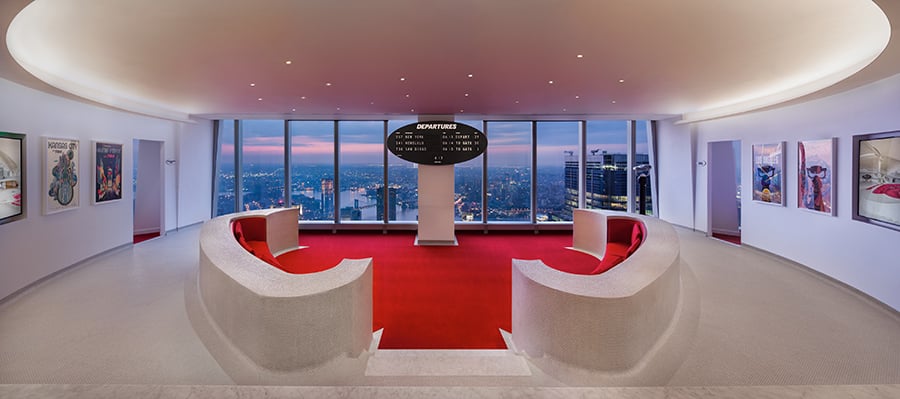 For admirers of Eero Saarinen's gull-winged design of the TWA Flight Center, which opened at New York's JFK airport (then known as Idlewild) in 1962, the promise of it being turned into an on-site hotel has been tantalizing. But the wait for it—the plans were first announced in 2015 by developer MCR—has also been excruciatingly long.
It will still be another two years before the TWA Hotel welcomes its first guests, but those eager for a taste of what's to come can now find some satisfaction (albeit by appointment only) at the recently opened TWA lounge at One World Trade Center. Located on the building's 86th floor, the space—designed by Lubrano Ciavarra Architects—embodies the key features of Saarinen's original. There's the sunken lounge, where the carpet and Maharam-upholstered banquettes feature the signature Chili Pepper Red that the architect custom-designed for the TWA Flight Center, offset by the gleaming white of almost 400,000 penny tiles. Overhead sits a custom mini Solari split-flap analog display (which whirs satisfyingly every few minutes as it updates flight departure information). There will be a much larger version of the display in the hotel,  featuring departures in real time, so that curious in-transit passengers at Terminal 5 can keep track of their flights while sneaking a peek at the space via the connecting walkway tubes.
The left wing of the lounge is home to TWA memorabilia, including vintage uniforms from former TWA employees, martini glasses, dinnerware, ashtrays, David Klein prints, and an advertisement for flight attendants (the somewhat discriminatory criteria: Applicants had to be  21 to 26 years old, five foot two to five foot six, 100 to 130 pounds, single, and with good vision). Over in the Ambassadors Lounge in the right wing sit vintage Saarinen Tulip chairs with original 1962 Knoll fabric seats, alongside Saarinen Executive chairs and a marble pedestal table. All of these items will be on show in the TWA Hotel's on-site museum when it opens.
The hotel, which is partially encircled by the Gensler-designed terminal for JetBlue, will feature 505 guest rooms; 50,000 square feet of conference, event, and meeting space; eight restaurants and six bars; and a 10,000-square-foot public observation deck. Despite residing in one of the country's busiest transit hubs, the hotel will actually be one of the world's quietest—thanks to the multiple sheets of soundproof glass on its exterior. But perhaps the best vantage point in the much-anticipated dwelling? The pool overlooking the tarmac, where plane spotters can catalog to their hearts' content.
You may also enjoy "The Changing Face of Hotel Design: Shaping the Traveler Experience."