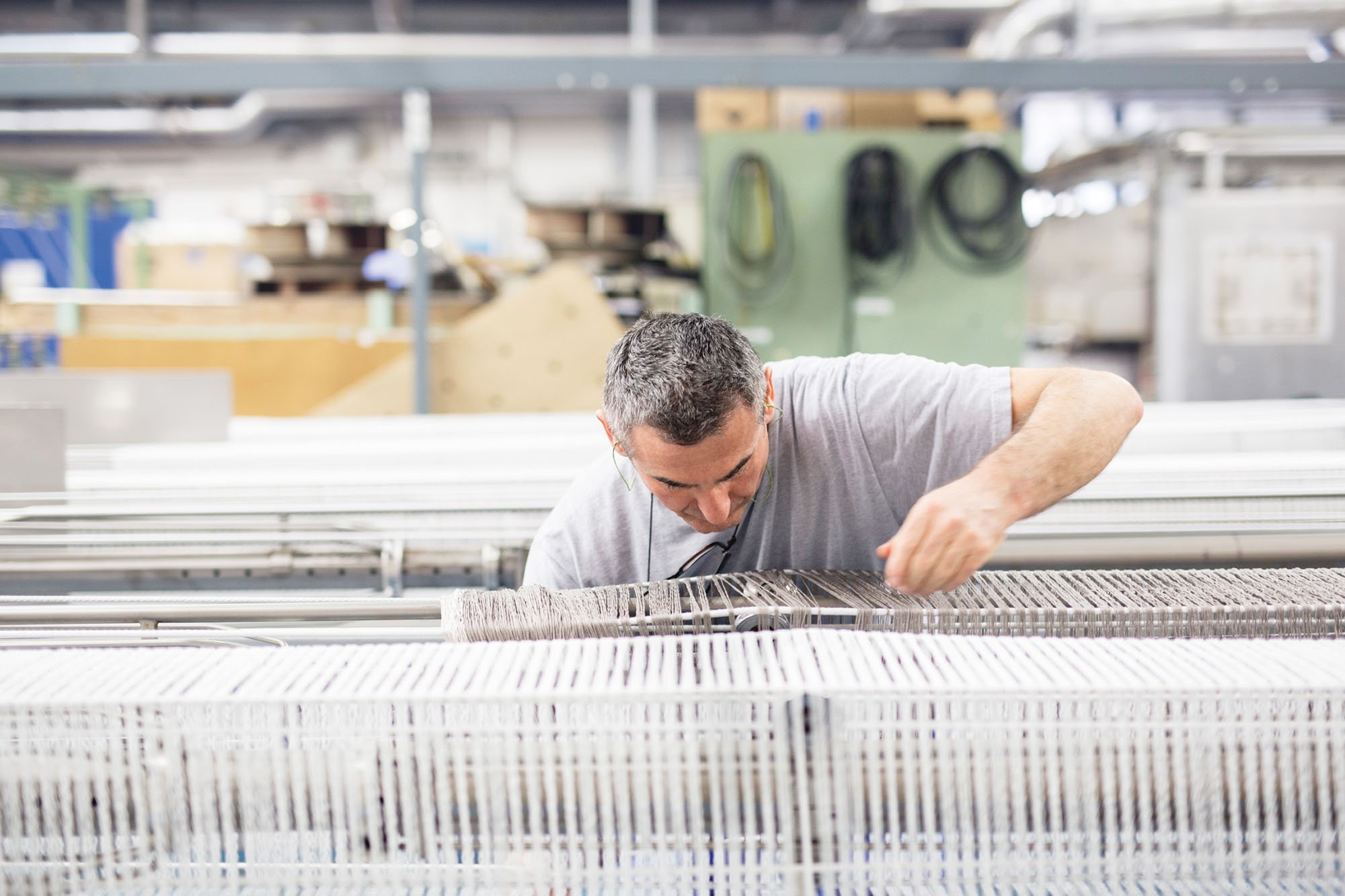 June 26, 2023
An Italian Yarn Supplier is Helping Solve the U.S. Carpet Waste Problem
It may come as a surprise that Americans discard roughly 5 billion pounds of carpet every year. It is even more shocking that the country currently recycles only about 2 to 3 percent of that total. But who could've guessed that the company set to reverse those numbers is not a carpet manufacturer but a supplier of the yarn that carpet makers source?
In fact, Aquafil, an Italian textile company already widely known for Econyl, a recycled nylon made from waste, opened its first U.S.-based carpet recycling plant in Phoenix in 2019. The plant receives postconsumer carpets from Aquafil Carpet Collection facilities and disassembles them into three main components: a fiber called Nylon 6, polypropylene, and calcium carbonate.
As Aquafil USA president Franco Rossi explains, the polypropylene is reused to make carpet backing and goes into injection-molding production, calcium carbonate is diverted into road construction and concrete, and Nylon 6 is sent to the Econyl Regeneration System in Slovenia. The company claims that it is the only supplier in the world producing 100 percent recycled nylon from such waste.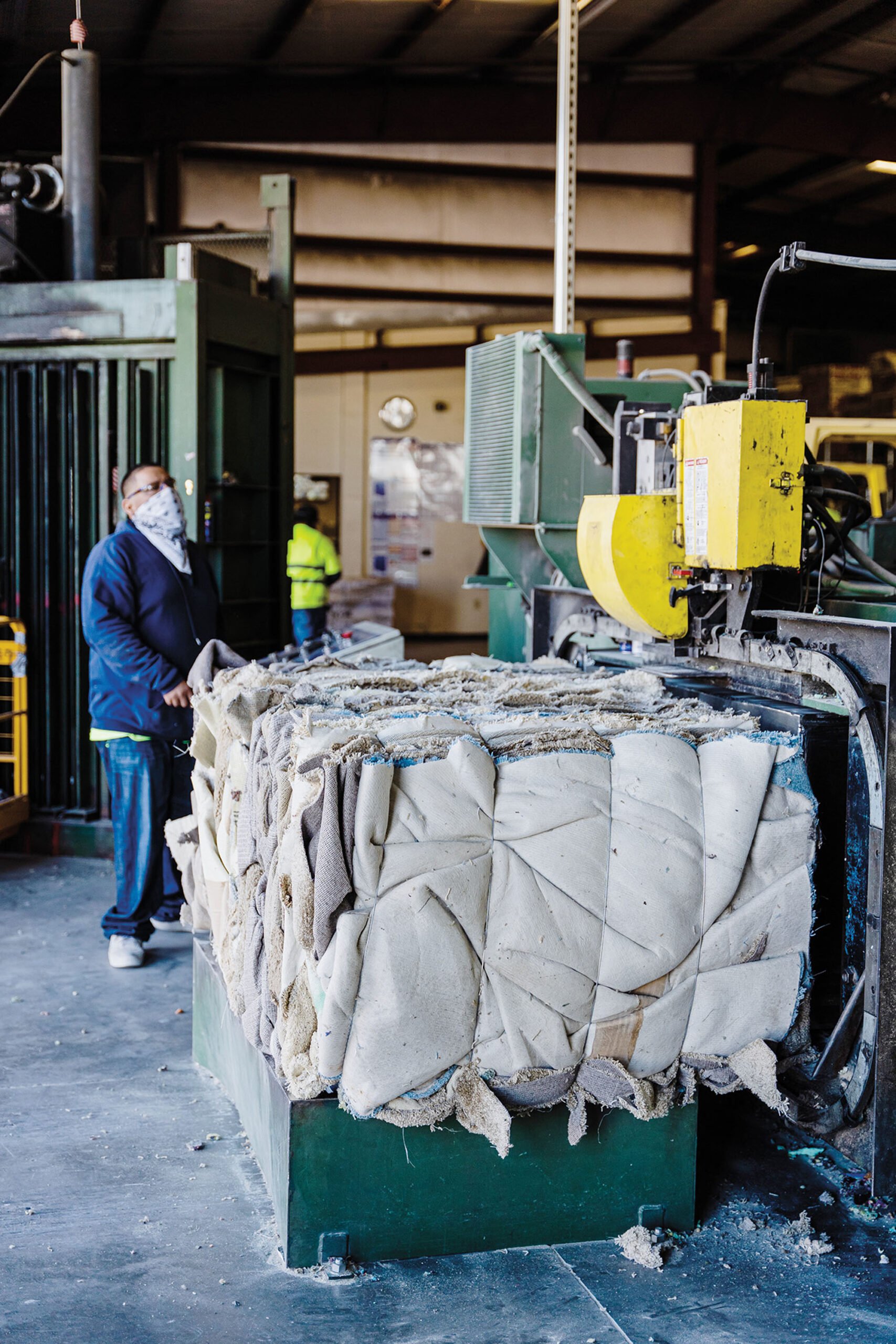 "When you make nylon from recycled materials, from old nylon, like we do, instead of making nylon from petroleum, the global warming potential and embodied carbon emissions are reduced by 90 percent," says Eric R. Nelson, executive vice president of Aquafil Carpet Recycling. "So there's a massive benefit to our environment when you are able to recirculate that production process. That's really what it's all about—decoupling petroleum from the production process."
To support this circular process, Aquafil operates five carpet collection facilities: the one in Phoenix, which recovers 36 million pounds of old carpets annually, and four additional facilities in Southern California and Arizona that help divert 12,500 tons of both carpeting and carpet pads.
While today's operations run smoothly, the company's first effort to recycle carpet did not go so well. "Aquafil launched Econyl at the end of 2010, and from that time on, it has been on a constant search for new secondary material that could be transformed back into nylon without using any fossil fuels," Rossi explains. "The carpet recycling project is a consequence of that larger project, which is making nylon out of waste."
Rossi says the company started with a carpet shearing operation in Cartersville, Georgia, where it shaved the face fiber from used carpet and recovered the nylon portion. But after a couple of years, it ran into the issue of disposing of the carcasses. "We had somebody for a period of time who
could take it, but when that possibility went away, the operation did not make sense because we were only recovering 20 percent of the total weight of the carpet."
But the company did not give up its hope of a carpet recycling program. After leaving Georgia, Aquafil set its sights on the West Coast, specifically California and Arizona. "We looked at California because of its legislation, and we looked at a very different technology," Rossi says.
The legislation he's referring to, AB 2398, is a California law enacted to increase the diversion and recycling of carpet in the state. It generates funding through an assessment on each square yard of carpet sold in California.
As for the technology, Aquafil sought a different process from the one used in Georgia. Instead of simply removing the old fibers, the company set about separating the three main ingredients of carpet. The process seems simple enough, but it's actually quite difficult, and required that Aquafil build custom equipment. "We have our own technology, which is mostly a combination of different machinery that was adapted to the scope of work," Rossi explains.
"I think it's important to note that carpet is not really made to be recycled," Nelson says, adding that "it's not like an aluminum can or a plastic water bottle. It's very complicated and capital intensive. These machines are ripping apart and trying to separate a mishmash of different materials, so as Franco said, it's not really a matter of just buying machines off the shelf for this application."
Aquafil closed its Woodland, California, recycling facility in 2022. It now sends carpet material to its Phoenix plant for recycling. The company says the decision to close the California site was due to insufficient carpet supply to feed two recycling facilities (Woodland and Phoenix). But Rossi still believes the industry must eventually step up its recycling. "It is critical," he says. "I believe our California story should be used as a marketing tool to promote carpet as an actual recyclable flooring system."
Would you like to comment on this article? Send your thoughts to: [email protected]