December 11, 2020
Year in Review: 9 Sustainable Standouts
These projects sought to improve human health and turn the tide on climate change in 2020.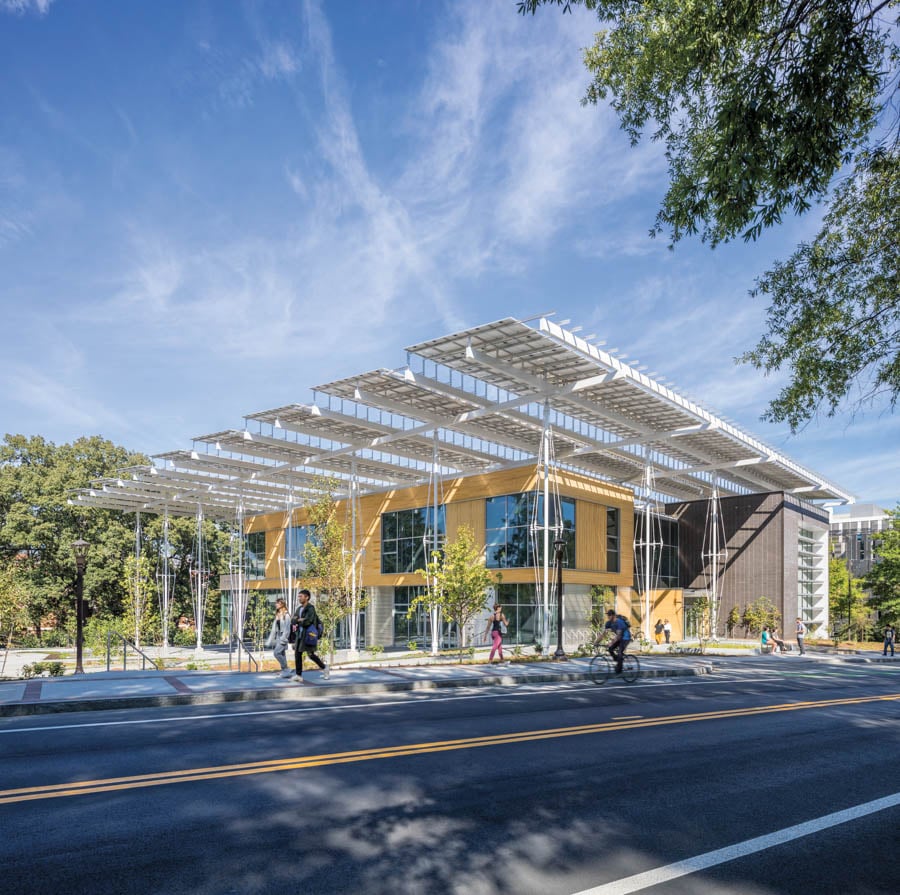 ---
This year, Metropolis continued to support the design of healthy and resilient spaces through virtual events, digital coverage, and print publications. New to the pages of the magazine in 2020, our Sustainable column highlighted particularly earth- and people-conscious projects. The nine buildings featured in this section throughout the year demonstrated thoughtful consideration of factors like energy consumption, embodied carbon, human well-being, net waste, and adaptation to climate. All nine met—or will meet—some of the industry's preeminent standards and deployed some of the industry's most innovative methods. All nine raised the sustainability bar.
As far as sustainability credentials go, the Living Building Challenge (LBC) is widely regarded as the most rigorous, and two standout projects this year pursued the credential's Petals and exemplified the potential of regenerative design. In Atlanta, Georgia Tech's 46,800-square-foot Kendeda Building for Innovative Sustainable Design—boasting a 917-panel solar array and a timber-frame structure—became the largest project in the southeast United States to pursue LBC. Meanwhile, in the northwestern corner of the country, the Custom Blocks complex in Portland, Oregon, claimed the city's first Living Building certification. Mahlum Architects moved its office to the development in November 2019 and by following LBC guidelines, the group turned the location into an expression of the firm's core values.
But no other project from our list emulated an organization's values quite like the International WELL Building Institute's (IWBI) retrofit of its New York office. With the help of COOKFOX, IWBI sought its very own WELL Building Standard Certification, which, with its focus on human health, is a large part of the industry's ever-broadening sustainability mission. The IWBI office landed a WELL Platinum certification, racking up points for abundant natural light, biophilic design elements, plants everywhere, standing desks for all, and unique work policies like allowing bikes in the office and offering a "remote working month." 
Giving us a glimpse of what's next along the path to a sustainable future, Perkins and Will unveiled a timber retreat called SoLo in a secluded, mountain-enveloped spot in British Columbia. Operating off the grid without the need for fossil fuels and in accordance with Passive House principles, the concept was born out of a proposal for a much larger project by Vancouver-based Delta Land Development. The real estate company had enlisted Perkins and Will to design a zero-emissions, 40-story, mixed-use tower that would be the world's tallest mixed-timber building. But while the team waited for that project to get the green light from city officials, Delta wanted to develop a smaller-scale proof of concept. SoLo was designed to not only serve as a prototype for future projects, but also as an educational tool to help visitors understand how they can reduce their impact on the environment. A sign of even greener things to come in 2021 and beyond.
Take a look below at all nine of the projects featured in Metropolis's Sustainable column this year. 
You may also enjoy "How Mass Timber Could Help Reduce Wild Fire Risk."
Would you like to comment on this article? Send your thoughts to: [email protected]
---
Register here for Metropolis's Think Tank Thursdays and hear what leading firms across North America are thinking and working on today.