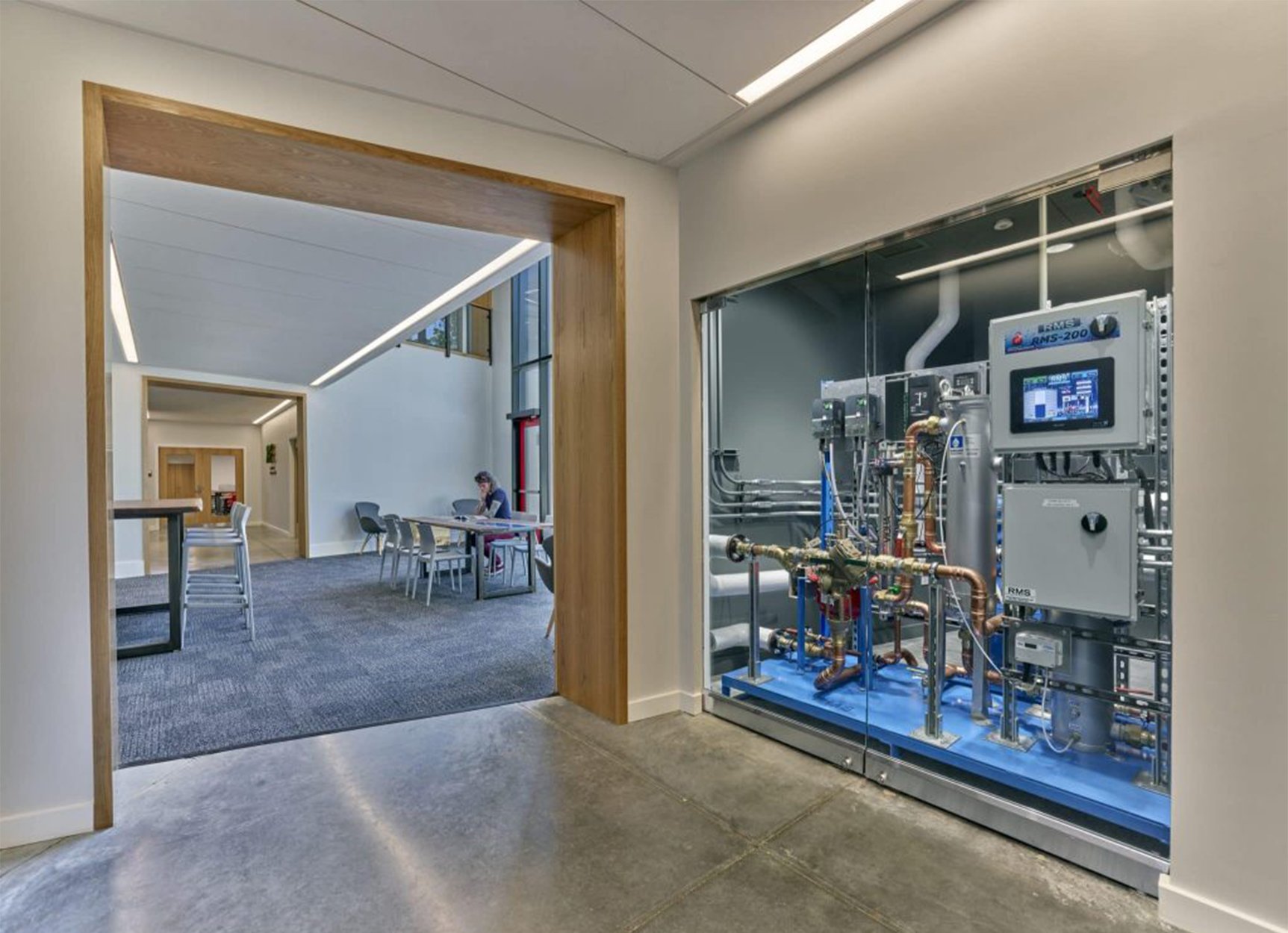 Fahy Commons
Allentown, Pennsylvania
Muhlenberg College partnered with Re:Vision Architecture to design Fahy Commons, a living laboratory for students to learn and practice sustainability on its Allentown, Pennsylvania, campus. First planning to renovate an existing fraternity house for the commons, the project team changed course, instead deciding to erect a smaller building on campus that would better foster connection and accessibility. 
While the project shrank in size, it grew in purpose, with the new design lowering energy and water demands from the original plan, and helping the team begin its journey toward becoming the first Living Building Challenge Core–ready project in the world, in addition to achieving LEED Platinum certification and exceeding Passive House standards.
Efficient HVAC systems, cutting-edge lighting technologies, and a super-insulated envelope reduce the building's energy use by over 70 percent from conventional structures. In addition, a 73-kilowatt rooftop solar array generates renewable energy. The design team also used locally sourced, low-toxicity materials—such as dark-gray Norman brick and terra-cotta panels—to reduce the building's carbon footprint while still complementing Muhlenberg's campus aesthetic.
A rainwater recycling system (which, showcased behind glass doors, doubles as an educational tool), paired with low-flow fixtures, has measurably shrunk the building's potable water consumption by close to 100 percent. Surrounding the building, native landscaping restores the ecology of the site, further reduces water needs, and sequesters an estimated 315 tons of carbon in the soil. The building also employs multiple techniques for bird safe glazing including a proprietary design by one of Muhlenberg's ornithologists.
The design champions health, community, and equity. Biophilic elements, high-performance windows, and outdoor spaces foster experiences with nature, supporting occupant well-being. The building is also designed for universal accessibility, allowing all users to navigate the space with dignity—even bees are welcomed via special bricks designed to house them.
More Planet Positive Awards