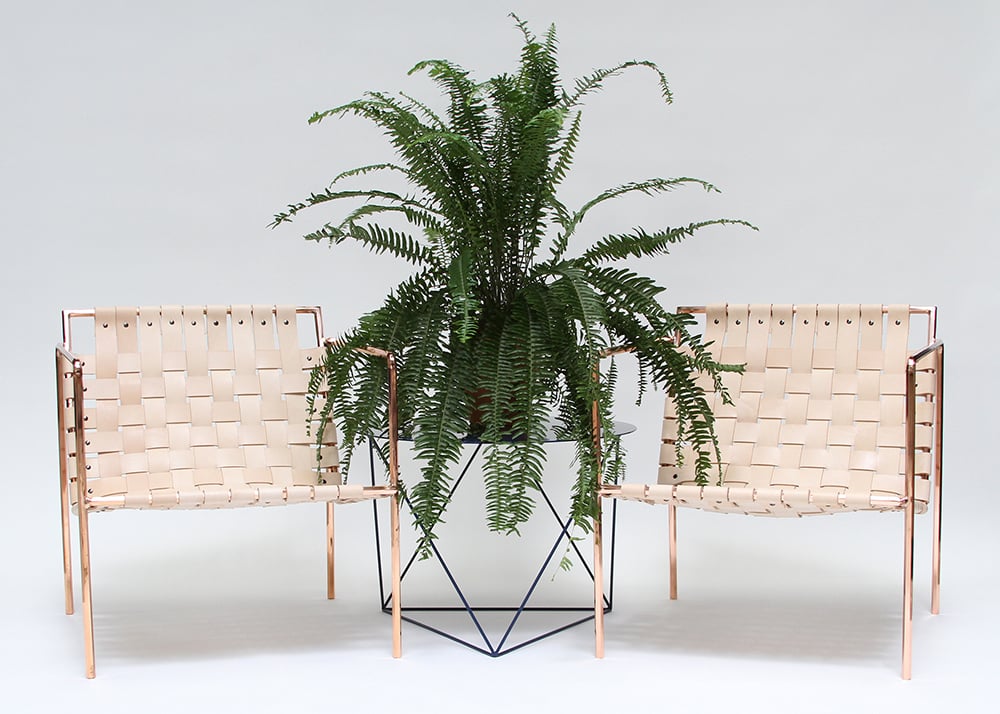 December 16, 2014
All the Standouts from 2014's Top Design Events
All the standouts from a year's worth of international design events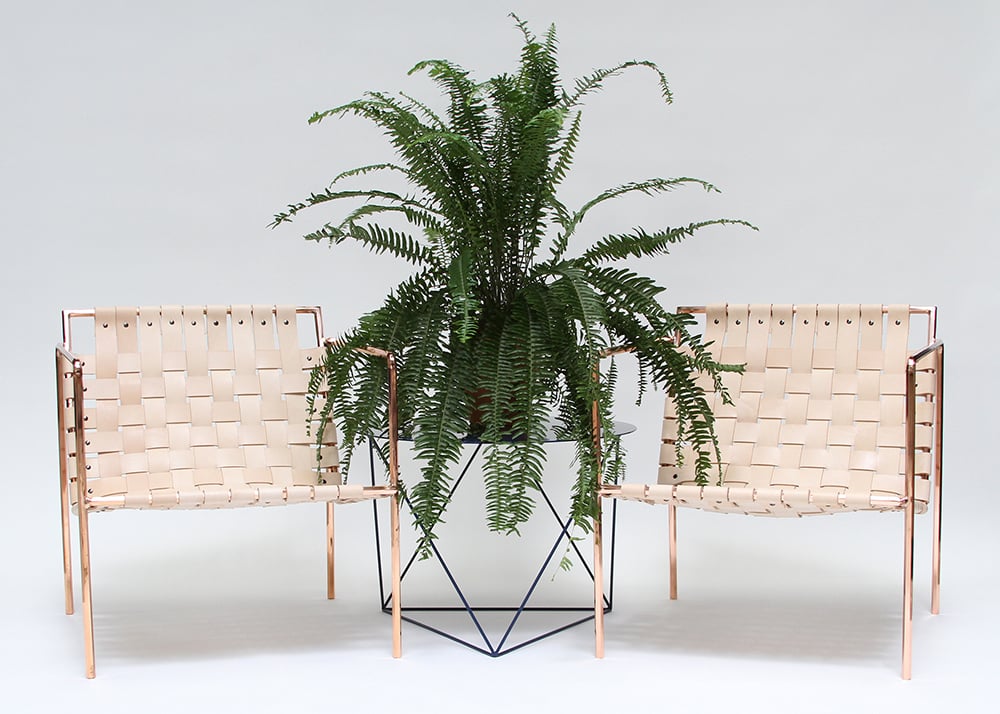 All photos courtesy the manufacturers
Our selections from six of this year's most important design shows, plus a preview of upcoming kitchen and bath products.
Milan Furniture Fair
New York Design Week
Maison & Objet
London Design Week
WestEdge Design Fair
Cersaie
Kitchen and Bath Industry Show (KBIS)
---
Milan Furniture Fair
Next Edition: April 14–19, 2015
---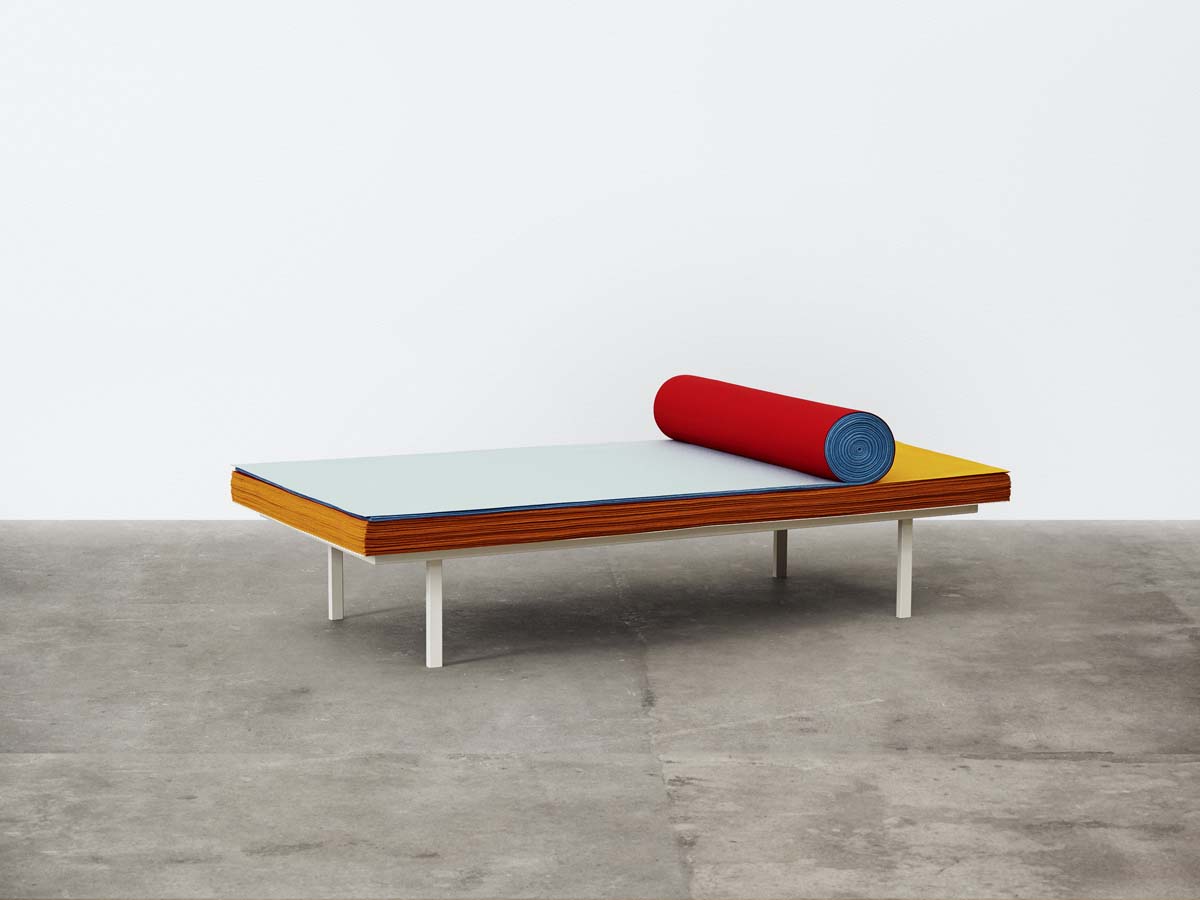 The Salone Internazionale del Mobile, held every April, remains the world's most important design fair. It leads the way in furniture design, both from Italy and abroad, showcasing the innovations that will soon be shaping interiors across the globe. This year, at the 53rd edition, more than 300,000 visitors (including 5,620 members of the press) attended the fair on the outskirts of Milan, where almost 1,400 exhibitors displayed their latest products. One of the main attractions was an exhibition called Where Architects Live, for which eight leading architects—including Zaha Hadid, Shigeru Ban, and David Chipperfield—created their own room installations exploring how we inhabit domestic spaces today. Big-picture trends —such as nostalgic reinterpretations of the 1950s and 1980s, futuristic iridescent surfaces seemingly covered in gasoline or oil spills, and wood and natural stones, like marble—all showcase the designs that will be finding their way into homes a year or so from now. —Paul Makovsky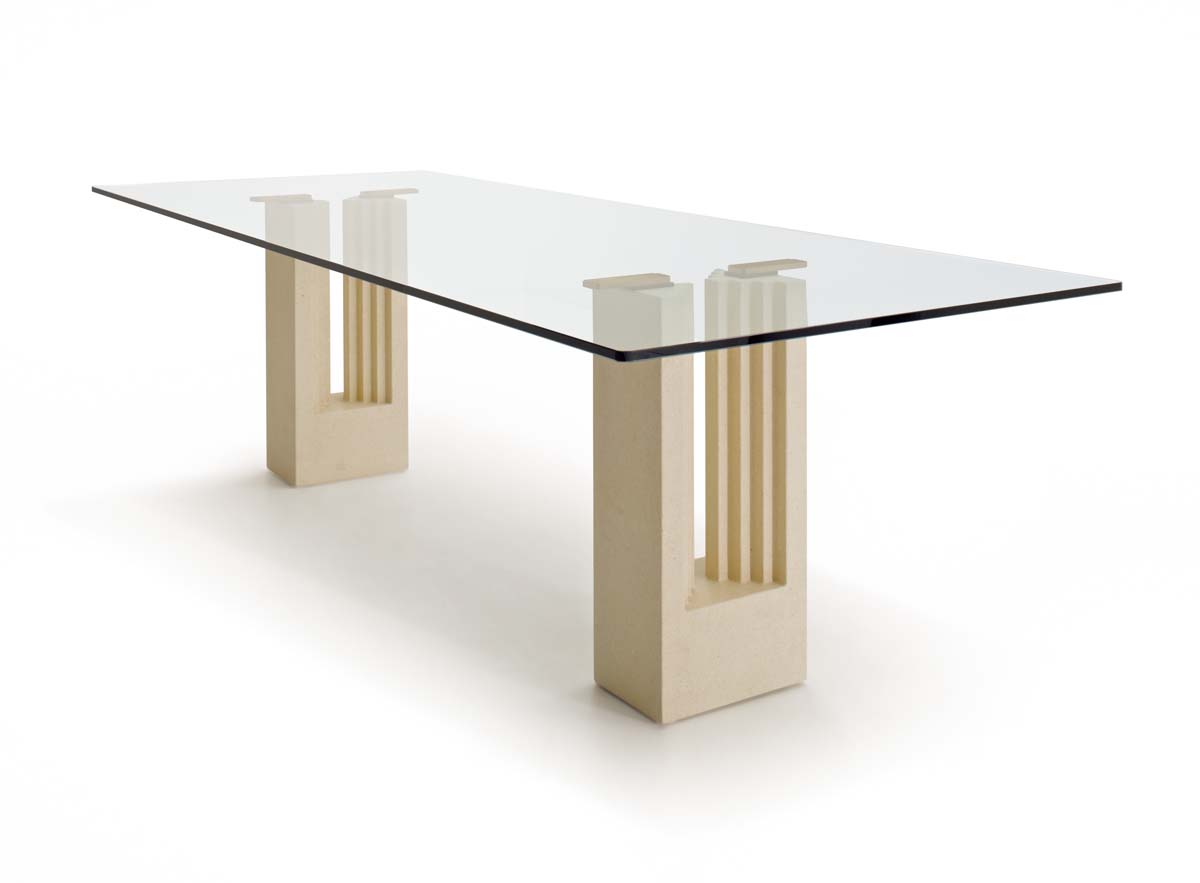 ​
Cassina Delfi Table
This marble table, designed by Tobia Scarpa, is a revision based on a 1930s table by Marcel Breuer, which Carlo Scarpa worked on in 1968, changing it with the help of Breuer himself.
B&B Italia Maxalto Fulgens Armchair
Antonio Citterio reinterpreted traditional forms to create a cozy chair, designing a continuous wooden structure with a wide back, plus armrests to increase the sense of comfort.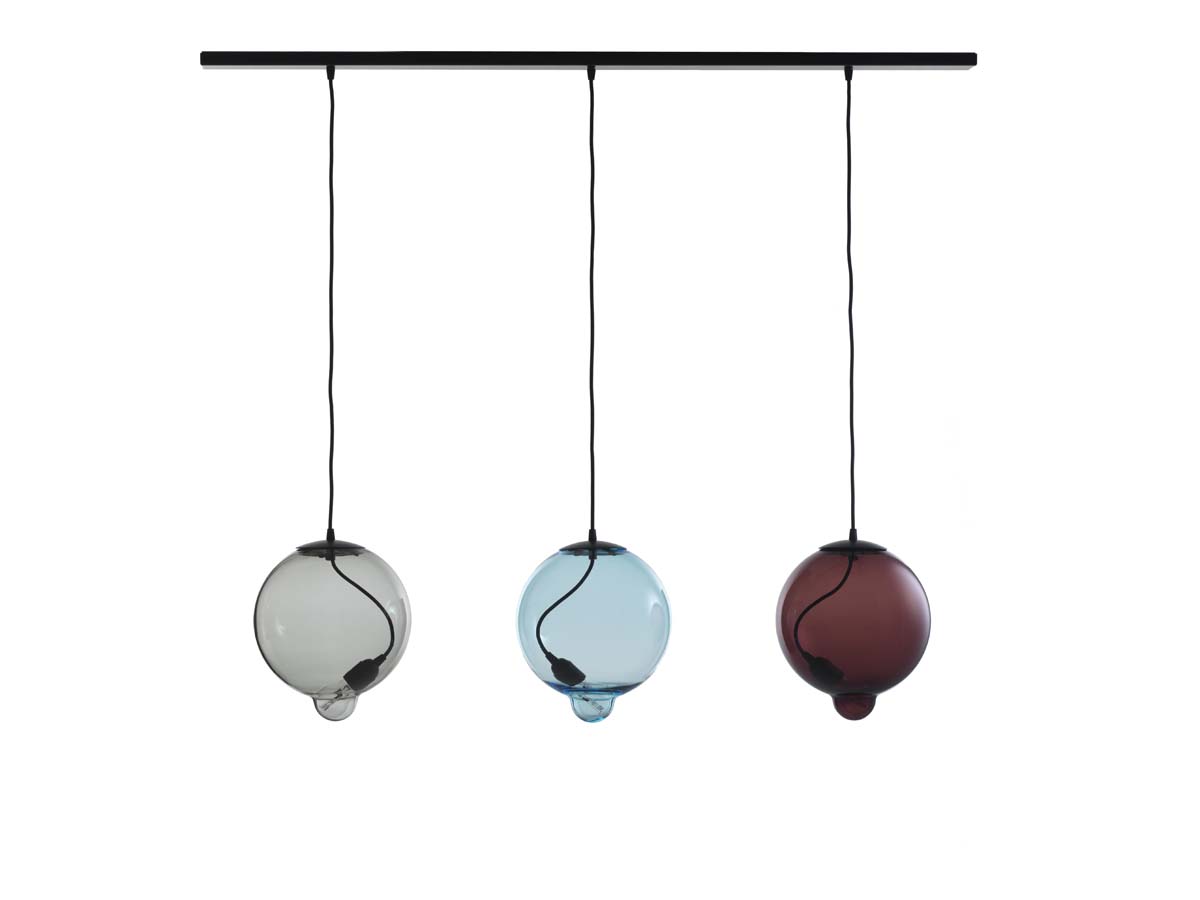 Cappellini Meltdown Lamps
These spherical colored-glass diffusers by Johan Lindsten are mouth blown in a mold, and are available in the same color or a mix of finishes.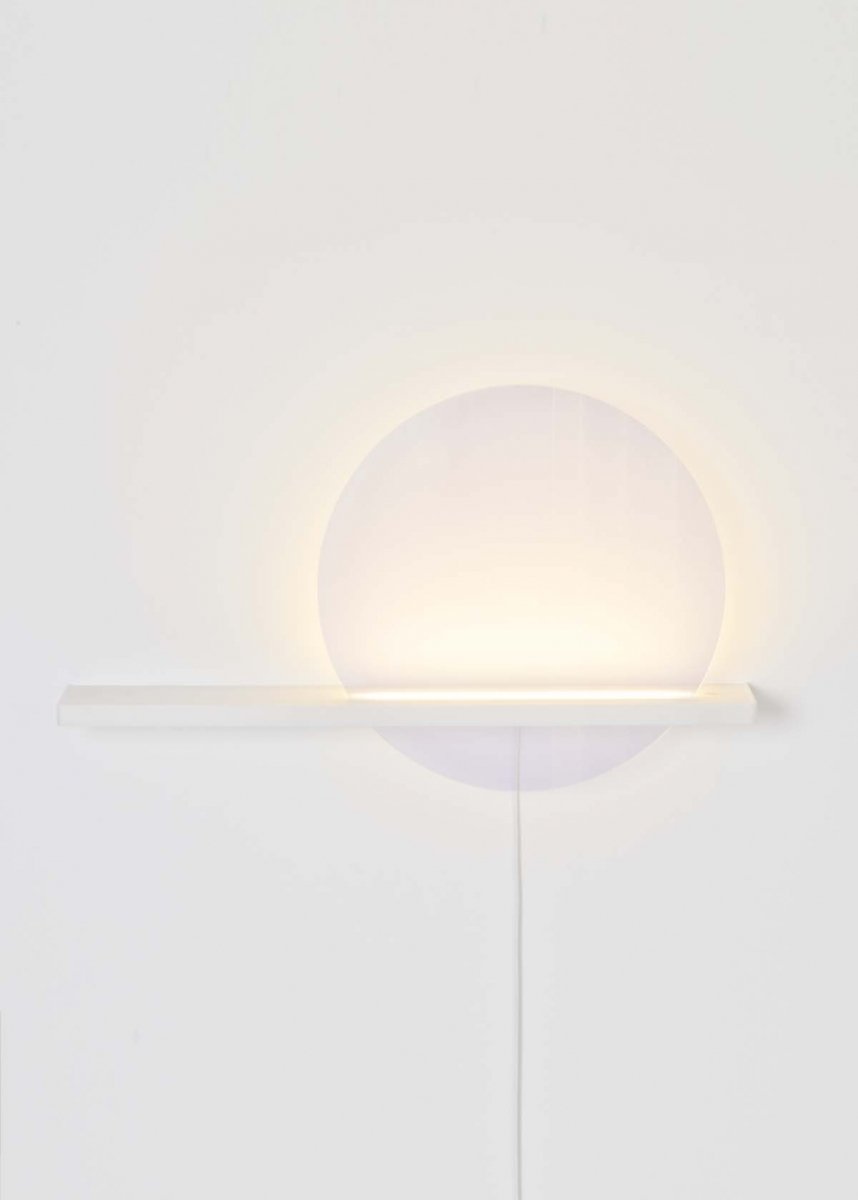 Lucent Mirror Shelf
Studio WM's wall-mounted shelf shows a gradual transition from mirror to lamp through a simple touch. A dimmable LED source is integrated into the shelf alongside a sensor that interacts with the user when being touched.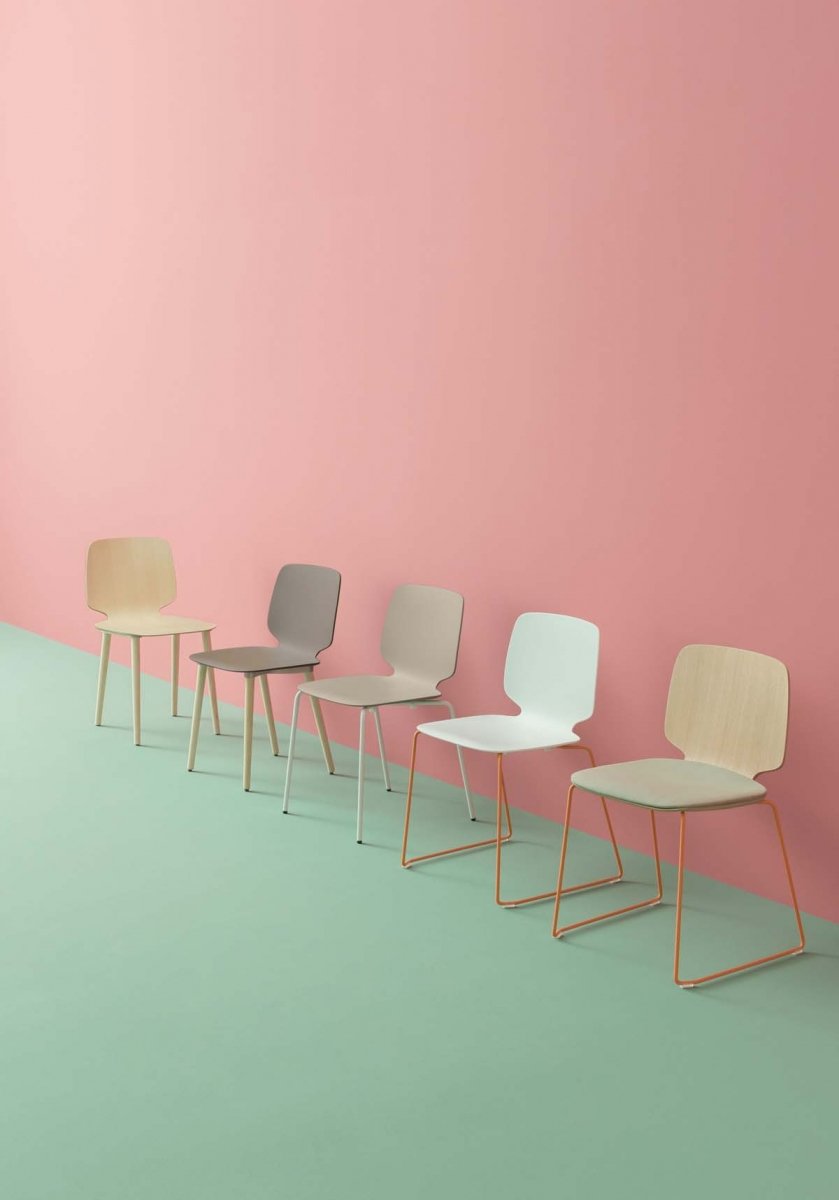 Pedrali Babila Chair
The shell of this technopolymer chair recalls the wooden version, but utilizes the elasticity and three-dimensionality of the plastic material for a comfortable, smarter look. In addition to the stackable metal frame, the chair is available in a combination of technopolymer and ash-wood legs.
Roche Bobois Capsule Buffet
Designed by Cédric Ragot, this three-door buffet is made of thermo-formed Daquacryl. It has a transparent base and comes in 34 colors.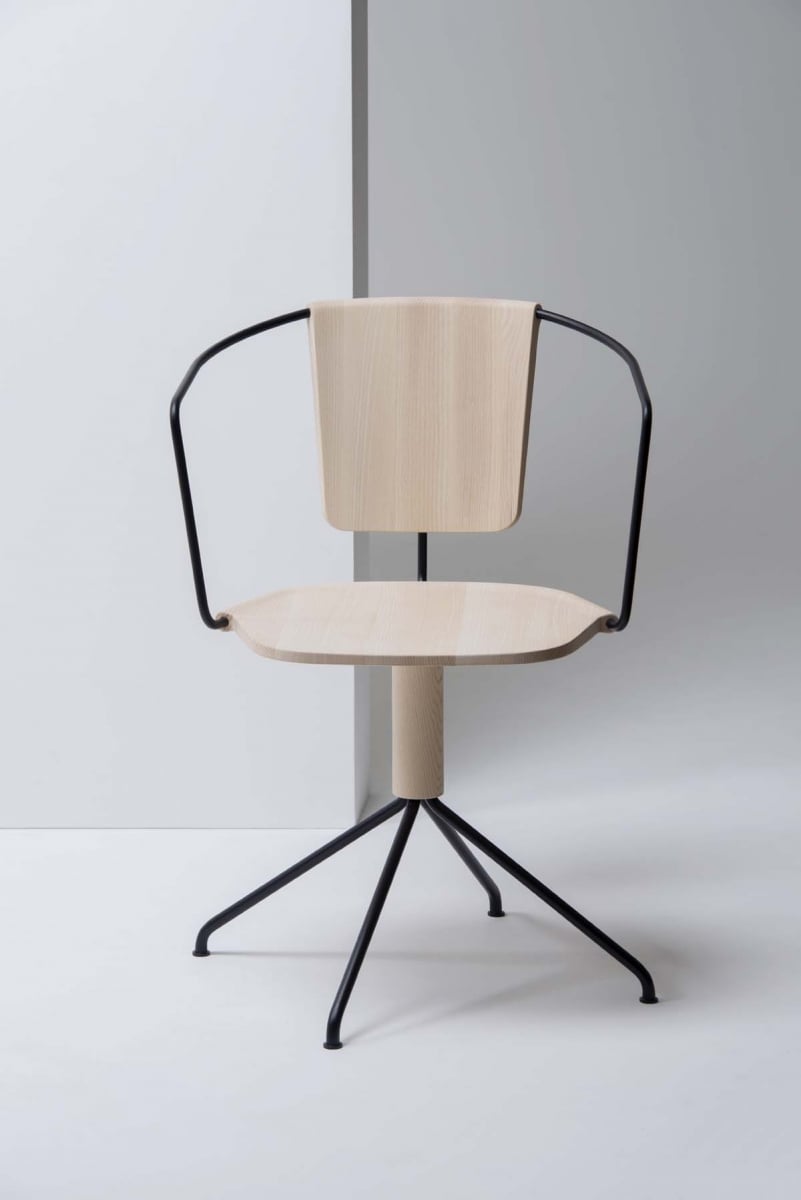 Mattiazzi Uncino Chair
This wooden task chair, by Ronan and Erwan Bouroullec, is both handcrafted and CNC-milled. There is a choice of two backrests, and either a four-star swivel base (shown), or a three-legged sled base.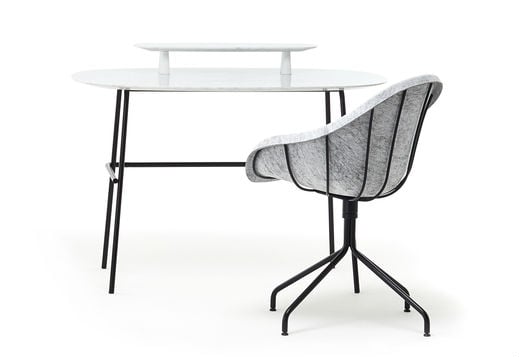 Tog Tubo Chair
Sam Hecht and Kim Colin's affordable chair is part of Tog's range of furniture that can be customized in terms of finish and add-ons, using an app.
Asamania Legato Sideboard
Inspired by artist Ellsworth Kelly's works, this storage cabinet by Claesson Koivisto Rune comes with doors that are neither completely square nor round. If positioned next to each other, they create colorful and amusing combinations, making them ideal for an open and multifunctional space.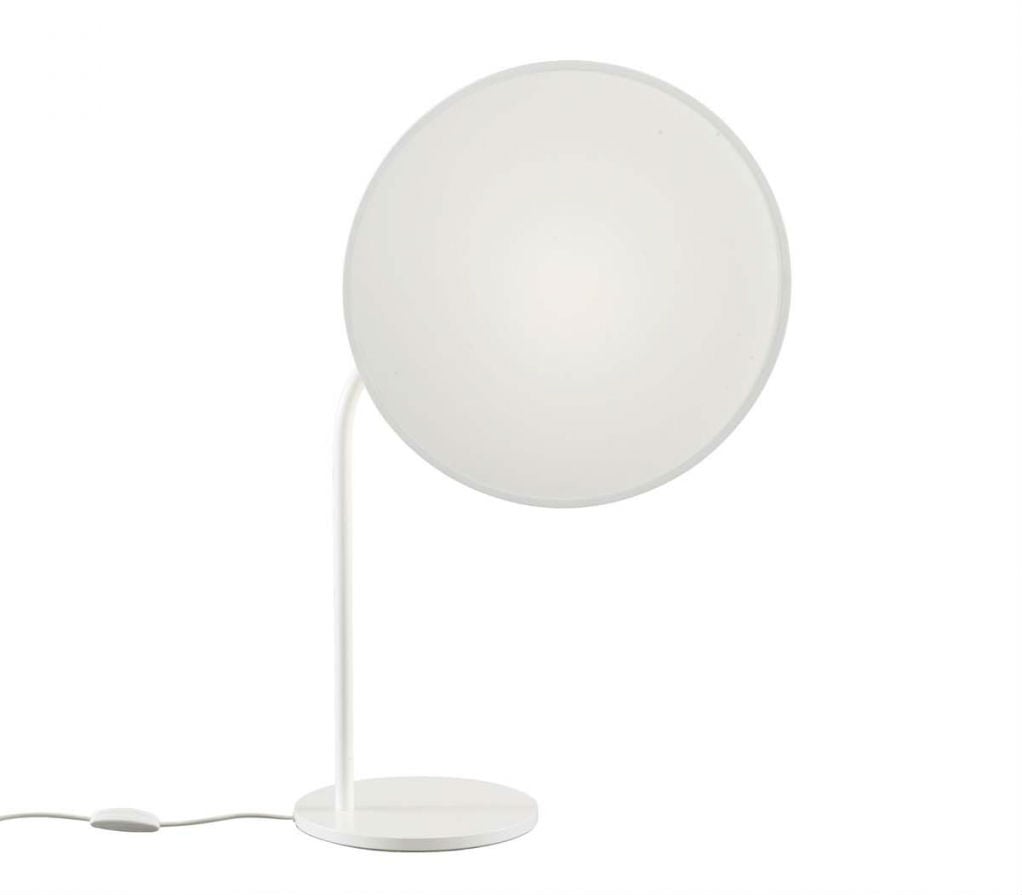 Ligne Roset Owl Lamp
Jun Yasumoto's white lamp features a bare lightbulb behind a flat suspended lampshade that can rotate around the light source. It is available as a table, reading, or wall lamp.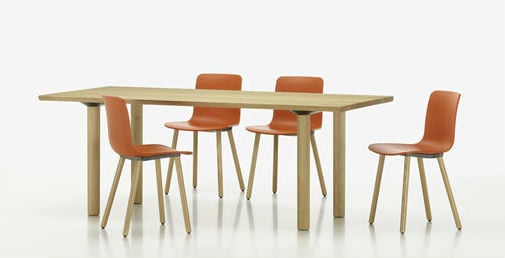 Vitra Wood Table
The legs of this table by Edward Barber and Jay Osgerby are solid wood. The oval profile is horizontally connected by strong aluminum bridges that ensure the table's stability and prevent the frameless solid-wood top from warping. Almost three feet wide, the table is available in four lengths, and in natural oak, core-smoked oak, or American walnut.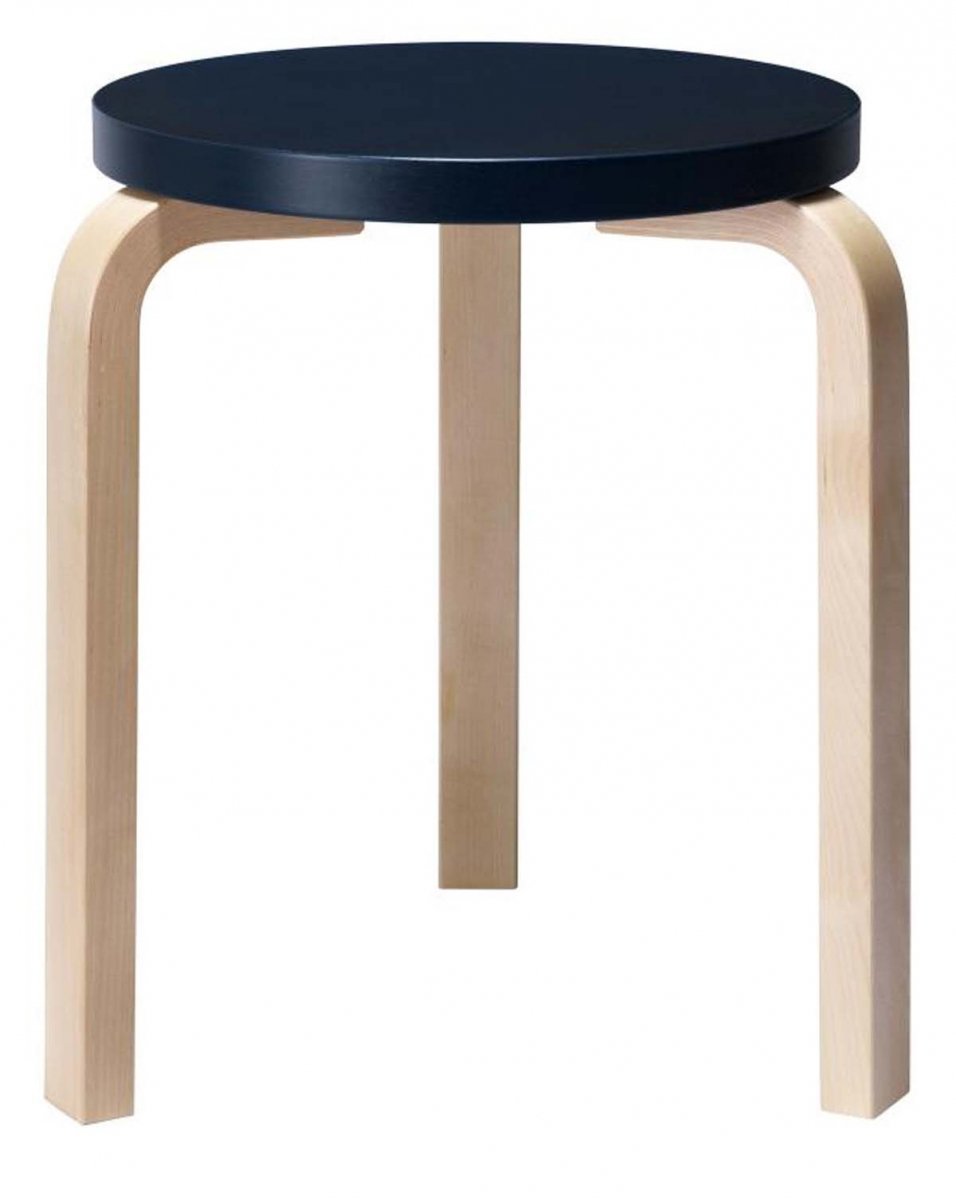 Hella Jongerius for Artek Stool
Hella Jongerius has reinterpreted Alvar Aalto's classics such as the armchair 400 and 401, and the Stool 60 (shown), by creating a tonal color palette around four wood finishes. Adding to the existing Artek wood finishes, Jongerius created two new darker tones: walnut and charcoal. By introducing upholstery in more tactile fabrics, she has also updated the color palette of the Aalto archives.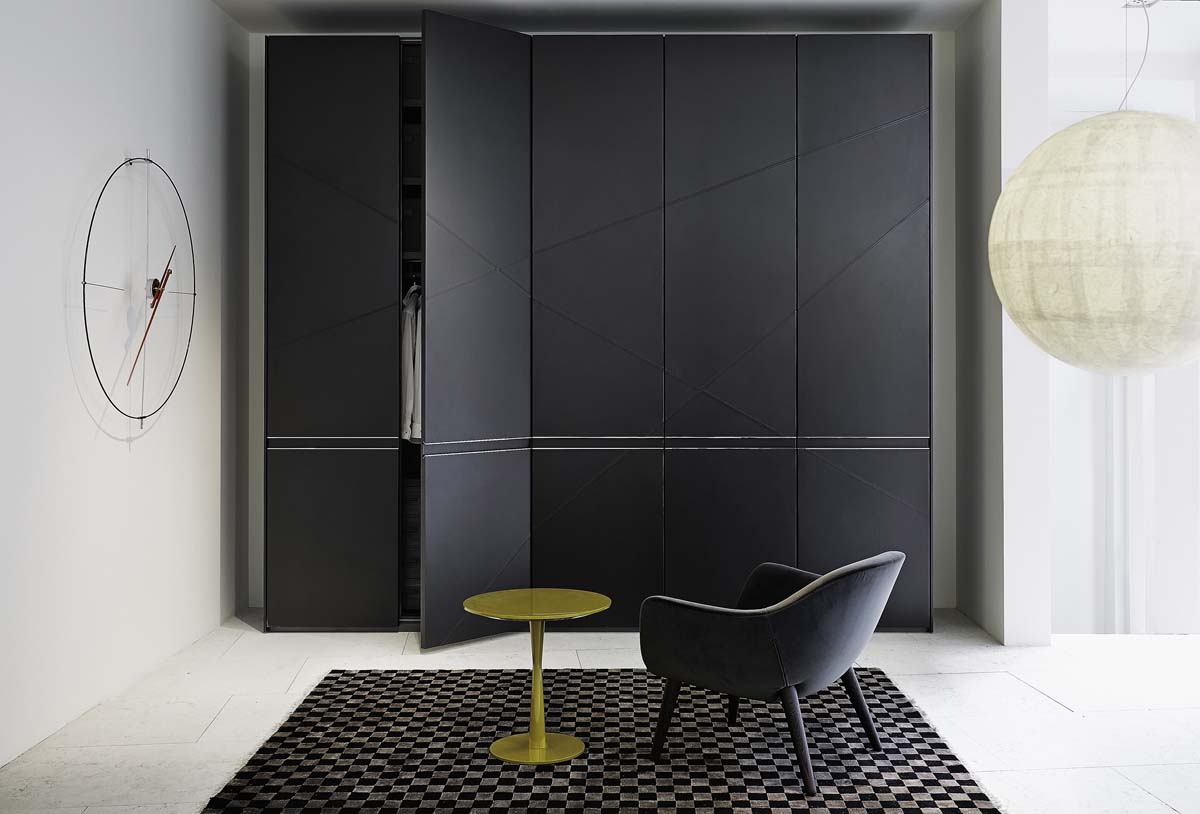 Poliform Sharp Wardrobe
This wardrobe by Daniel Libeskind is an architectural element that uses precious materials, such as leather and metal, to add character to the bedroom. The wardrobe doors are available in seven shades of leather hide, with diagonal stitching.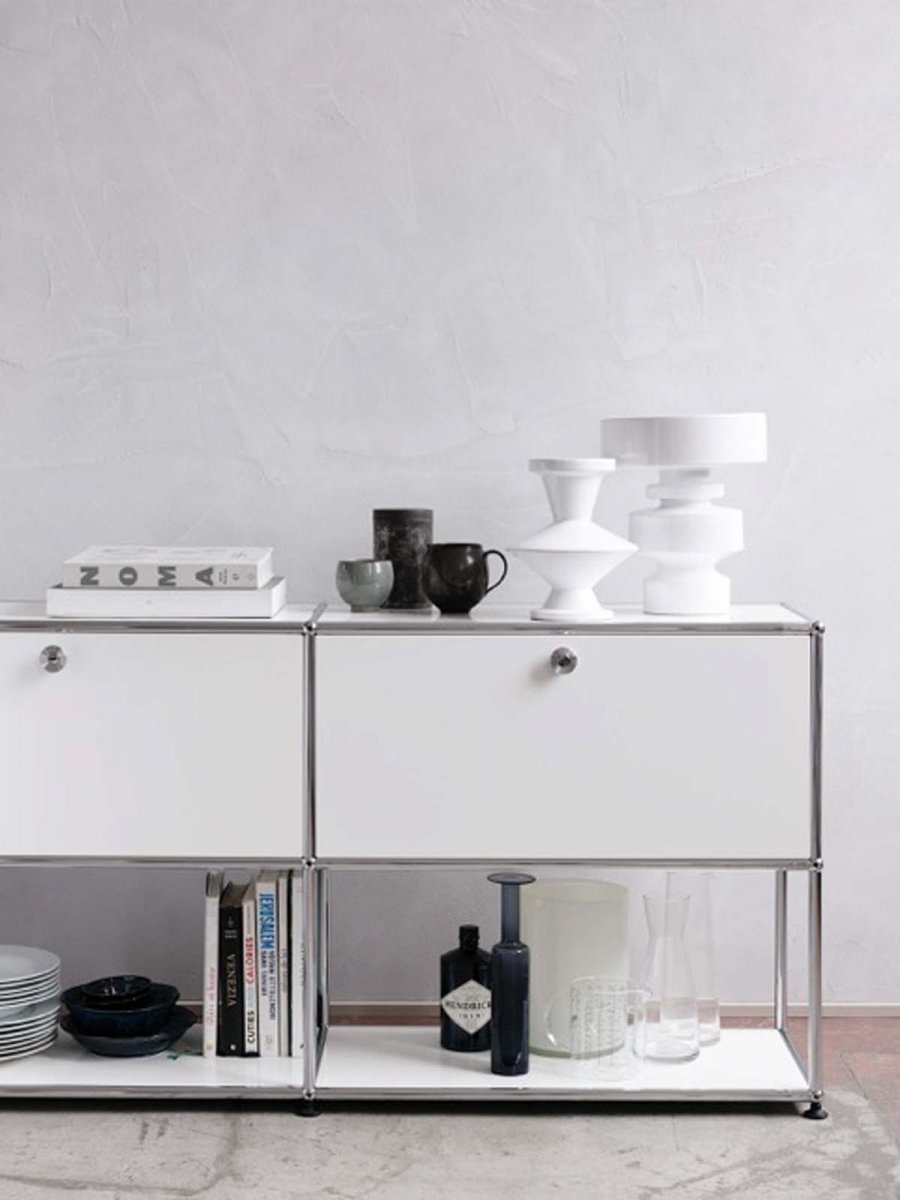 USM Haller Surface
USM Haller Modular Furniture's classic system is now offered in 55 new surfaces. The new and simple laminate surfaces blend into minimalist living environments and work harmoniously with both unfinished surfaces and classic sideboards.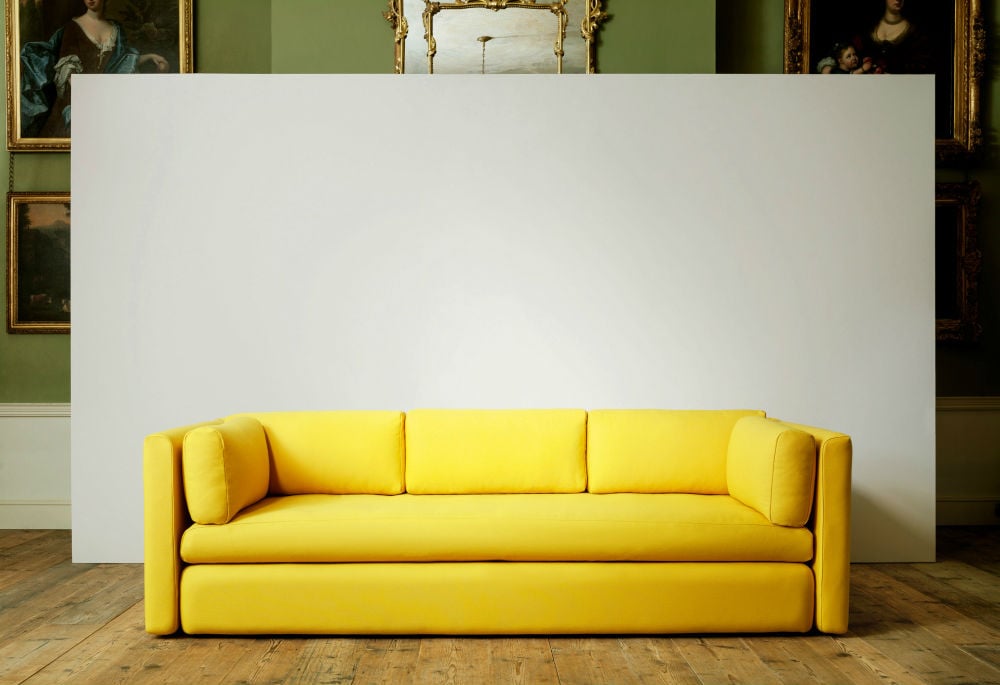 Wrong for Hay Hackney Sofa
The foldable upholstered frame of this sofa by Sebastian Wrong allows the generous three-seater to be easily maneuvered.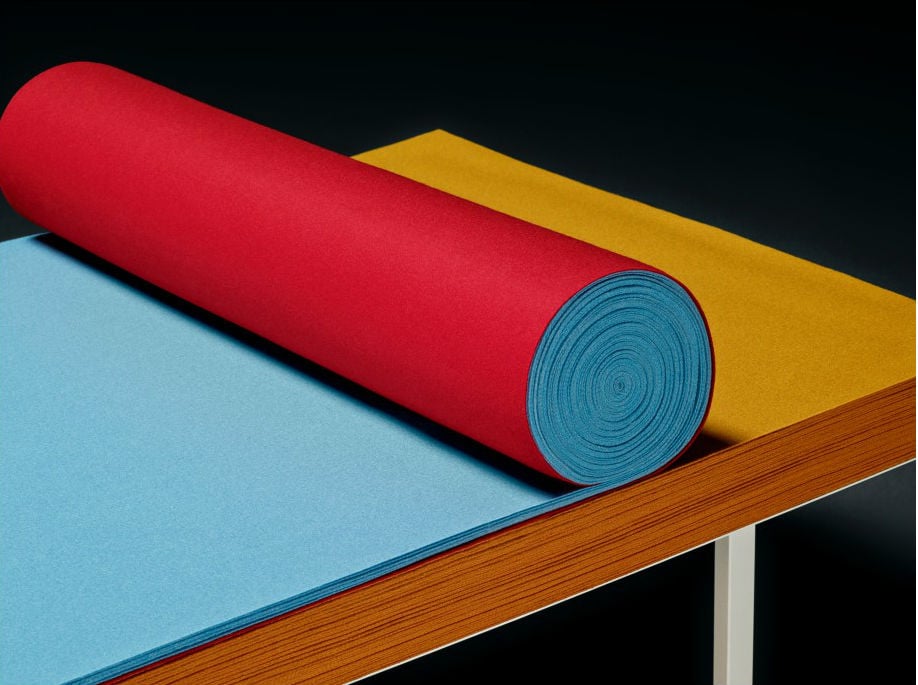 Kvadrat Muller van Severen Day Bed
The work of Fien Muller and Hannes van Severen intersects the realms of art and design. For the Kvadrat Divina project, the duo created a daybed using different-colored pieces of textile to accentuate its three components: the side where you lie, the end where you sit, and the cushion you have to lean on.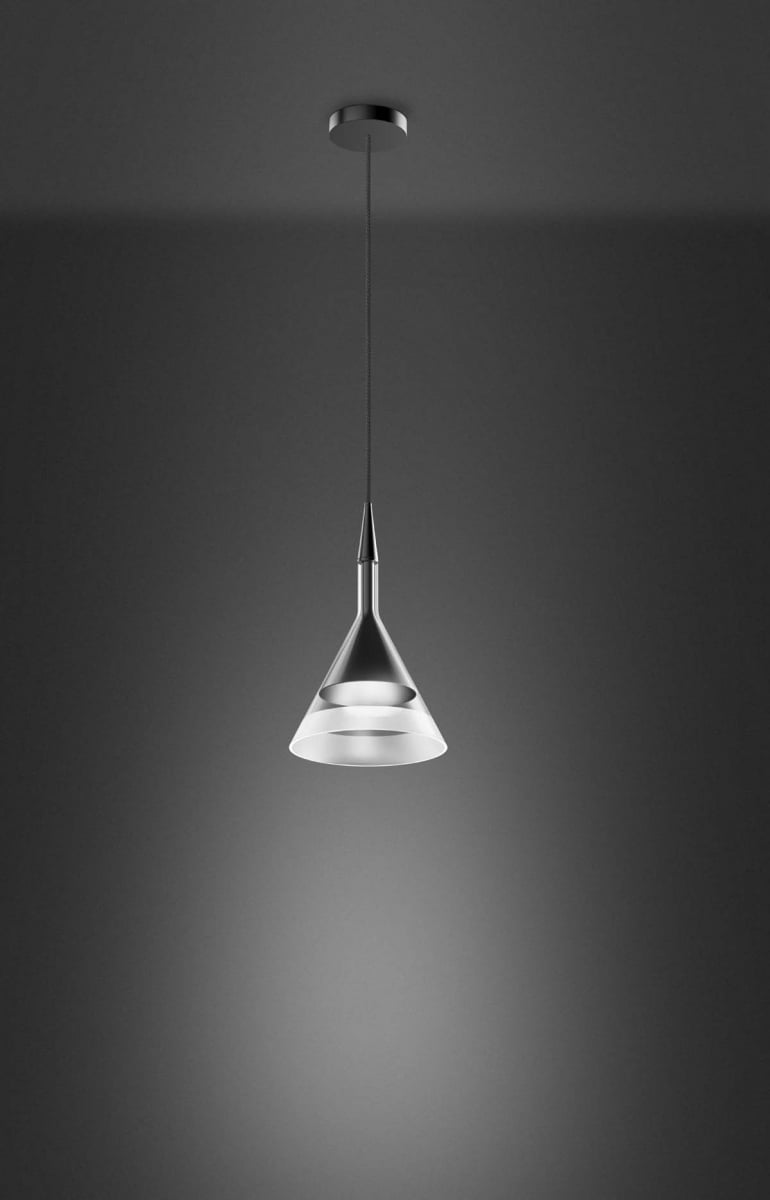 Artemide Conica Lamp
This lamp by David Chipperfield recalls an old-fashioned lampshade that contains the light beam within a cone shape. The lamp takes advantage of the LED, and, combined with a flexible tube covered with black nylon, makes it easy to handle and move to a desired position.
---
New York Design Week
Next Edition: May 15–19, 2015
---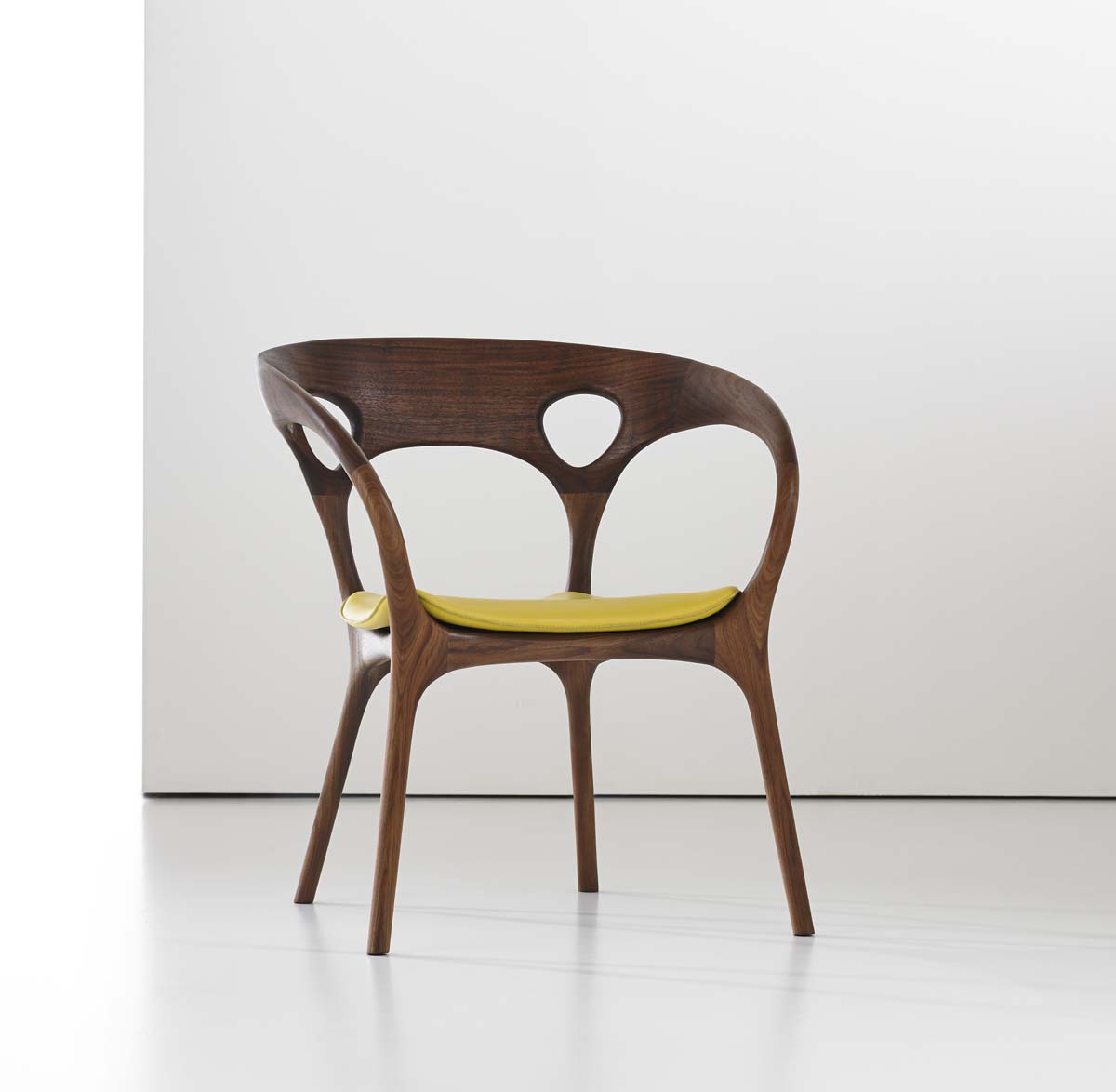 This year's New York Design Week was an embarrassment of riches. With dozens of panels to attend, several hundred exhibitors to visit, and a slew of parties to hit, you would have been hard-pressed not to find a design-related event to take in. And of course, there were the three headlining shows—the International Contemporary Furniture Fair (ICFF), WantedDesign, and Sight Unseen OFFSITE—that commanded much of the visitors' attention. In its 26th year, ICFF once again proved that its platform is nimble enough to accommodate work from both large manufacturers and emerging designers. WantedDesign showcased a mature range of exhibitors, such as Design Within Reach and Moroso, who teamed up with innovative designers like Werner Aisslinger. The wild card of the group was OFFSITE, which built on the success of Sight Unseen's Noho Design District, highlighting more oddball work that managed to be experimental and elegant at the same time. —Samuel Medina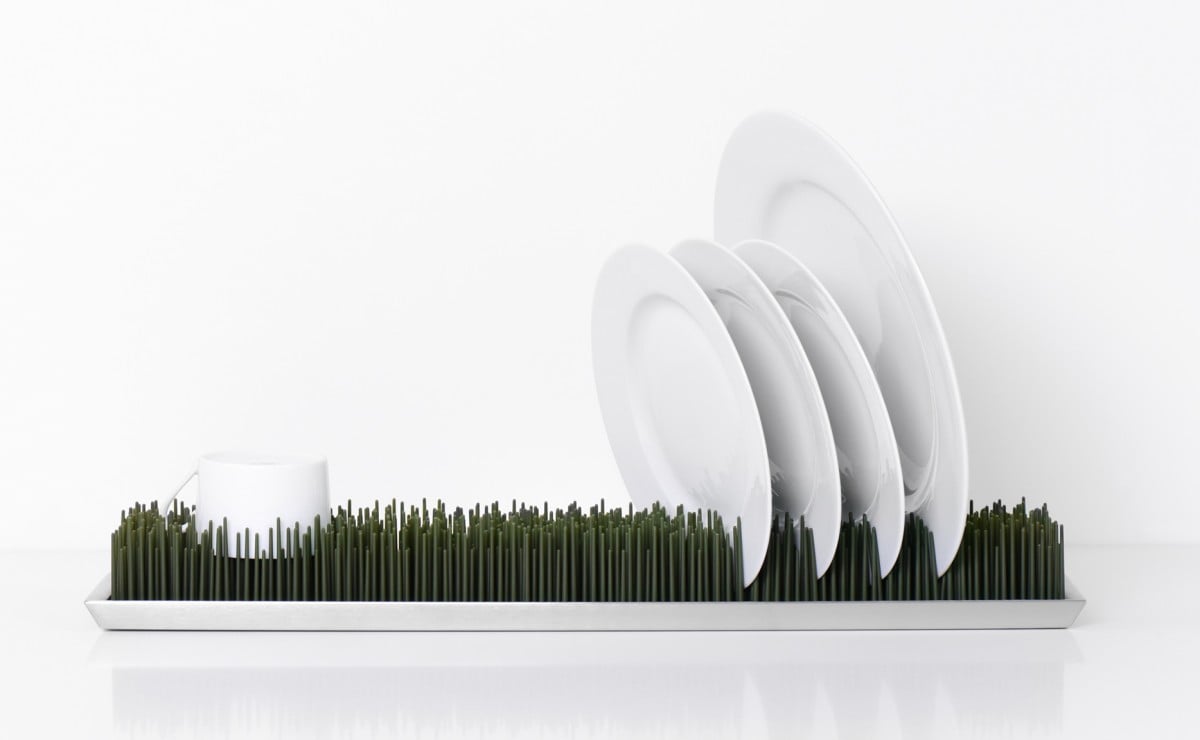 Finell Sod Drying Rack
This playful dish rack was a nice change of pace at ICFF, a whimsical find among the fair's troves of furniture, lighting, and textiles. Designed by Rebecca Finell and sold through her namesake Texas-based company, the tray's filaments resemble tall blades of green grass.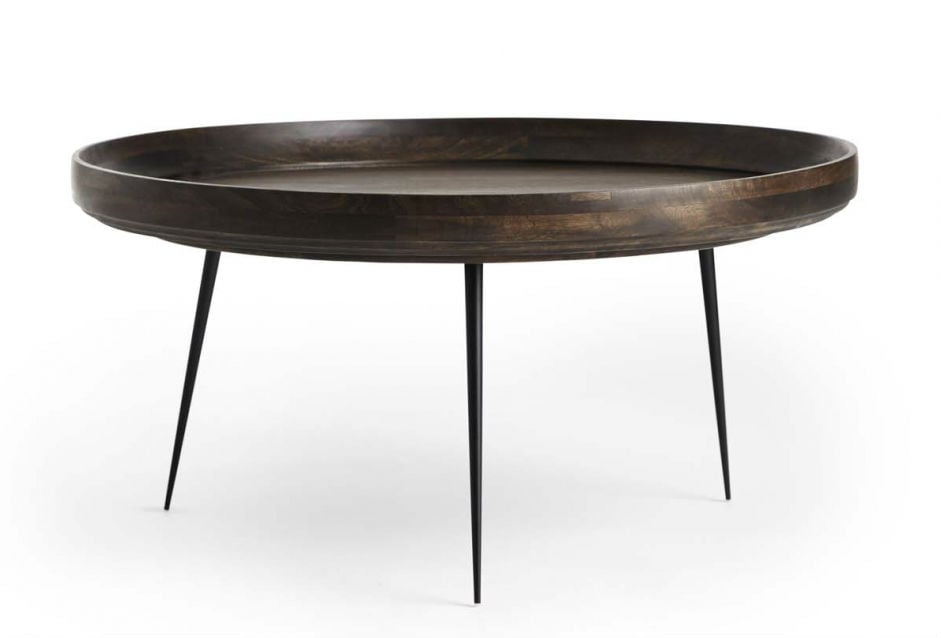 Mater Bowl X-Large Table
Despite the misleading nomenclature, the Mater Bowl can double as a table or, when the legs are detached, a serving tray. The lacquered top is made from wood sourced from Indian mango trees, which were turned by local kharaadi, or woodworkers.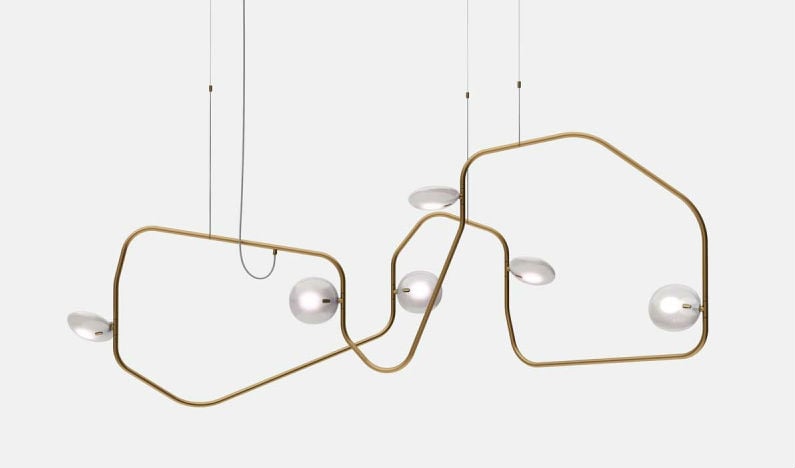 Rich Brilliant Willing Palindrome Chandelier
A standout at ICFF, the Palindrome Chandelier derives its contorted shape from a modular system of interlocked steel arms. Sandblasted lamps containing LEDs are affixed to the looping bar at various junctions.
Santa & Cole Wally Lamp
A reissue of Miguel Milá's iconic 1962 wall sconce, the globe-shaped lamp is the cousin of Milá's equally celebrated Cesta model, which Santa & Cole rereleased in 2013.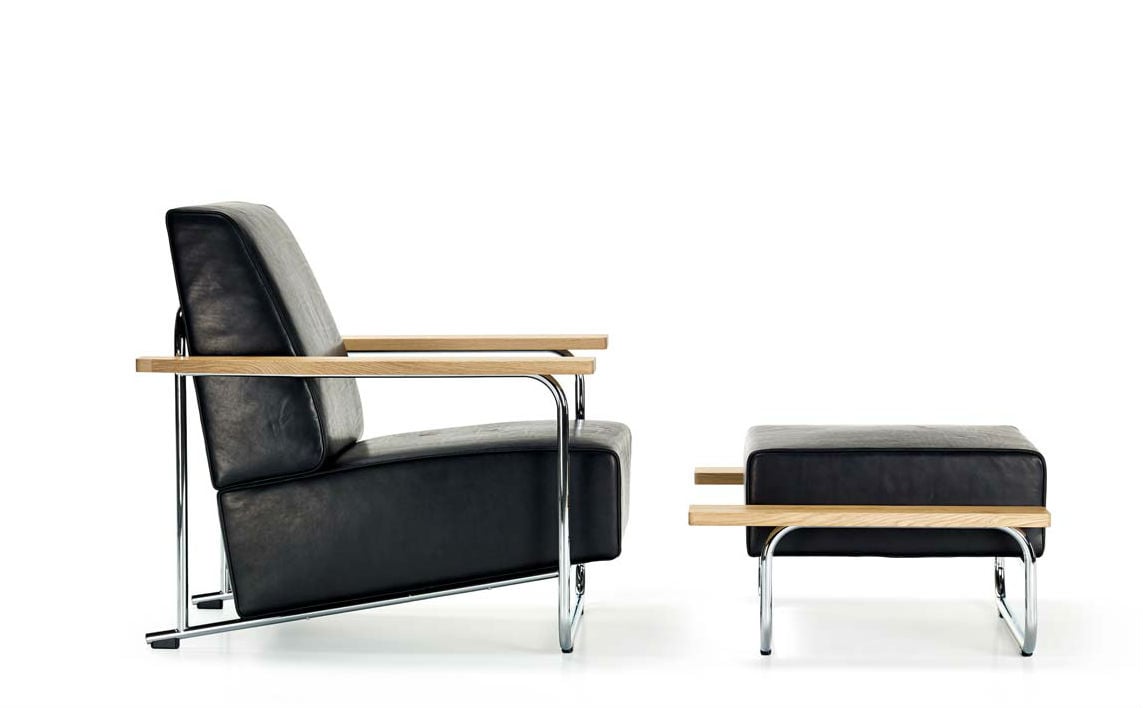 VS Neutra Furniture Collection
After extensive research and prototyping, German furniture maker VS launched its collection of Richard Neutra–designed chairs at ICFF. The exclusive line—which includes the classic Boomerang chair and the bent-steel Lovell chair—was conceived in collaboration with Dion Neutra, who worked to update the designs' material palettes.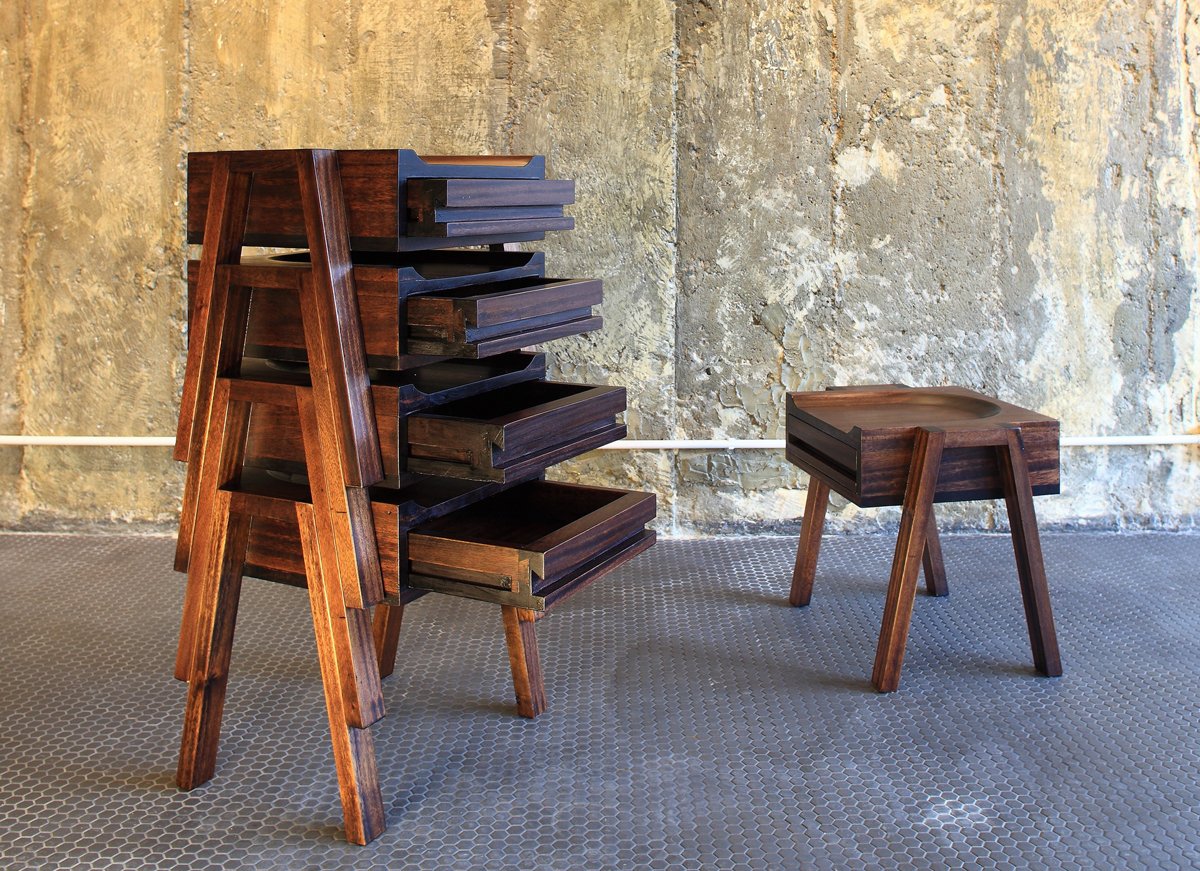 Lim+Lu Nest Stools
Crafted from solid European oak, these stools have an integrated drawer for storage, making them usable as nightstands. When stacked, they cut a striking profile, while, of course, saving floor space.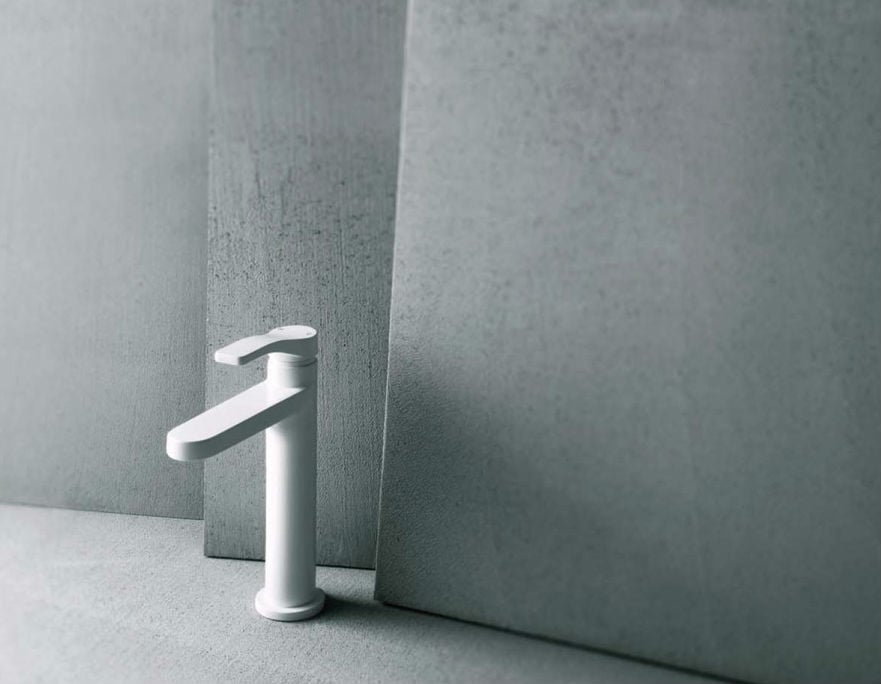 Fantini AL/23 Single-control Washbasin Mixer
The AL/23 collection consists of several elegant fixtures that—according to designer Piero Lissoni, who conceived of the line—reference industrial architecture. The matte white finish is an unexpected twist.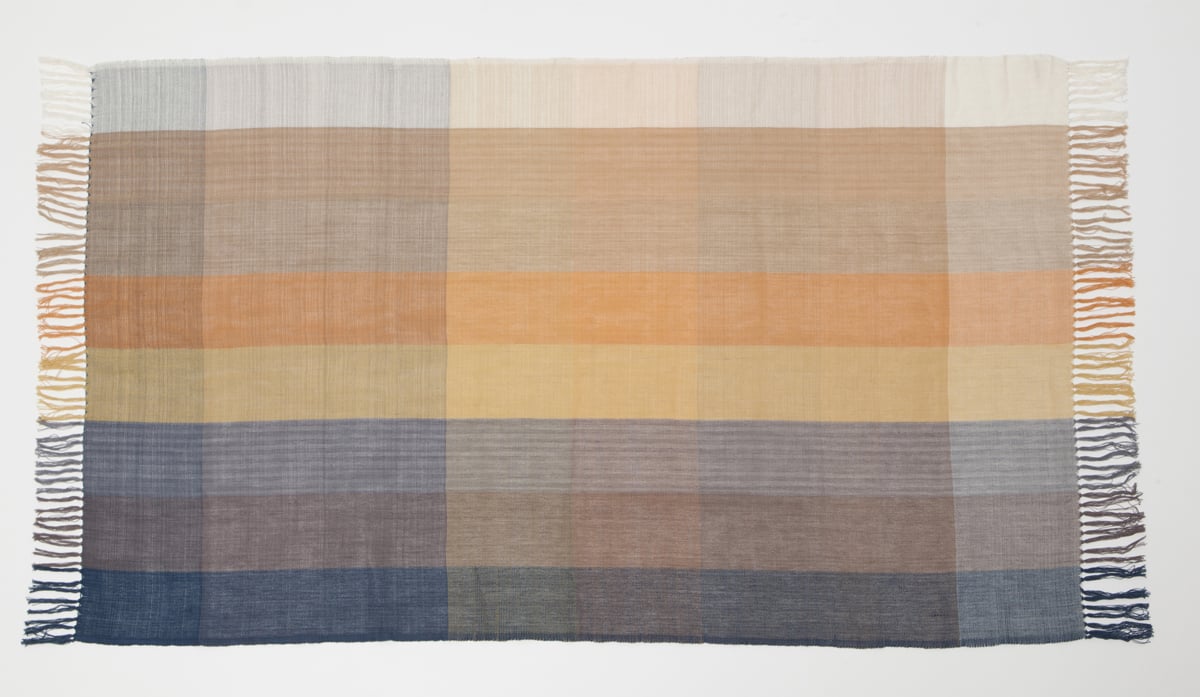 Grain Dolores Scarf
Grain recently made the switch to all-natural dyes, and the results, as evidenced by this lightweight cotton scarf and other designs, are spectacular. Handwoven by Guatemalan artisans on a treadle loom, the piece showcases the subtleties of the dyeing process, which makes use of local flora, plant roots, seeds, and tree bark.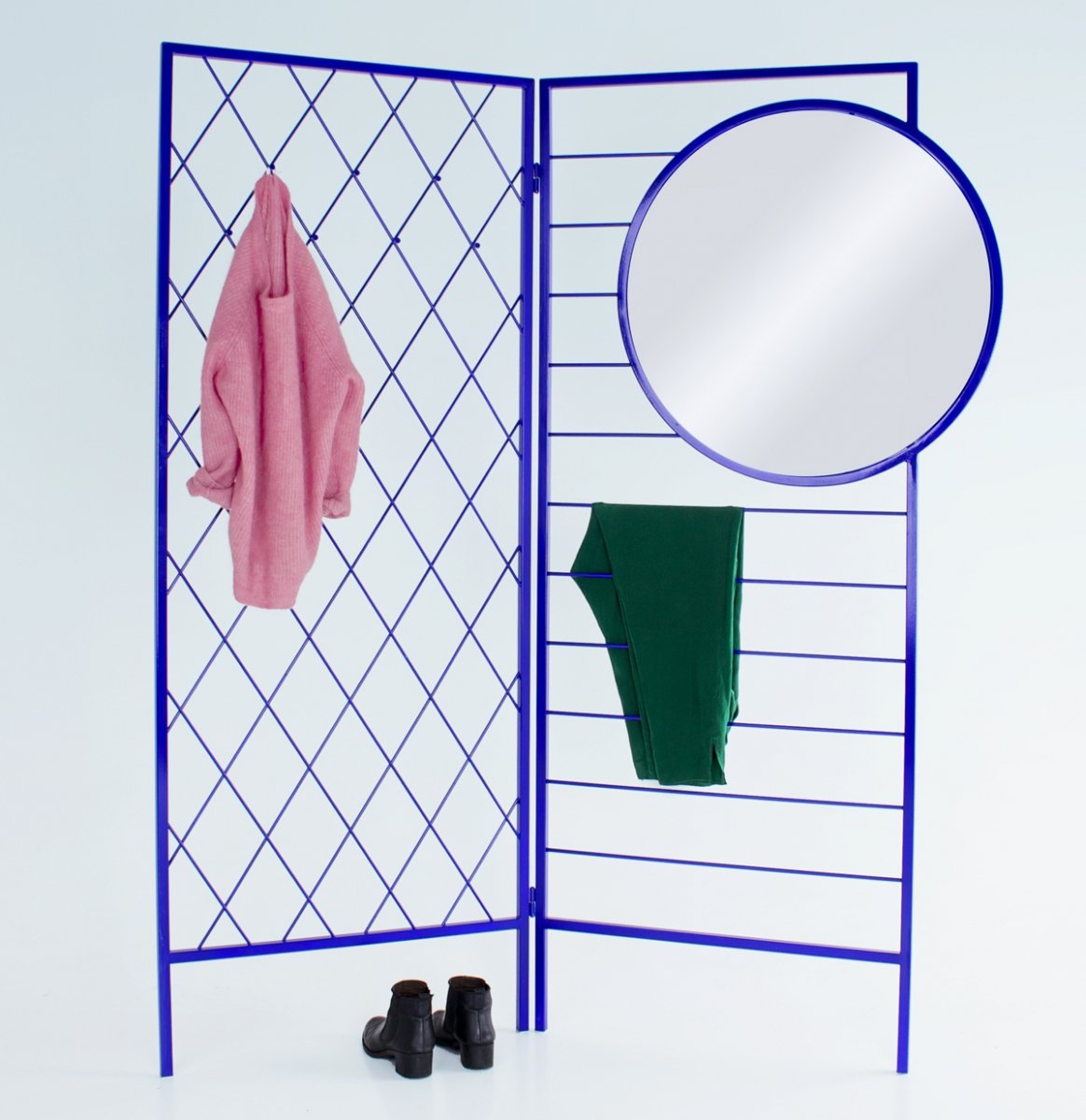 Vera & Kyte Apparel Room Divider
This eye-catching design by Vera & Kyte integrates a mirror with towel and clothing racks in one minimalist, geometrically clean package. The lacquered steel piece, which recalls the attitude and pop funk of Memphis, also acts as a room divider.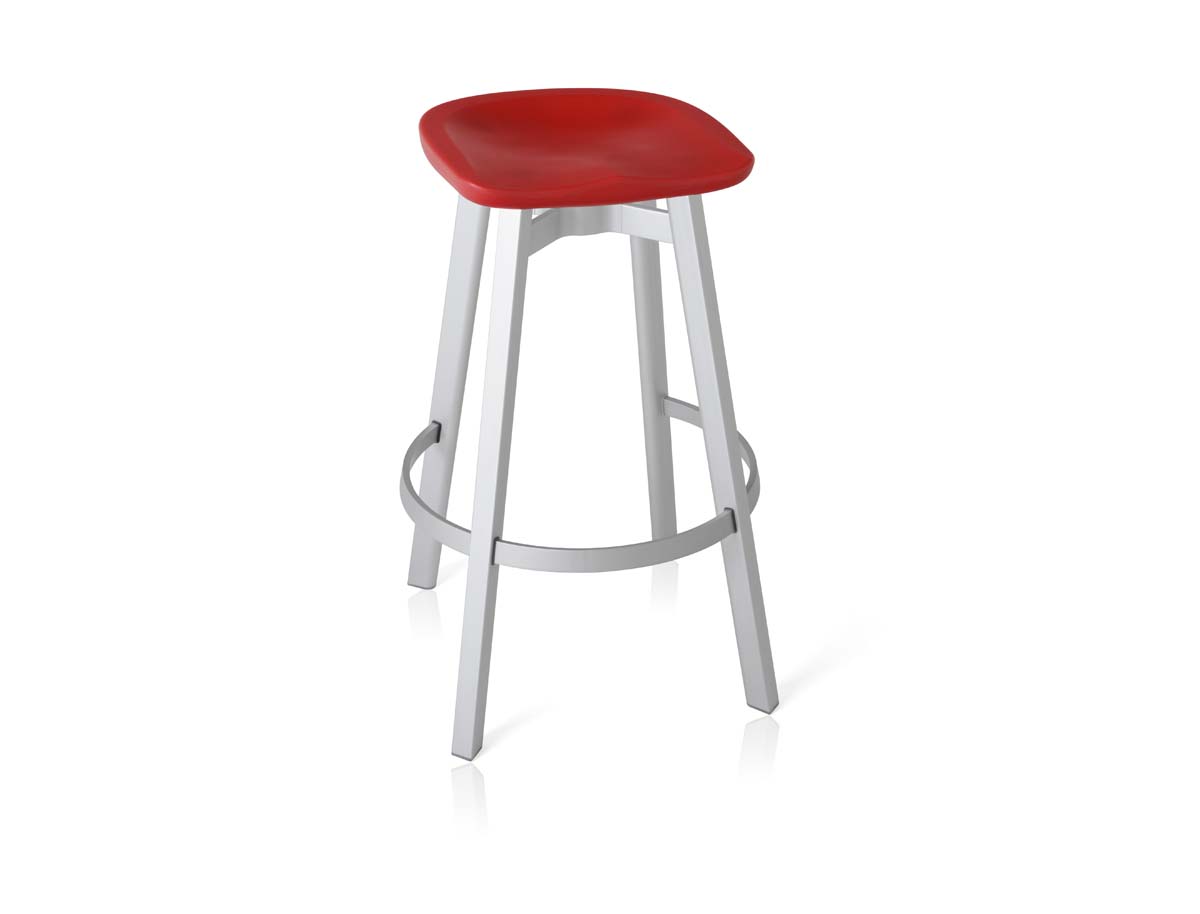 Emeco Su Stool
Deceptively simple, this stool by Japanese design studio of the moment Nendo riffs on Emeco's iconic Navy chair, whose sculpted seat provided the basis for the Su's own. The latter is available in two versions: a wood seat carved by Amish craftsmen using solid reclaimed oak, and a plastic seat made from recycled polyethylene.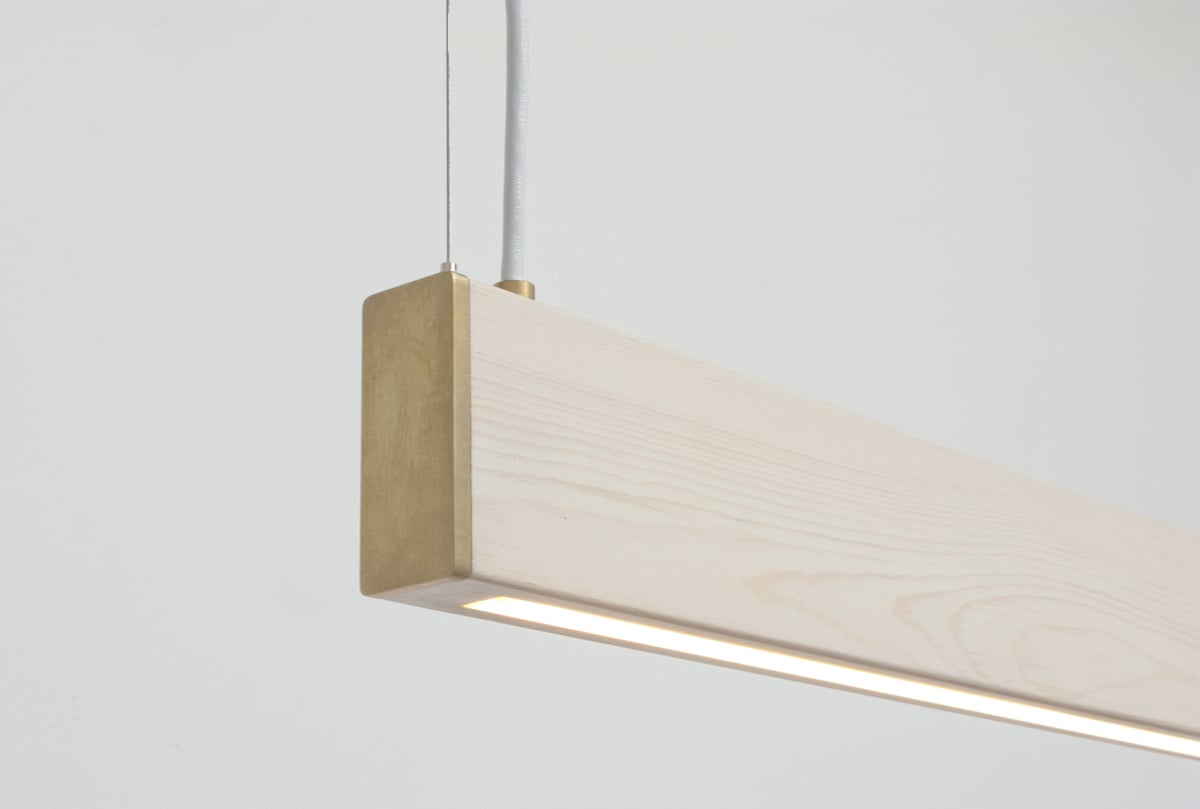 AlexAllen Studio 2X4 Pendant
AlexAllen Studio's design may recall standardization units—a 2X4 being the most ubiquitous unit of dimensional lumber—but this pendant light is entirely unique. Embedded in the wood frame are 12-volt, dimmable LED modules, and the piece can be customized with brass- or steel-capped ends.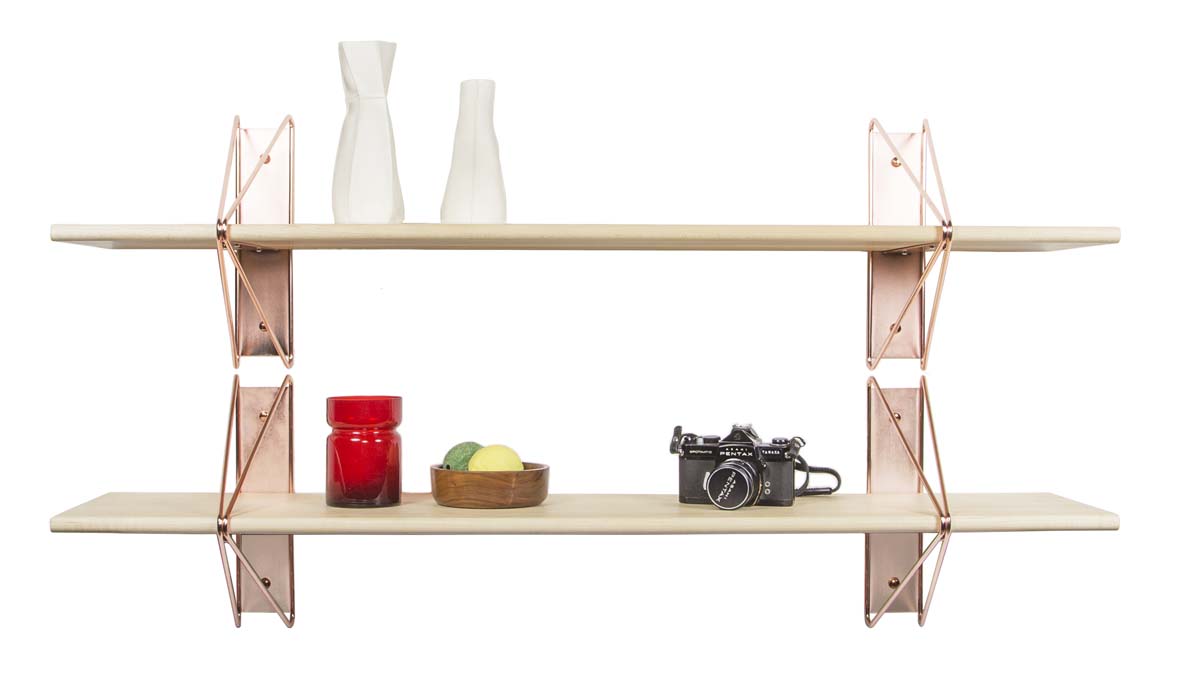 Souda Strut Shelves
With a sideways glance to bridge construction, this modular shelving system by Souda comprises just two elements—a single steel bracket design and hardwood boards. Shelves can be easily aggregated to support any size library.
Amuneal Pippa & Drew Shelves
At first glance, Studio CJWA's storage system looks like little more than a series of boxes intricately stacked one on top of another. Closer inspection reveals exquisite woodworking and joint detailing, executed in a contemporary style.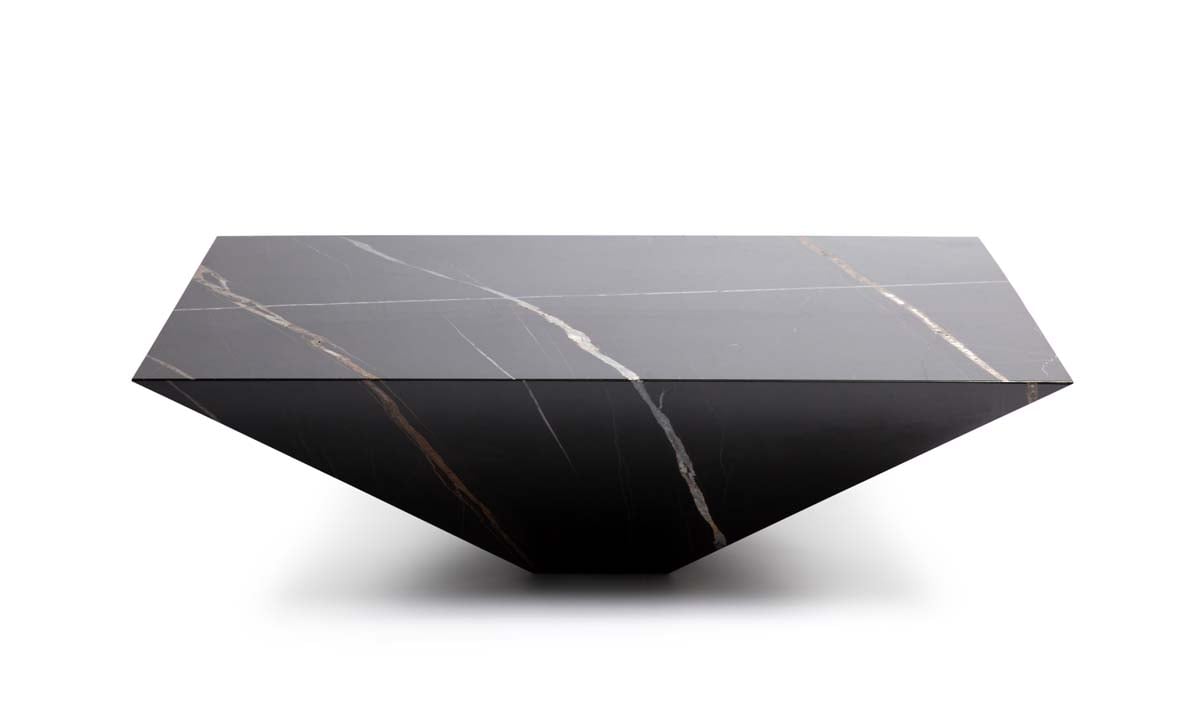 Haymann Lithos Table
Although it looks it, Tony Grilo's coffee table design—carved from a slab of black aziza marble—isn't at all heavy. The surfaces of the piece, which was created for Haymann editions, are relatively thin, making it easy to move and transport.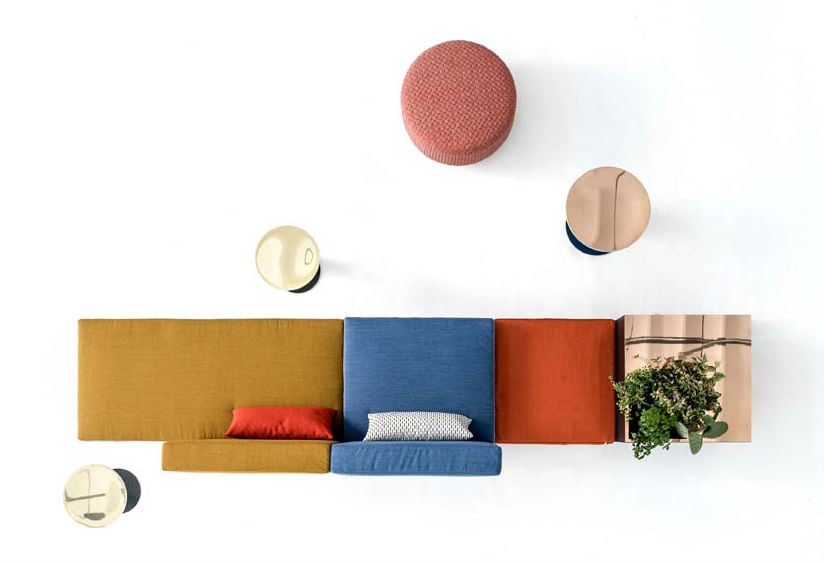 Moroso Bikini-Island System
This sofa system, designed by Werner Aisslinger for Moroso, flips the traditional lounging scenario—a single couch facing a TV—on its head. A variety of modular elements, including a daybed and half-moon seats, can be easily arranged to suit different social activities.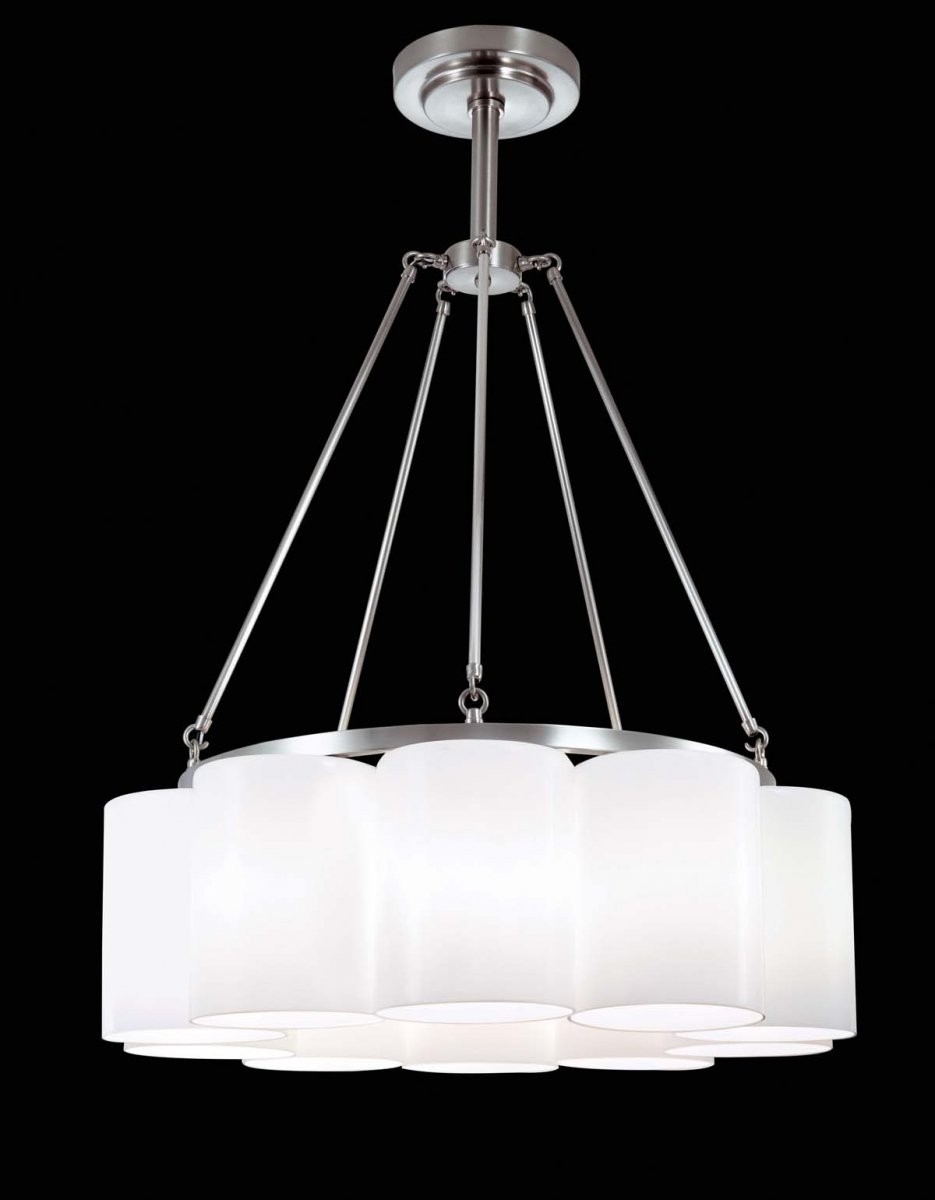 Ilex Gala Pendant
As is typical of a Michael Graves product, the Gala lamp plays with perceptions of scale. Drum-shaped acrylic diffusers wrap around the light source. The design is available in bronze, brass, and nickel.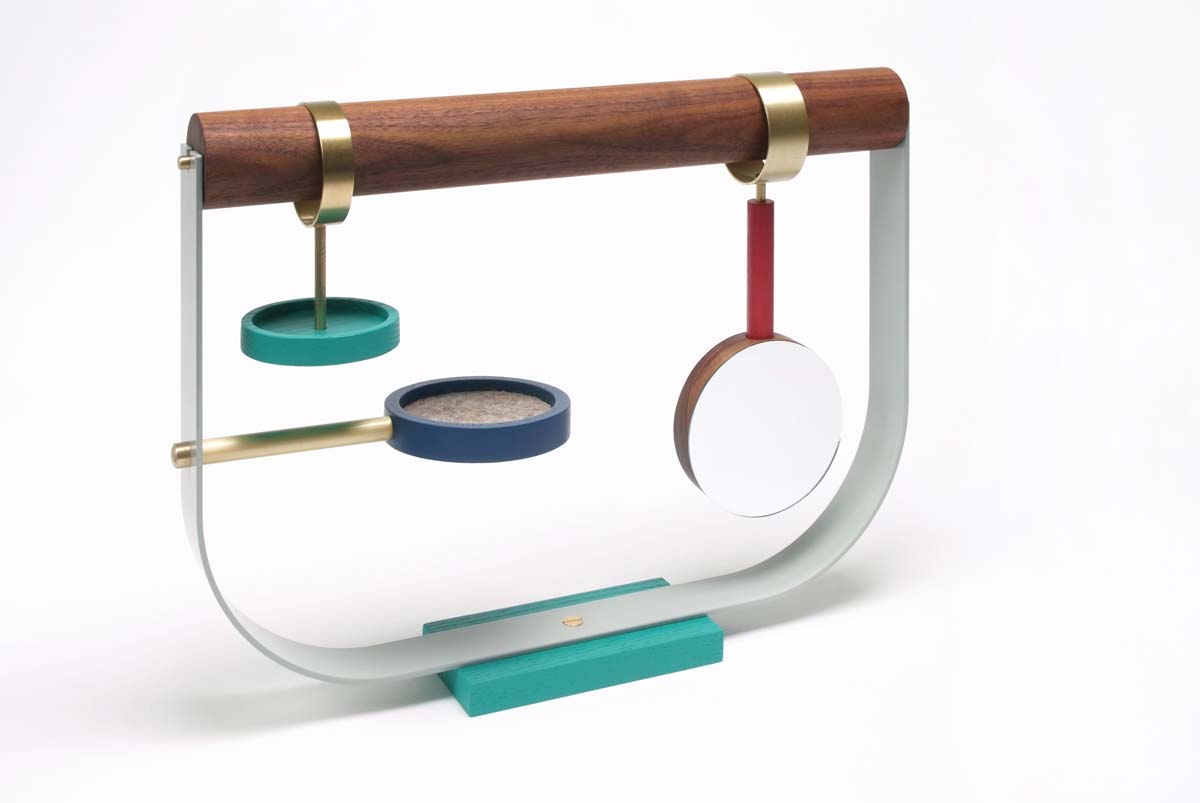 Zoë Mowat Arbor Jewelry Stand
Just one of several colorful pieces that Zoë Mowat displayed at WantedDesign, this jewelry stand features several perches to store baubles and trinkets. The piece combines brass and wooden parts with a mirror.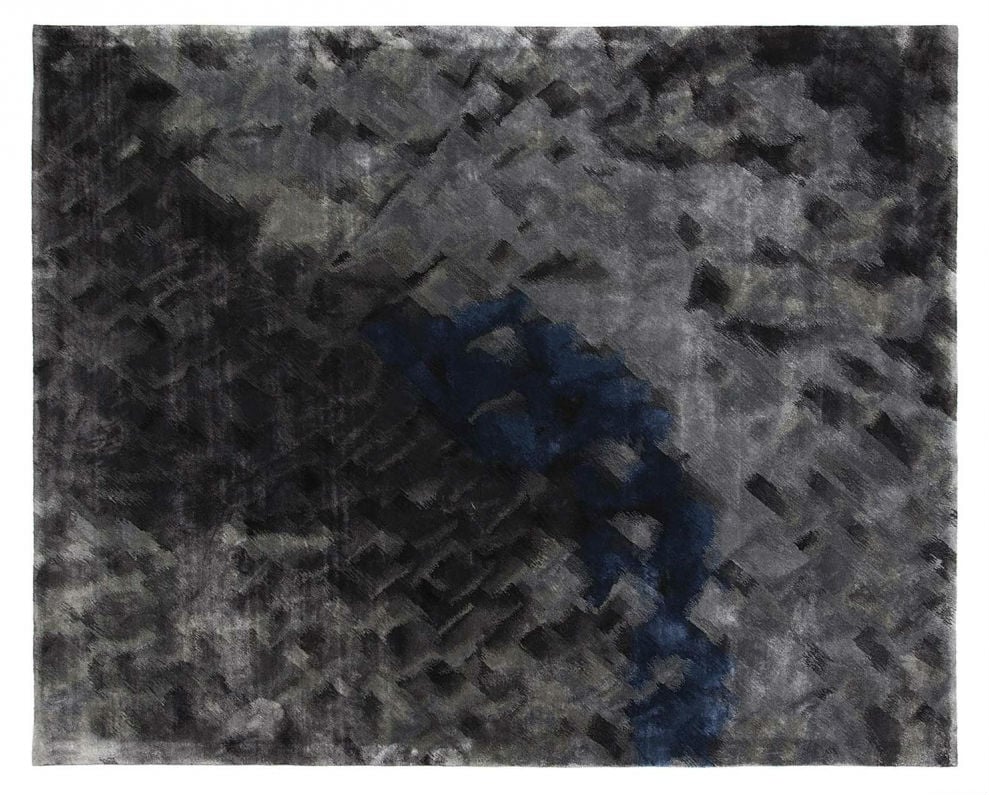 Tai Ping Chroma Rug Collection
This line of rugs by Tai Ping could be mistaken for abstract canvases because of their Rothko-like bleed- ing color effect. The vibrant splotches aren't arbitrary but rather dictated by a computer- determined template used by weavers to realize each piece.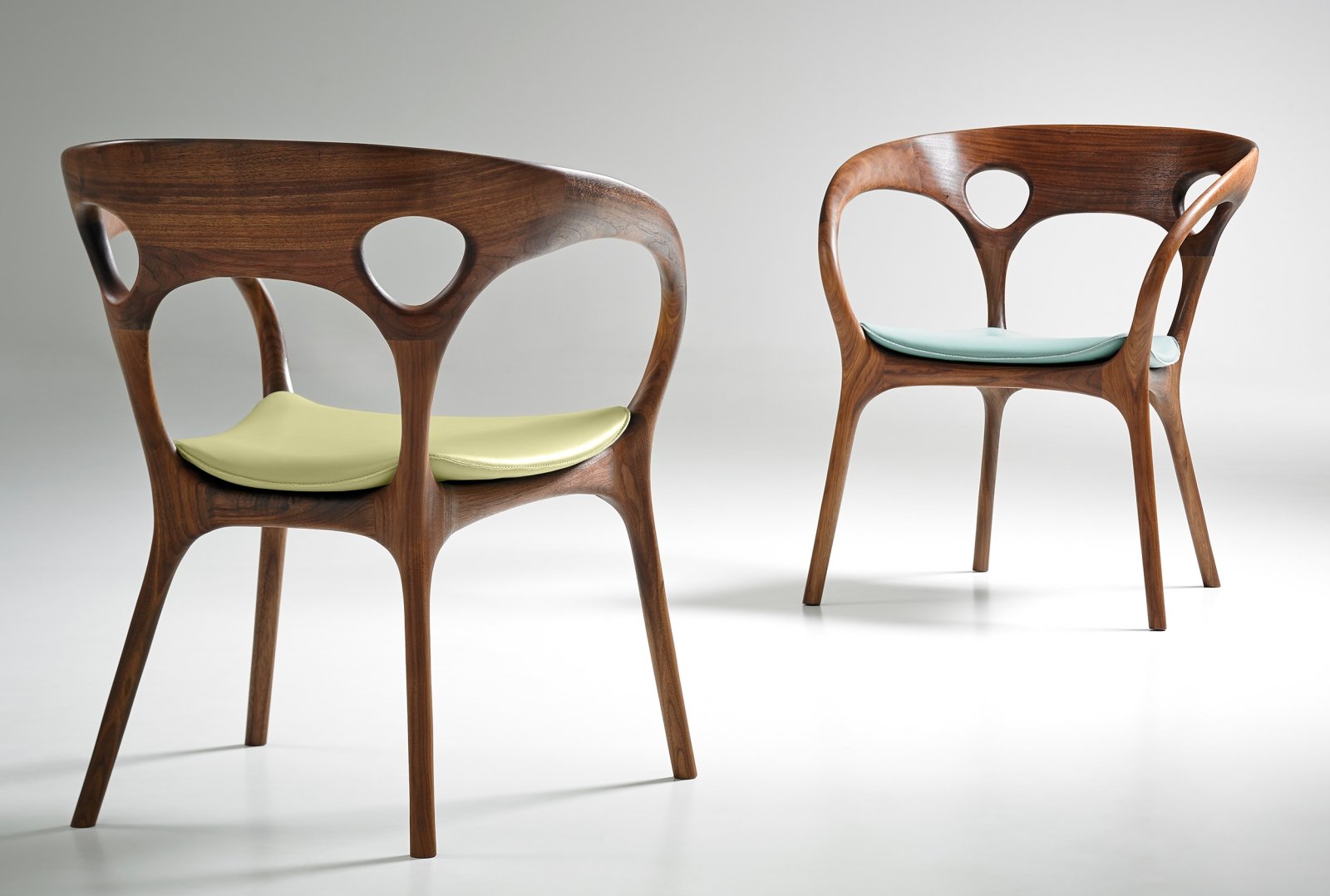 Bernhardt Anne Chair
Designed by famed Welsh designer Ross Lovegrove, this wood chair sports a solid American walnut body whose form recalls the organic shapes of Art Nouveau. Its celebratory debut at ICFF marked the 125th anniversary of Bernhardt Design.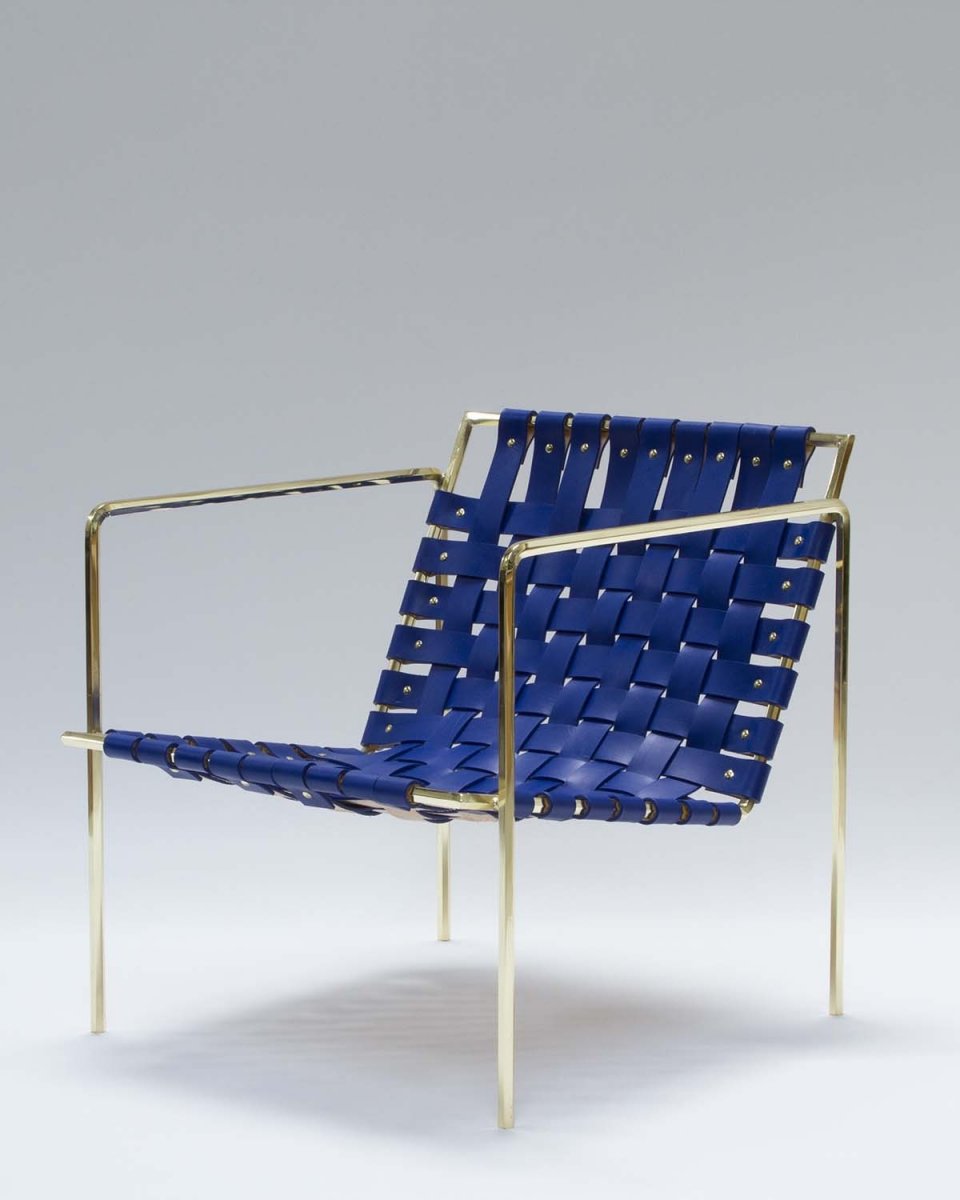 Eric Trine Rod+Weave Chair 
For OFFSITE, artist- turned-designer Eric Trine exhibited a special version of his well-loved chair, which is avail- able in outlets such as Nordstrom and Anthropologie. The blue leather is an ode to Yves Klein's trademark hue, while the wiry brass frame model adds an irreverent touch.
---
Maison & Object
Next Edition: January 23-27, 2015
---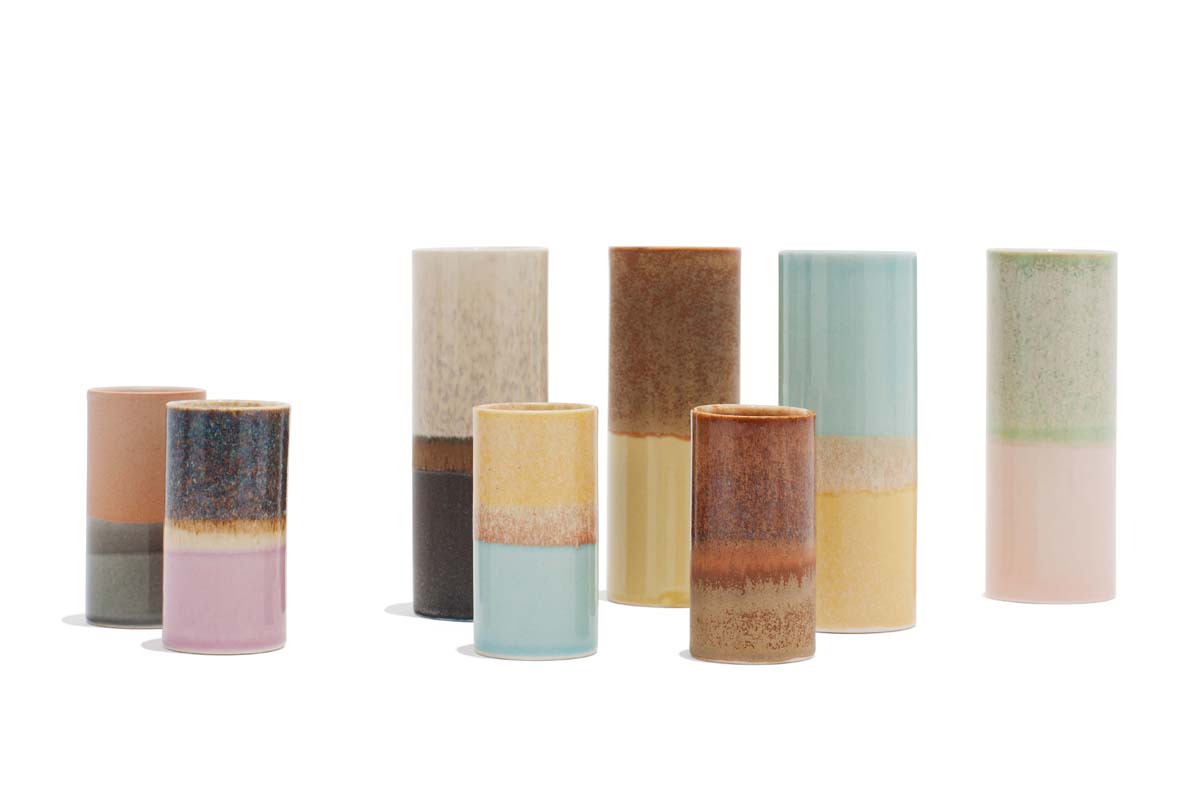 French design companies—both emerging ventures like La Chance and Moustache, as well as reputed brands like Fermob— shine on their home turf at Maison & Objet. But the show, which will celebrate its 20th anniversary next year, has a global footprint in more ways than one. In addition to being held twice annually in Paris, its second Asian edition will be in Singapore March 10–13, and the inaugural American edition will hit Miami May 12–15. Twice a year, the trade fair also puts out an Inspirations trend book. A team called the Observatoire—consisting of style agencies, designers, and journalists— highlights important trends and picks up cues on how influences might change in the near future. Come January, the Observatoire predicts an age of sharing and collaborative consumption, where expressions are not bound by hierarchies, and playful products are popular. Some of these trends were already visible this year; here are some highlights from this past September's show in Paris.—Avinash Rajagopal
Menu Day Bed
Designed by Anita Johansen, this daybed is made from classic Nordic materials and consists of two parts— a minimal ash frame and a thin upholstered surface. It is available in two colors.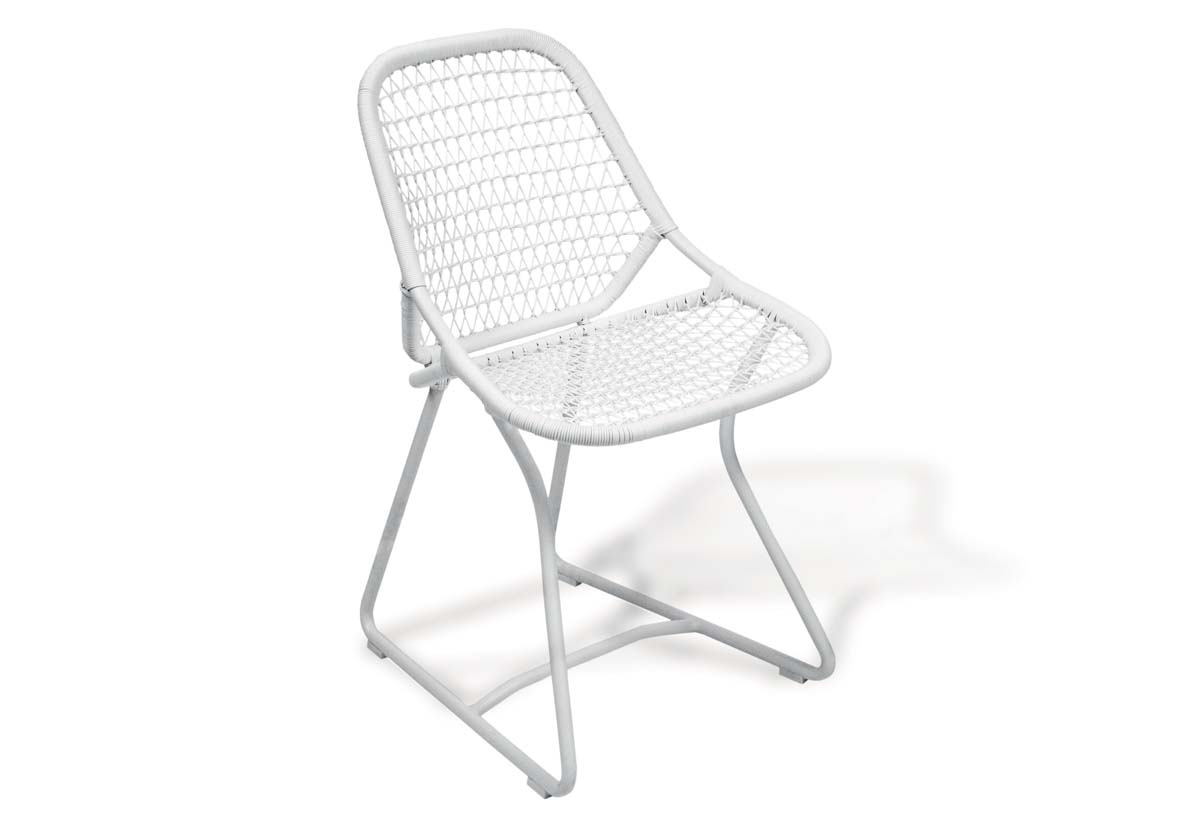 Ermob Sixties Armchair
An addition to the popular Sixties collection, this lightweight, portable outdoor chair by the designer Frédéric Sofia combines an aluminum frame with a woven polymer seat and back.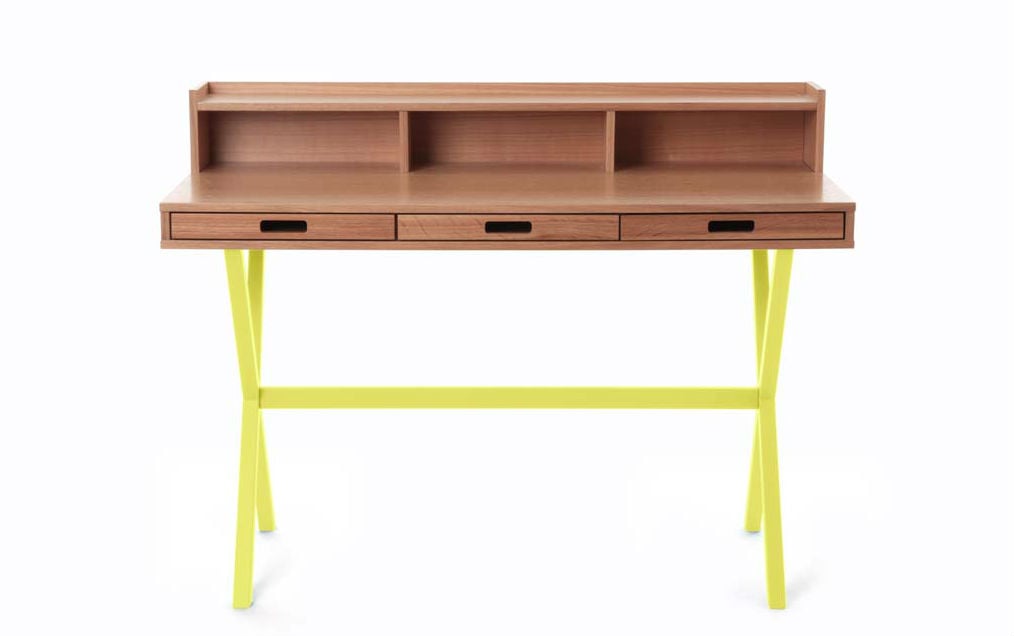 Harto Hyppolite
This compact desk, with three drawers and shelves, is perfect for tight spaces. The top is made of MDF, veneered in high-quality oak, while the metal base is available in seven colors.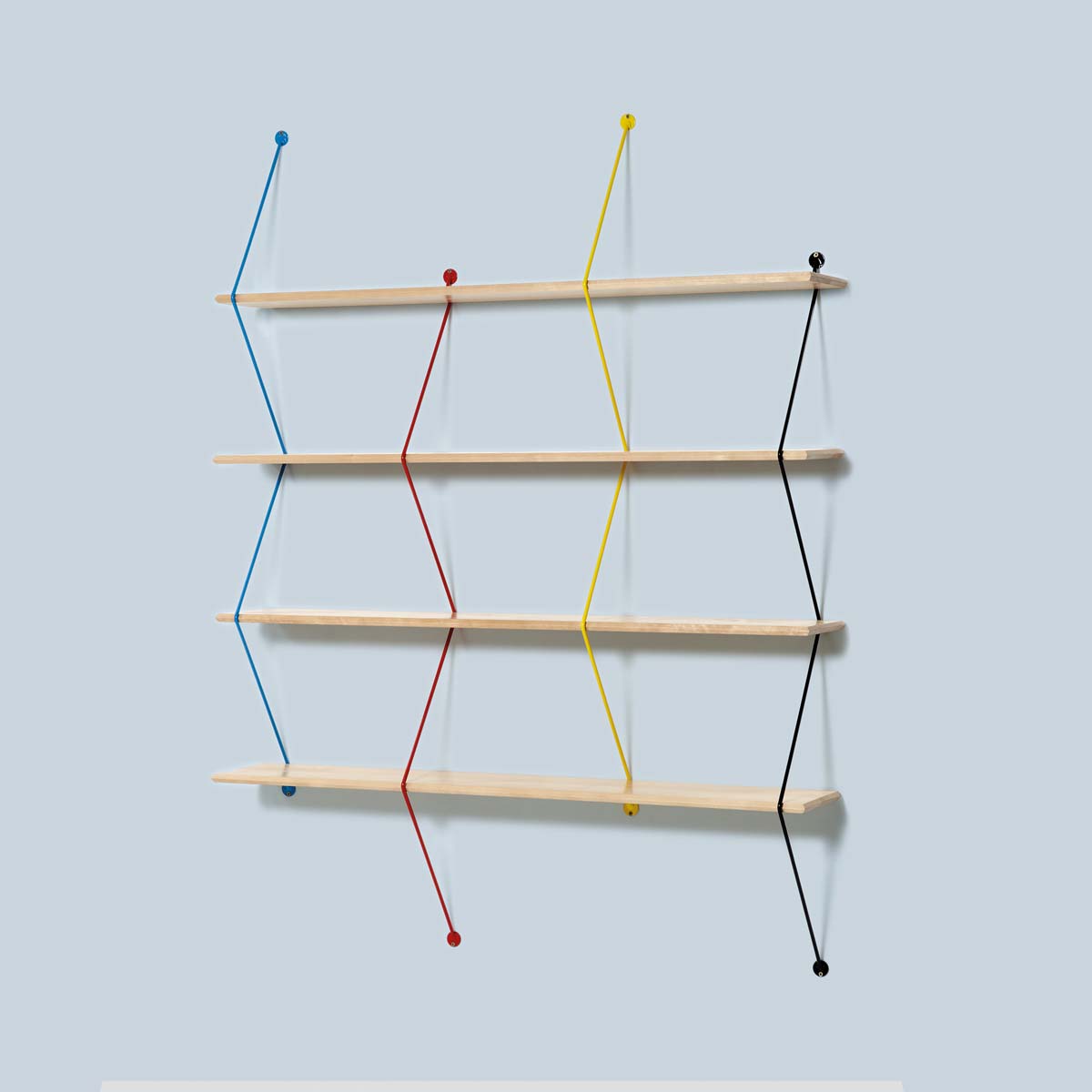 La Chance Climb
Created by Polish designer Basko Trybek, this modular shelving system appears to be held in place by the tension of the metal rods. The birch or walnut shelves are beveled on all the edges.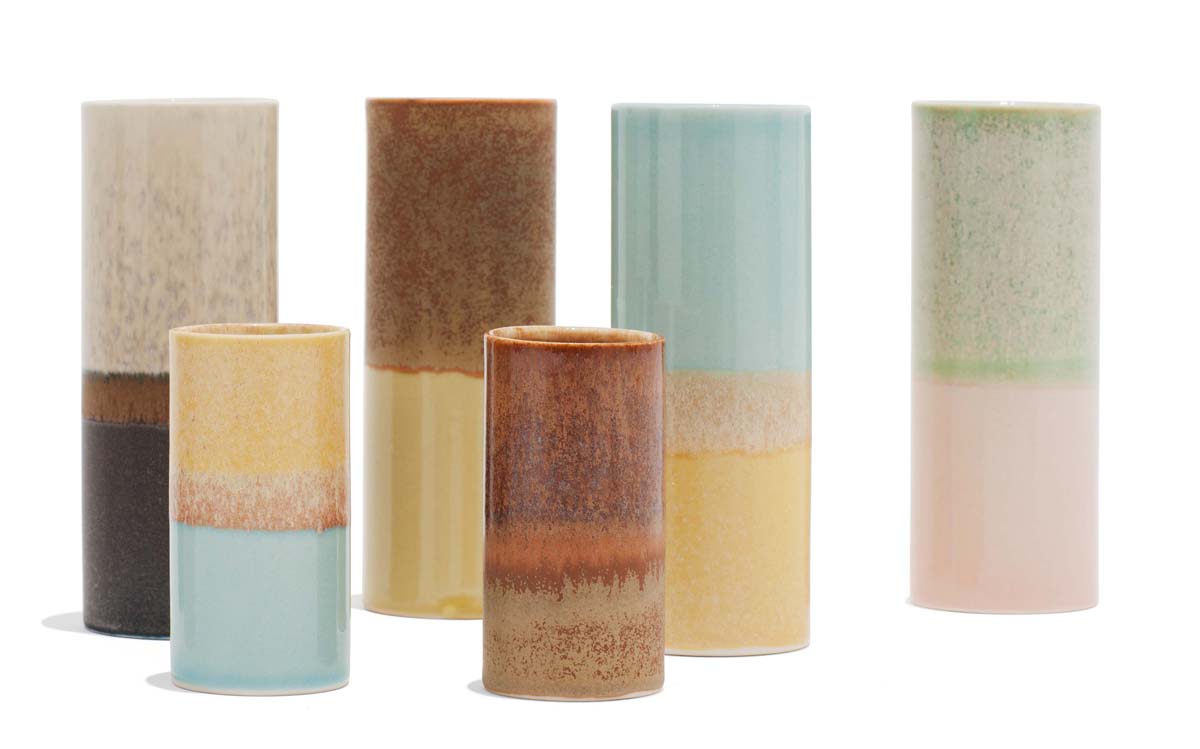 Clib Klap Vase
This collection comes out of a collaboration between the ceramicists Claire Maria Lehmann and Iben Harboe. Each vase is dipped in two glazes, as a way to use glazes that are usually wasted in testing as part of the design process.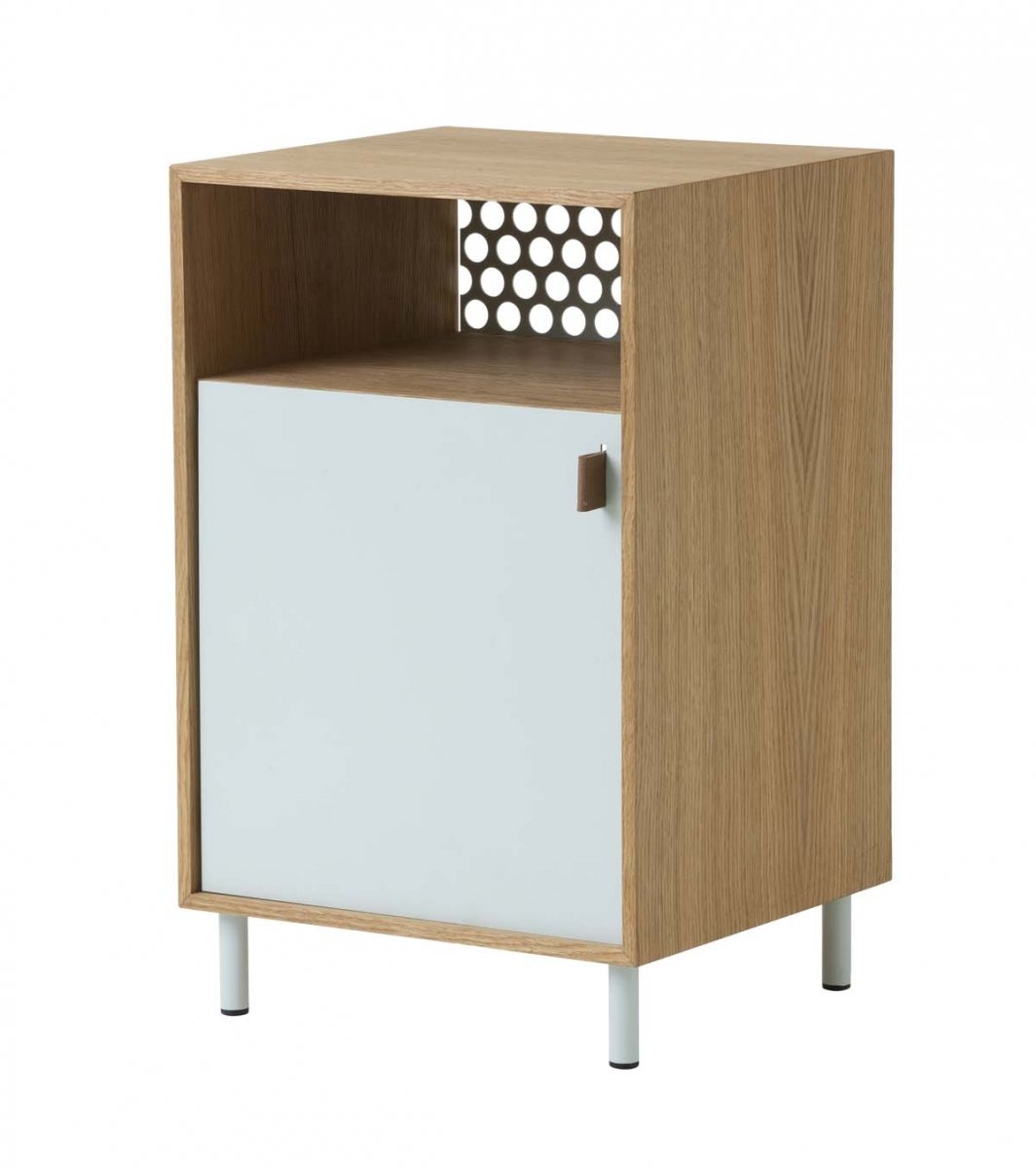 Ferm Living Small Cabinet
Perfect for pulling double duty as office storage or a bedside table, this cabinet adds a touch of whimsy with its combination of an oak frame and a perforated metal back.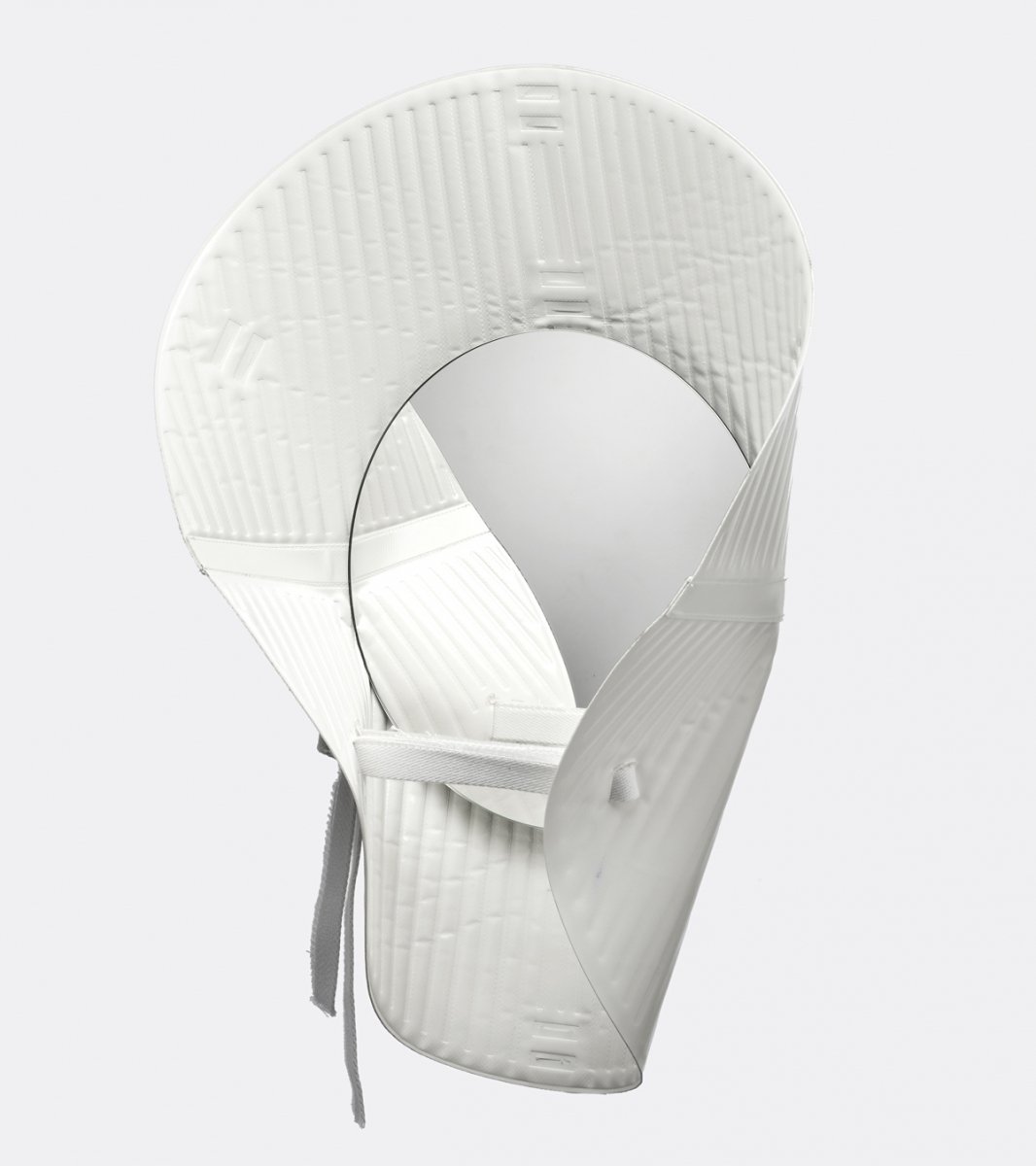 Moustache Boat Mirror
Jean-Baptiste Fastrez uses a nautical material in a domestic context for this mirror, which has a flexible PVC frame. The shape of the dramatic frame can be changed with the help of the strap.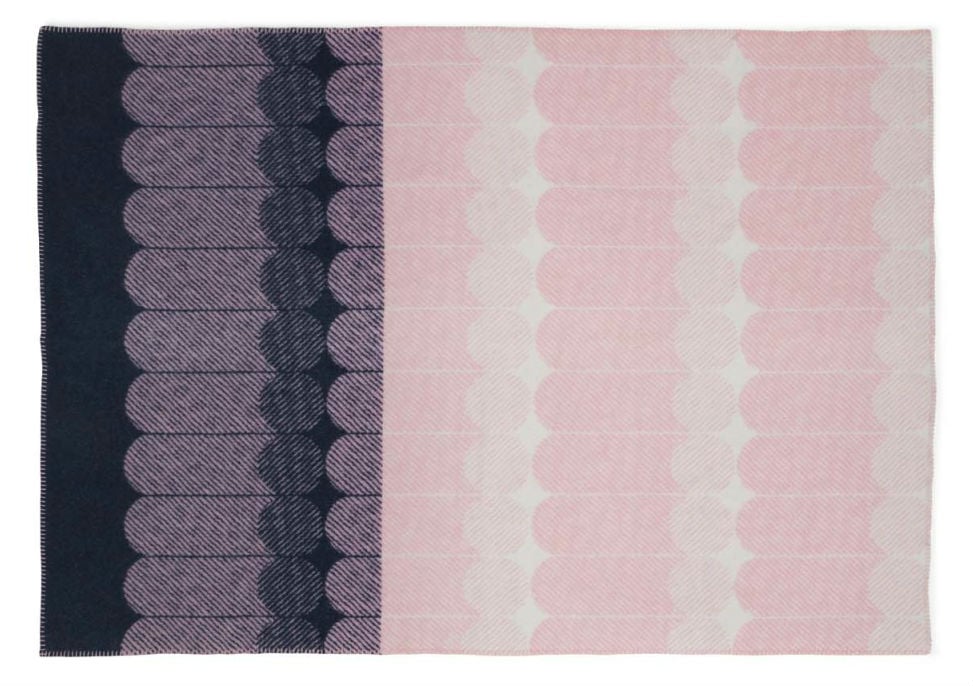 Normann Copenhagen Ekko
Norwegian designers Günzler.Polmar used traditional weaving techniques for this lamb's wool throw blanket, making the front and back identical. Ekko comes in a gray version, as well as three other colorways.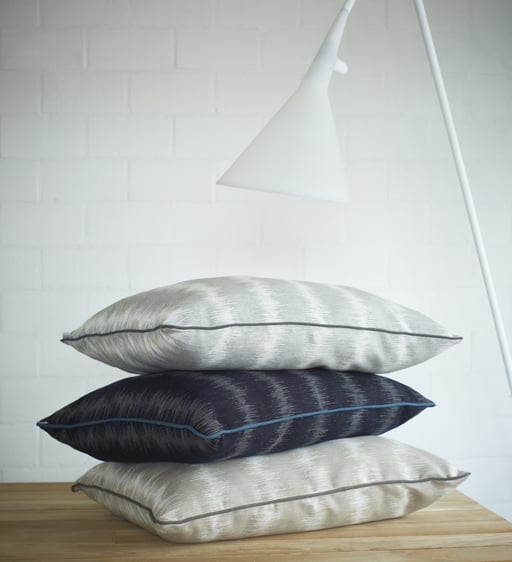 Sunbrella In&Out
Conceived with all the seasons in mind, this textile collection is suitable for both indoor and outdoor use. Shown here is the Jacquard Siam pattern, in three colors (top to bottom): gray, ink, and hemp.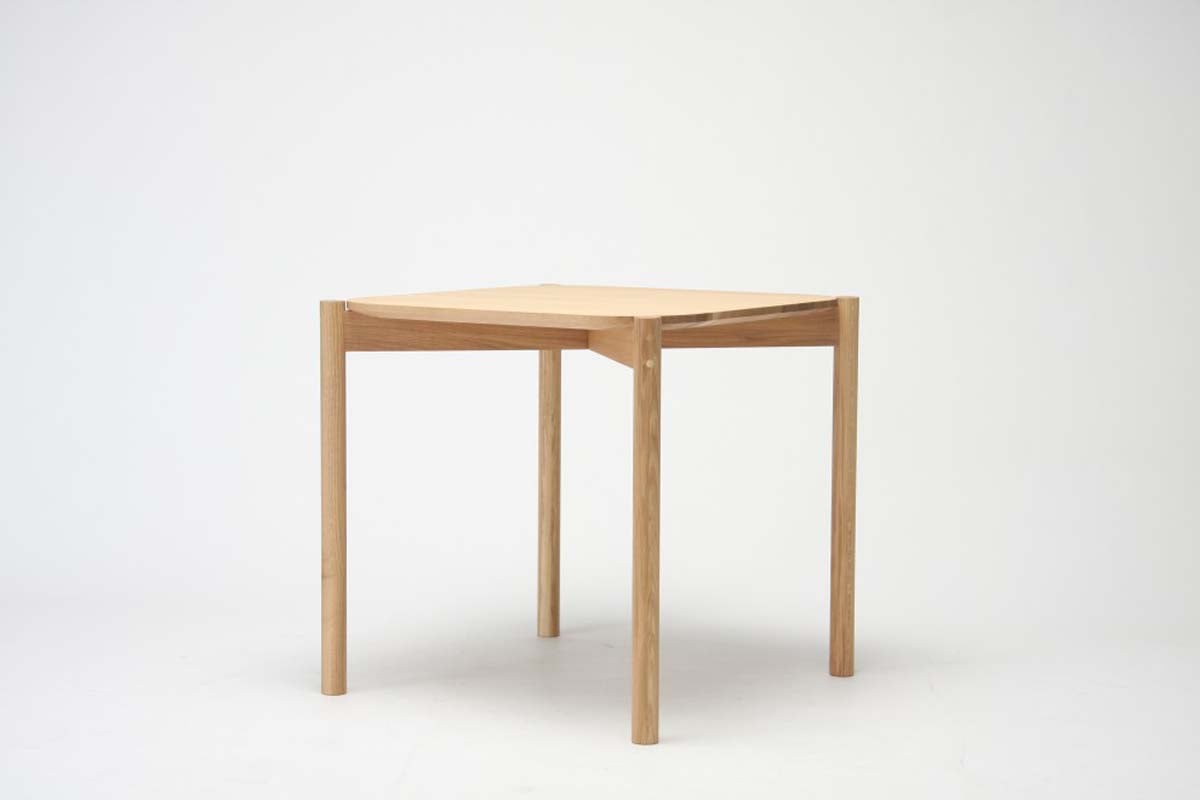 Karimoku New Standard Castor Table
Made from solid Japanese oak, this table is Karimoku's latest addition to the Castor series. It is equally at home in a dining room or a café, and can be collapsed for easy storage.
---
London Design Festival
Next Edition: September 19–27, 2015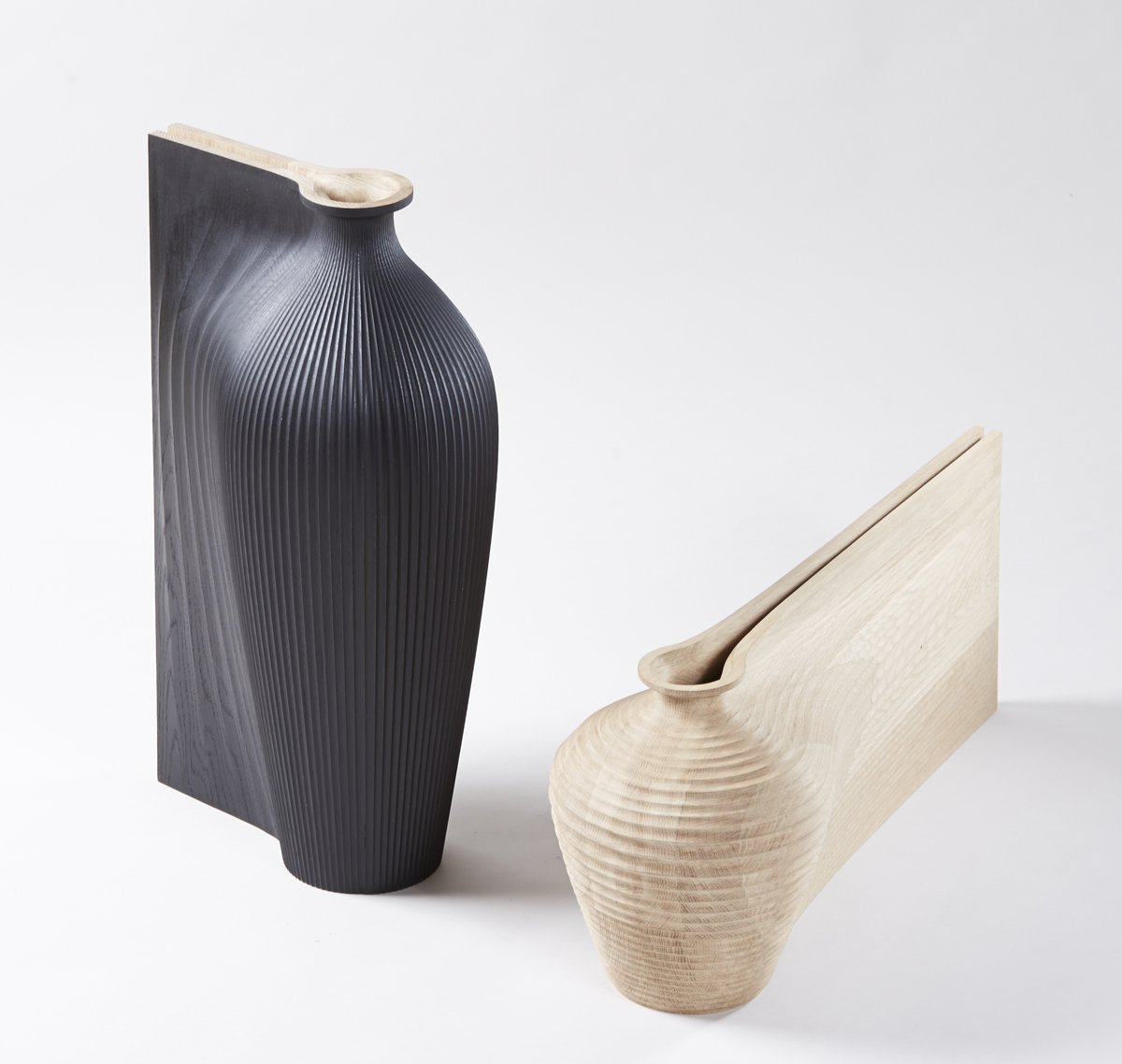 Now in its 12th iteration, the London Design Festival is one of the year's most anticipated design fairs. In mid- September, throngs descended on the Victoria & Albert Museum, the festival's geographic heart, where they congregated beneath a suspended, mirrored installation by Edward Barber and Jay Osgerby. In Trafalgar Square, pedestrians ducked into huts designed by Ilse Crawford and the Raw Edges collective, among others. Both projects—the former was developed with BMW, the latter with Airbnb—underscored a prevalent theme: unique collaborations. Pairings such as those between designer Gareth Neal and architect Zaha Hadid, and Jasper Morrison and Vitra, produced elegant results. Designers also displayed affinities for textured surfaces, idiosyncratic material combinations, and pared-down forms. —Samuel Medina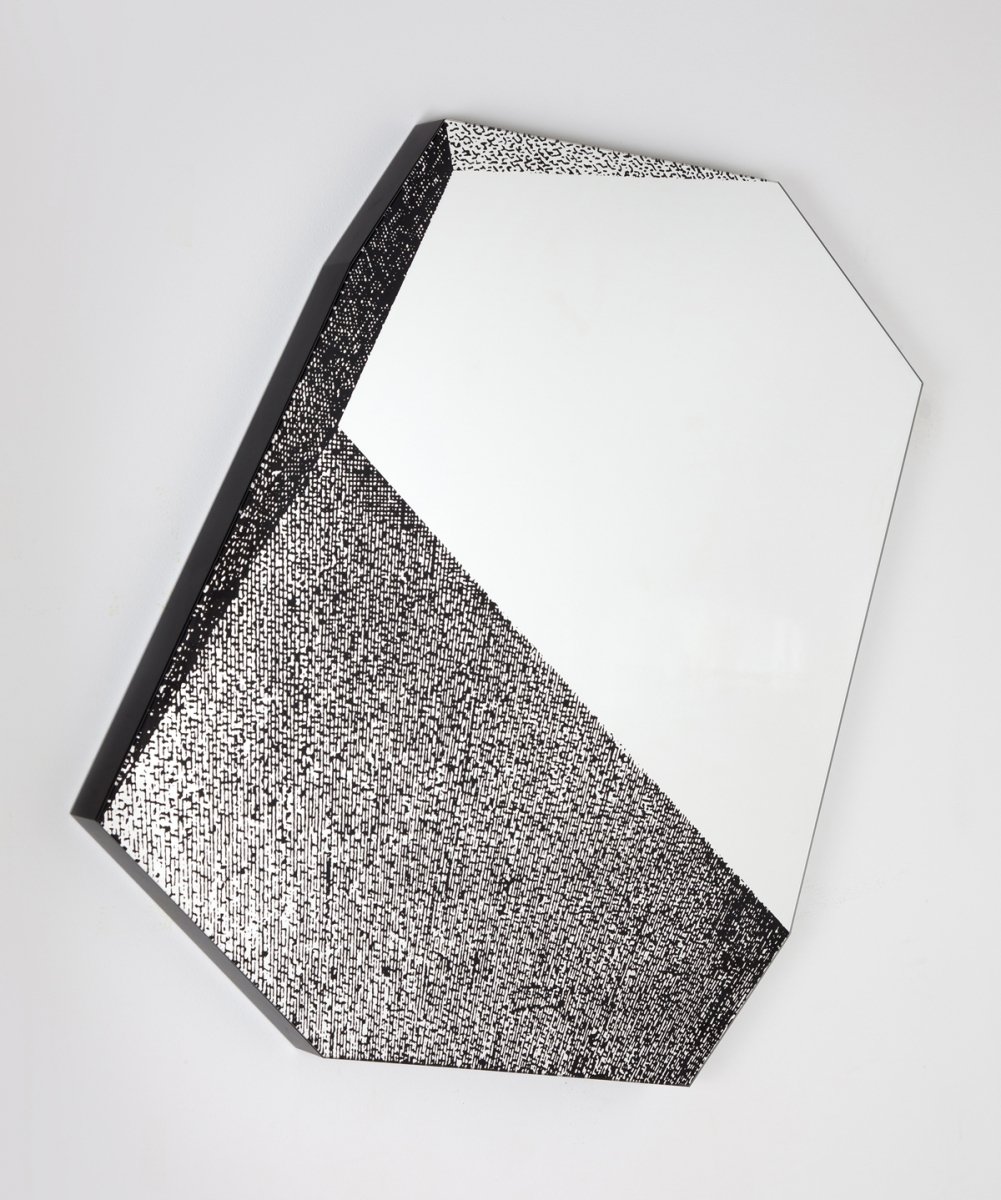 Galerie Kreo Melancholia Mirror
While it appears to be three-dimensional, this mirror, inspired by a 1514 Albrecht Dürer engraving, is actually flat. Designer François Bauchet was specially commissioned, along with 11 other designers, by Galerie Kreo for its first London exhibition.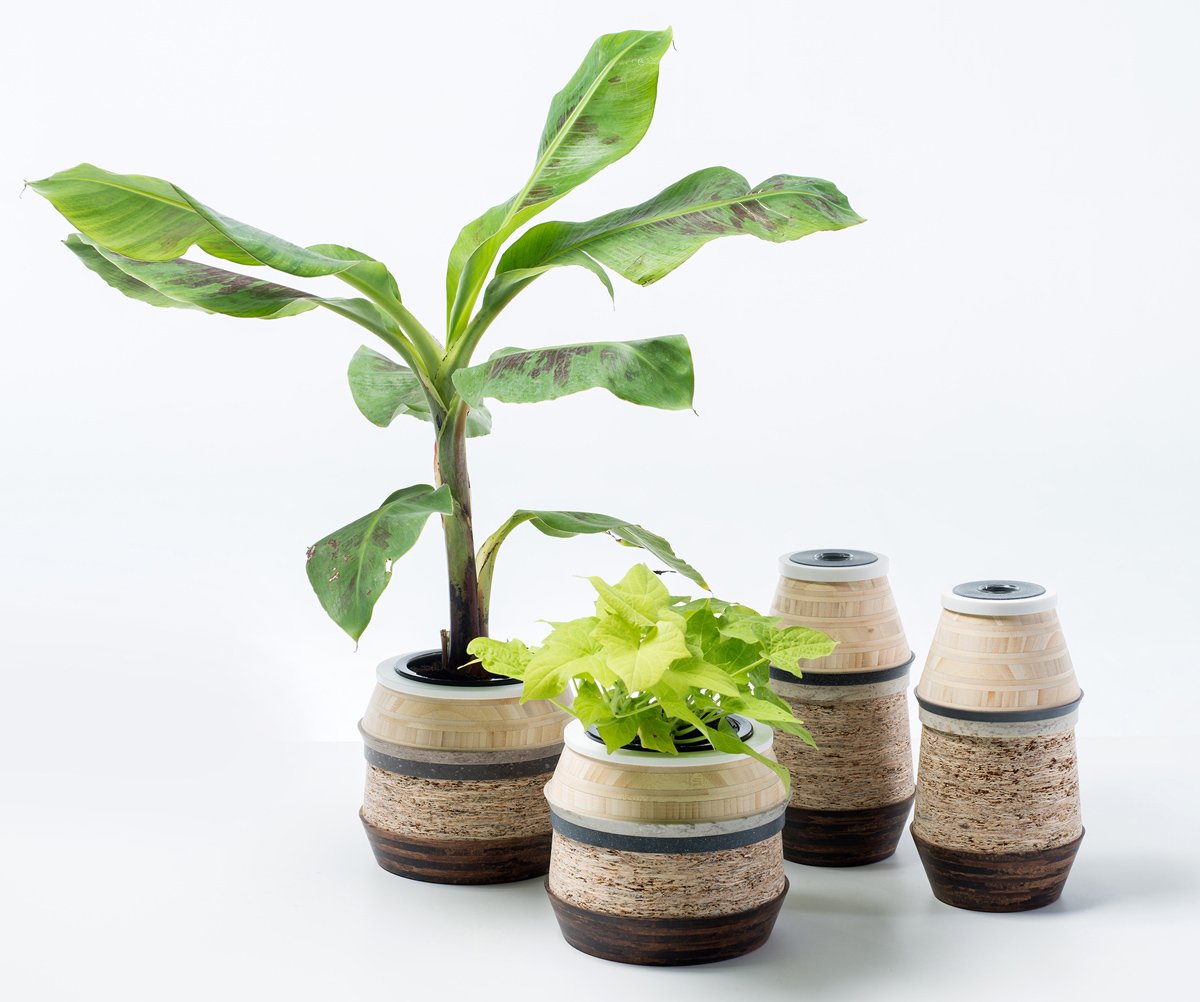 Nir Meiri Babilus Vases
Ancient city skylines, temples, and altars were the inspiration behind these vases. Designed by Tel Aviv–based designer Nir Meiri, the vessels comprise stackable bamboo, chipboard, and Corian rings, which, when combined, produce a rich composition of materials and textures.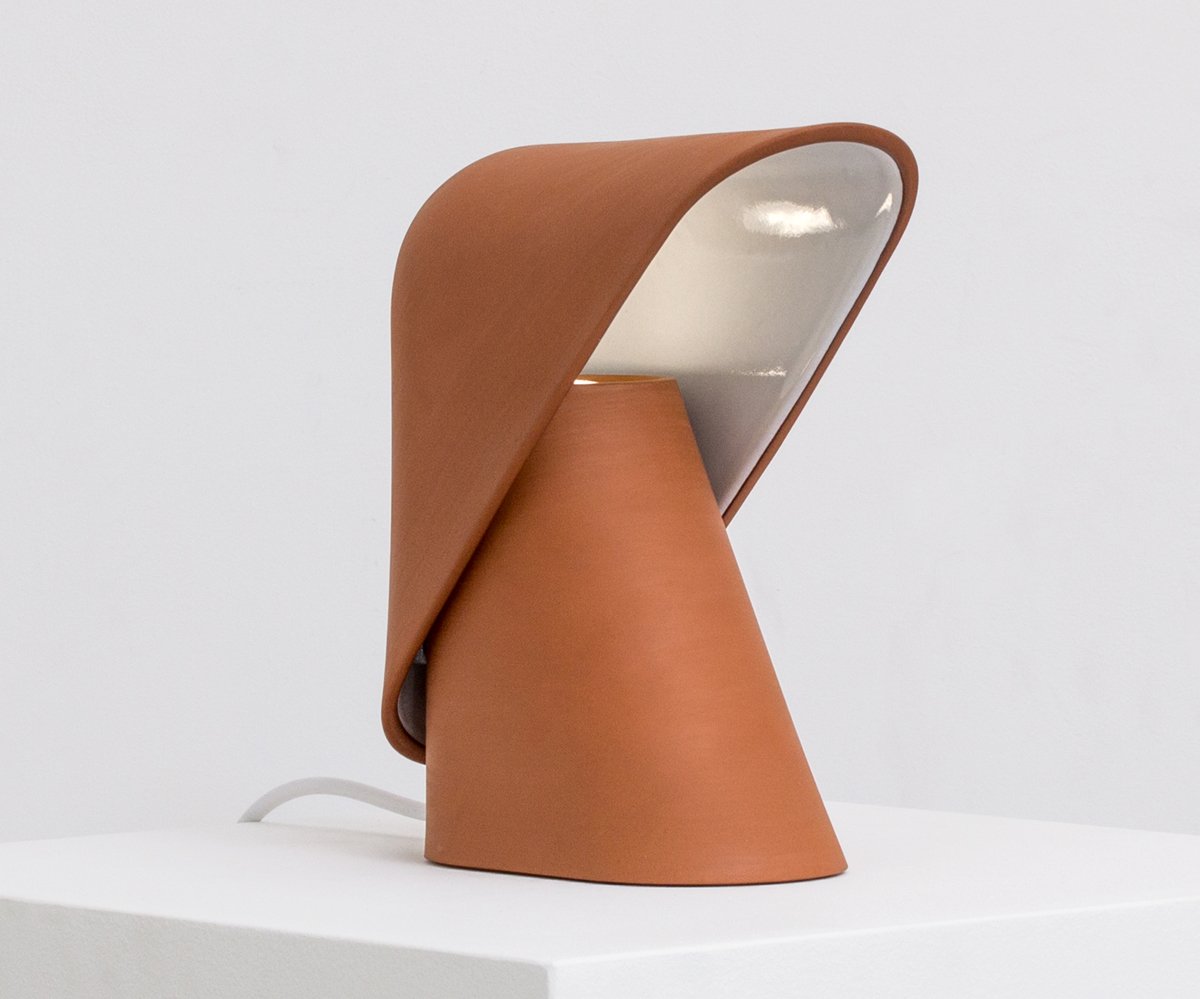 Vitamin K Lamp
Unveiled at the designjunction flagship, this lamp is designed to be assembled in small batches, using terra- cotta and earthenware pieces. The glazed underside of the hood simultaneously diffuses and reflects light emit- ted from the partially concealed LED bulb.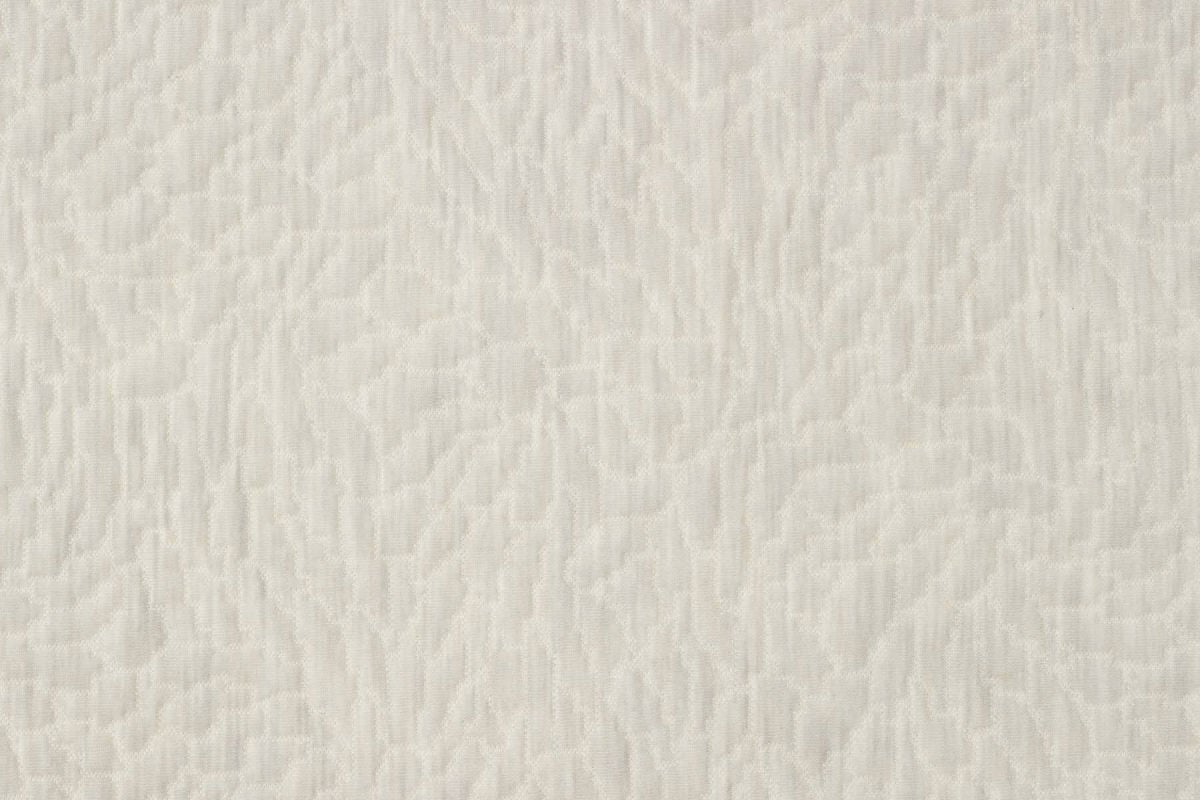 Kvadrat Nebula Fabric
A collaboration between designer Alfredo Häberli and textile company Kvadrat, the Nebula collection uses a special knitting technique to create a raised, "three-dimensional" fabric. The line was one of three new collections Häberli displayed in London.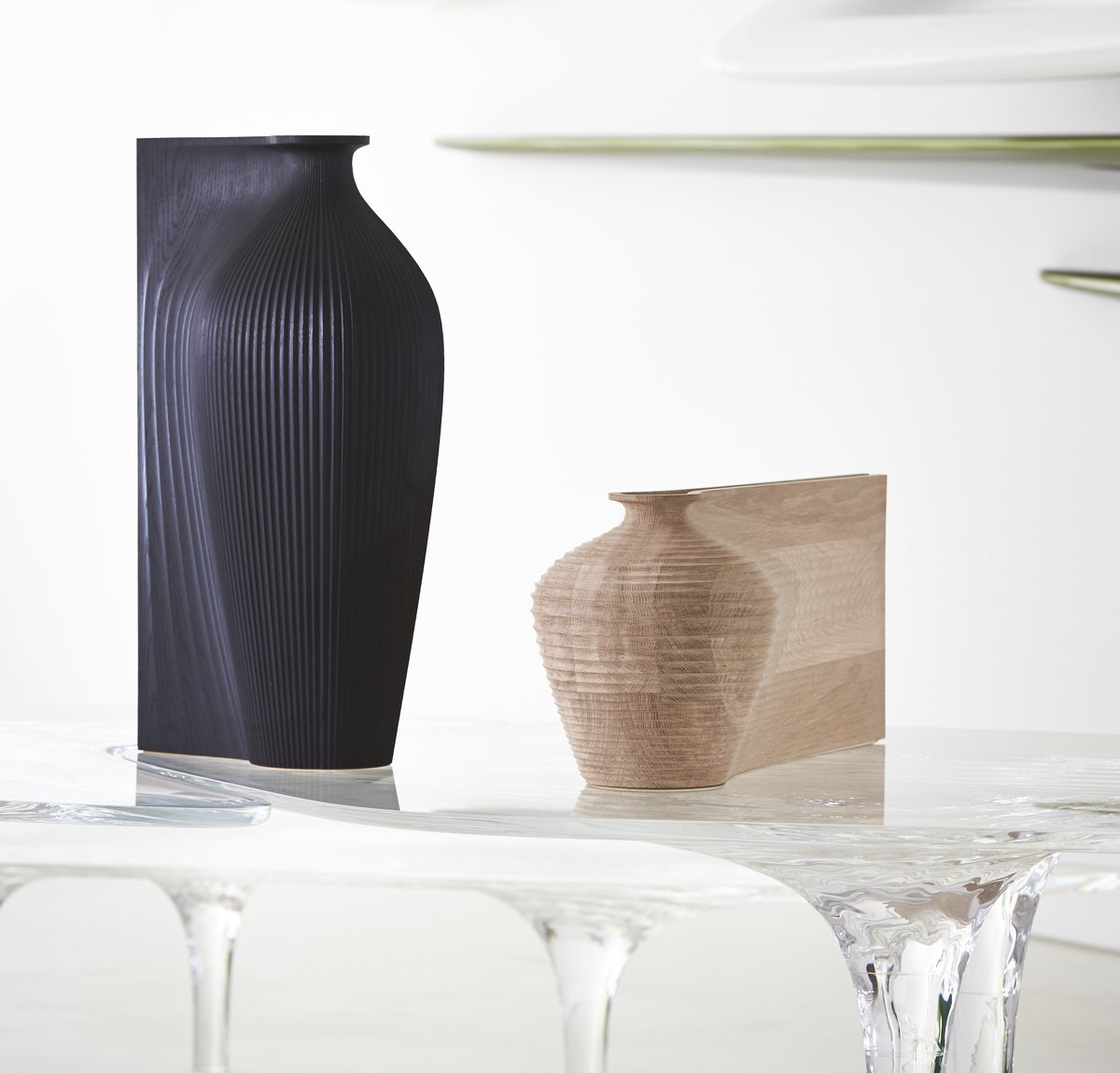 Ves-el Carafes
Gareth Neal produced these water carafes with Zaha Hadid for the Wish List, an exhibition curated by the legendary designer Terence Conran for this year's festival. The brief paired young designers with established talents to create innovative objects using only American wood.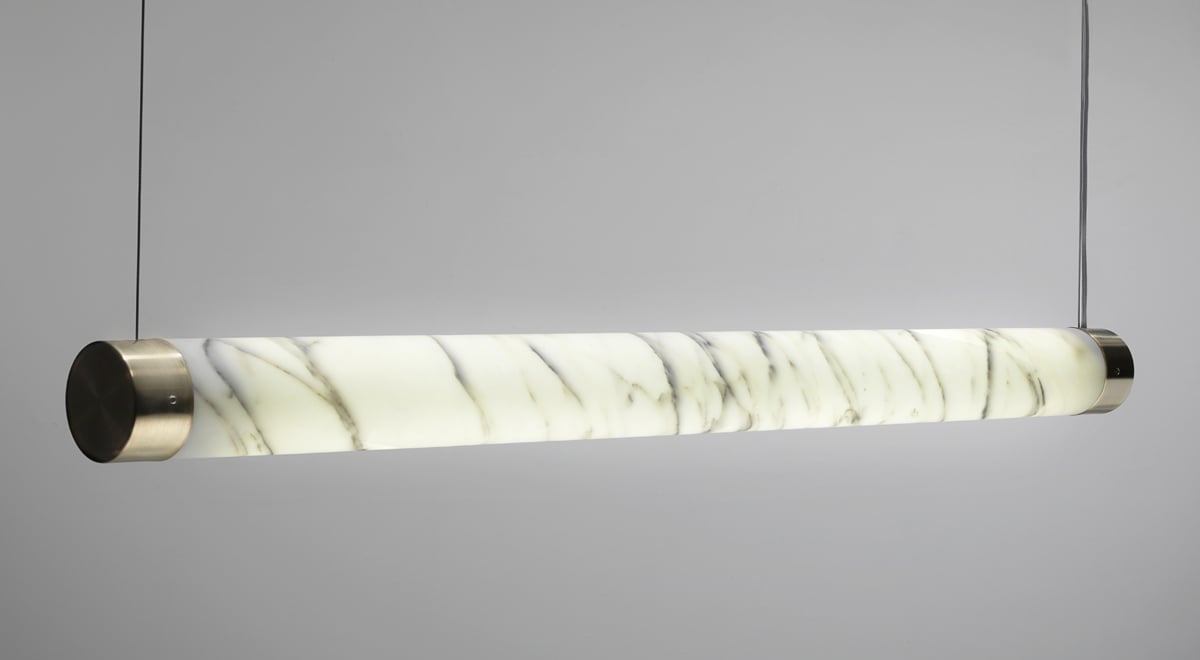 Lee Broom Nouveau Rebel Tube Light
A witty take on fluorescent lighting, this light illustrates designer Lee Broom's exquisite handling of marble, which he works into remarkably thin sheets. The design—one of several in the Rebel collection—consists of a sole piece of white- and-gray marble just 0.24 inches thick, capped with bronze ends.
Vitra Hal Armchair
First developed in 2010, the Hal seating family was an inspired take on the midcentury shell chair. In September, Jasper Morrison debuted two new iterations of the design—a plastic armchair and an upholstered leather seat, both available with tubular steel or wood legs—that add a dash of style and even greater comfort.
---
WestEdge Design Fair
Next Edition: October 22–25, 2015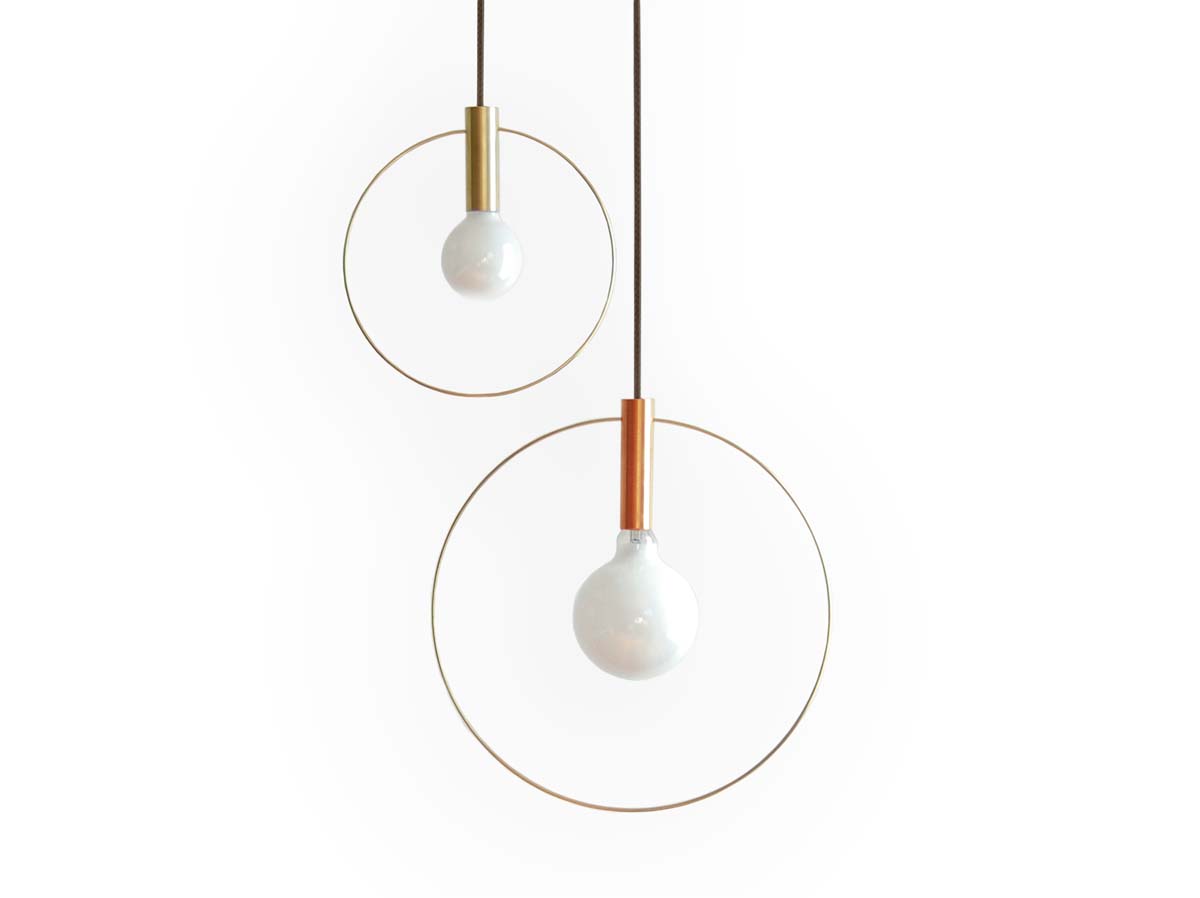 With nearly 8,500 attendees and more than 100 exhibitors this year in its second edition, WestEdge is establishing itself as Southern California's destination for contemporary design. The four-day event was held in the historic 35,000- square-foot Barker Hangar on the south side of Santa Monica Airport. The show had plenty of local flavor, with grilling demonstrations and BOTART, an exhibition of 14 artists' work with wine barrels. Design talent from the West Coast was ably represented—including the Seattle- based L&G Studio and lighting firm Cerno—but WestEdge also brought many exhibitors to the region for the first time. Here are some of the standouts from the fair. —Avinash Rajagopal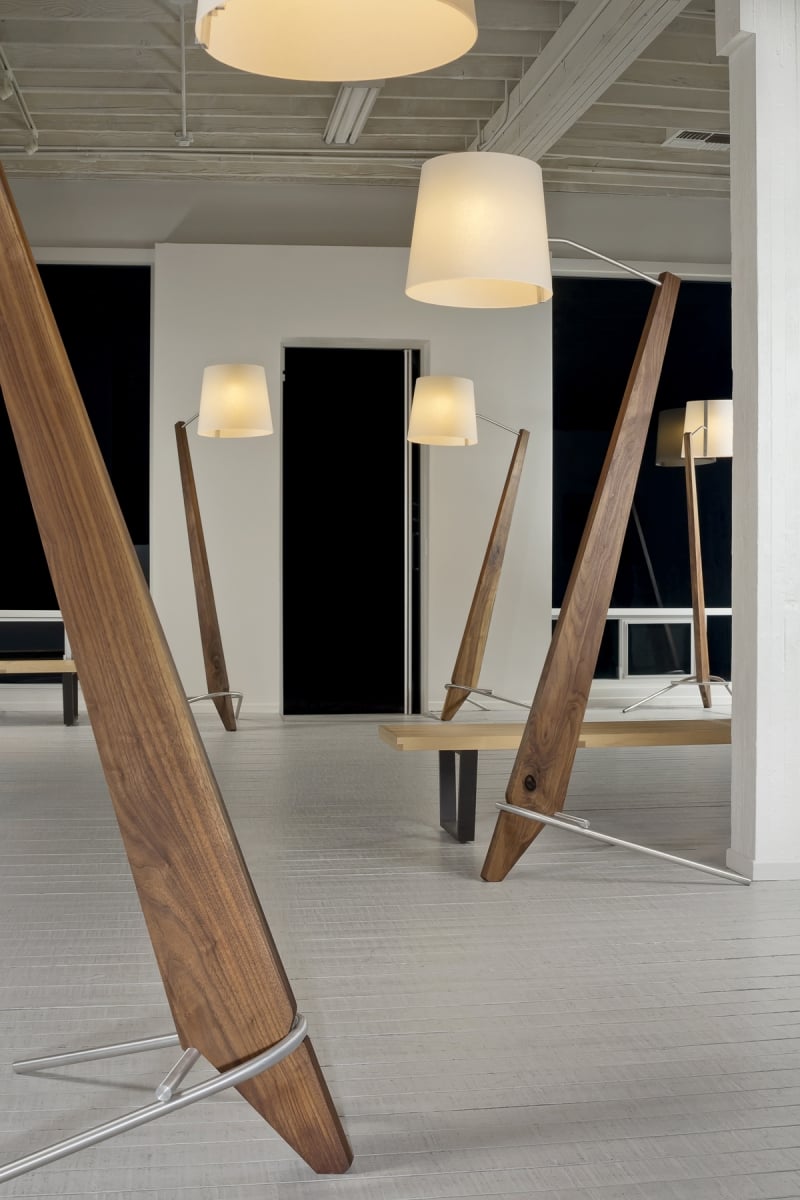 Cerno Silva Giant Lamp
Designed by Nick Sheridan, this 84-inch-high floor lamp is a plus-size version of Cerno's table lamps of the same name. The light source is an energy- efficient LED, and the wooden components are available in oiled or dark stained walnut.

Sun Valley Bronze Pendant Pulley Light
This industrial-chic light consists of a hanging lamp counter-balanced by a steel weight and smoothly connected via pulleys. The hand-crafted pendant is available in raw or blackened finishes, with a bronze version launching next year.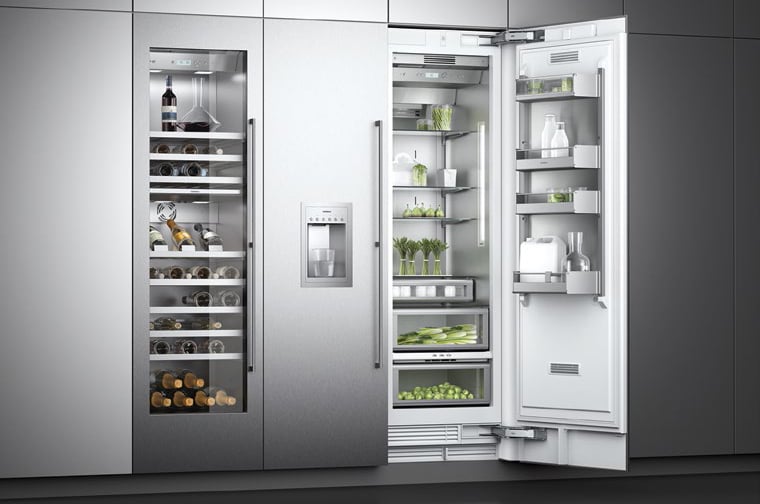 Gaggenau Vario 400 Series Refrigeration
Bringing professional-strength technology into the home, this modular system includes a refrigerator (shown here), bottom-mount freezer, and wine-storage unit. The appliances are lit by LED pillars and feature precise temperature control.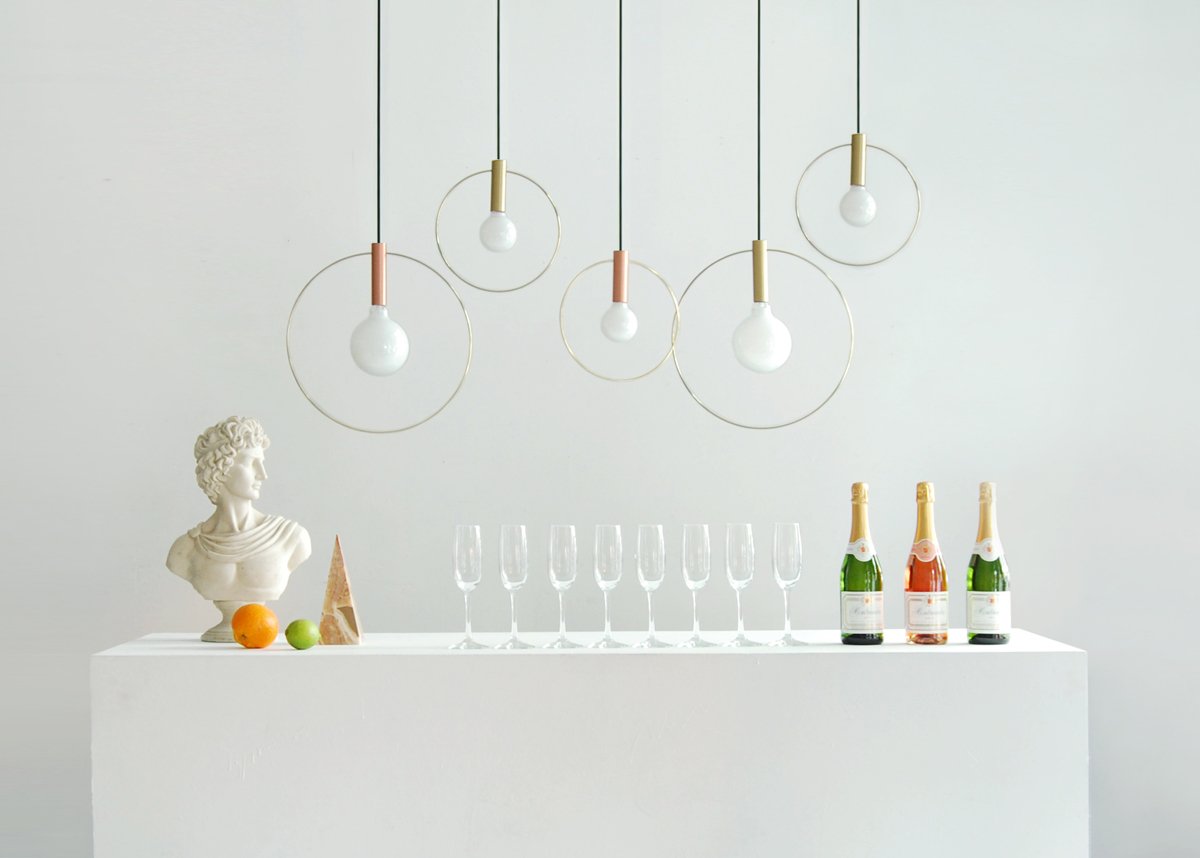 L&G Studio Aura Lamp
This minimal design comes from the Seattle-based studio founded by Dylan Davis and Jean Lee. It reduces the lamp to its essential components and represents the illumination from the bulb with a brass halo.
DXV by American Standard AT200 Smart Toilet
This smart toilet combines elegant design with sophisticated technology, offering a host of features—like hands-free lifting of the seat lid, sensor-enabled cleaning functions, adjustable heating, and automatic flushing.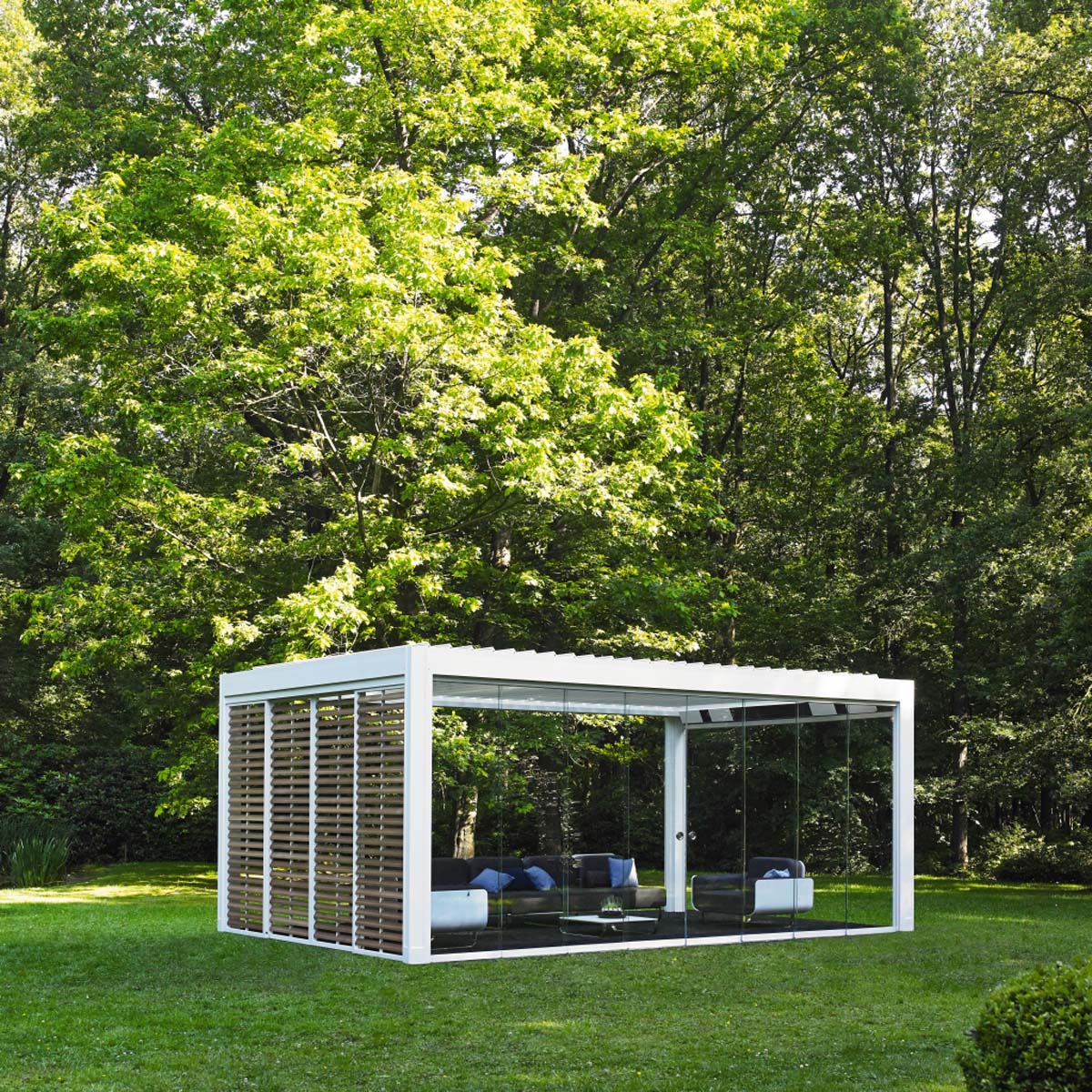 Renson Camargue 
A smart way to create a pleasant outdoor space, this terrace covering offers protection from both sun and rain when the blades in the roof are closed. Customization options include wind-tight screens and sliding glass doors. It is available in the United States through D'Apostrophe.
---
Cersaie
Next Edition: September 28–October 2, 2015
---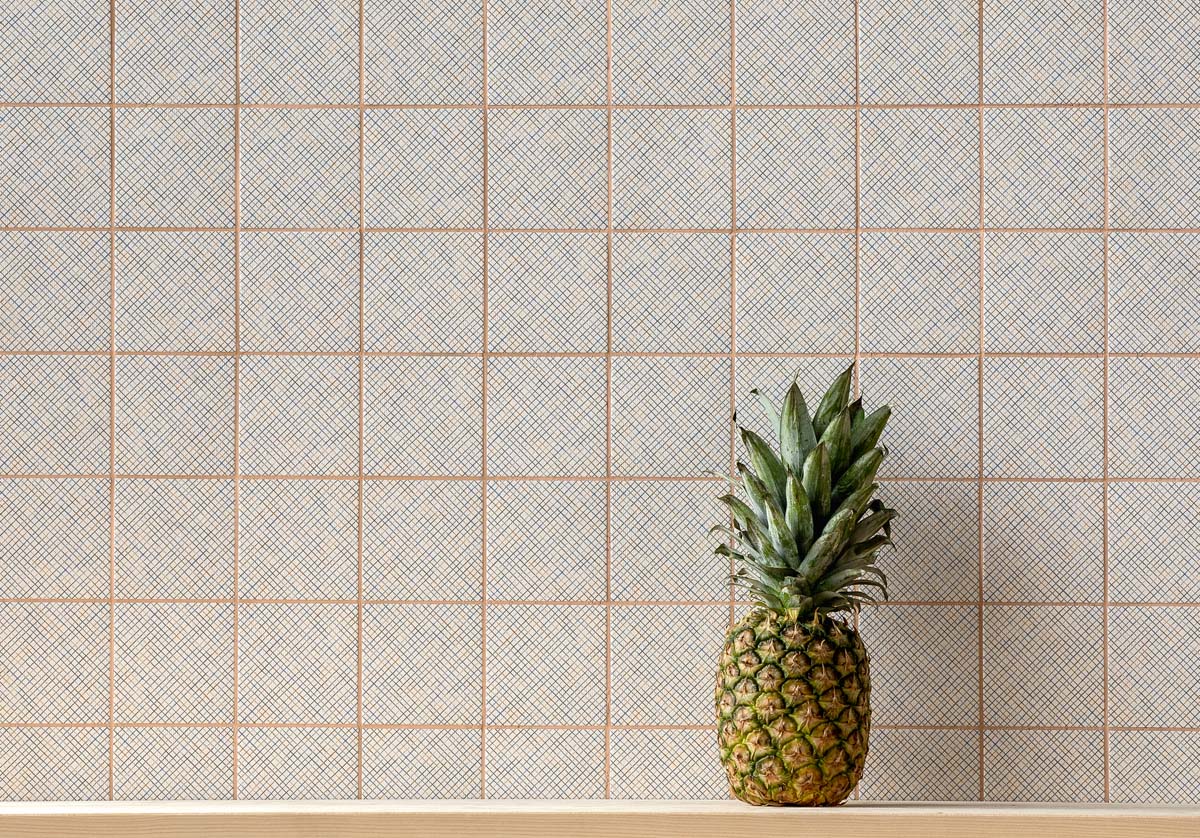 Now in its 32nd year, Cersaie—the premier exhibition of ceramic tiles and bathroom furnishings—showcased 945 exhibitors from 38 countries this past September. More than 100,000 visitors attended the show at the Bologna Exhibition Centre in Bologna, Italy, to view the latest design trends and technological innovations. The trend of ceramic tiles that simulate other materials—which began almost a decade ago—continues with many companies mimicking luxurious natural stones, such as white marble and creamy travertine. In terms of shape, hexagonal tiles in all sizes arranged like irregular cutouts, as well as rhombic tiling effects, were in full force. And for the tech minded, manufacturers are responding with flexible systems for creating tailor-made compositions that allow architects and designers to customize any space. —Paul Makovsky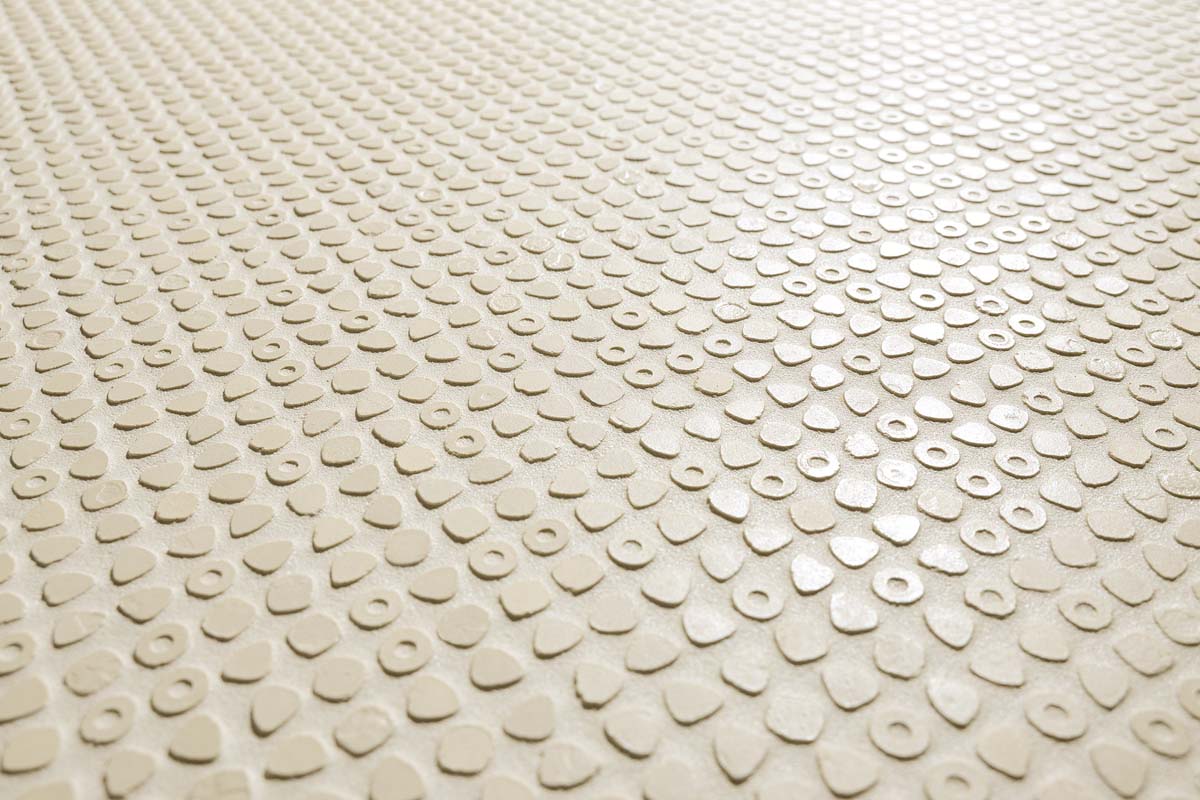 Brix Alea Collection
Designed by Jean-Marie Massaud, this unglazed porcelain mosaic system consists of three different organic shapes that explore the line between harmony and chaos. The tiles come in three colors, and in homogenous or mixed patterns.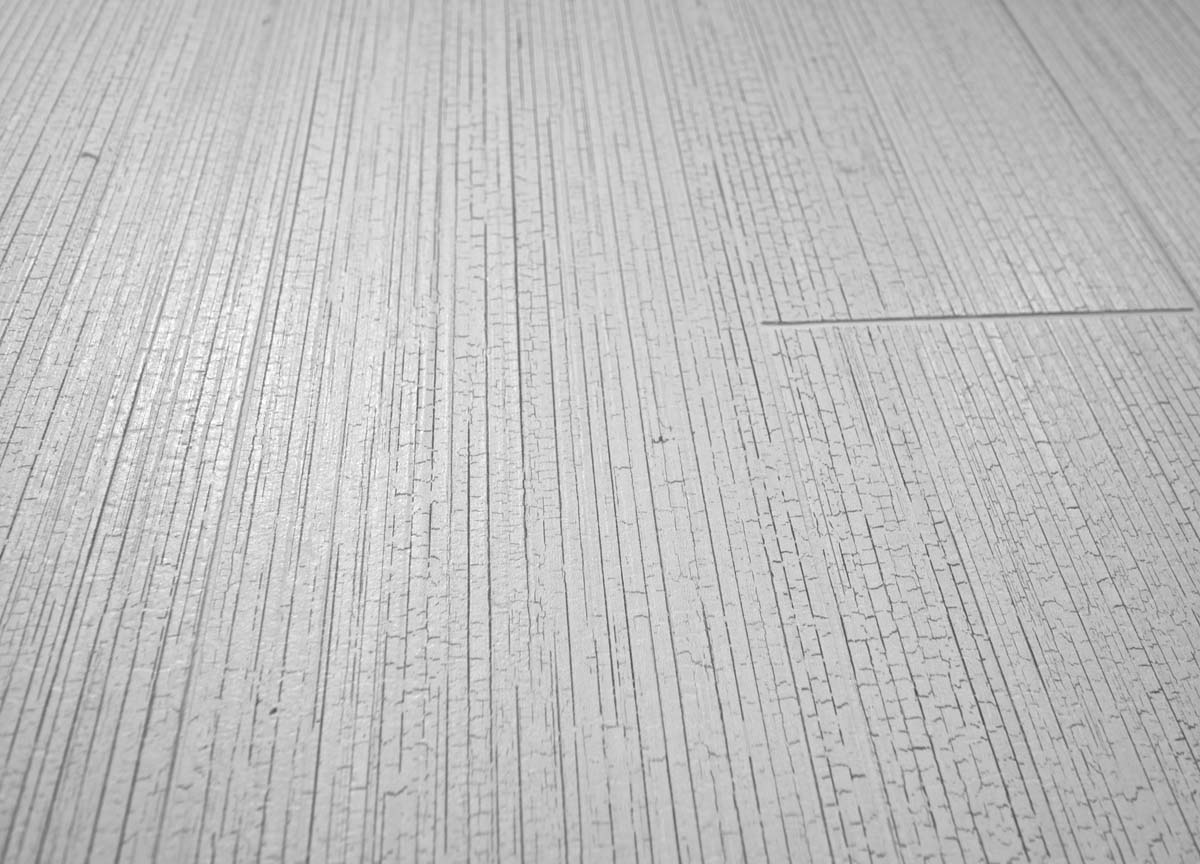 41Zero42 Yaki Collection
These tiles are named after Yaki Sugi—an ancient Japanese method of charring wood to make it waterproof and fireproof. They are available in four colors and two surfaces, in both opaque and resin, and in formats of 6 by 12 and 6 by 48 inches.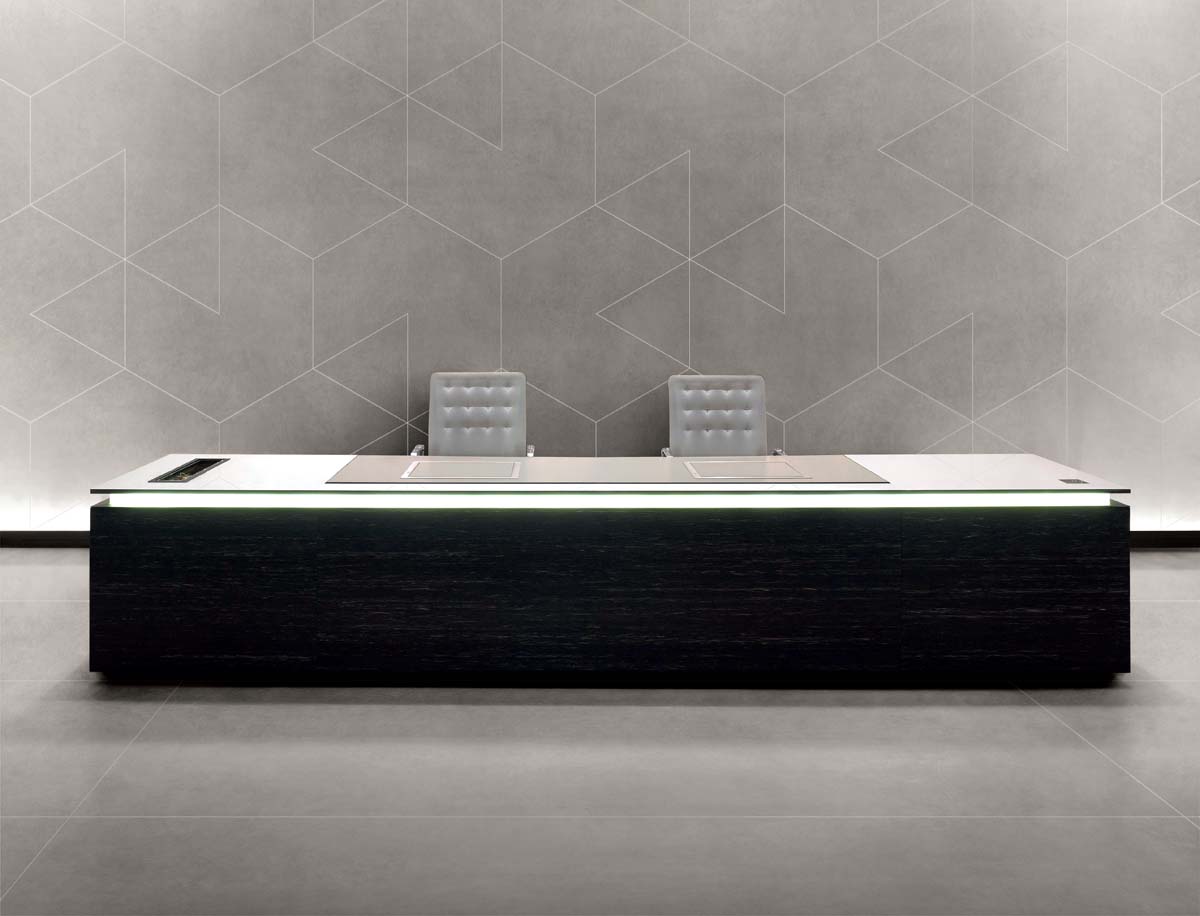 Lea Ceramiche Nest by HOK Collection
Nest, Le Ceramiche's new collaboration with architecture firm HOK Product Design, is a colorful addition to the technical Slimtech series. It features curated colors from Lea's pixel collection, expanding the possibilities of coordinated designs, patterns, and products.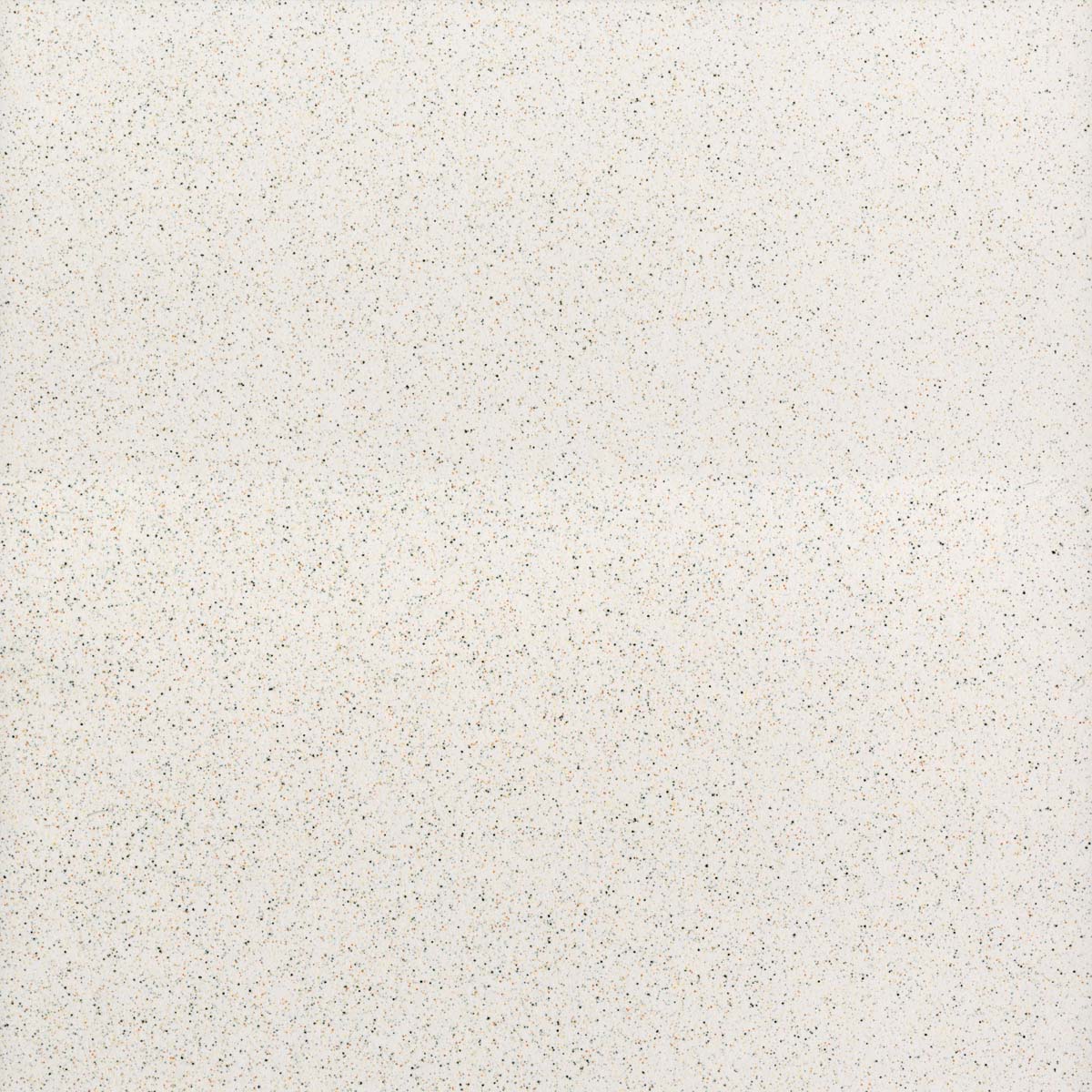 Ornamenta Salepepe Collection
The Salepepe (Italian for salt and pepper) customizable tiles add just the right amount of flavor to a space, overlaying organic, grainy backgrounds with solid graphic patterns in seemingly random compositions.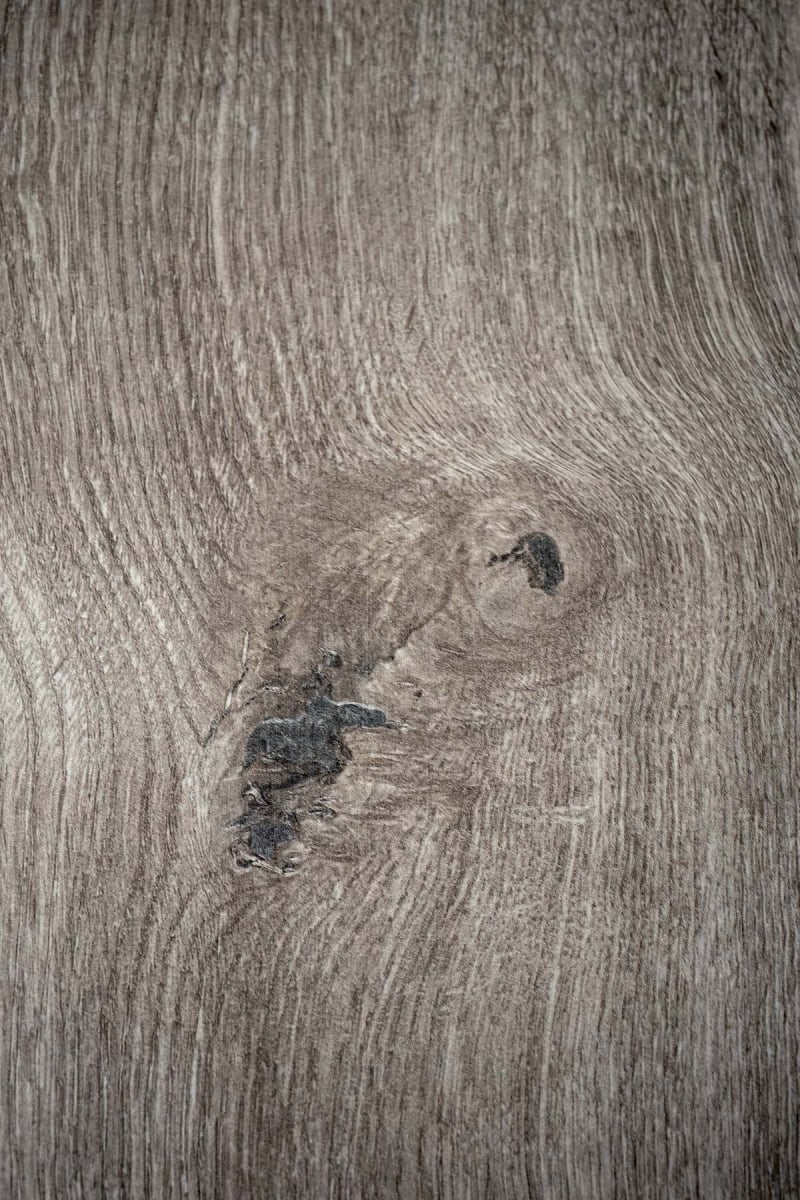 Marazzi Treverkever Collection
Exquisitely reproducing grain patterns, Marazzi's Nordic wood-look tiles elevate the aesthetic status of the knot. They are available in five color tones: ash, natural, sand, clove, and musk.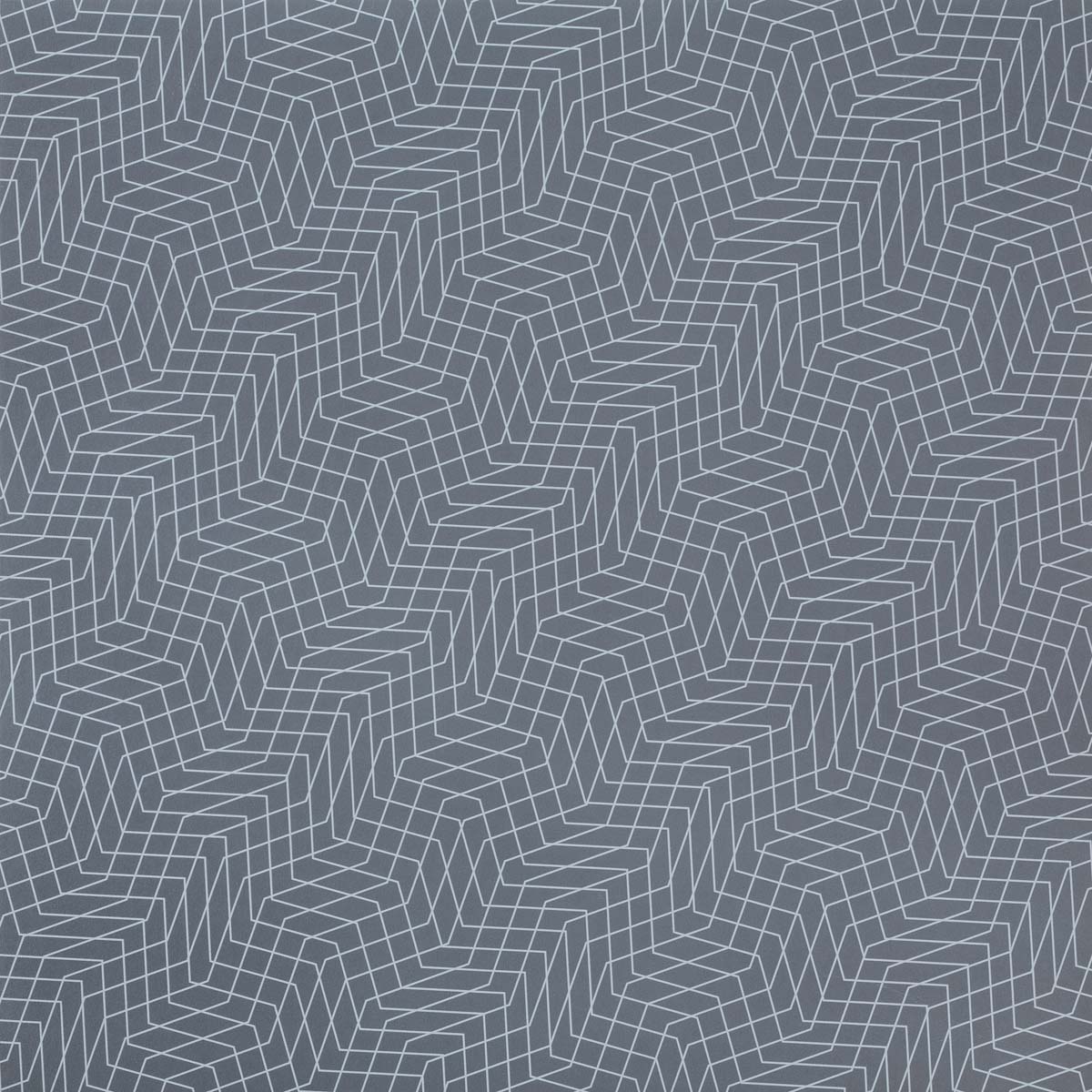 Ceramiche Refin Filo Collection
Designed by Alessandro and Francesco Mendini, these square porcelain tiles have a pattern of woven lines that depict the three-dimensional movement of a grid, creating an op-art effect.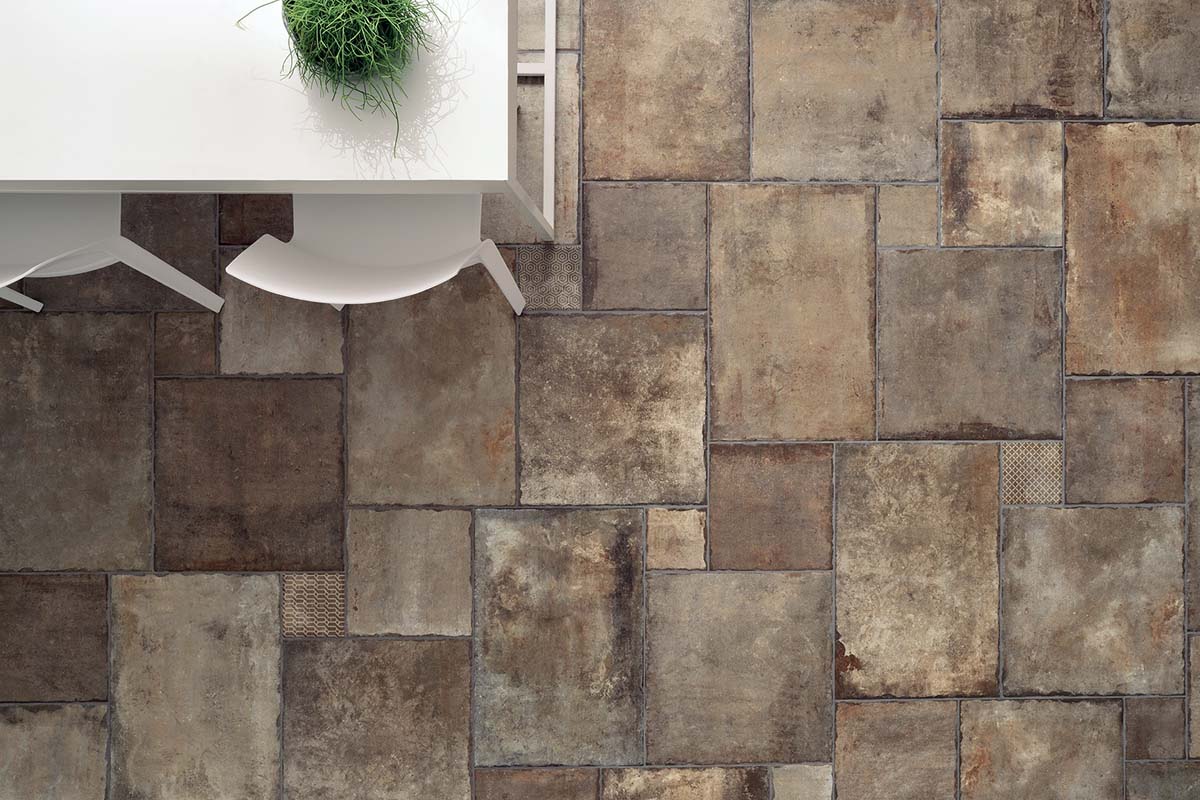 Ceramica Fioranese Heritage Collection
The stone look of this porcelain achieves a new level of detail and realism, which includes an antique effect on the topmost edges of the otherwise rectified tiles.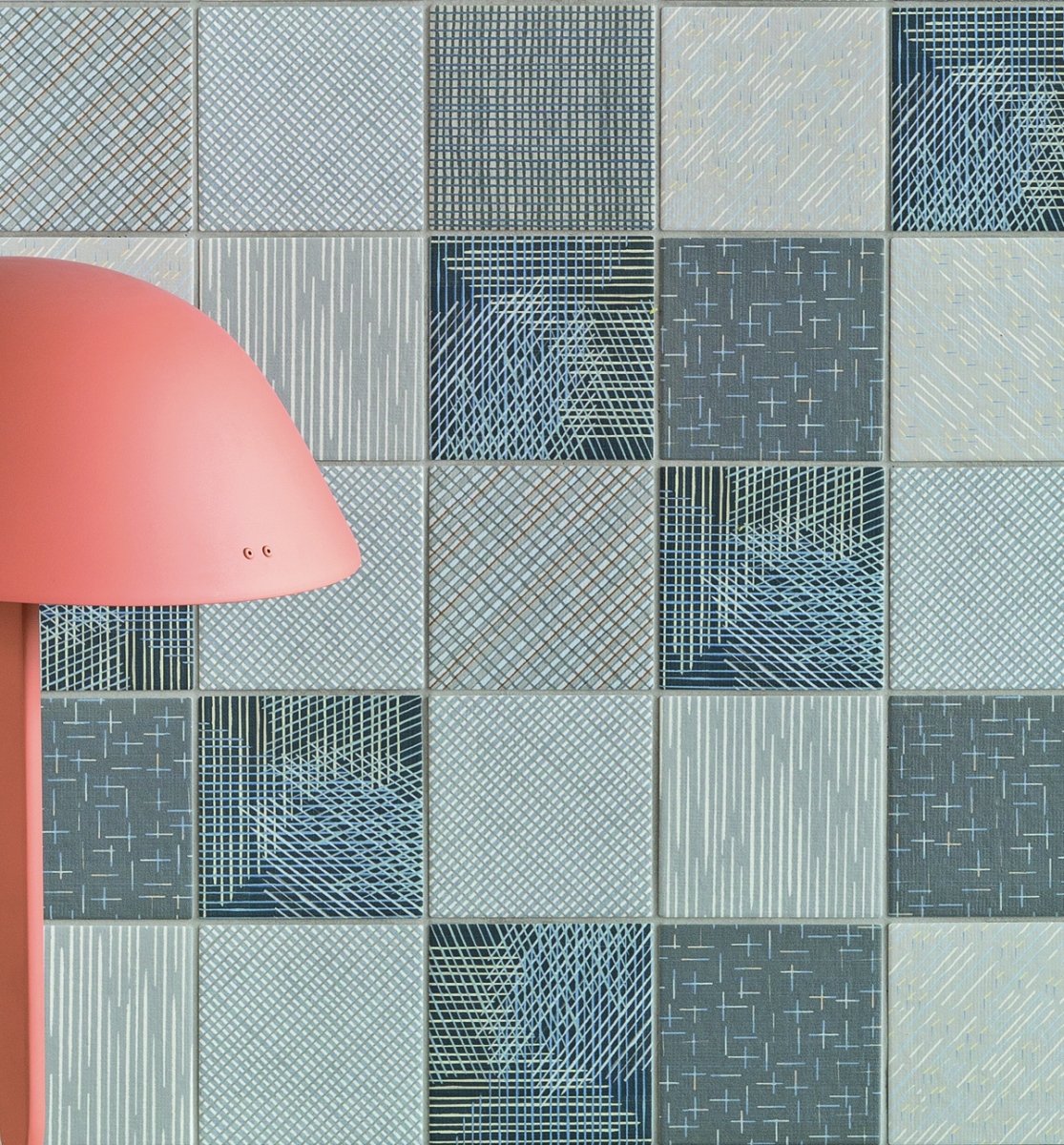 ​
Mutina Tratti Collection
Inga Sempe's collection of tiles for Mutina features eight patterns in three preselected combinations—a light, medium, and dark mix, all of which include tiles that aren't available separately. They can be used individually or together to create endless configurations.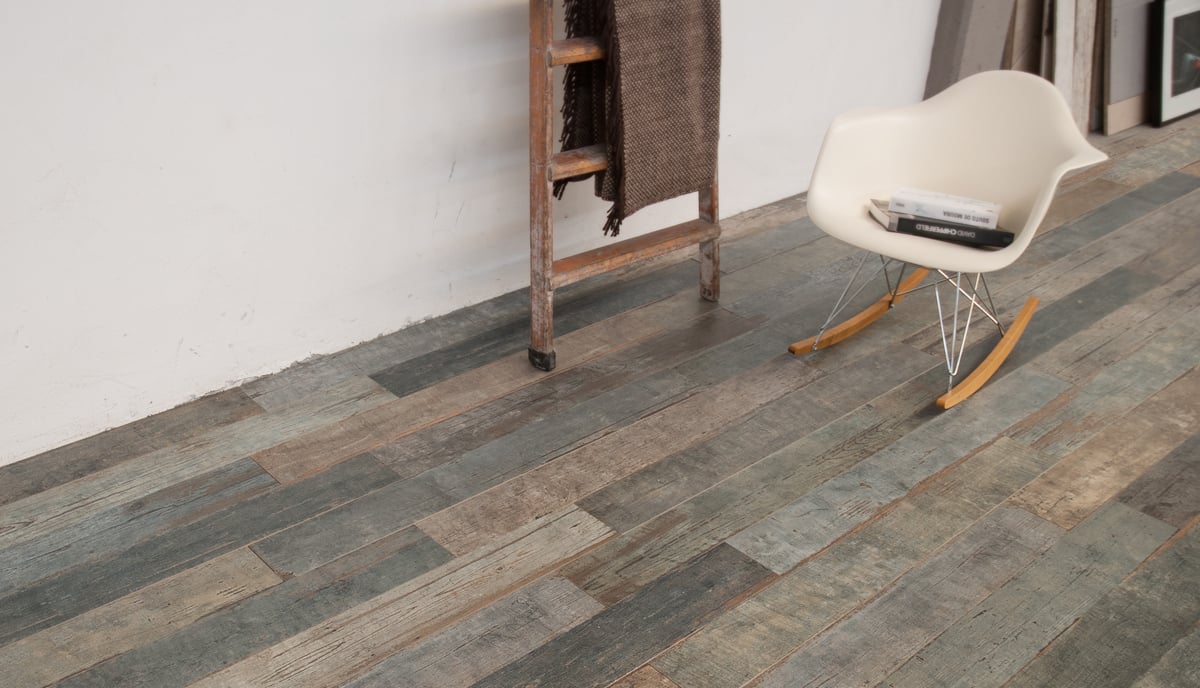 Ceramica Sant'Agostino Blendart Collection
This wood-style porcelain-tile collection is inspired by repurposed materials from barns and is available in five "washed" colors.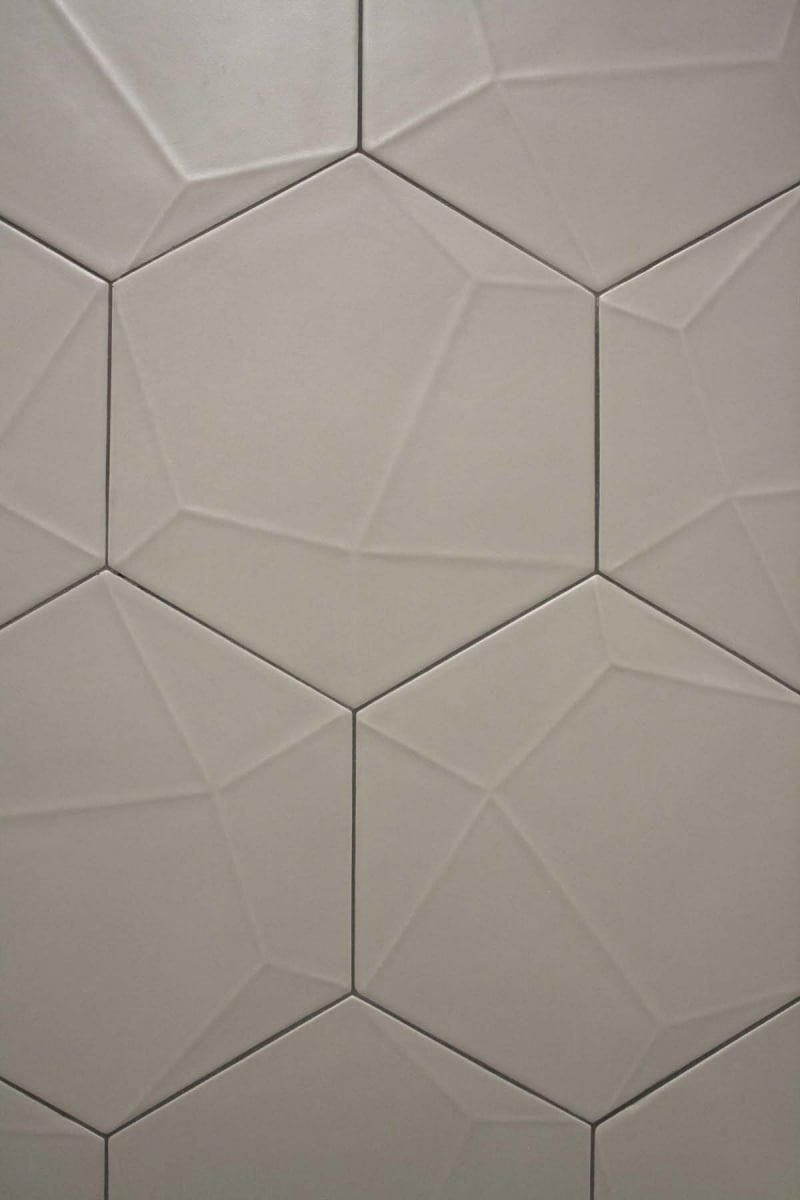 Tagina Details Collection
The dimensional striations on these hexagonal tiles meet at the edges so they can be laid any which way. The collection expands the existing hexagon-based Dot-to-Dot offerings created by Tagina's Atelier division.
---
Kitchen and Bath Industry Show (KBIS)
Next Edition: Januart 20–22, 2015
---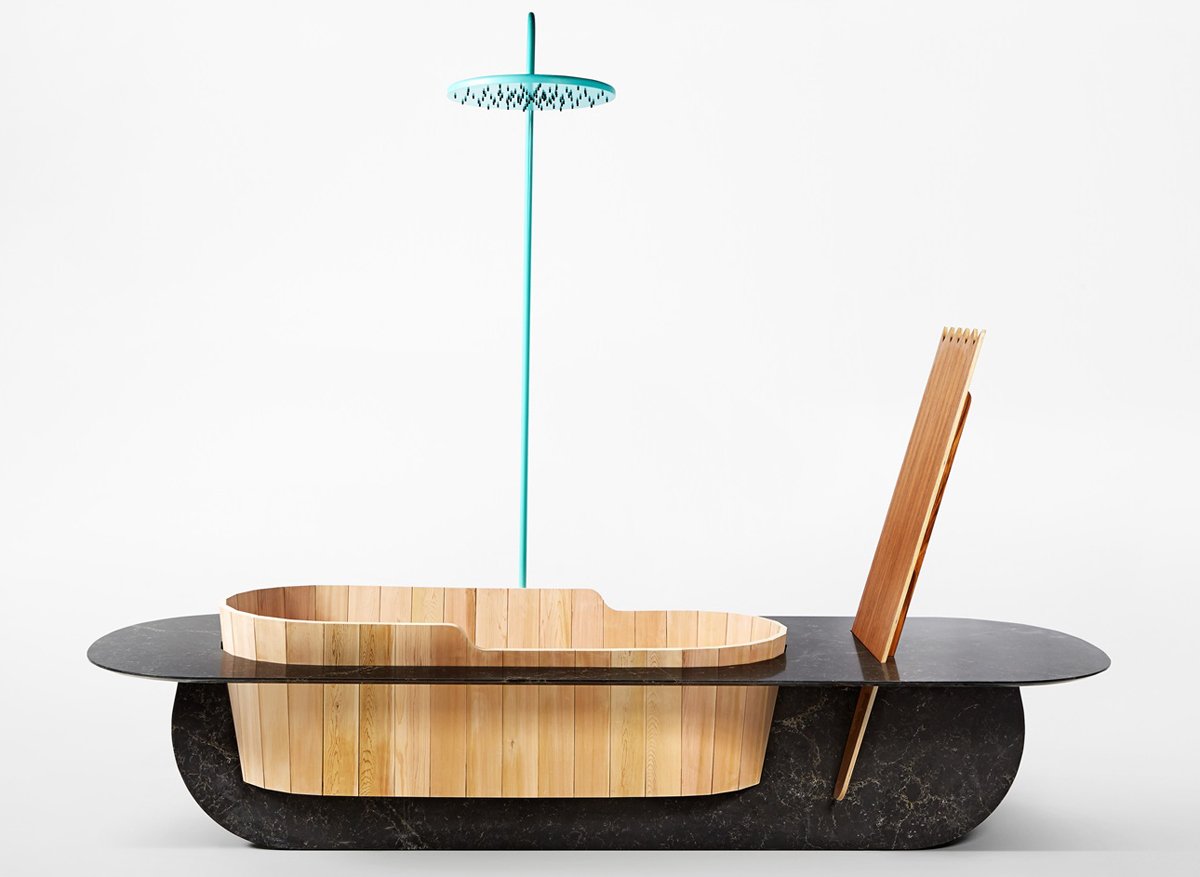 Choice seems to be the key idea among kitchen and bath products—especially when it comes to modular accessories, technology integration, and new finishes. This year's designs have run the gamut—from Caesarstone exploring new lifestyles with its avant-garde kitchen concept Islands by Raw Edges, to Duravit presenting a new flushing technology in the Starck 3 Flushometer toilet. The annual Kitchen and Bath Industry Show (KBIS) in Las Vegas reflects this trend of plenty. More than 500 exhibitors will be showing at January's event, so organizers will be adding 500,000 square feet of floor space. They are also joining forces with two new trade shows under the umbrella of Design and Construction Week—so the choices will multiply. Here are our selections of some of the best kitchen and bath products released this year, as well as a preview of what's to come at KBIS next year. —Avinash Rajagopal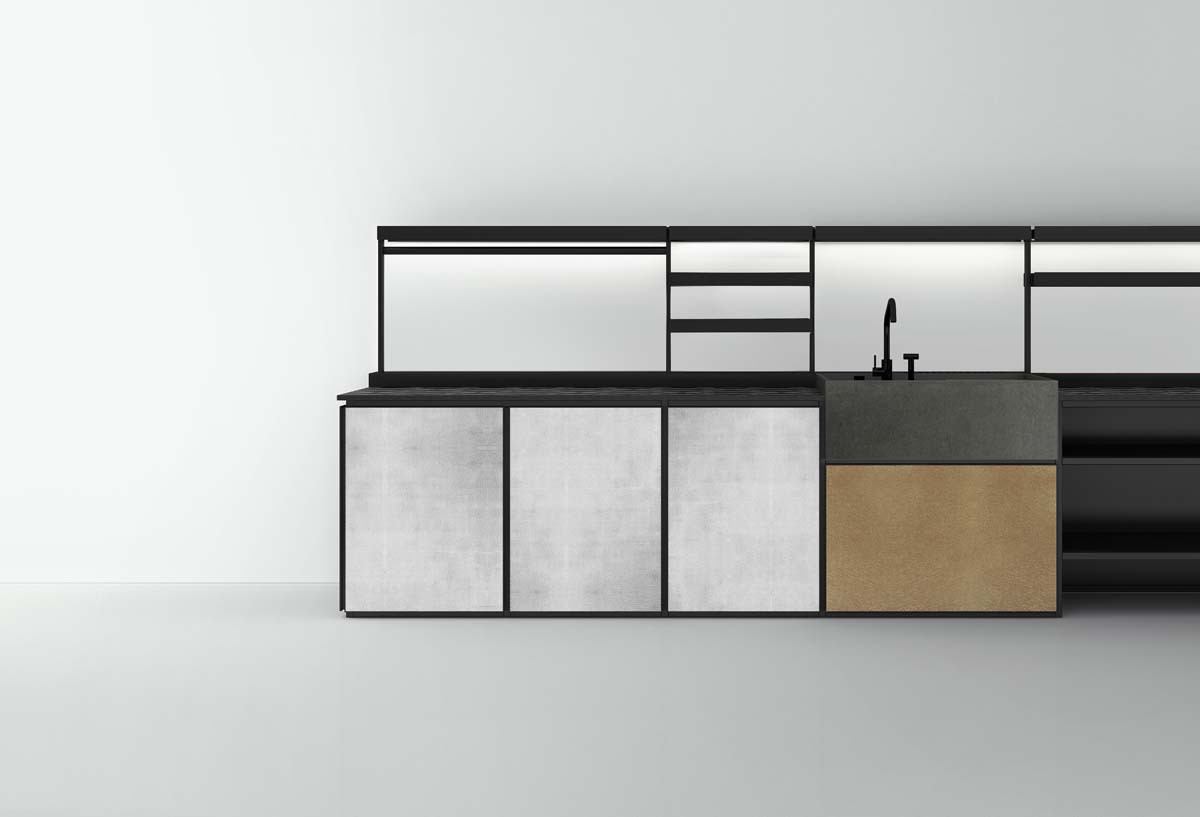 Boffi Salinas Kitchen
As part of its 80th-anniversary celebrations this year, the kitchen manufacturer unveiled its collaboration with Patricia Urquiola, who introduced new structural solutions and materials in the Salinas line.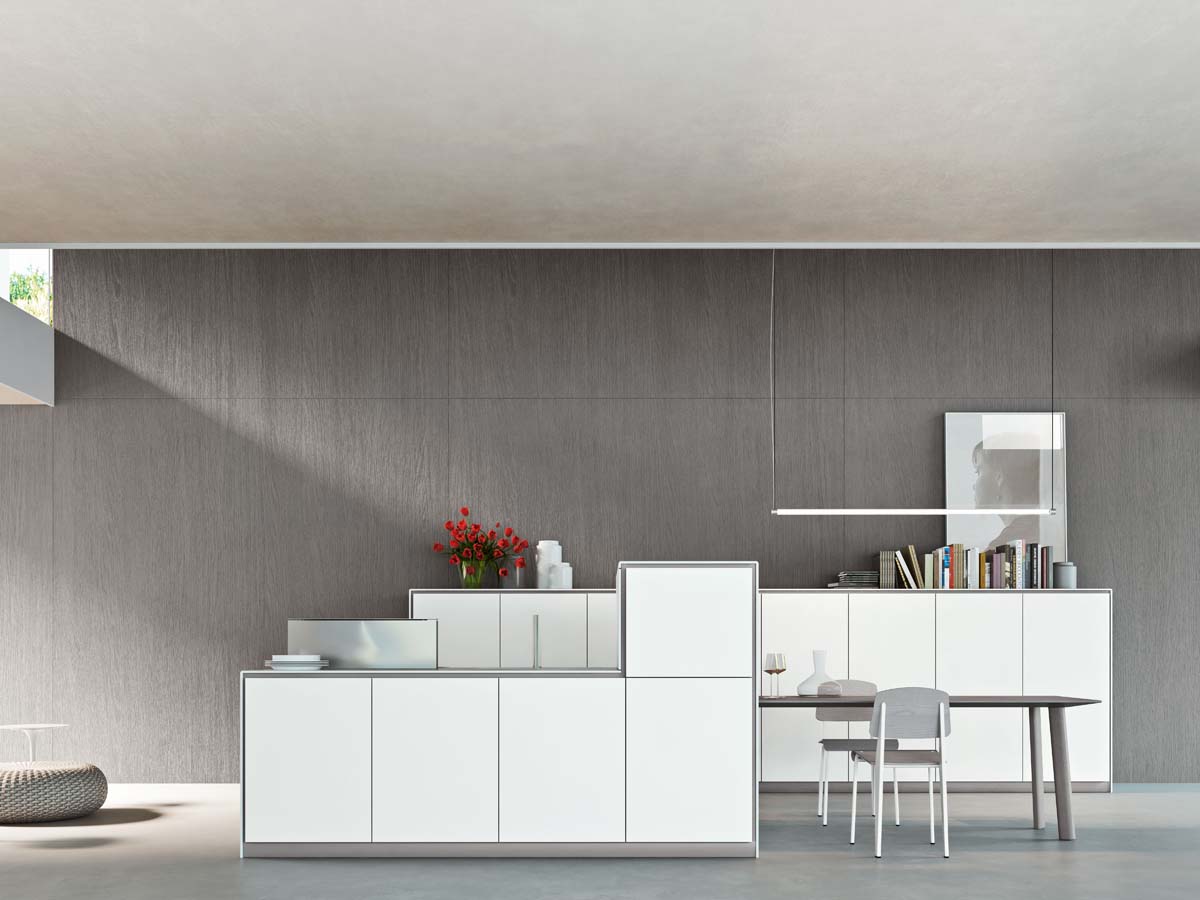 Snaidero Elle Kitchen
The focal point of this kitchen, designed by Monica Armani, is a system of aluminum profiles used instead of grooves as a way to open the compartments and drawers. Tone-on-tone material finishes underscore the elegance of the concept.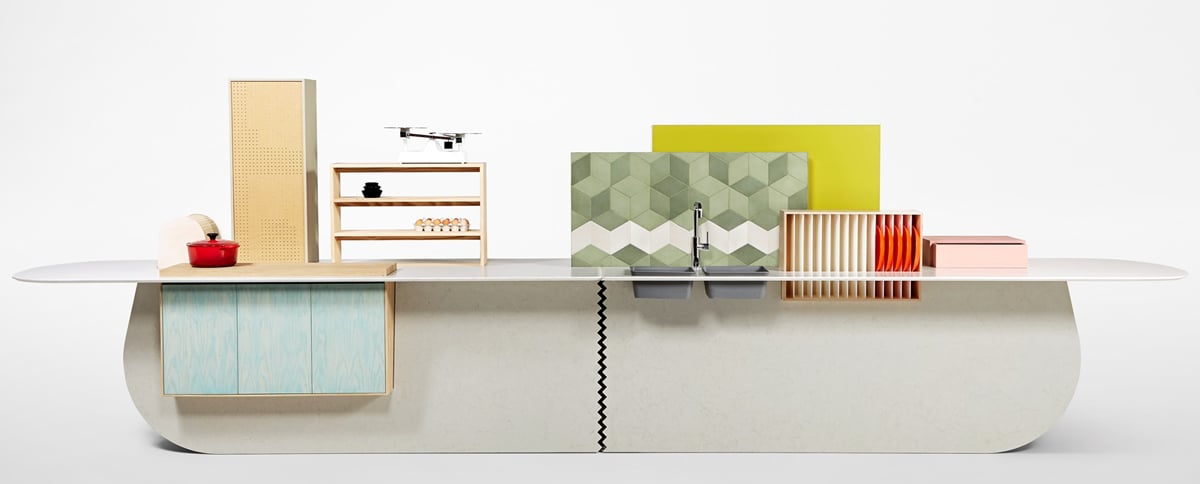 Caesarstone Islands Concept
Designed by the London-based studio Raw Edges, and displayed at Fuori Salone in Milan this past April, Islands is a new take on domestic spaces where accessories are slotted directly into voids between the surfaces.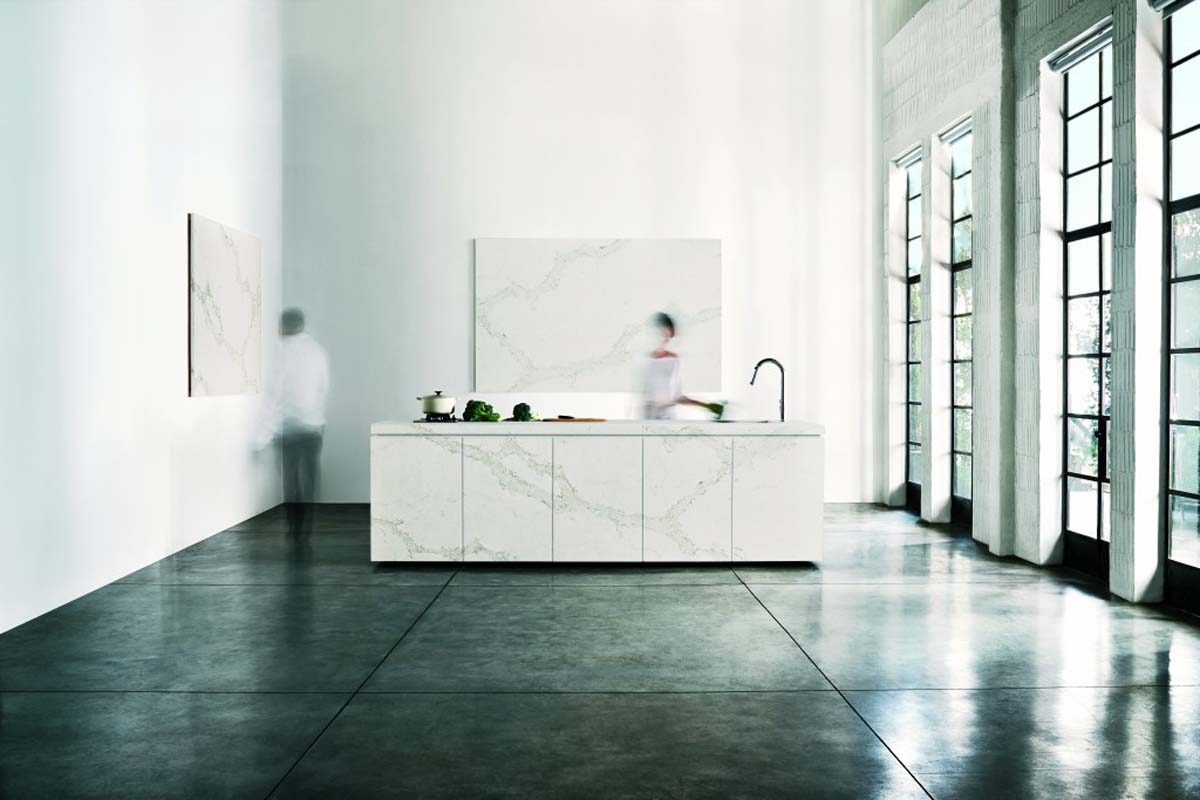 Caesartone Calacatta Nuvo
This counter's premium quartz surface is inspired by the natural-stone look of Calacatta, with a distinctive vein pattern and a characteristic texture. It is now available in the United States and will be on display at KBIS next year.
Sugatsune Elan Series
This cabinetry series makes even large, heavy doors easy to open for all kinds of users, thanks to free stay and lift assist. The doors also shut gently because of a soft-close technology.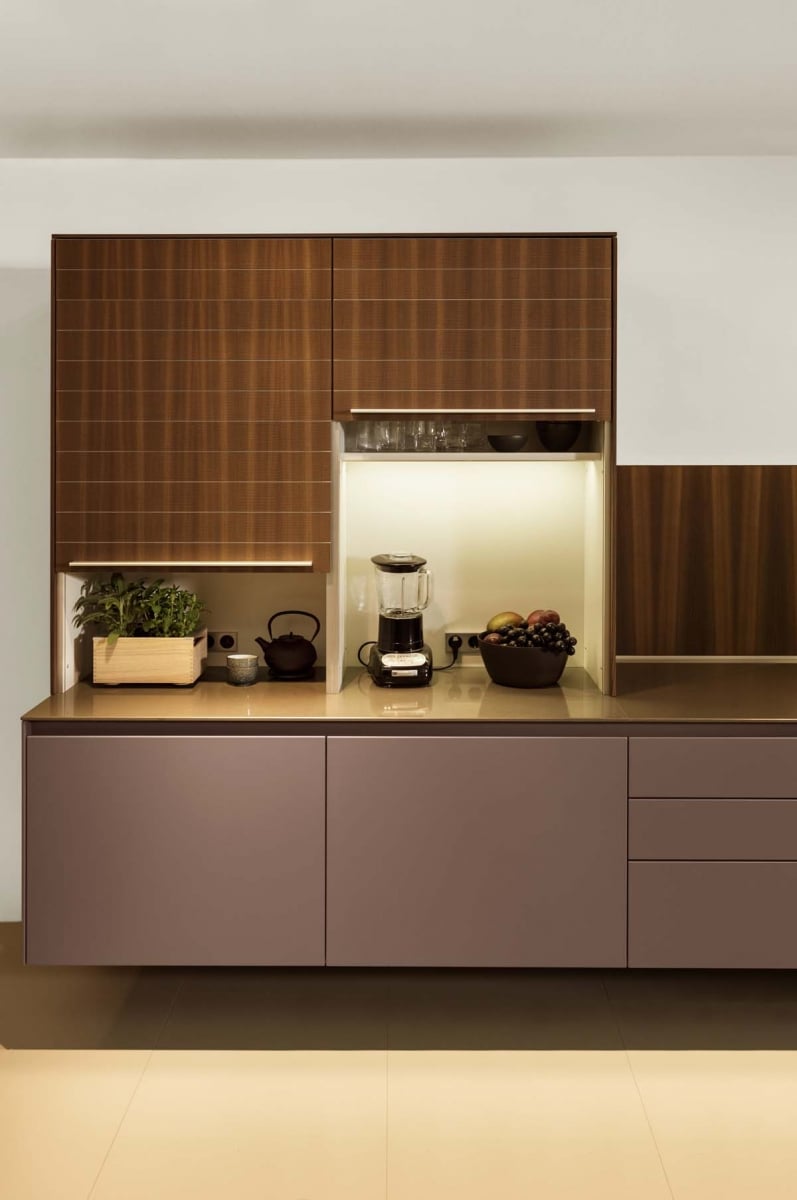 Bulthaup B3 Shutter Unit 
A customization for the b3 kitchen, these shutter units—shown here with slats in smoked structured larch wood—can be installed on top of the work unit or integrated into tall units. The stainless-steel base is a convenient place to store small appliances.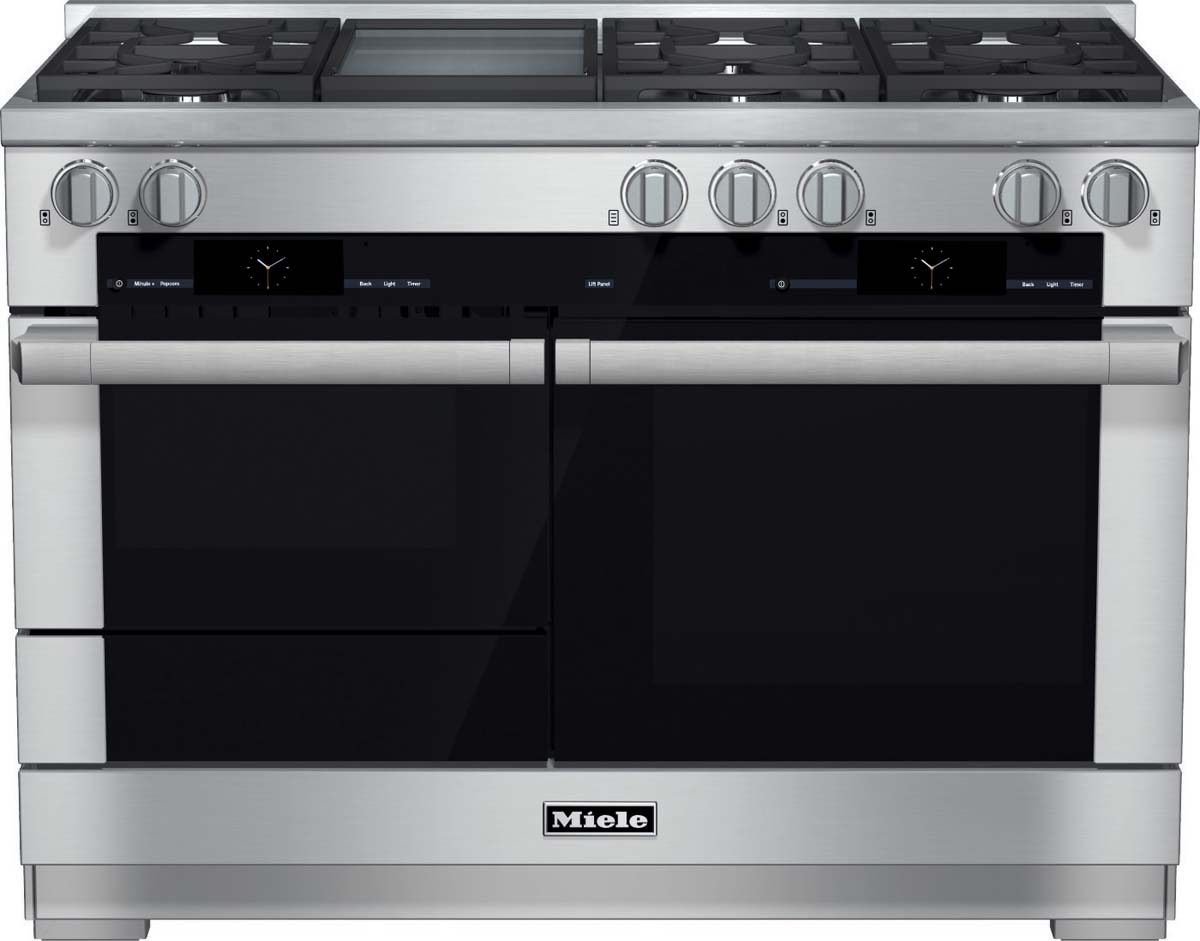 Miele Range Series
With a unique three-door design, the 48-inch model in this series has a speed oven that combines the functions of a convection oven and microwave. It comes in dual fuel, gas, electric, or induction versions and features Miele's M Touch controls.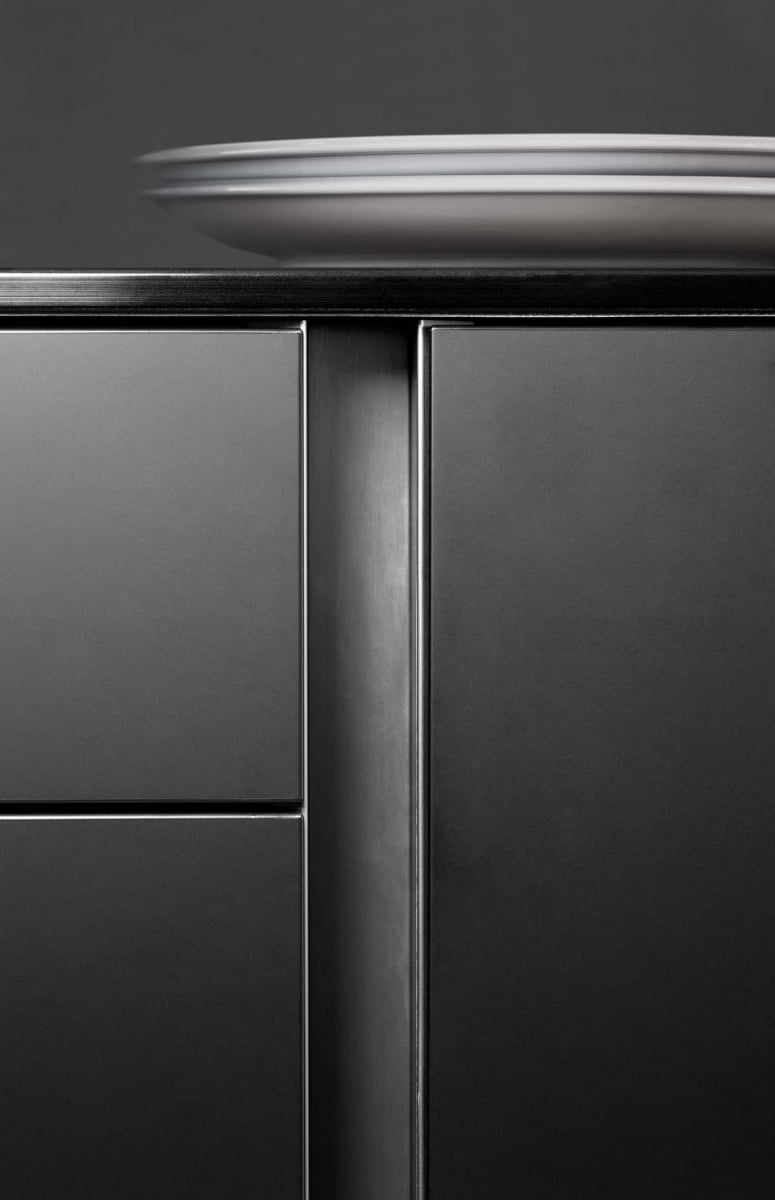 Poggenpohl P'7350 Kitchen Concept
Porsche Design Studio created this concept by taking advantage of an industrial mitring technology. In conjunction with the solid vertical trims, the mitered detail gives this kitchen a precise, engineered look.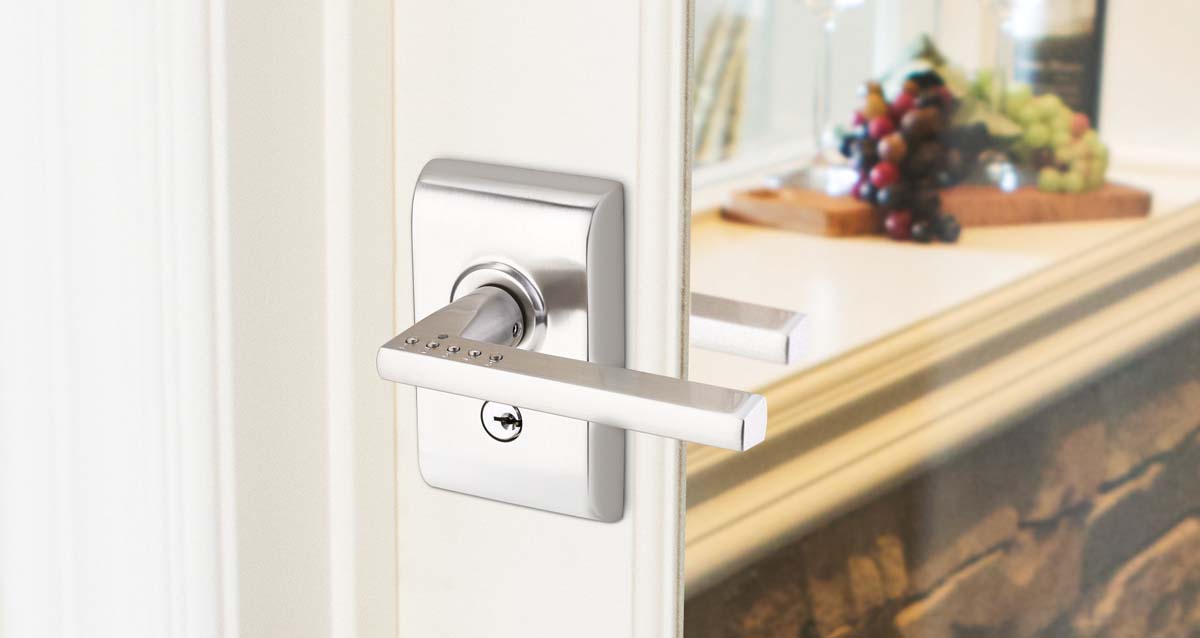 Emtek Liscio Keypad Leverset
Using Bluetooth programming, this leverset offers an easy, keyless way to open doors. Users can program up to 20 different codes via a smartphone app, and the codes can then be entered using discreet buttons on the lever itself.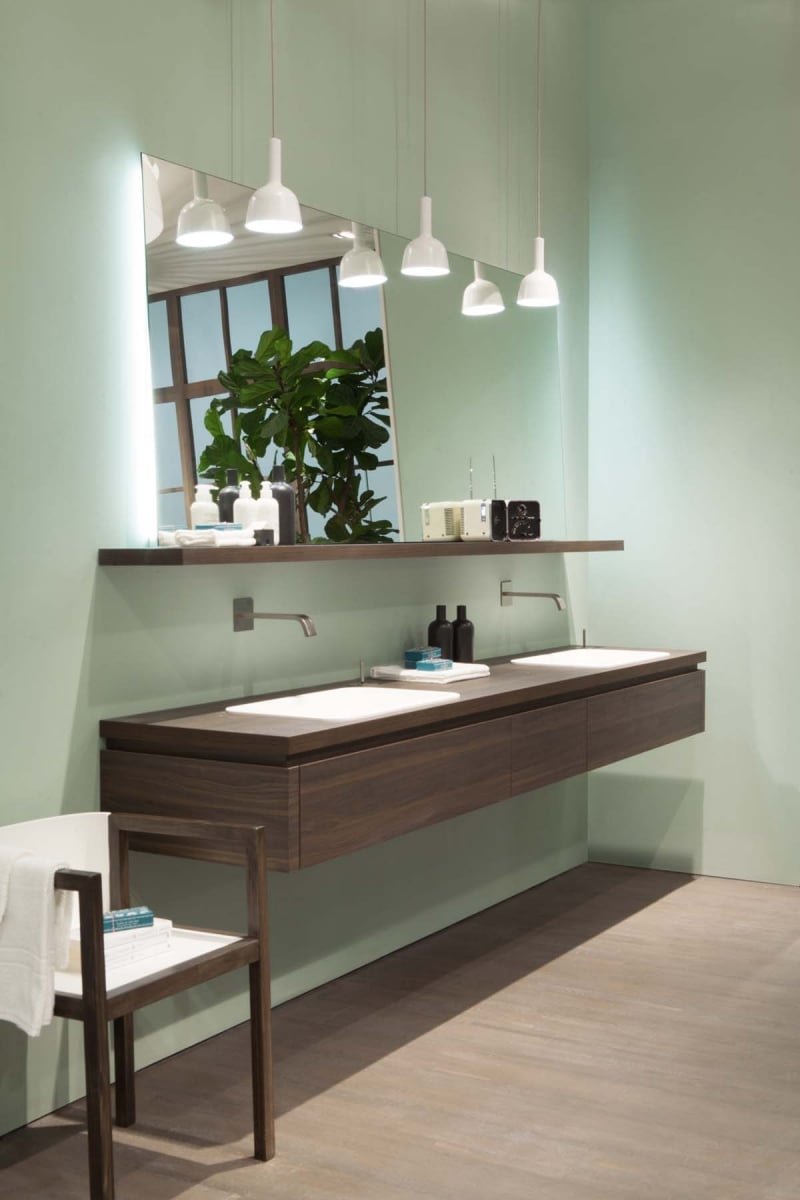 Scavolini KI Collection
Nendo's concept for this collection is a play on the Japanese word ki, which means both container and wood. All the minimalist elements, including washbasins and wall units, are designed with the idea of containers that rest on shelves.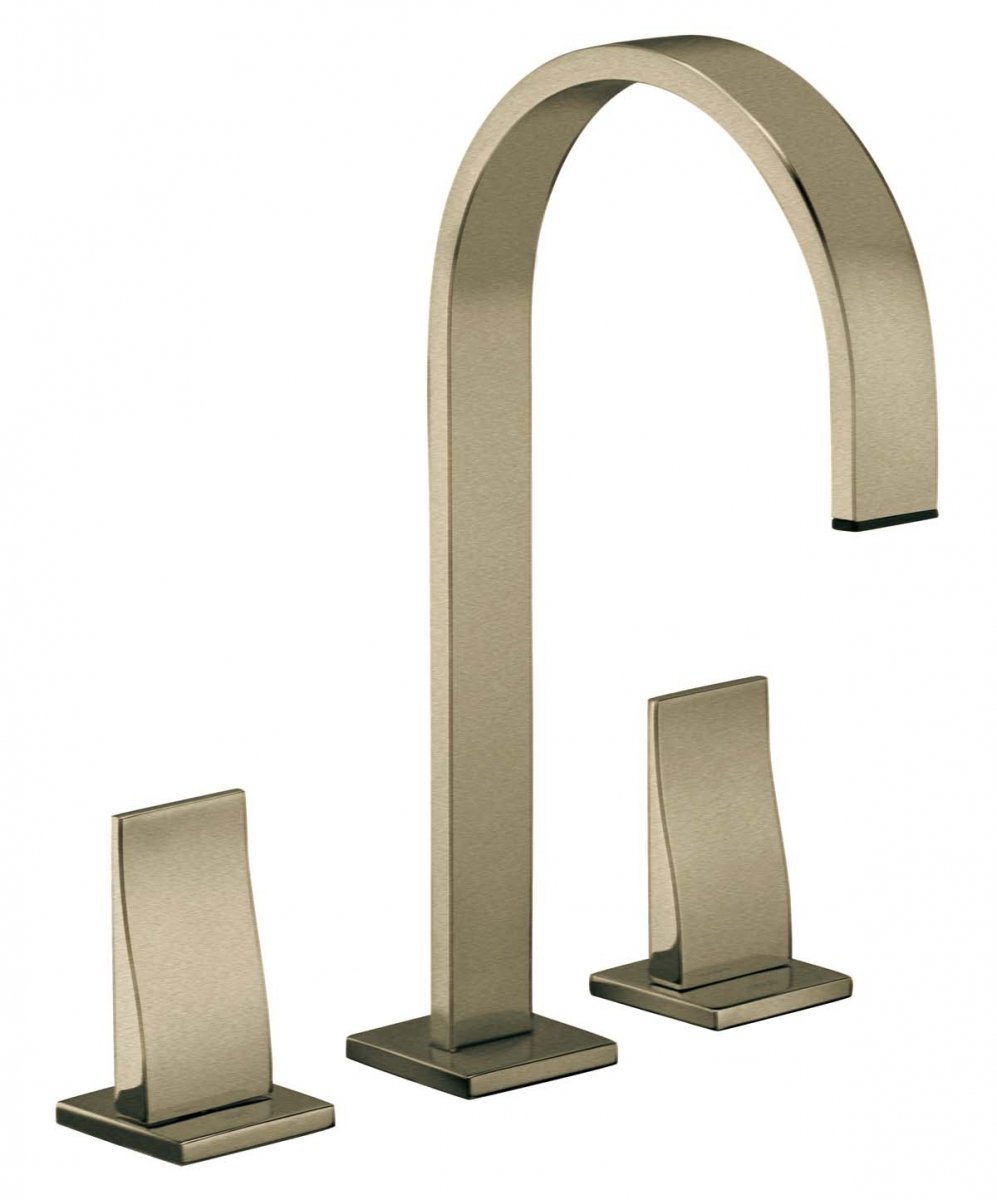 Fortis Scala Collection
Available in the United States through Ferguson, the Scala is a classic gooseneck faucet design. The triangular profile of the handles draws the eye to its curves. Scala is available in polished chrome, brushed nickel, and matte black finishes.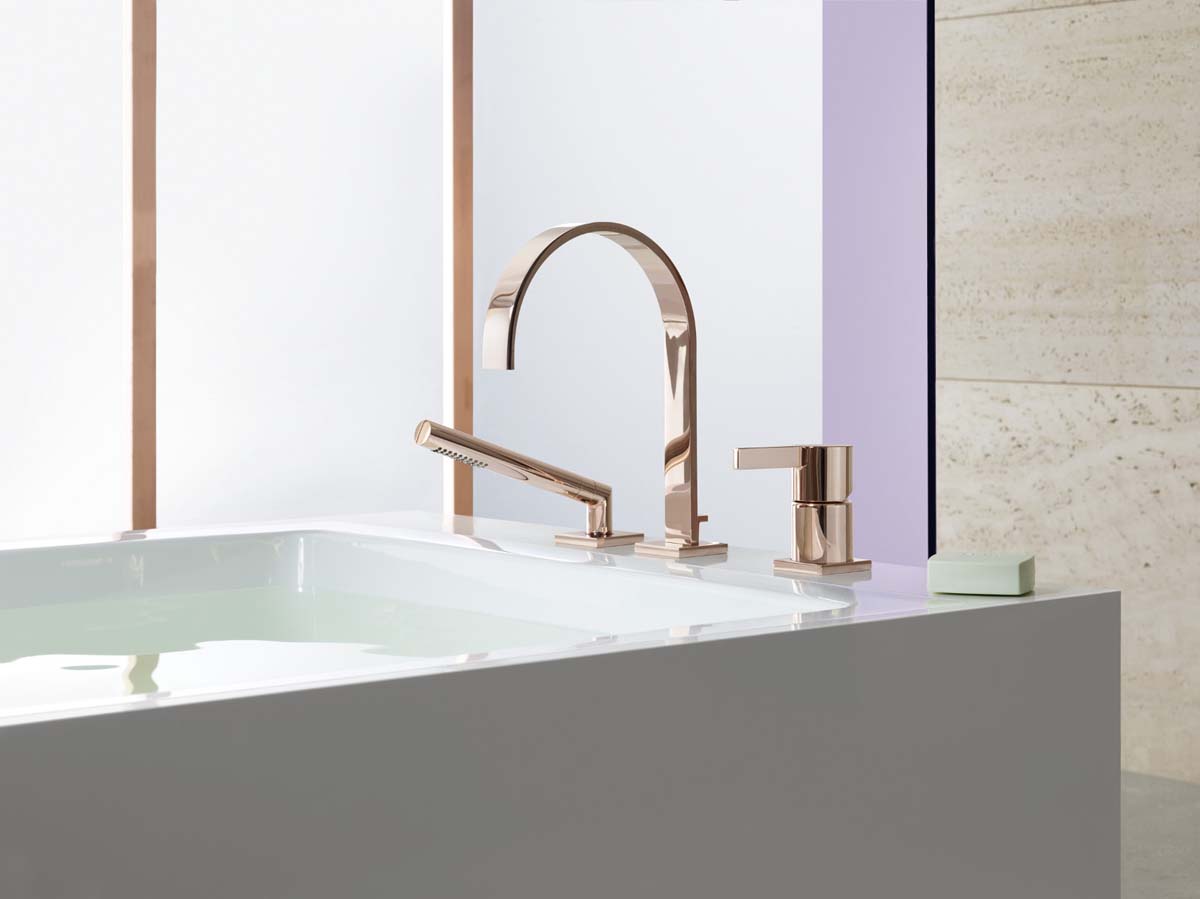 Dornbracht Cyprum Finish
Named for the Latin word for copper, cuprum, this finish is composed of copper mixed with 18-carat gold. It brings warmth and intimacy to the bathroom, along with an artisanal touch.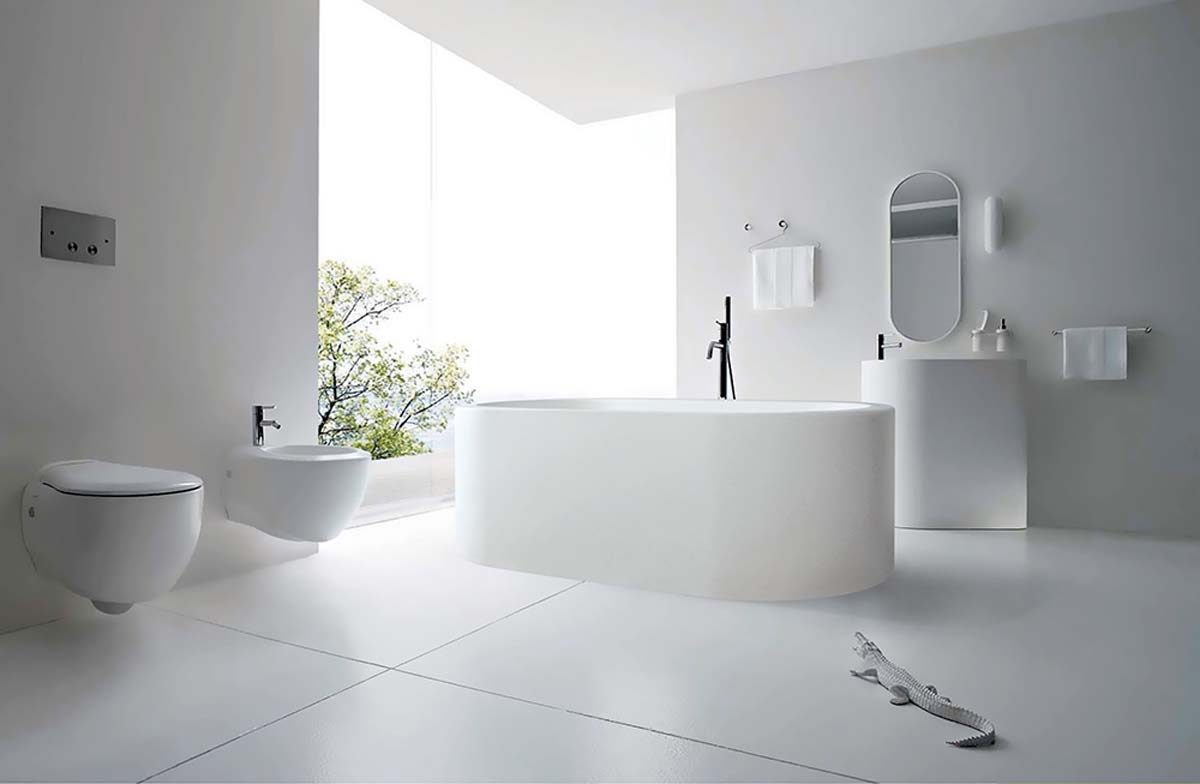 Clarke Architectural Solid Surface Collection
A new division of Clarke Products offers bathtubs, shower receptors, and washbasins crafted using a liquid acrylic resin called Lucite. The exclusive solid-surface material is engineered to withstand the rigors of everyday use.
Porcelanosa Gamadecor Bambu Vanity
Shown here in the Gris Sombra color option, this furniture line offers a lot of storage space, even in a compact bathroom. The cabinet can be cus- tomized with a Krion top, and lacquered-wood or laminate veneers.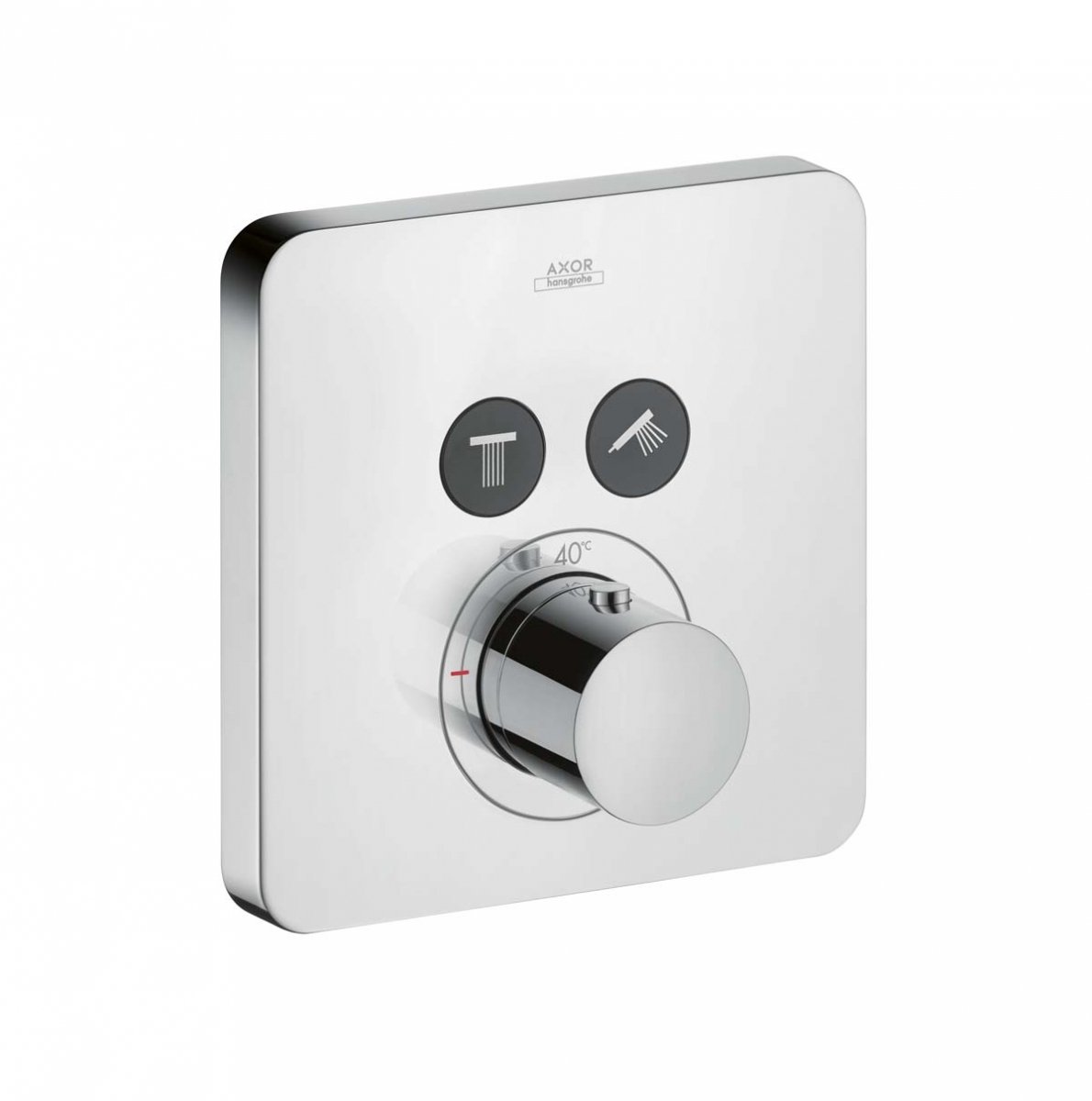 Hansgrohe Axor Citterio E Collection
This collection is designed to coordinate with a wide range of bathroom accessories. The ShowerSelect thermostat shown here has a minimal, clear interface and is easily installed using the iBox system.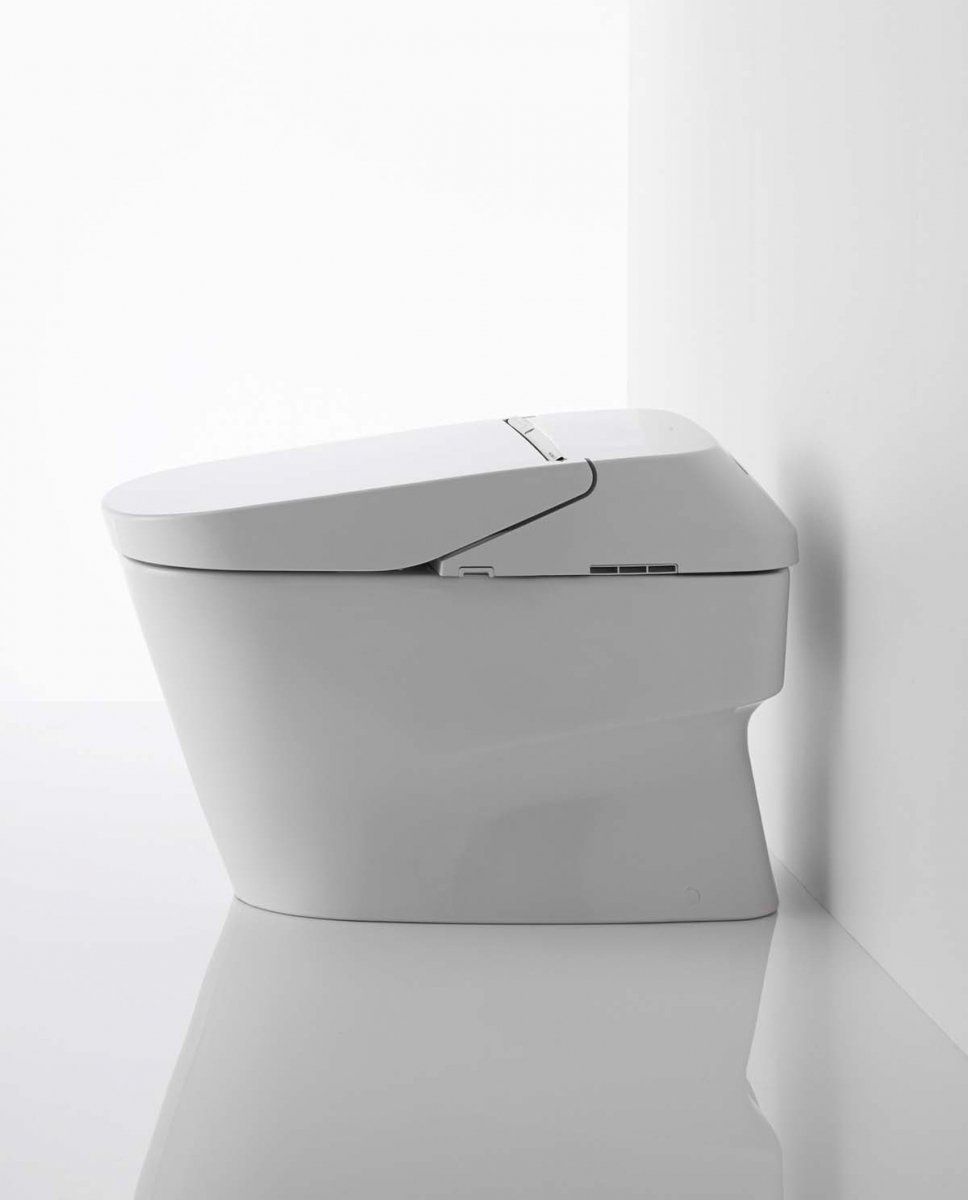 Toto Neorest 700H Toilet
This inclusive-design toilet is built to suit people of all abilities. It also features an ultra-high-efficiency cyclone dual-flush system that saves water, and a mist of electrolyzed water that reduces the need for harmful cleaning chemicals.
Duravit Starck 3 Flushometer Toilet
Ideal for frequent use in commercial settings, this toilet comes with an innovative syphonic flushing technology. The design marks the 25th year of Duravit's collaboration with Philippe Starck.