May 31, 2017
Conquering Custom: For Arktura, No Ceiling Is Out of Reach
Arktura takes bespoke design to a whole new level, using specially engineered software, advanced robotic manufacturing, and sustainable materials and processes to make innovative architectural systems.
In addition to floor-to-ceiling panoramas of Los Angeles that extend as far as the eye can see, the 14-foot-high ceiling at 71 Above is easily the trendy downtown restaurant's grandest structural feature. For the architects at Tag Front, however, it was also the most problematic. The dilemma was retaining that impressive height while also covering the ceiling's HVAC systems and exposed beams, on top of having to minimize the din of chatter and clinking silverware inside such a cavernous space. "We must have gone through four or five different conceptual ideas and kept looking for something different," says Tag Front's Mandi Rafaty.
Enter Arktura, a ceiling and panel systems company whose in-house mantra is "Fueling possibilities." The two parties and the restaurant's owner began a collaborative process of trial and error to develop an acoustic ceiling system, a back-and-forth of fabricating modules, test-fitting on site, and adjusting variables of size and depth. The finished ceiling has a faceted surface of coffered hexagonal cells made from Soft Sound, Arktura's own acoustic fiber woven from recycled plastic bottles. The surfaces oscillate between 24-inch-deep coffers that emphasize the ceiling's maximum clearance and flat panels where a beam or a duct may be hiding.
Rob Kilian, Kevin Kane, and Chris Kabatsi, three formally trained architects and former classmates at Rensselaer Polytechnic Institute, founded Arktura in 2008. In those early days, their focus was leveraging new manufacturing software and technologies in customizable product design. Key work included Atmosphera, a modular, configurable open-baffle ceiling system that can be customized to accommodate any irregularities in a space—columns, curvatures, HVAC—and deployed as an easily installable kit of parts.
"Custom was a scary word for manufacturers back then," says project design and development director Sebastian Muñoz, who joined the company in 2012. However, in the midst of the recession, Arktura's emphasis on both tech and customization not only kept it afloat but also pushed it to fill a gap in the market for custom projects. "Very quickly, the work was no longer within the realm of a standard customizable system, but bespoke," Muñoz adds. "And because we're architects, we could jump into a proposal and execute a project as a partner."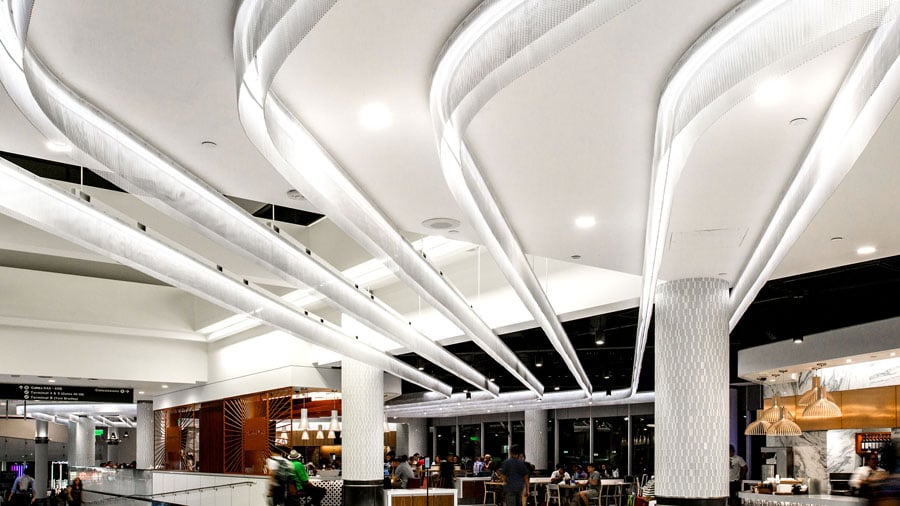 For Kilian, this familiarity makes Arktura the "architect's architect," although it is also the architect's designer, engineer, manufacturer, materials researcher, and software developer. At the firm's three-acre headquarters in the Los Angeles suburb of Gardena, every project is built in-house, on-site, often using specifically developed, top secret software and equipment. During LAX's recent rebranding of its international terminal, Arktura created both new algorithms and manufacturing processes to develop a porous canopy for a Pinkberry stand. "For us, that was about creating a technologically advanced cellular structure that both plays into the playfulness of the brand and gives the airport a level of design above a normal airport," says Kilian. The result was a prefabricated, self-supporting canopy with 4,200 points of alignment, with minimal visible substructures, that could be easily shipped and assembled. This year, the company is redeploying the same software on a project of much larger scale: a sports arena in Irvine, California. "We basically rescaled and reengineered this style and logic to build a giant shade canopy with three- or four-thousand-square-foot cells with five-foot diameters."
Arktura seems to thrive on complexity. The key, however, is taking a complex problem and presenting the solution to the client as simply as possible. To minimize field modifications that may be happening halfway around the world, "extreme precision among all the machinery is the most important element in translating from digital to physical," says Kane. Rather than measuring in inches, his team measures in microns.
When Atlanta-based designer Brian Schaer of HBA came to Arktura with a design for the Fairmont Hotel jazz bar in Baku, Azerbaijan's imposing Flaming Towers that would include thousands of cylindrical tubes hanging from the ceiling at different lengths, creating a wave pattern that nodded to the rhythm of the music, he was also adamant that the tubes accommodate peripheral elements like downlights, sprinklers, and diffusers.
Many manufacturers had signed on to execute his vision, but all had bowed out within weeks. Arktura accepted the challenge, wrote new software, and deployed 2,500 unique components to Baku with a house-designed system of self-contained kits. "All parts are laid out in a sort of paint-by-numbers type of instruction map, complex yet intuitive," says Schaer. "The Arktura team executed the task with surgical precision while maintaining flexibility with the client's, contractor's, and designer's requests."
What architects would normally describe as obstacles—an odd shape or intricate detail, perhaps—Arktura sees as opportunities to invent new solutions, new equipment, or even new algorithms that conjure up random patterns that never repeat. It's a 21st-century architectural systems company with a tech-start-up approach.
Îf you liked this, you may enjoy this review of WastED a pop-up restaurant in London that utilized unusual materials.