March 17, 2016
The Evolution of a Grommet, Your Trusty Wire-Concealer
The history behind the simple product made to manage the wires of our digital devices
All photos courtesy Doug Mockett
To trace a small but essential object designed, specifically, to help us connect with our digital world, we turned to Doug Mockett—detail driven inventor, entrepreneur, and furniture component visionary. His namesake company in Manhattan Beach, California started with his invention of the EDP grommet. As he recalls, it was 1980 when he first offered a simple wire management solution to cover the cord slots in desktops that open up to access wires.
Today, the simple concept has undergone several transformations—some inspired by functional necessity, others by popular demand. Through it all, the original product with its Flip-Top tab is still the company's best selling grommet. "You can't go wrong with a classic," notes Mockett, a former Wall Street man and an avid motor racer.
Each subsequent adaptation introduced a unique new function or feature to EDP. Air vent caps, adjustable depth liners, cord grips, solid caps, and more. As customers' needs for wire management became more nuanced, a whole new world of wire management evolved, a world that spawned an entirely new line of Power and Communication Systems (PCS).
PCS brought connectivity to the desk's surface for further convenience and accessibility. Rather than having plugs running through the grommet opening, the new units cleaned up loose wires, with cabling terminating on the desktop. This was plug and play for the user, as it put all pre-wired cabling under the desktop. The beauty of the PCS era was that the units could be integrated seamlessly into the desk's design. Some popped up, some flipped, some were recessed and hidden away, while others were mounted to the edge of a desk. The options seemed endless.
Mockett now has over 80 wire management solutions, a testimony to the ever-changing landscape of tech innovation. EDP remains the company's most trusted wire management solution. "It's a simple, clean design for the ages," notes Mockett. He adds, "Now we have the same wire pass-through options with optional Power or USB on top, plus the Lily Pad cap for stowing mobile devices while charging. The overall design by Peter Stathis merged with the Lily Pad concept by Rick Lewis came together to create a hybrid of wire management and powered options. It includes a threaded cylinder and locking ring to provide a more secure hold, which also allows additional accessories like a locking anchor loop for laptops and additional wire management below the surface with webbed inlets for cable wrapping." Where will EDP go next? "Time will only tell," says Mockett.
1980
The original EDP, the first grommet design from Doug Mockett. A simple wire pass-through concept that was instantly popular.
1989
Designed by Doug Mockett, the EDP Flip Top was the result of three years working to create a grommet with a removable cord slot cover.
1991
The Air Vent cap was born of the 1991 Mockett Design Competition, for the option to vent hot air from credenzas of computer cabinets.
1995 
A new liner was introduced to accommodate different table thicknesses with the Adjustable Depth Liner, winner of the 1995 Mockett Design Competition.
Also in 1995, another new cap design is introduced to completely cover an opening where no wire pass-through is permitted.
2000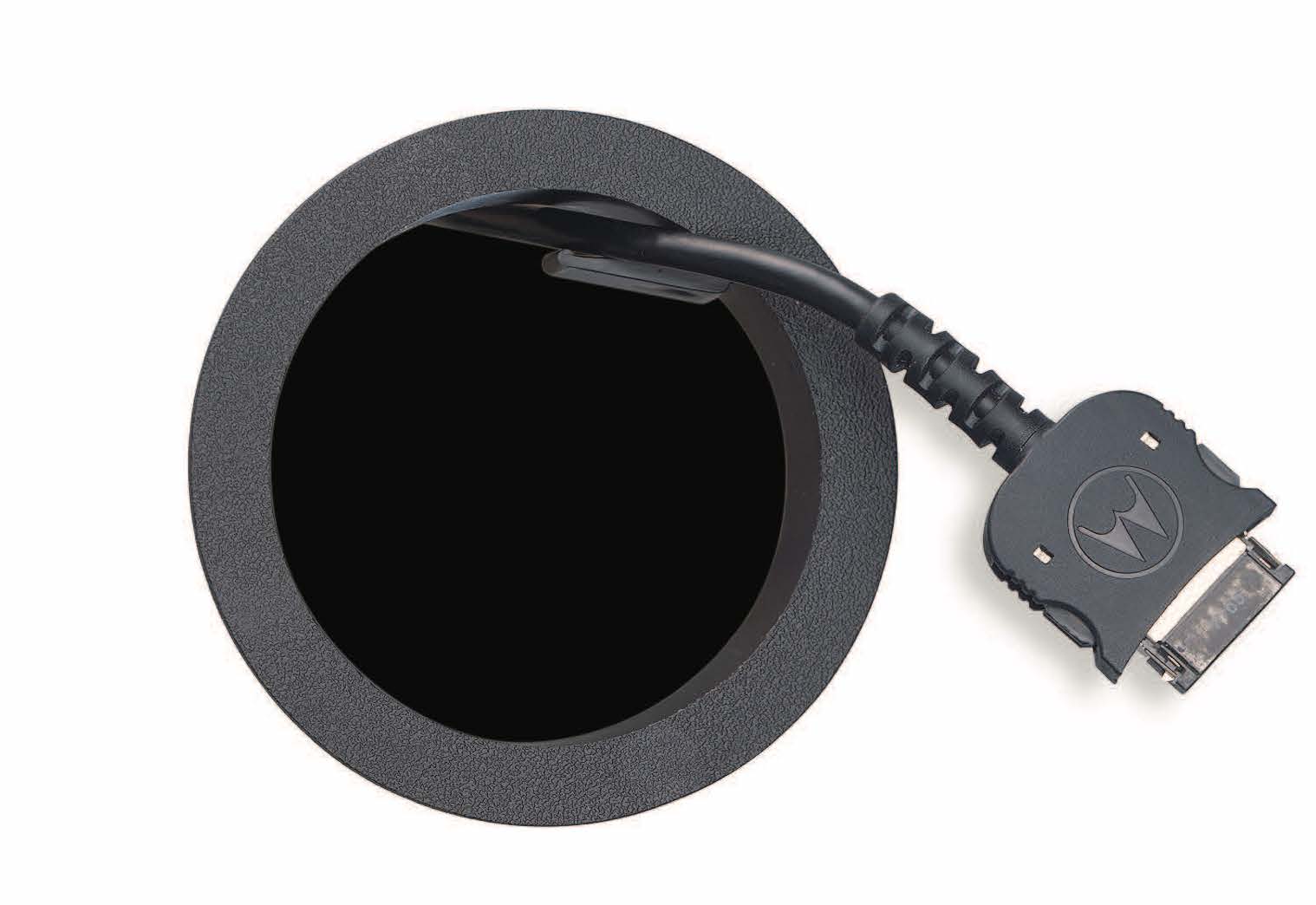 With the Clipper Gripper, a new way to keep wires handy is introduced. A clip on the inner wall of the liner keeps cables within close reach.
2001 
A line of new colors is introduced to match the iMac colors of the time. A timely merger for technology and design, but sadly, it wouldn't last.
2008
The 2008 Mockett Design Competition winner saw the introduction of a multi-faceted wire management concept to keep plugs and cables right on the desktop.
2015 
Designed by Peter Stathis and Rick Lewis, these hybrids of the original wire management concept and the power and communications systems line is born, integrating power and USB options into more utilitarian wire pass-through housing.