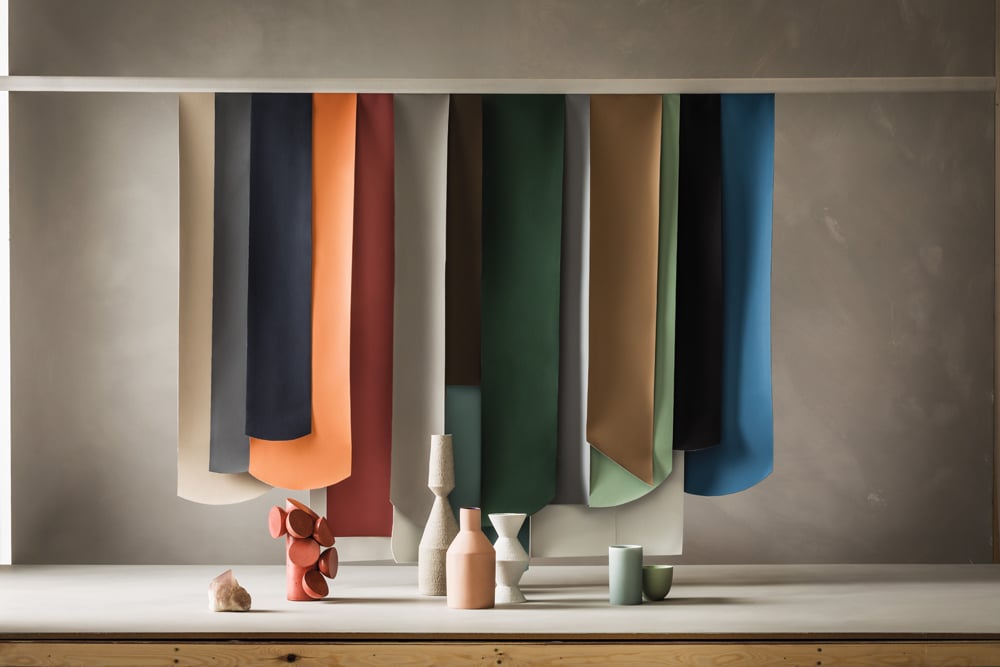 August 11, 2021
Four New Textiles for High Performance and Sustainability
A new generation of fabrics is addressing sustainability considerations without sacrificing durability or a luxurious feel.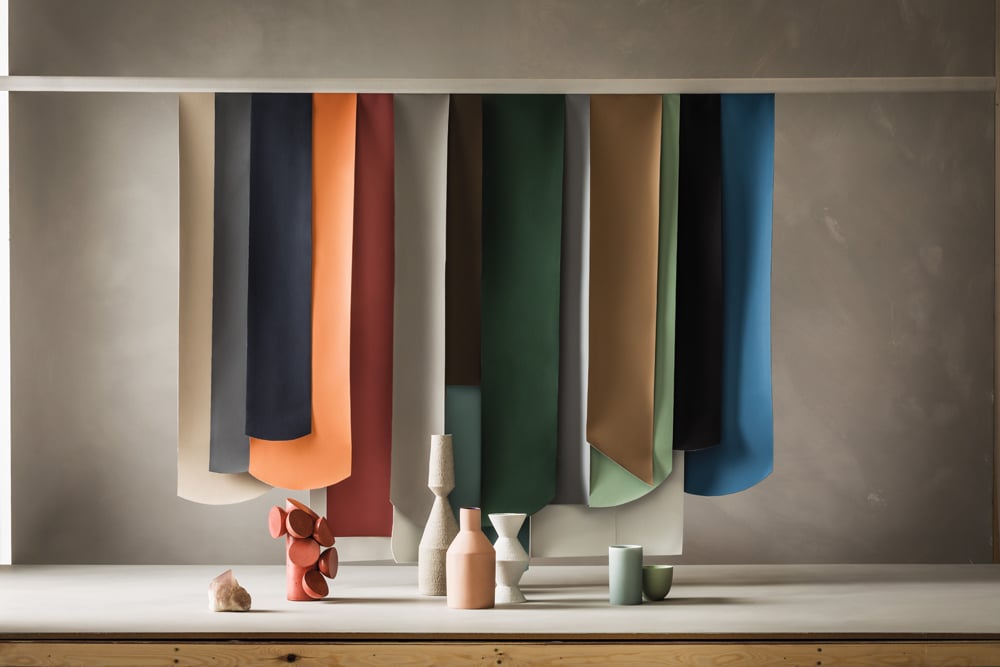 Organic Matter
Ultrafabrics' first bio-based collection, Ultraleather Volar Bio, uses renewable plant-based materials to provide a sustainable, high-performance alternative to leather. Composed of 29 percent bio-based content including corn by-products, polyurethane resins, and wood pulp, the fabric is certified by the U.S. Department of Agriculture's BioPreferred program. The result is a matte surface with a semi-lustrous base that is ideal for furniture and wall surfaces in commercial settings.
In addition to reducing dependence on the earth's nonrenewable resources, the fabric is both REACH-compliant and SCS Indoor Advantage Gold–certified, lending itself to healthier interiors. Since the collection's launch in 2019, Ultrafabrics has expanded Volar Bio's palette to 15 colors including a selection of rich neutrals among earth-inspired hues that it says represent "the healing power of minerals."
Strong as Silk
Medieval armor, with all its flamboyance and intricate decoration, was a response to a design conundrum—how to make a knight look impressive while also protecting him from the lancer charging at him at full gallop? The team at Designtex was inspired by a similar challenge in designing four luxurious and sustainable upholstery fabrics for the post-pandemic commercial interior. Velvet Corduroy (shown far left) provides all the plushness one could ever want on a chair or pouf while also being bleach-treatable and extremely tough. The yarns in the patterned fabric Standard are engineered to make it feel like a wool suit but help it withstand bleach, alcohol, hydrogen peroxide, and quaternary ammonium—without any surface finishes. Glimmer and Nook round out the set with a sustainable silicone topcoat that keeps them silky and soft.
Fresh Water
A portmanteau of "supple" and "preen," Nassimi's latest Supreen performance fabric aims to bring beauty and comfort to waterproof textiles. The manufacturer of faux leather and polyurethane- and vinylcoated fabrics has long been an innovator of versatile upholstery options. Composed of polyester and a proprietary fluorocarbonfree silicone blend, Supreen is not only impermeable to liquid but also breathable, stain-resistant, and bleach-cleanable. A polyurethane backing is thermo-bonded to the fabric, removing the need for adhesives or solvents that are often toxic to human and environmental health.
A Soothing Getaway
The hospitality industry was the hardest hit by the global pandemic—and it might reemerge the most transformed. In a survey conducted by hospitality tech provider Amadeus, 63 percent of hoteliers said that leisure travel (as opposed to business travel) will power their recovery. Most people traveling now are doing so as a respite from the restrictions of the past year, and they are seeking places where they can feel safe and anxiety-free.
Reflections, an upholstery collection from Sunbrella Contract and United Fabrics, was created just for this moment. "Right now we are all reflecting on the thematic moments that define us and taking time to appreciate the little things in life. This collection honors that idea with nature-inspired motifs that elicit feelings of comfort and peace," says Greg Voorhis, executive design director at Sunbrella. Aesthetically, the collection checks the boxes for everything a designer might need—a vibrant abstract pattern in Inga-Boho, a botanical in Palma, cabana stripes in Daphne, and solids with Miles and Velma. All the fabrics are stain-resistant and bleach-cleanable, providing some much-needed peace of mind to hospitality workers and guests alike.
You may also enjoy "These Three Products Target Health and Wellness in the Workplace"
Would you like to comment on this article? Send your thoughts to: [email protected]
---
Register here for Metropolis's Think Tank Thursdays and hear what leading firms across North America are thinking and working on today.