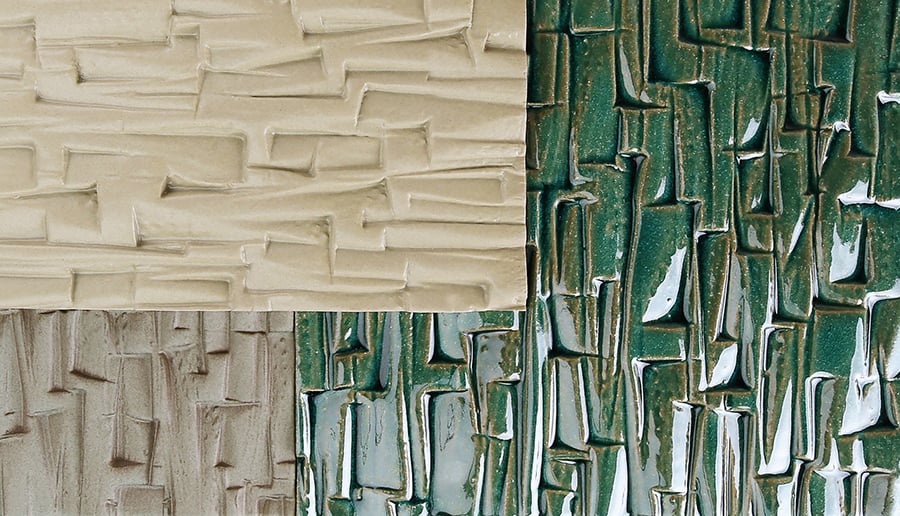 October 3, 2018
Heath Ceramics Collaborates with Artist Stan Bitters to Craft a Unique Tile Collection
Bitters helped define an expressive, even carnal side of modern Californian clayware; this Heath collection echoes his raw and dramatic sculpted works.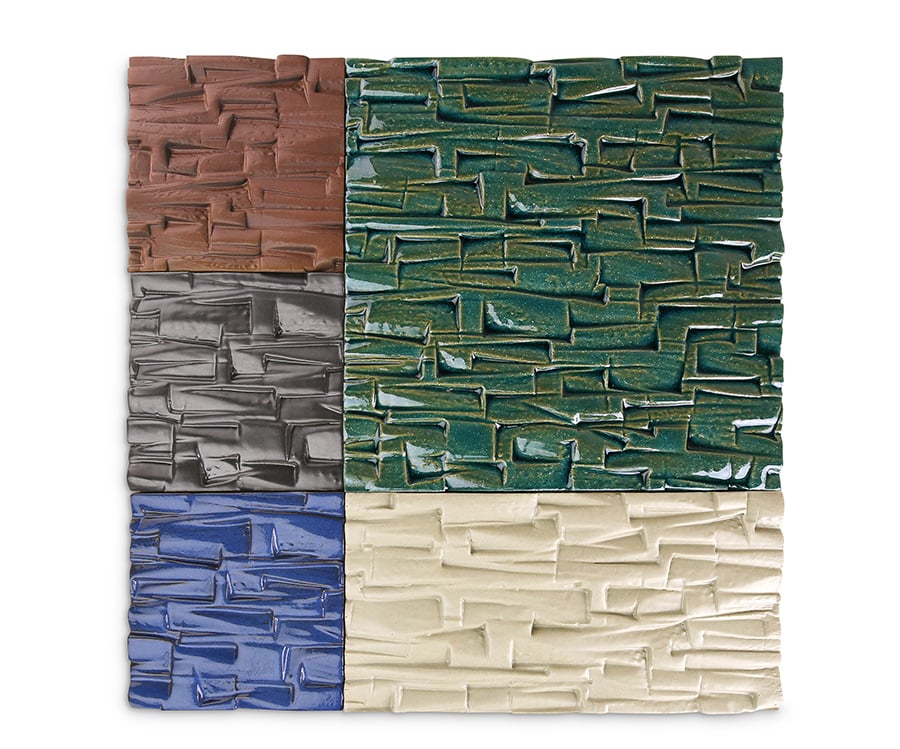 ---
In the Heath studio in Sausalito, California, a group of ceramicists wields an unusual arsenal of tools. Equipped with mallets, ball-peen hammers, and two-by-fours, the workers whack away at slabs of clay, laying a dense pattern of impressions on the soft, cool material.
Suffice it to say this is not a normal day at the office for the employees of Heath, whose pottery is known for its simple, unadorned aesthetic. The workshop, opened by Edith Heath in 1948, continues to produce the clean-lined dinnerware that first earned it acclaim and gave Heath a place at the table in homes across the U.S. (as well as in the collection of LACMA).
But today is for whacking. Whacking, then carving and splicing, because the clay workers are heads down in a collaboration with Stan Bitters, a ceramicist of a different breed—one who helped define an expressive, even carnal side of modern Californian clayware. Bitters's monumental works, like his two-story fireplace at the Ace Hotel in Palm Springs or installations at the Duncan Ceramics Center in Fresno, are raw and dramatic, revealing the maker's hand in their grooves and edges. To create some of the textures in his pieces, Bitters has been known to strike the clay with wooden planks.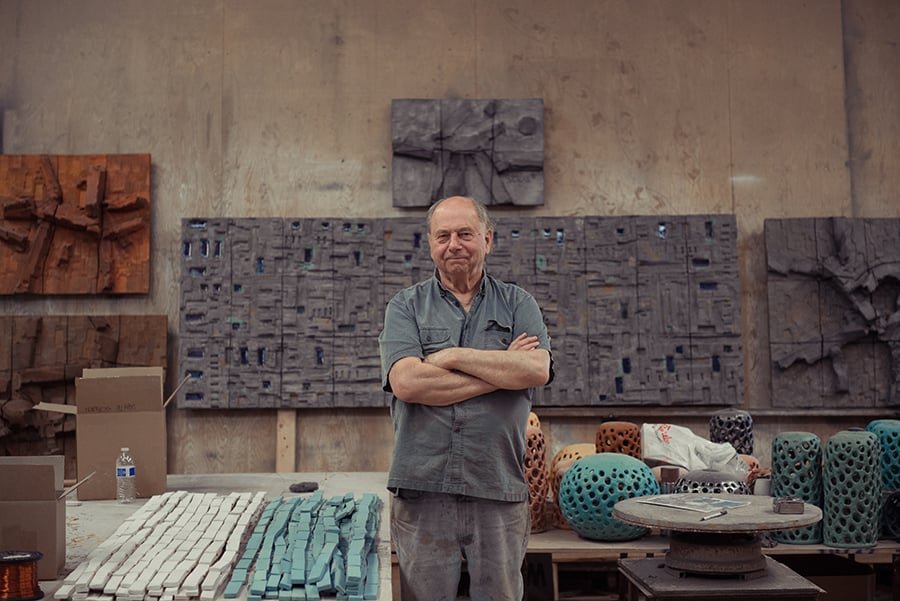 ---
"It's really physical," says Ada Ko, Heath's head of product and environment design. "He's interpreting the clay in very, very different ways than we are."
It was this visceral interaction with the clay that attracted Heath's current owners, Robin Petravic and Catherine Bailey, to the artist's work, explains Ko. Heath hosted Bitters's solo exhibition Modern Primitive in 2014, and within a year began working with the artist to produce a tile that combined his primal aesthetic and process with the firm's knack for accessible, functional ceramics.
Released last October, the Stan Bitters tile collection required attention not only to pattern making and glaze colors but also to the nature of the clay itself. "We had never done a tile that was as robust and textured and raw as the Stan Bitters tile," Ko says. More than 50 prototypes of patterns, each one formed by hammering and pressing wood into clay, were developed before Bitters and Heath made the final selection. According to Ko, the team considered depth, linearity, and randomness before settling on the design.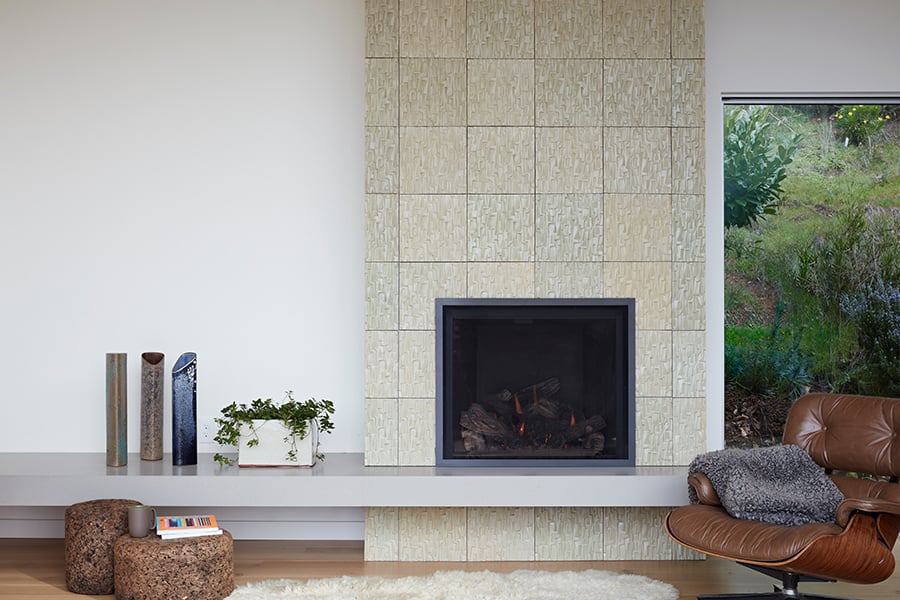 ---
Heath opted to offer the tile in two different clay bodies: one a manganese or brown clay, the other a mixed composition of recycled clay. (The latter is the outcome of Heath's efforts to generate zero waste; the factory grinds down its own broken ceramic shells and glaze waste into a fine powder to produce the material.) The proportion of glaze leftovers incorporated into the body varies from batch to batch, meaning that the clay, which is faintly visible in the tile's lighter colorways, can range from white to beige to taupe. After being pugged and run through a ram press, clay receives its distinct pattern from a mold—an arrangement of channels and peaks achieved through experimentation.
Because the Stan Bitters collection is thicker than Heath's standard field tile, the clay requires extra time to dry prior to firing. (This lesson, it seems, was learned the hard way: In early runs, production assistants built barriers around tiles in the kiln to protect other pieces from a Bitters blast.) After glazing, tiles are subjected to acid, scratch, and stain testing, both in-house and through a third-party vendor.
The collection comprises three sizes of tile: two square, large and small, and a rectangular format. Heath offers the series in eight glazes, ranging from a forest green that pools in the tile's crevices to a creamy vanilla that runs warm or cool, depending on the clay body beneath. Installed together, the tiles form a subtly varied patchwork of textures and tones.
For Bitters, the collaboration was a true meeting of the minds. "I think the tiles turned out very well and have great potential for fireplaces, kitchen walls, and other architectural applications that may not be suitable for my commissioned work," he says. "There's an interesting contrast between the precision and modular design that's needed in the ceramics industry and my 'shooting from the hip' approach."
You may also enjoy "Metropolis's 5 Biggest Tile Trends at Cersaie 2018."