October 27, 2017
Hem Launches First New York Pop-Up
Located in Soho and open through November, the pop-up showcases furniture, lighting, housewares, and even acoustic panels.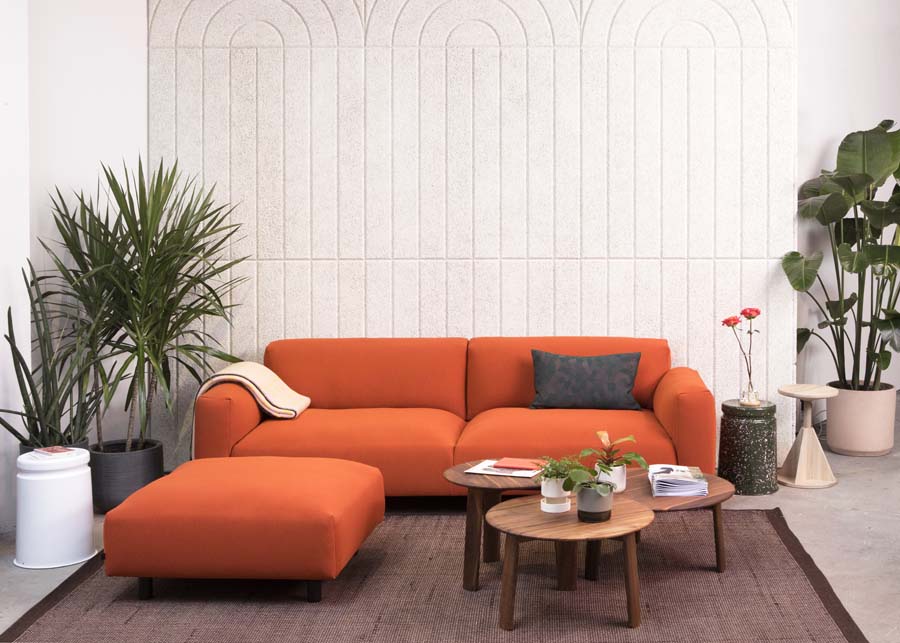 Thanks to its online focused business model Hem operates no physical stores–you typically have to spot the Stockholm based company's products in the wild. However, its latest 2017/2018 collection is now on full view at 325 West Broadway, with a few items even available for purchase onsite.
While Hem features an undeniably Scandinavian aesthetic, the company's products come from a cadre of international designers. The New York pop-up showcases a mixture of Hem classics (such as the Pocket Armchair by German designers Rudolph Schelling Webermann) and new arrivals (like the Bon Poufs, which feature 3D-knitted fabric from Dutch textile mill FEBRIK). Hem's products are all made in Europe and feature a diverse material palette, from cork to enameled steel and oak.
Speaking to Metropolis, Hem founder and CEO Petrus Palmér explained that the company makes a conscious effort to not distinguish residential versus office furniture—to "merge home and work." (This fits neatly within the larger trend of making offices homier.) While some products' aesthetic simplicity immediately lends themselves to flexible use, other designs are more direct: for example, the Alle Conference Table by Swedish designer Staffan Holm features integrated cord control boxes even as its naturally-finished oak makes it at home in a dining room.
In addition to Hem's designs, the pop-up features an assortment of other products: ceramics from Patrick Parrish gallery, TID Watches, and acoustic panels from BAUX. The colorful and patterned panels, made from wood wool cement, architecturally define the pop-up. Palmér is one of BAUX's founders and is quick to tout its benefits: the panels are insulating, fire-resistant, and biodegradable acoustic attenuators that also absorb moisture to prevent dry rot. "The material isn't necessarily innovative, but we applied color, patterns, and applied it to the walls," he says. (BAUX comes in over 500 patterns and color variations.) Already used by the likes of WeWork, Google, and LinkedIn, Palmér sees BAUX as one tool to help provide calm and privacy in the open office: "All the open landscape, it's still not solved. [There's] still room for new thinking in acoustics."
For more on the Hem New York pop-up, see its website here.
You may also enjoy "New Talent 2017: Float Studio's Fresh Approach to Office Design for Start-Ups."