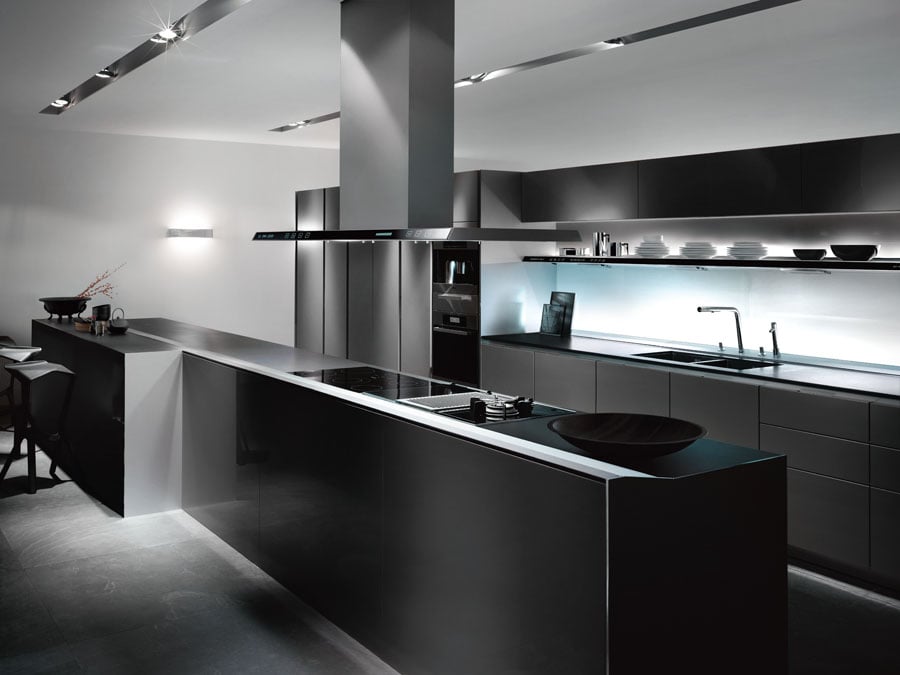 October 17, 2019
These High-End Kitchens from New York's A&D Building Raise the Bar on Technology
These High-End Kitchens from New York's A&D Building Raise the Bar on Technology
Sponsored by:
With everything from kitchens to carpets across 40 showrooms, the Architects & Designers Building is New York's destination for residential and commercial visitors. With so much variety, it's the perfect place to see how high-end kitchens are using technology to create a more refined user experience. Today's luxury consumers are looking for interiors that integrate the latest in technology in an understated fashion so that technology supports the aesthetic and functional experience of a space. For kitchen designers that means incorporating technology into all aspects of of their designs, using precision materials, high-tech surfaces and surface treatments, and LED technology to create kitchens that are sophisticated and functional. Instead of focusing on gadgets, the very best use technology in the service of timeless design, combining advanced features with handmade elements. These three kitchens at New York's A&D Building represent some of the most forward thinking designs for luxury kitchens, where technology is harnessed to create a kitchen experience that engages its users on a deeper level.
Vision from Italian brand Snaidero is a kitchen design that prizes lightness and a sense of movement above all else. Designed by Paolo Pininfarina, Vision won the Chicago Athenaeum's 2018 Good Design award and is now available in North America. Making use of both advanced industrial technology and skilled labor, Pininfarina designed a kitchen that combines stark minimalism with elegant curves. Dark ash wood compliments synthetic materials and built-in LEDs. Handleless cabinets feature a 30 degree bevelled edge with black aluminum trim that provides an elegant contrast and an ergonomic grip. On the kitchen peninsula, an extra piece of counter space that extends into the kitchen, a silicone covered LED strip creates an eye catching accent that matches the futuristic lines of the drawer pulls. "The design is fluid, ergonomic, sustainable, and user-centered," says Alberto Snaidero, CEO of Snaidero. "It is a streamlined, though not minimalist kitchen, essential in its forms yet complete in its functionality."
Pure, a collection from SieMatic incorporates the handleless cabinets for which the brand is known into a complete design that maximizes simplicity and functionality. A refined recessed grip is at the heart of the design; it's placed at a thoughtful angle and lined with a metal finish, providing users with a unique tactile experience when opening and closing drawers and cabinets. The kitchen's overall scheme is based on geometric panels that break up the plane of the handleless cabinets while retaining the minimalist look. Handsome wood grain provides a warm accent to the metal finishes, but the real draw is the integrated LED system. Built into the shelves and backsplash, or installed as vertical accents, LED strips offer a customizable lighting solution that can transition easily between task lighting for cooking and atmospheric lighting for entertaining. "Lighting plays a decisive role in creating an ambiance of well-being as well as crucial task function in kitchen design." Says Marcia Speer, Director of Retail Sales for SieMatic.
A new collection from German cabinet makers Poggenpohl, is a reinterpretation of the brand's popular Segmento collection. The new version, called Segmento Y, aims for a super clean, minimalist look and is available in white, gray, and black, all with matte finishes. The three color options open up a wide range of design possibilities, for example a black kitchen island that pops against white floor-to-ceiling cabinets or a grey background with a splash of white. A unique channel design makes the countertops appear as though they are floating above the handleless cabinets, and makes an easy way to operate drawers and doors. The kitchen can be customized and fitted to the particularities of an individual space down to the millimeter to create a kitchen that works as a comprehensive space inside the home. It can be a challenge to keep such a minimalist design looking fresh in a high-traffic space like a home kitchen, but that's where Poggenpohl's technological breakthrough comes in. Segmento Y comes equipped with a state-of-the-art nanotech surface technology that prevents fingerprints from appearing on its surfaces, ensuring that the kitchen always looks sharp.
For more information about these showrooms and 37 others, visit the A&D Building at 150 E. 58th Street or online at adbuilding.com. The A&D Building is New York City's best address for kitchens, baths and fine furnishings.