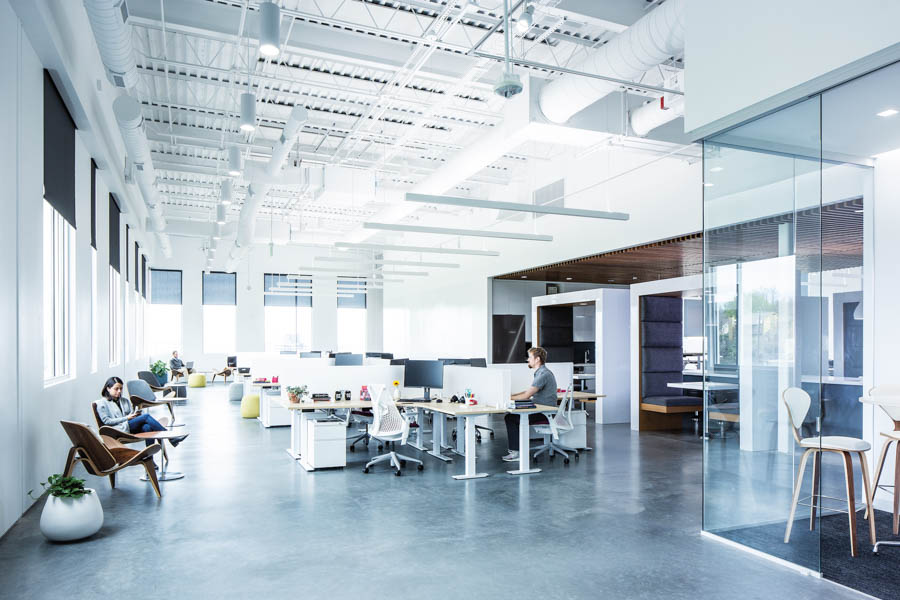 June 22, 2020
Ketra's Showroom Brings to Light the Dramatic Effects of Its System
A new Ketra showroom lets designers see how fabric, furniture, and food can look under the company's array of lighting solutions.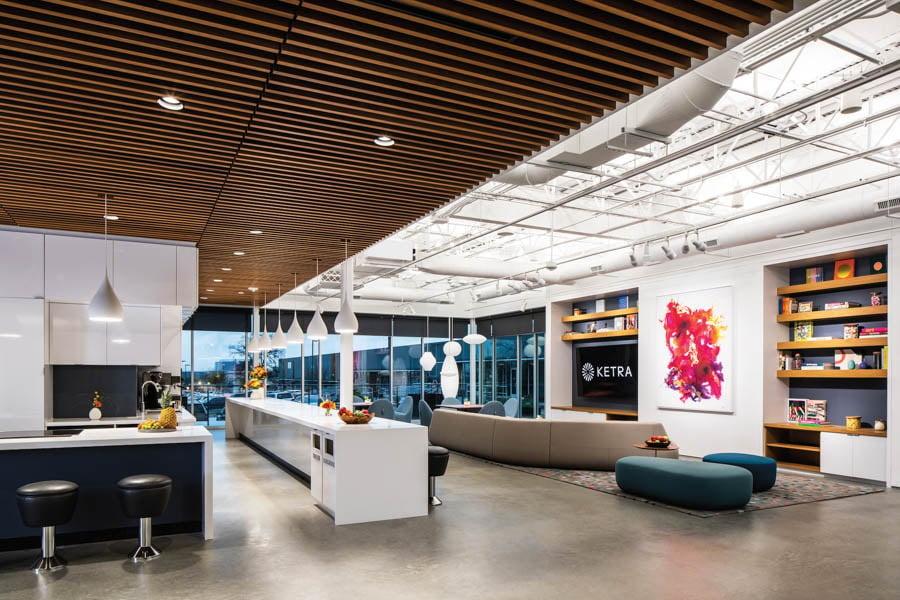 To specify lighting, it helps to observe the glow it casts on realistic environments. So when it comes to understanding the breadth of Ketra's programmable settings, which imitate sunlight down to precise color temperature and intensity throughout the day, authentic showroom design is crucial.
When Lutron acquired the Austin-based upstart in 2018, it decided to invest in a new state-of-the-art facility built to thoroughly demonstrate Ketra's groundbreaking lighting technology
According to the chief operating officer and lead designer for Ketra headquarters, Horace Ho, during a tour of the new 28,000-square-foot space earlier this year, "We wanted it to show the dramatic effect light can have on a space."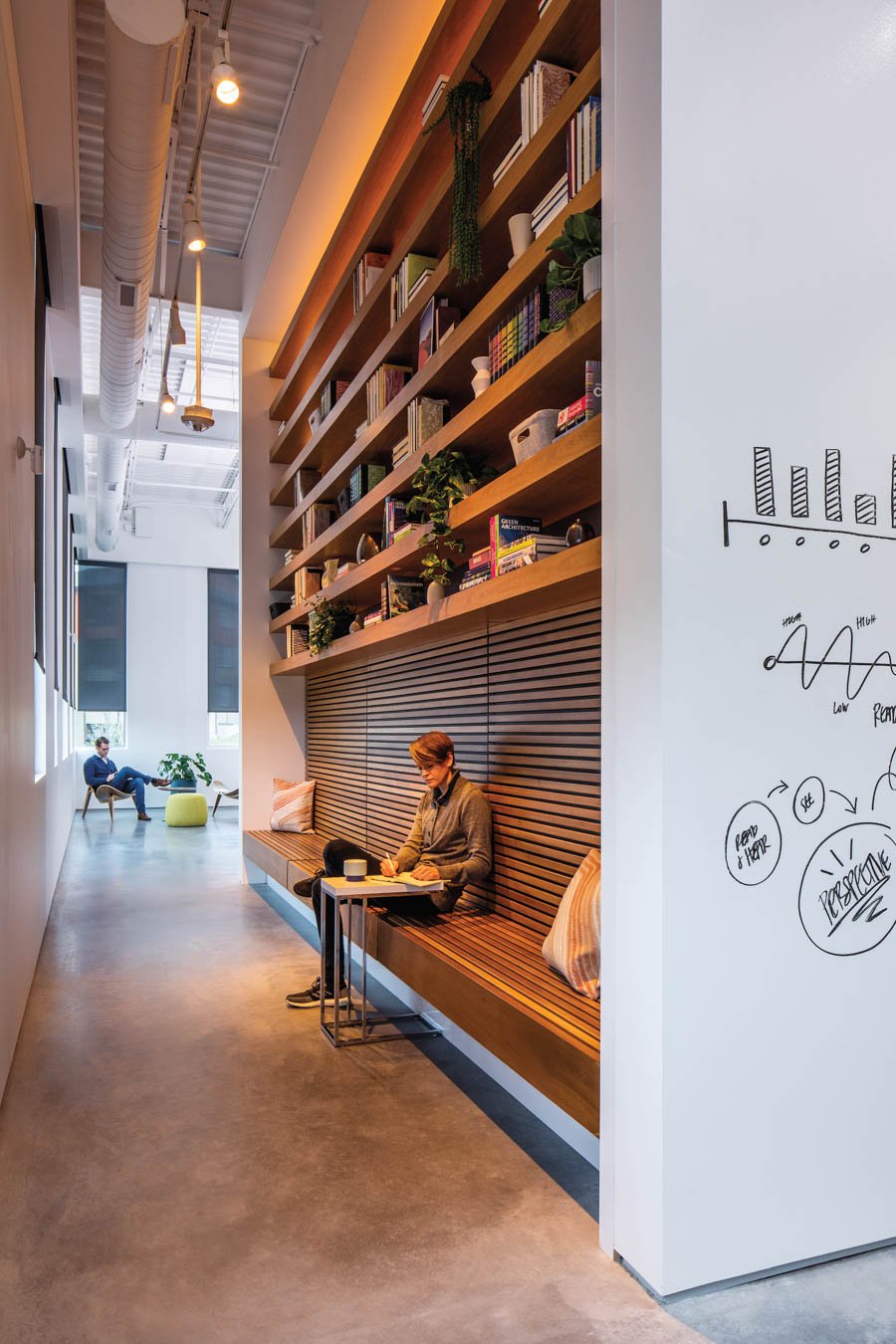 His team, in collaboration with Urban Foundry Architecture, renovated a two-story building by Michael Hsu Office of Architecture, which featured an open-concept plan and floor-to-ceiling windows. In-house interior architect Vlado Pejic and lighting expert Cecilia Ramos worked to expand its programmatic potential, designing it to serve as a sandbox for testing new products as well as a practical showroom.
Guests enter through the Collaboration Studio, an area where designers can see how fabric, furniture, and even food will look under the full scope of Ketra's lighting technology. This airy studio, which takes up a quarter of the building, includes zones replicating environments designers might seek to illuminate, such as a functioning kitchen, a living room, a home office, and a restaurant-style dining booth. For flexible demonstrations that can address many scenarios, the Collaboration Studio also includes a training room, which can be converted to host events like art shows or performances.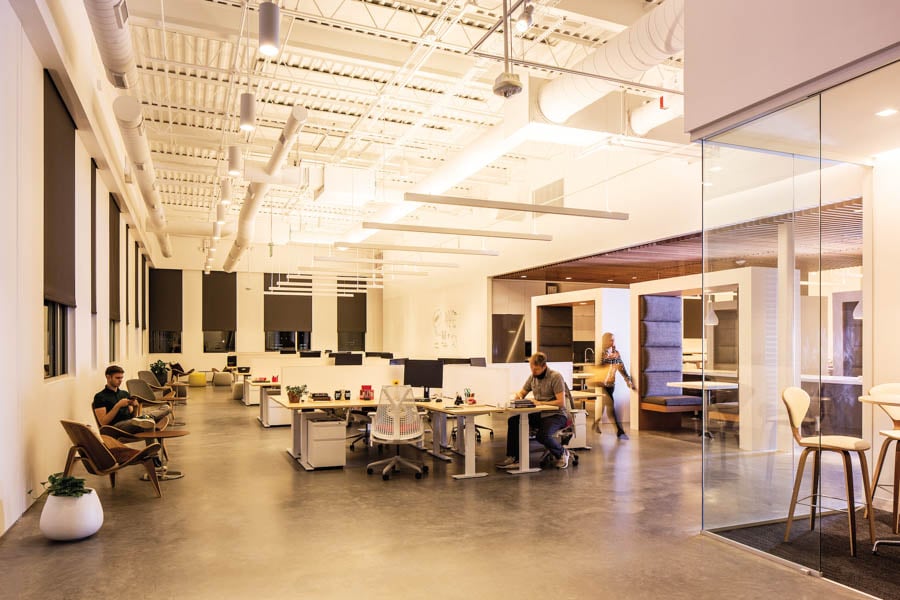 There, clients can observe what happens when Lutron's solar-adaptive shades and Ketra's location-based lighting technology pair up. The latter of these is programmed to lower shades and adjust the indoor lighting in response to the sun's natural, changing glow, which filters in through windows. "We wanted to liberate the perimeter with natural light and let light and shade tell that story," Ho says.
To illustrate just how light color and temperature can change the mood of a space, Ramos uses a small, handheld remote control to cycle through a day's worth of light. A single Ketra bulb can emit an incredible range of illumination, from the 1400K of candlelight to 10000K of broad daylight.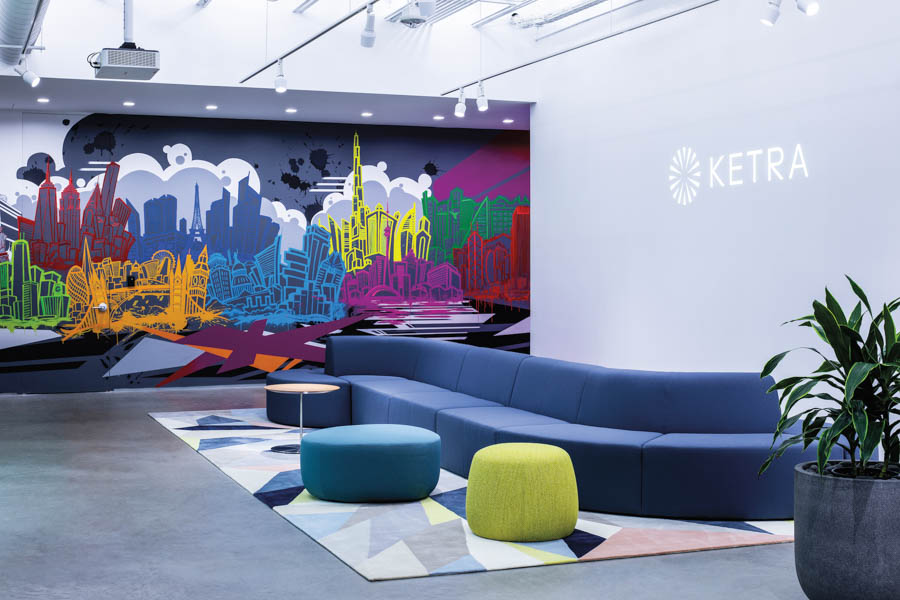 The effect is almost like a spectrum of real-life Instagram filters radiating through the showroom. "Each fixture is digitally addressable," Ramos says, dimming a single pendant fixture over the long white bar in the kitchen. She points out that the system makes it easy to create zones with light. "If you want to put up a wall or reorganize the desk layout, you don't have to tear up the ceiling to rewire the fixtures," she says, explaining practical spatial benefits of the company's control system.
Designers also considered ways to show the system's effects on artwork. Near the main entrance, a mural from Austin based graffiti artist Aaron Darling underscores the relationship between Ketra and its parent company. His installation depicts skylines from the host cities of Lutron's 16 main offices, including Hong Kong, London, and New York. Under Ketra's Vibrancy technology (the feature that makes its white light tunable), the paint dramatically fluoresces as if the buildings were illuminated against a night sky.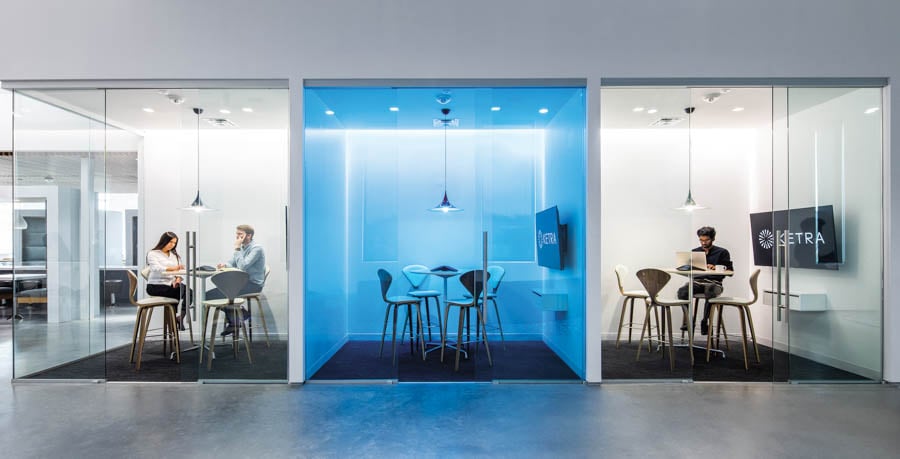 Another space that stops guests in their tracks is the stairway leading to the second floor, where designers suspended 448 individually programmable bulbs to mimic the bottom of the nearby Colorado River—one of several biophilic elements found throughout the Collaboration Studio and offices.
The new headquarters doesn't stop at considering the client experience; it also aspires to be an effective and pleasant place to work. For their own office, Ketra's employees asked the in-house team for features similar to those they design for clients, which include BuzzFeed, Google, Delos, and R/GA. That means natural light, flexible spaces for collaboration, and amenities to make the office feel more like home, including some zones for privacy.
The office has dedicated quiet spaces for personal phone calls, and nooks for poring over art, design, and photography books from the office library. An area of the kitchen also has pods for eating alone or in small groups.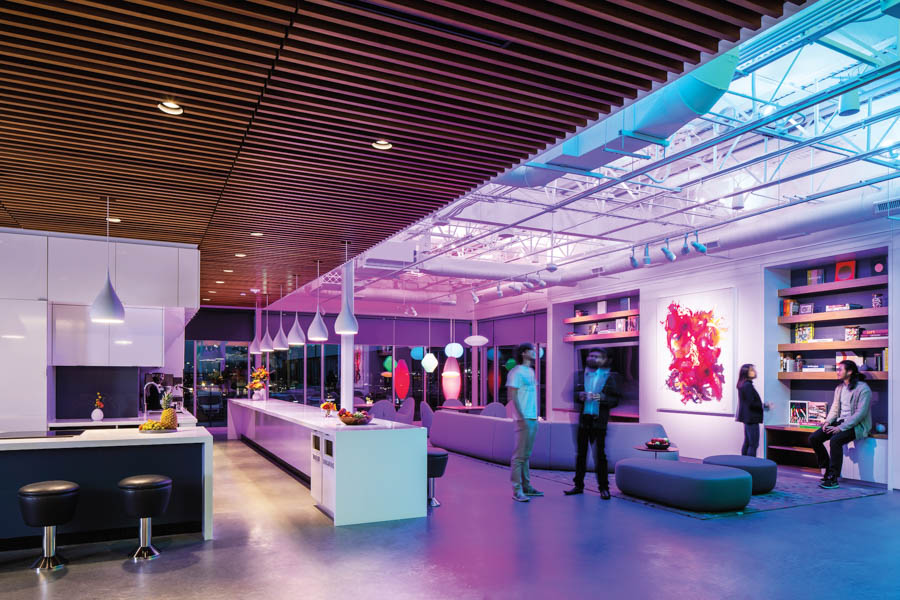 But Ketra didn't skimp on some of its own popular bells and whistles in enlivening areas, from color-changing luminaires to individual controls over lighting. Indirect lighting creates an even sky of illumination over the workstations, and each conference room has a light that changes color to signal whether a room is reserved or available. Other lights tied to sensors will dim or change colors after users leave a room.
The many Ketra features seem to bring full circle the era of lighting-control technology that Lutron introduced in 1961, when it created the first commercial dimmer. "Back then," says Ramos, "they couldn't have dreamed we'd be here now."
You may also enjoy "Fritz Hansen's Entire Office is Now a Showroom"
Register here for Metropolis Webinars
Connect with experts and design leaders on the most important conversations of the day.