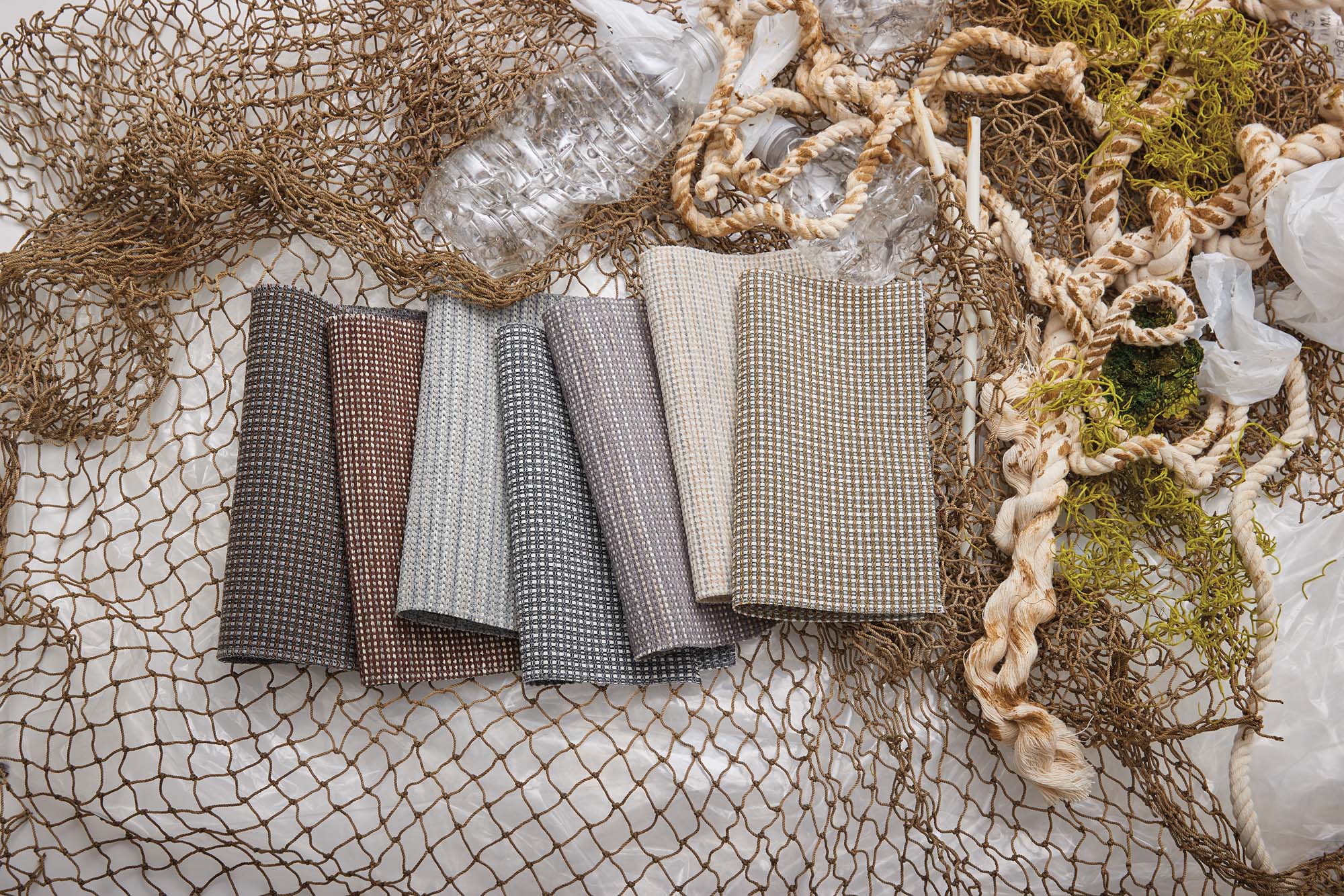 September 7, 2023
This New Upholstery Line Features Yarn Made From Marine Plastic
Mayer Fabrics' newest line of upholstery signals an impressive leap forward: a single collection marked by a slew of manufacturing advancements the company has adopted in its 13-year journey away from traditional mill relationships and toward radical reductions in its virgin polyester feedstock, VOCs, and operational carbon. Caspian and Mira, the first styles rolled out under the new SEAQUAL Initiative collection, are also noteworthy for the following features:
01 RECYCLED CONTENT
Recycling is a theme within Mayer Fabrics: The latest wovens feature a warp made of recycled marine polyester (24 percent in Caspian, 35 percent in Mira); 100 percent of shipping pallets are either reused or converted to fuel and livestock bedding; and 63 tons of cardboard from packaging have been recycled since 2010.
02 SEAQUAL YARN
Sourcing SEAQUAL YARN for the recycled content makes Mayer a responsible user of plastic marine litter, a process that helps clean waterways and reduces its reliance on petroleum-based virgin polyester.
03 GREENGUARD GOLD
This level of the indoor air quality certification means that the fabric exceeds industry standards for low VOC emissions.
04 PFAS-FREE
The new fabrics are also free of polyfluoroalkyl substances known as PFAS—thousands of chemicals traditionally added to performance textiles to repel water and oil, but which the Centers for Disease Control and Prevention say are so resilient they're found in the blood of 98 percent of Americans.
05 CARBON NEUTRAL
In 2011, Mayer was officially certified as CarbonNeutral by Climate Impact Partners, a group that funds carbon removal and carbon-avoidance projects.
06 ZERO FLAME RETARDANTS
The manufacturer has eliminated the toxic compounds normally used to make fabrics fire-resistant, and known to contaminate wastewater.
07 HEAT-RECOVERED WASTE
Mayer Fabrics has directed roughly 23 tons of heat-recovered waste to a Subtitle D landfill (the classification for nonhazardous solid waste), which captures gas from the waste so it can be dispersed and used again, turning waste into energy.
Would you like to comment on this article? Send your thoughts to: [email protected]