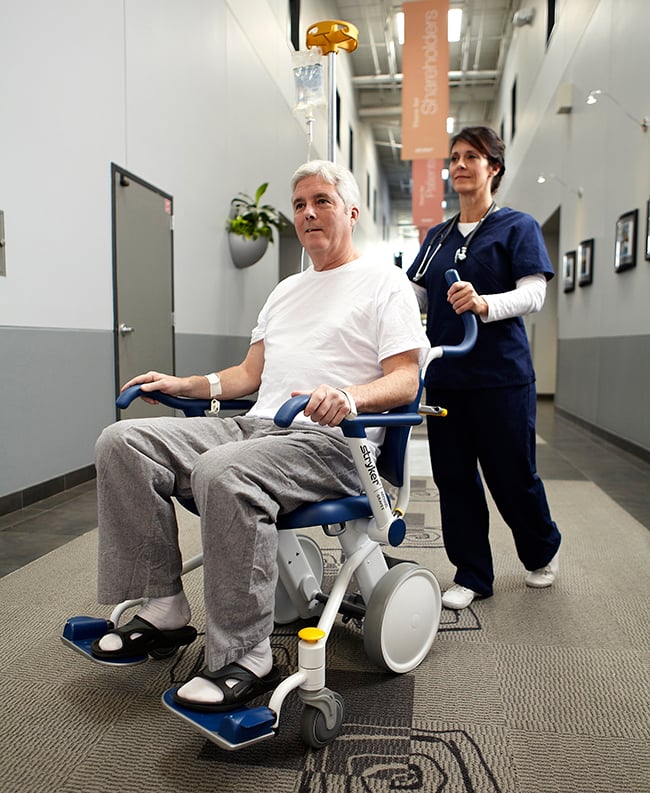 September 3, 2013
Michael Graves Reimagines the Wheelchair—For Both Patient and Nurse
The Michael Graves Design Group tackles a long-overlooked aspect of the patient experience.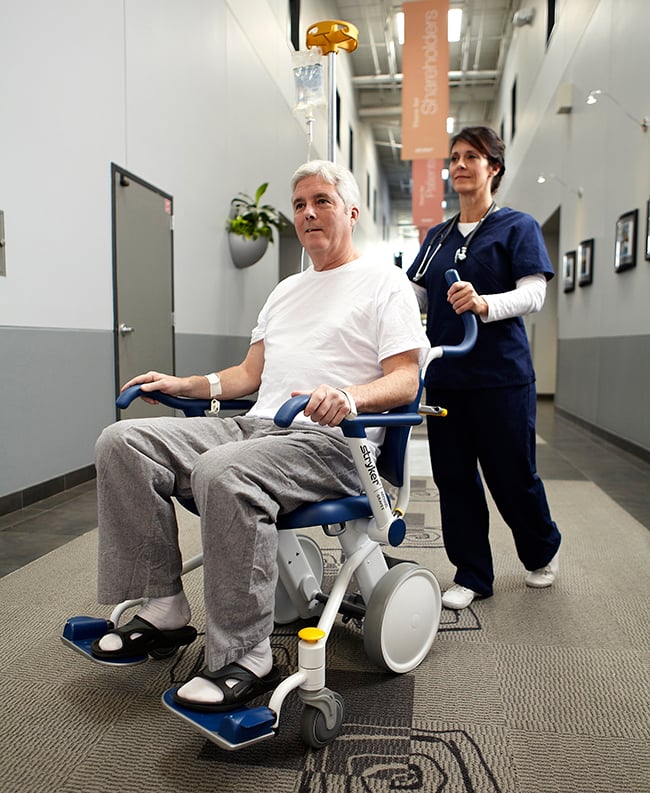 One of the most painful aspects of keeping watch over a family member during a hospital stay is witnessing them suffer through the daily indignities of illness—not least of which is being bundled into a metal wheelchair that resembles a medieval torture device. "If you need to go have a CAT scan or an X-ray, what you're getting into is a chair that was designed in 1933," says the architect Michael Graves. "And if you're waiting for your X-ray for an hour, it's not too comfortable."
The veteran designer has personal experience with mobility devices, as well as a contagious passion for righting the wrongs of hospital design. His team has built in a whole slew of smart solutions into its design of the Stryker Prime TC. "We studied patient transport chairs at forty hospitals," says Donald Strum, principal at Michael Graves Design Group (MGDG). "We looked at everything that is available now, and we wanted to raise the bar for this product."
Gone are the bristling steel levers and uncomfortable sling seat—legacies from the 1933 model. Patients can now be seated in an ergonomic blue plastic chair, and operate many functions themselves, using bright yellow controls.
There is another major difference between regular wheelchairs and the Prime TC, which is specifically meant for patient transport: "They don't want you to wheel yourself in these," Graves says. "There's always someone with you, to make sure you get where you need to go." The new setup is designed to facilitate the caregiver's needs as much as the comfort of the patient. The comfortable BackSmart push handles are just the start: a foot-operated central brake, a slot-in space for heavy oxygen tanks, and an IV pole that can't poke their eyes out mean that assistants and nurses aren't performing risky tasks over and over again as they ferry patients to and fro.
In spite of their many disadvantages, the old models remained popular mainly because they were cheap to replace—hospitals currently lose 33 percent of their wheelchairs to people who simply fold them up and drive away with them. The Prime TC's stacking feature means that it is easy to store; its noncollapsible design makes it hard to put into the trunk of a car.
This chair is the fifth product that the Michael Graves Design Group has created as part of an ongoing collaboration with Stryker, and as far as the design team is concerned there are many more challenges remaining in patient rooms. "Headboards, caregiver stations, there is no end of things to do," says Robert Van Varick, a senior design director at MGDG. "We want to design them all."
Features like the IV tower and oxygen-tank holder are customizable to suit the needs of individual hospitals.
Stand-assist armrests support patients while they get into or out of the chair, or swivel back entirely for patients who need more assistance.
Footrests needn't be folded by hand. A tap of the foot on a yellow button swings them out of the way.