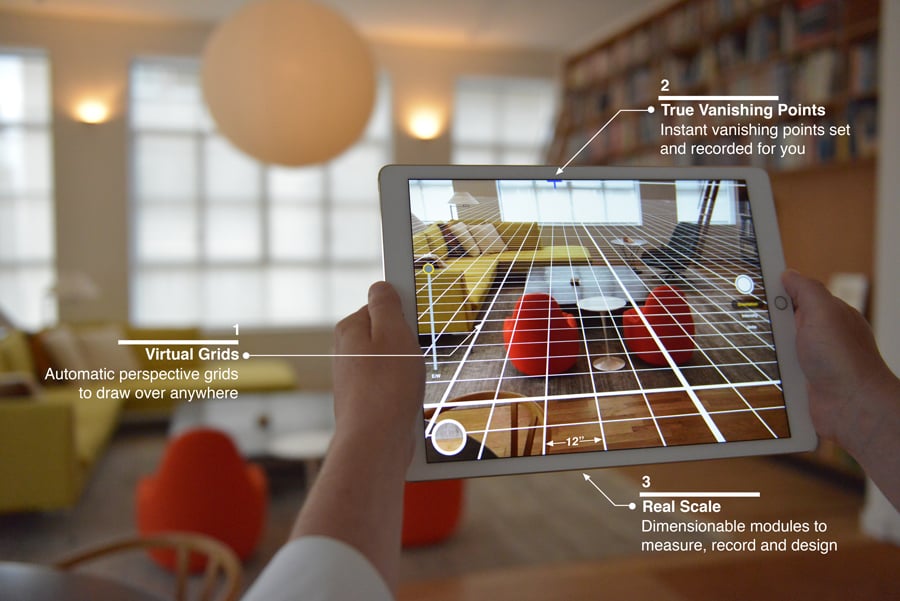 September 19, 2017
Morpholio Launches Augmented Reality Tools for Its Apps
The new features—AR Perspective Finder and AR Color Capture—build off existing apps that are available on Apple's App Store.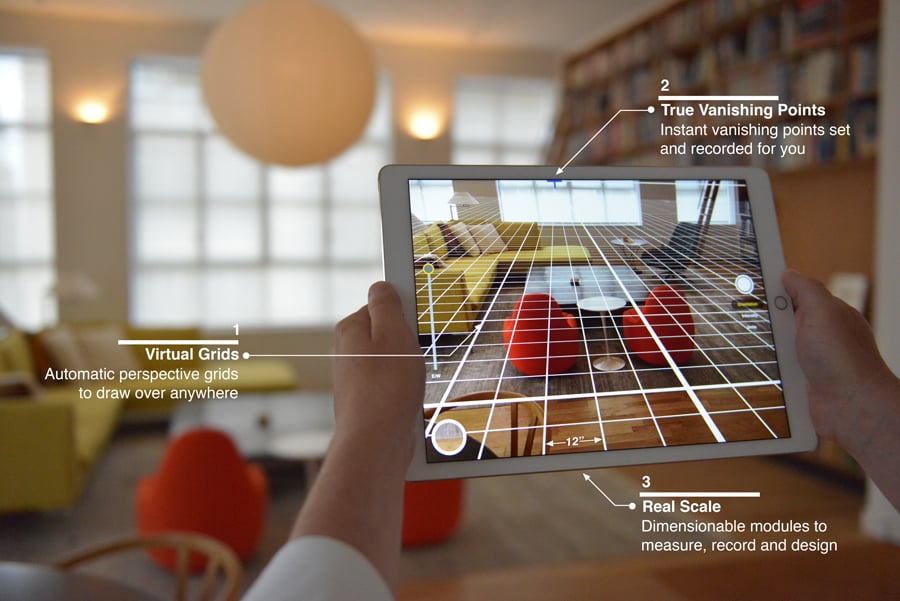 Today, the app company Morpholio announced new augmented reality features for two of its existing existing products: "AR Perspective Finder" for the Trace app and "AR Color Capture" for the Board app. While the former is aimed squarely at architects and designers, the latter has broader uses outside the design profession.
The premise of  AR Perspective Finder is simple: using the iPad camera, the Trace app can now overlay a perspectival grid over a space to aid in sketching. Users can scale the grid modules, rotate the iPad without losing the grid's placement, and fade or even eliminate the background image to produce a more legible sketch. "With ARKit and Perspective Finder, we are leaving behind the frustrations and limitations of conventional perspective drawing, yet continuing to further amplify hand drawing, thanks to the iPadPro and Apple Pencil; a gift to designers who value the freedom, intuition, and joy of sketching," says Morpholio Co-Founder Mark Collins.
The second augmented reality tool works on Morpholio's Board app: dubbed "AR Color Capture," it functions like a real-world Photoshop color sampler. But once the user samples a color, another function—dubbed Color Seed—reveals a series of materials, furniture, and surfaces in matching and complimentary colors. "Color seed makes a catalog of thousands of products accessible in a new way and makes it possible to sift through precise results or discover unexpected matches," says Morpholio in a press release. Morpholio Co-Founder Toru Hasegawa added that, "Experiencing the colors in-situ lets you understand the effect of shade and shadow, and different preview shapes let you see how these colors would perform in real-world lighting conditions."
While Board (with AR Color Capture) works on the iPhone and iPad, Trace (with AR Perspective Finder) only functions on the iPad. Both the Trace and Board products are available on Apple's App Store.