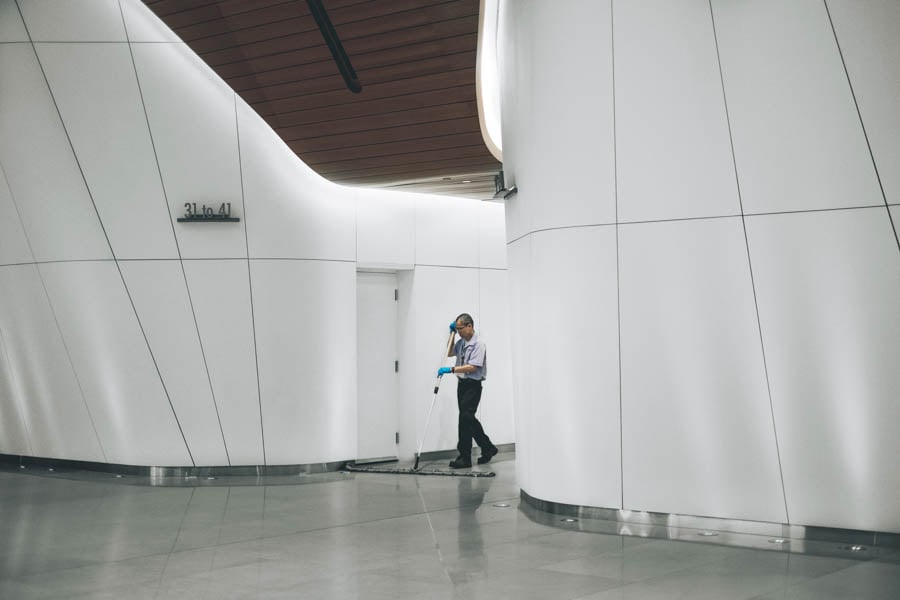 January 8, 2021
Debunking Common Misconceptions Surrounding Materials and Cleanability
Health and wellness expert Rod Vickroy provides some guidelines for selecting the right materials for different projects' cleaning needs.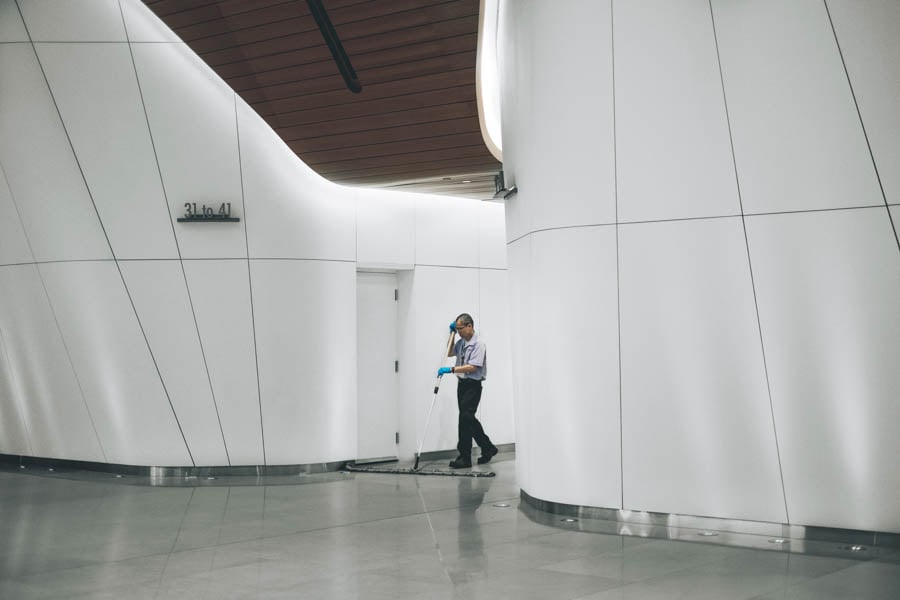 ---
Driven mostly by the increased importance of cleanliness in physical spaces, the global market for manual cleaning products is expected to reach $15.1 billion in 2024, up from $11.7 billion in 2019. COVID-19 has made everyone more sensitive to sanitation practices, much the same way 9/11 drove awareness of security measures. It seems reasonable to anticipate that many protocols put in place for today's pandemic will become standard operating procedure for post-pandemic routines.
Because of this, it shouldn't come as a surprise that cleanability is a top request of product specifiers working on the design of new spaces. However, according to Rod Vickroy, president of UX Planning and Design, there are many industry misconceptions when it comes to materiality and its cleanability ratings. Vickroy is an expert in health-care experience design and strategy, and there is perhaps nowhere better to glean sanitation standards than the health-care industry. As Vickroy puts it, "The health-care industry doesn't have the opportunity for trial and error. It must be based on evidence and right the first time."
PAY ATTENTION TO LANGUAGE
For starters, Vickroy shares that one of the biggest concerns he sees right now is the lack of a uniform vernacular. "People are requesting a product to be cleanable, when in reality they may want it to [stand up to cleaning with] disinfectants," he says. "It's important to set a level playing field with language so that we're all talking about the same thing."
To do this, Vickroy suggests following these definitions from the Centers for Disease Control and Prevention (CDC):
• CLEANING removes germs, dirt, and impurities from surfaces or objects. Cleaning works by using soap (or detergent) and water to remove germs from surfaces physically. This process does not necessarily kill germs, but removing them lowers their numbers and the risk of spreading infection.
• DISINFECTING uses chemicals to kill germs on surfaces or objects. This process does not necessarily clean dirty surfaces or remove germs, but killing germs on a surface after cleaning can lower the risk of spreading infection.
•SANITIZING reduces the number of germs on surfaces or objects to a safe level, as judged by public health standards or requirements. This process works by either cleaning or disinfecting surfaces or objects to lower the risk of spreading infection.
---
UNDERSTAND CLEANING PROTOCOLS
Vickroy reminds us that the health-care industry has long been concerned about introducing harmful chemicals into physical spaces. They can damage the products and surfaces we place them on and be harmful to our health and environment.
"The CDC has a great list of approved cleaners, including proper dilution ratios and standard cleaning protocols," explains Vickroy. "But it's also important to remember the order in which we apply these steps. For example, first you clean, then disinfect, then flush with water to remove the disinfectant. In health care, we don't want those harmful chemicals making human contact or creating a superbug that becomes immune to disinfection. These are concerns we should be considering in any environment that demands the chemicals, not just health care."
CHOOSE THE RIGHT MATERIALS
In terms of materiality, Vickroy shares that many products on the market today are designed to withstand CDC cleaning protocols: "Wipeable faux leather is one of the biggest categories right now, as well as woven textiles that are solution- or pigment-dyed so cleaners can't damage the coloring." But there are also gaps in market offerings—one example is cushioned surfaces with moisture barriers. "We need something that's either integral to the textile or encases the foam or cushion structure that can withstand the cleaners and doesn't allow the chemicals to penetrate and reach the substrate."
Although these types of materials have been on the market for a while, Vickroy advises specifiers to ensure products meet the right standards. "We've become accustomed to design that is driven by aesthetics or the 'resimercial' appeal so many end users crave. We're learning that the future really should rely heavily on a level of science and research to understand how these spaces perform." He finds this evidence-based approach to planning very hopeful. "As an industry, we got too comfortable with planning for what's in, working designs toward traits that catch the eye of fickle cohorts. Now the shoe is on the other foot, and we need research to back our decisions, not just visual appeal. To me, the biggest lesson we've learned from COVID-19 is that we have to raise the level of discourse about the delivery of space. I'm inspired to see where these conversations will take us."
---
Amanda Schneider is president of ThinkLab, the research division of SANDOW. Join in to explore what's next at thinklab.design/join-in.
You may also enjoy "Ford Unveils Details of its Plans for Detroit's Corktown"
Would you like to comment on this article? Send your thoughts to: [email protected]
---
Register here for Metropolis's Think Tank Thursdays and hear what leading firms across North America are thinking and working on today.