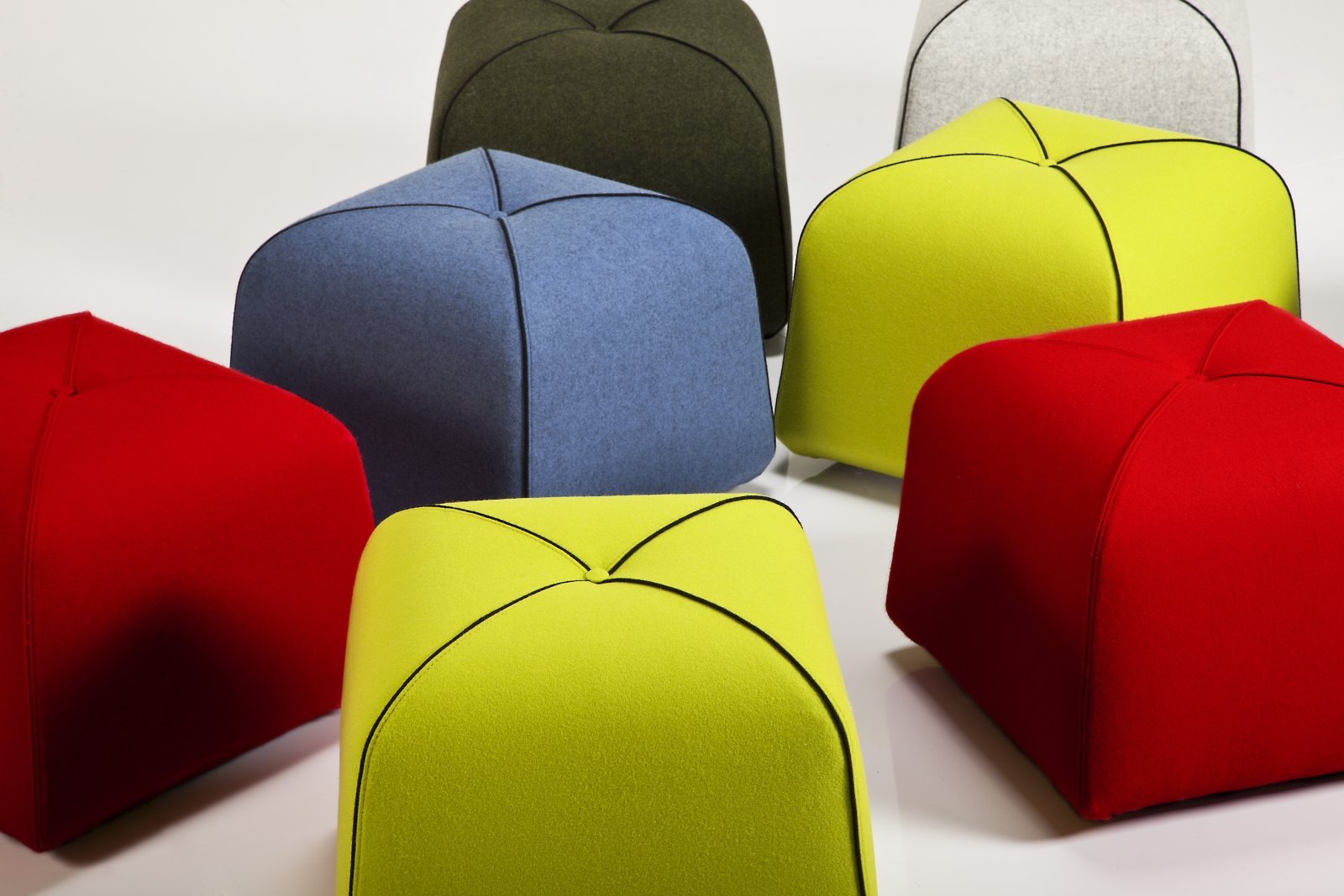 June 9, 2016
NeoCon 2016 Preview
A sneak peek at the products that will be on display at NeoCon in Chicago, June 13th through 15th.
From supporting new working postures to creating bold, expressive surfaces, this year's NeoCon fair offers workplace solutions that will stay relevant to businesses ranging from nimble start-ups to established corporations.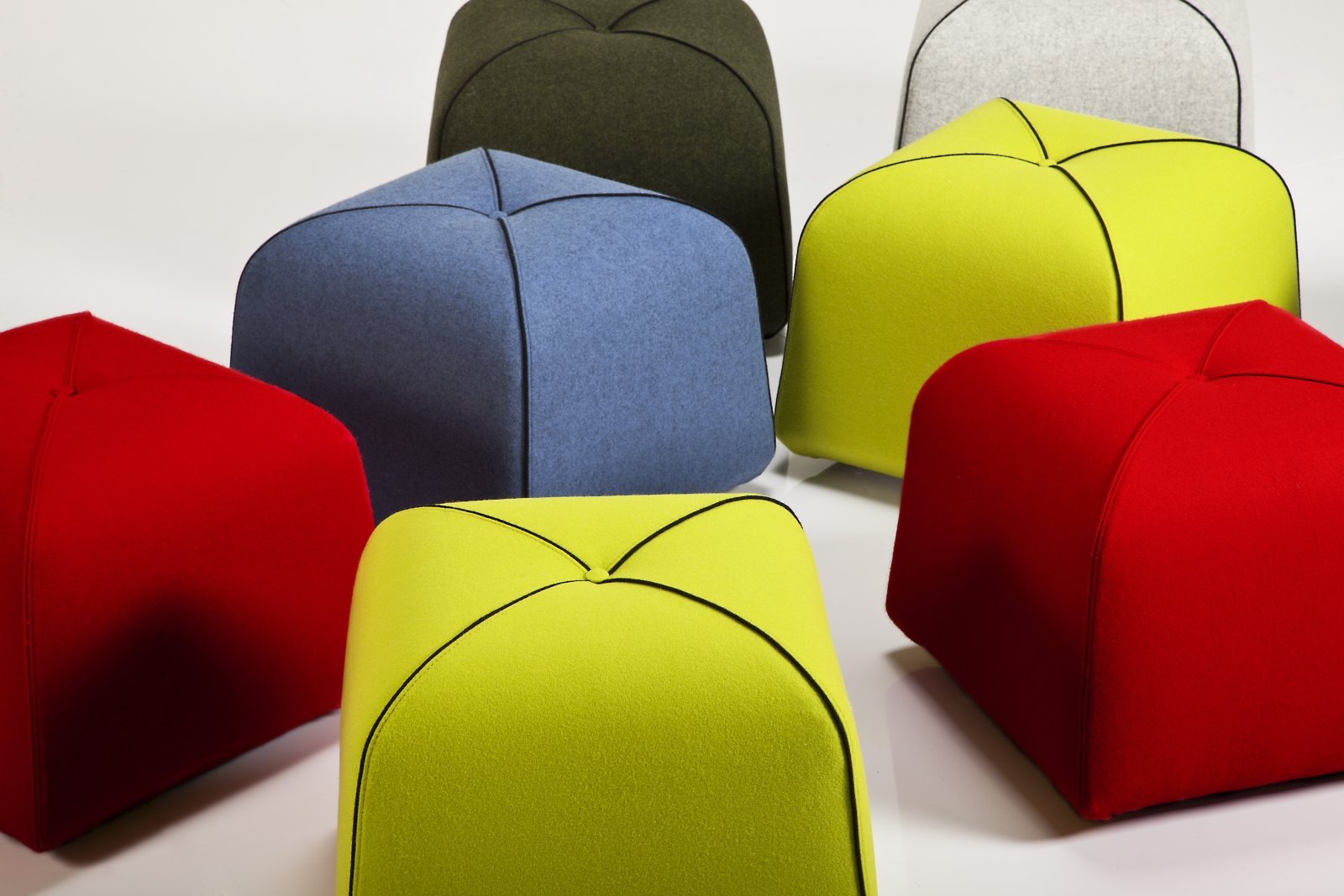 Designed by Sezgin Aksu and Silvia Suardi, this fun piece is inspired by headgear from the Ottoman Empire. Suri is offered in six upholstery fabrics, with 70 color options.
Part of the Woven Texture collection, this fabric wall-covering is inspired by the textures and colors of Mumbai, and created using thick chenille and lustrous metallic yarns.
This collection is based on a versatile new material—created from 100 percent recycled office paper—that comes in a variety of metallic finishes. Shown here is the Wovin Wall system.
This modular piece provides seven individual seats with lumbar cushions for mid-back support. It also includes walnut panels, and four tablets with solid-surface tabletops.
London-based studio PearsonLloyd creates a haven from everyday work routines with this collection. The seating, tables, easels, and screens can turn the areas between individual offices and meeting rooms into fluid, inviting spaces.
Consisting of minimal, Modernist tables, benching with storage, privacy screens, and technology options, Kore was designed by Daniel Korb to address the needs of contemporary work environments.
Built around chrome-plated brass ball joints and steel tubes, the 53-year-old Haller system is a classic modular design. Applied to office storage solutions, it is ideal for fast-growing businesses.
With dramatic, tactile woven carpets, as well as modular planks, this flooring collection was inspired by high fashion and the trend of mixing textures. The textiles are made using Dynex SD and Aquafil Econyl yarns.
An innovative mechanism in the base of these height-adjustable stools allows them to tilt and adjust to body movement in any direction. Repiroue helps to maintain a healthy posture by supporting the curvature of the spine while users stay active and move between positions
The industrial-chic Structure system provides a way to combine any of the fixtures from the company's RLM collection into a single versatile framework. There are a wide range of customization options available, including 20 colors and finishes.
Consisting of suspended LED luminaires, horizontal power bars, and vertical hangers, this refined system can be configured as individual lights or dramatic lighting sculptures.
This collection, comprising four upholstery fabrics, one drapery textile, and three digitally printed wall-coverings, was created in collaboration with textile designer Mae Engelgeer. It evokes traditional weaves as much as the legacy of Dutch Modernism.
Suited to home offices as much as to corporate environments, the Nik is designed to be clutter-free. Two dock plates allow easy access to power, a cable tray keeps wiring organized, and an optional drawer provides easy storage for laptops and smart devices.
Artist Vollis Simpson specialized in turning junkyard scraps into whirling, playful sculptures. This colorful line of fabrics draws upon his work. Simpson's sculptures will be displayed as part of the collection's launch at NeoCon.
The faceted base of this chair is inspired by midcentury classics, while the seat gives it contemporary flair. It is available in armless and armchair models.
This modular piece provides seven individual seats with lumbar cushions for mid-back support. It also includes walnut panels, and four tablets with solid-surface tabletops.
The furniture manufacturer joins the maker movement with this series of robust worktables. Evocative of the factory floor, they come in three heights, fitted out with casters or glides.
Designed by Giancarlo Piretti, the collection encompasses stackable multipurpose seats as well as task chairs. KI's Learn2 chair is also available now with a Doni backrest, with an option of a two-tone poly shell. The Doni collection opens up color options for designers, allowing them to specify matching Pantone hues.