June 5, 2019
Patricia Urquiola Unveils Her New Resimercial Collection for Haworth
The Milan-based architect and designer has also given Haworth's Merchandise Mart showroom an appealing face-lift for this year's NeoCon.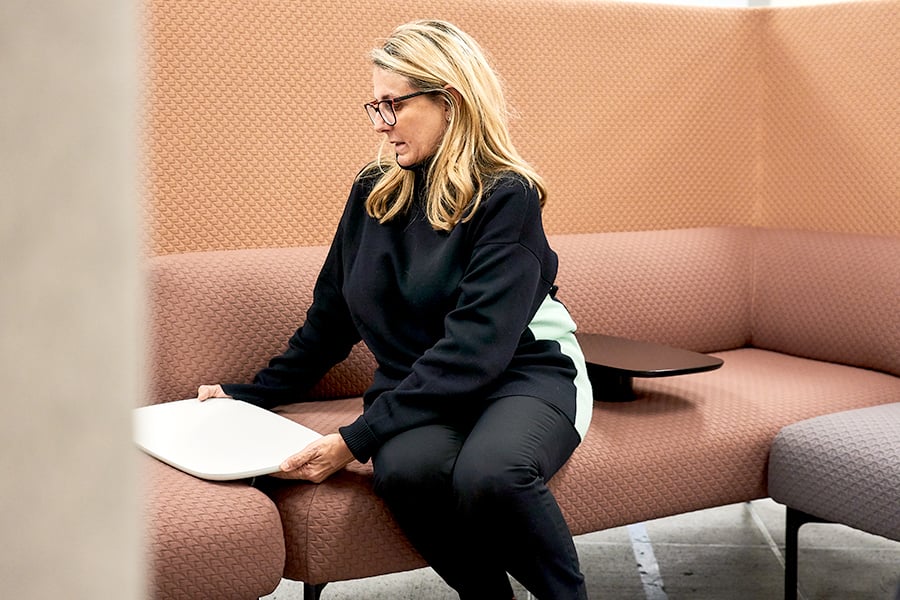 ---
The best collaborations evolve into partnerships, as has happened with Haworth and the Milan-based architect and designer Patricia Urquiola over the course of seven years. While they're not exactly finishing each other's sentences, the pairing has reached a familiarity that enables them to speak the same design language.
"We have become very good at interpreting our shared ideas and concepts," affirms Urquiola. "This wonderful synergy that we have established allows our new collaborations to proceed in an easy and efficient way." At this year's NeoCon in Chicago, show attendees will encounter the latest fruits of that synergistic relationship.
Haworth has retained the same showroom within the Mart since 2004, but over the years it has found occasion to revamp the space, tapping designers ranging from Clive Wilkinson Architects to Perkins+Will and Eva Maddox. Urquiola, who has transformed the 29,000-square-foot showroom for the 2019 fair, is a natural fit for the soft-contract market that is dominant right now. Here she brings a more organic, decidedly uncorporate touch, where soothing color and material palettes are complemented by a thoughtful arrangement of Haworth products. Appealing to the eye, these moves are meant to demonstrate how even the slightest adjustments can support and enhance creativity, flexibility, and productivity.
The redesign organizes the floor area into three zones. A former porch, previously a setback space in front of the entrance, has been reclaimed to provide more interior square footage for displays but also to push the reception back, creating a new place for greeting visitors. A new makerspace highlights Haworth's manufacturing capabilities, while an operational knitting machine spits out textiles used in the company's furnishings. Finally, what used to be a temporary café is now permanent, reflecting the social-engagement trend in workplaces today.
---
Urquiola's sophisticated yet welcoming sensibilities come together in a new furniture line as well. Office workers can find calm and quiet in Cabana's highly configurable modules, which are debuting at NeoCon 2019. "The office is no longer thought of as a division of space, but rather a landscape of places for possible moments," explains Urquiola.
Defined by their rounded corners and edges, the modules—lounge or active chairs and sofas, demountable acoustic privacy dividers, a corner wedge table—can be aggregated into any number of arrangements. Accessories such as a reading lamp and bookshelf, in addition to embedded power outlets, increase the system's functionality. (Haworth's C-shaped Pip table also coordinates perfectly with Cabana, offering an alternative work surface that can be easily repositioned and tucked between seats.) The furnishings, meanwhile, rest on skinny aluminum legs that help to create a weightless impression. "I like that the whole thing appears to be floating over the floor," Urquiola says. "It has a sense of lightness and fun."
Of course, the reconfigurable collection also boasts the warm and inviting palette expected of Urquiola. Quilted-textile and felt upholstery adds both visual and tactile comfort, for instance, while also evoking a handmade character. Cabana's leather, wood, and accessory options are familiar and accessible. Pastel hues like pink and lavender further emphasize the move away from the buttoned-up corporate offices of yesteryear. The pieces wouldn't be out of place in a living room, and that's precisely the point.
You may also enjoy "12 Can't-Miss Releases at This Year's NeoCon."
Would you like to comment on this article? Send your thoughts to: [email protected]