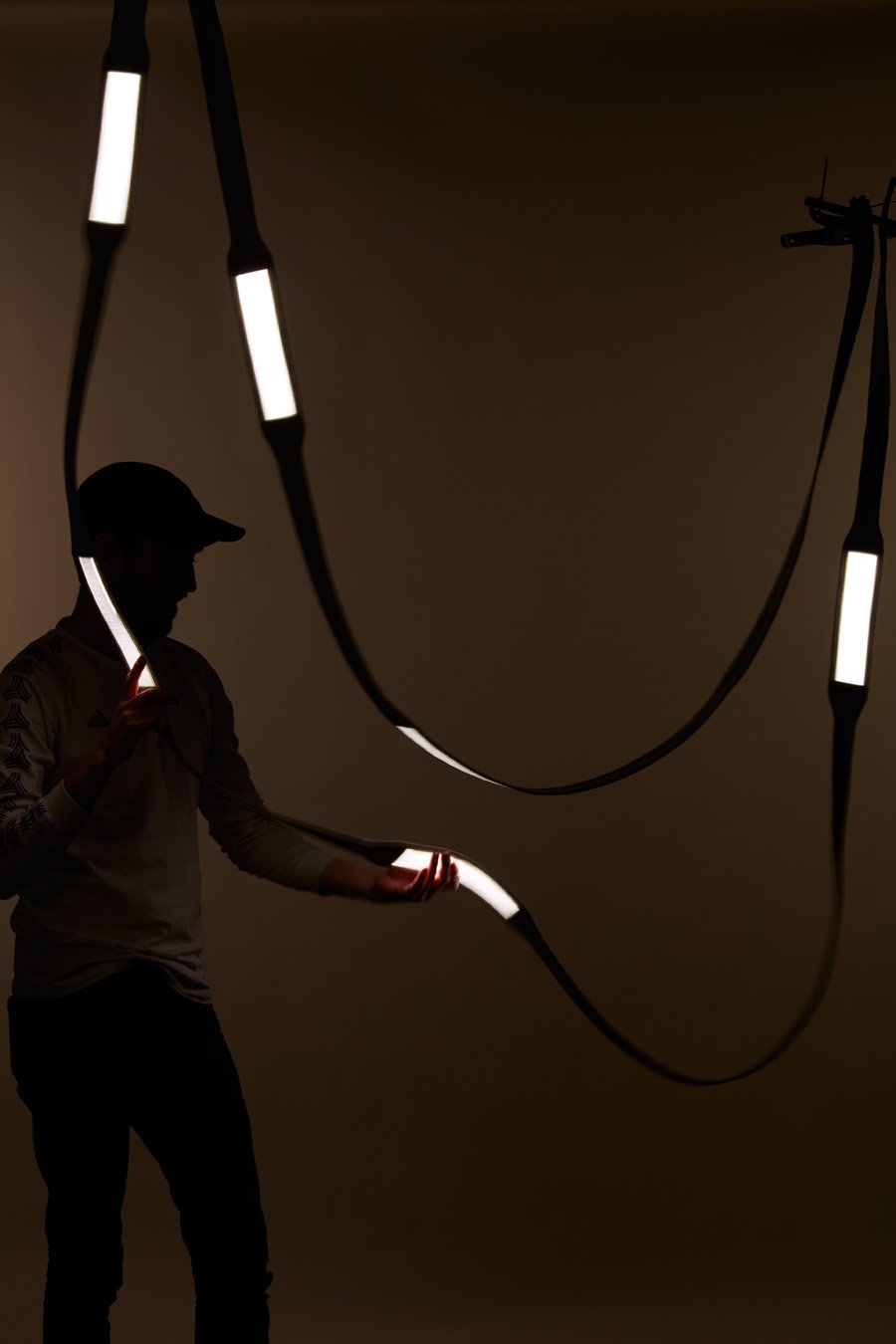 June 19, 2018
This New Lighting Fixture Flexes in Any Direction Thanks to 3D Knitted Fabric and Ultra-Thin LEDs
Brooklyn lighting designers Rich Brilliant Willing has teamed up with manufacturer OLEDworks to develop a futuristic, bendable lighting panel.
For Brooklyn-based lighting designers Rich Brilliant Willing, new technological development mean new opportunities to create lighting that is beautiful, functional, and unique. In March, at the Light + Building fair in Frankfurt, the studio presented a conceptual design for a flexible lighting panel made with cutting edge Organic LED technology from manufacturer OLEDworks.
Organic Light Emitting Diodes, or OLEDs, are a solid state lighting technology like LEDs, but they have several advantages over their more commonplace cousins. Unlike the harsh blue glare of LED light, OLEDs produce a very pure, natural light, that does not need to be filtered or refracted to create a warm, welcoming tone.
Although they are not yet very widely used in commercially available lights, the technology has been around for a few years says Alexander Williams, one of the co-founders of Rich Brilliant Willing. The firm has had its eye on OLEDs for a few years, and as the technology evolved and the cost began to drop, they decided the time was right to begin developing products with the new light source.
One of the big recent advances in OLED technology has been the ability of producers like OLEDworks to create lighting panels that are so thin that they can be made flexible. In order to take advantage of the material's incredible thinness and flexibility, the design team looked to another cutting edge technology to create a malleable housing for their lights.
Working with German knitting machine manufacturer Stoll, RBW created a 3D knit fabric housing using the same technology that has recently gained traction in the sportswear industry, and can be seen in products like Nike's Flyknit sneakers. Their creation is a futuristic prototype that defies expectations of what a light fixture can look like.
Williams says, "The end result is a very new looking light fixture that presents a different relationship between fixture and user. It invites you to touch or interact with it. Unlike a traditional light, the OLEDs are not too hot, not too bright, and not too fragile like a lightbulb. It is approachable and tactile, almost like a piece of furniture."
Formed in 2009, the studio has been a leader in the LED lighting world for several years, but this is the first time they have displayed a concept that is not yet ready for market. The reason, explains Williams, is because of how excited they are about the unique combination of materials and technologies. The designers anticipate presenting a range of products using the new technology soon, and a more fully realized and extensive installation of flexible OLED lights was on display at the Rich Brilliant Willing SoHo showroom in May.
You might also like, "Industrial Designer Todd Bracher is Making User Experience a Priority in His Products."