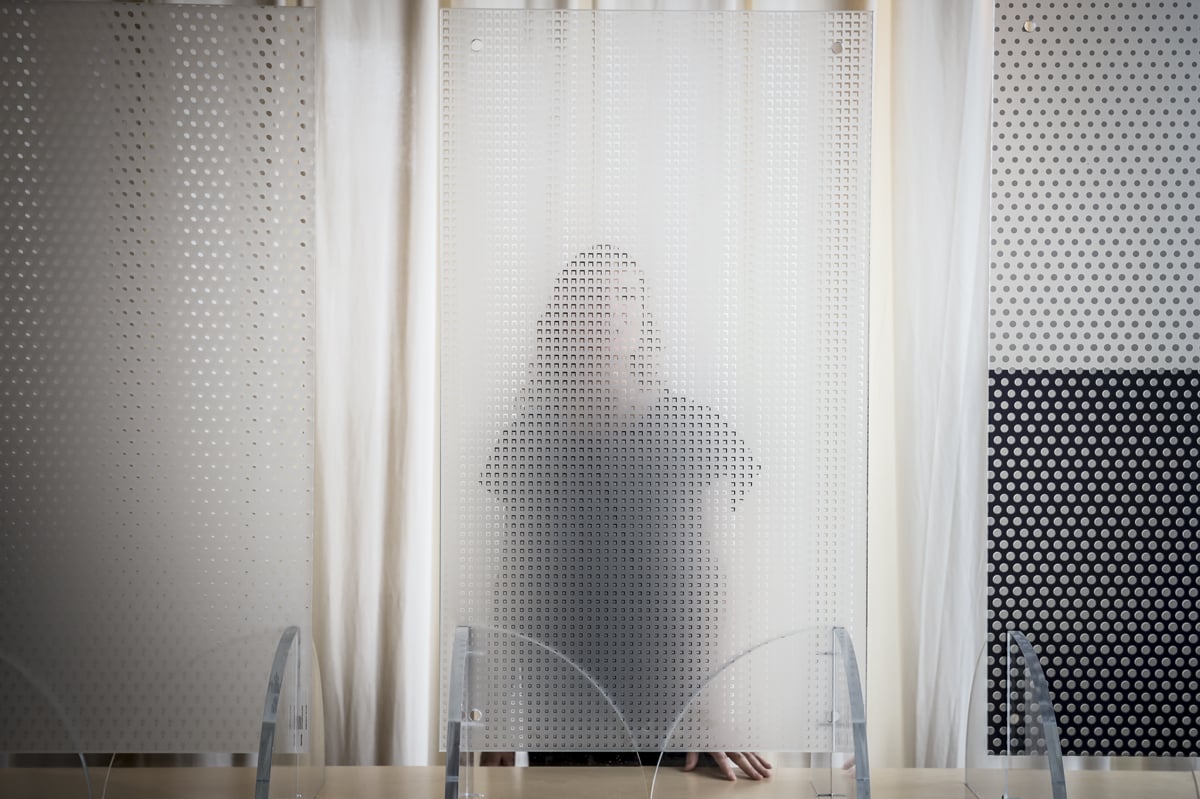 June 16, 2016
Scholten & Baijings' Glass Gradient Turns the Material on Its Head
Glass is often emblematic of transparency. So it makes it an odd choice when privacy is what's needed. Scholten & Baijings' new architectural glass collection for Skyline Design not only promises coverage but adds an exciting visual counterpoint to the typical office arrangement.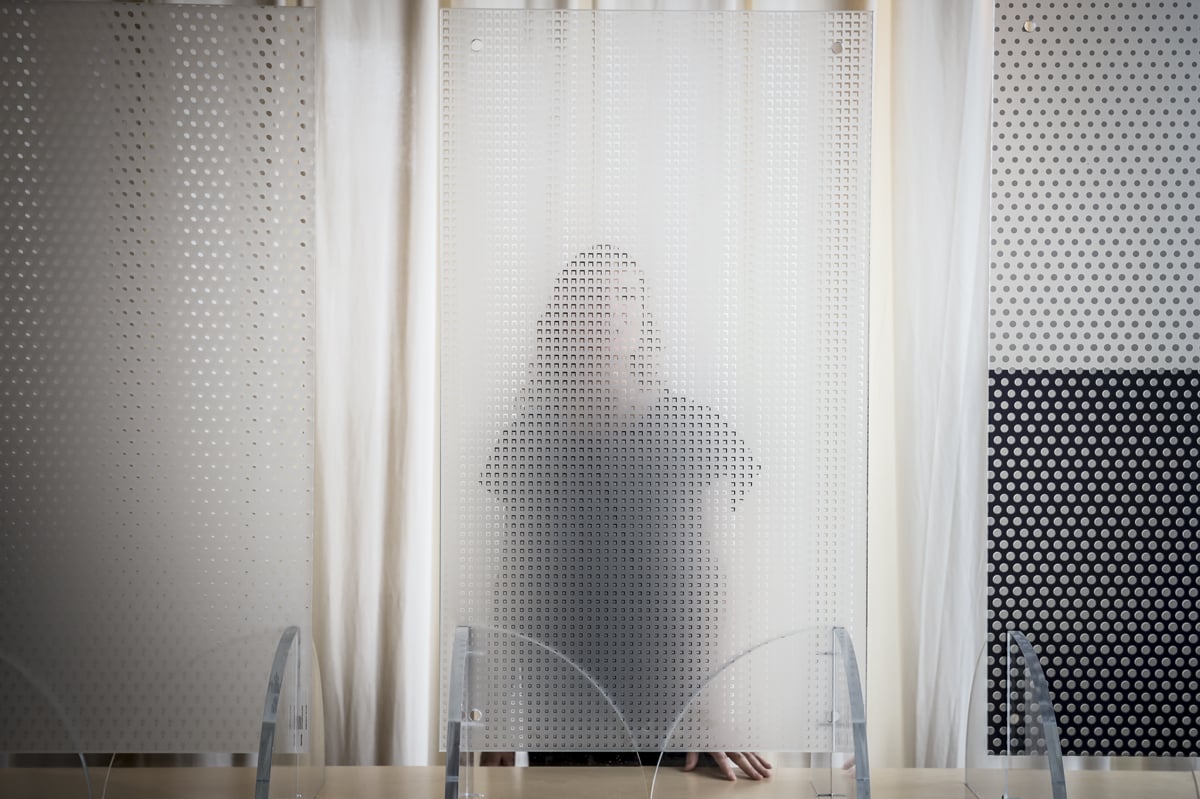 In a unique collaboration with Skyline Design, Scholten & Baijings prepared a new line of architectural glass. As its name suggests, the Glass Gradients series creates a sense of depth and texture through the use of color gradients.
Courtesy John Boehm
---
Amsterdam-based designers Stefan Scholten and Carole Baijings sculpt their works from an array of materials including wood, porcelain, and steel. They produce myriad textiles and pieces of furniture. In 2012, the pair even designed a concept Mini Cooper. Architectural glass, however, has until now remained uncharted territory.
At NeoCon this year, Scholten & Baijings, with Skyline Design, launches its first range of architectural glass: Glass Gradient Dot and Glass Gradient Square. Following a shift from plain glass partitions toward more vibrant colors and patterns, the two lines offer an array of designs etched and printed in various densities that can be customized for a variety of spaces and functions.
"It was a new challenge for us," says Scholten, "because we've never worked with this medium. 'Where do you apply glass walls?' we asked ourselves. They offer privacy as well as temperature control. I think about glass and its application in space, and the number of possibilities is enormous."
The designers deployed simple units—dots or squares—to "weave," in a sense, variations in opacity, a precedent set by their previous, seemingly dissimilar projects. The woven quality of their patterns calls to mind their expansive body of work in textiles, which include upholstery and wall-coverings for brands like Hay, Moroso, and Maharam. The two are well known for their use of brilliant hues, modern approach to color blocking, and attention to scale, which initially drew Skyline Design's interest.
"They did beautiful work at Maharam," says Skyline creative director Deborah Newmark, referring to the bold scale and proportion of the various 30-foot-long compositions Scholten & Baijings has executed for the company. "The designs didn't just repeat and repeat. There were variations depending on how they were used—if, for example, you were upholstering a chair that was small or large or was round or had hard angles. We wanted to explore that with them. Glass would not just become a pattern, but could also incorporate a sense of movement and change."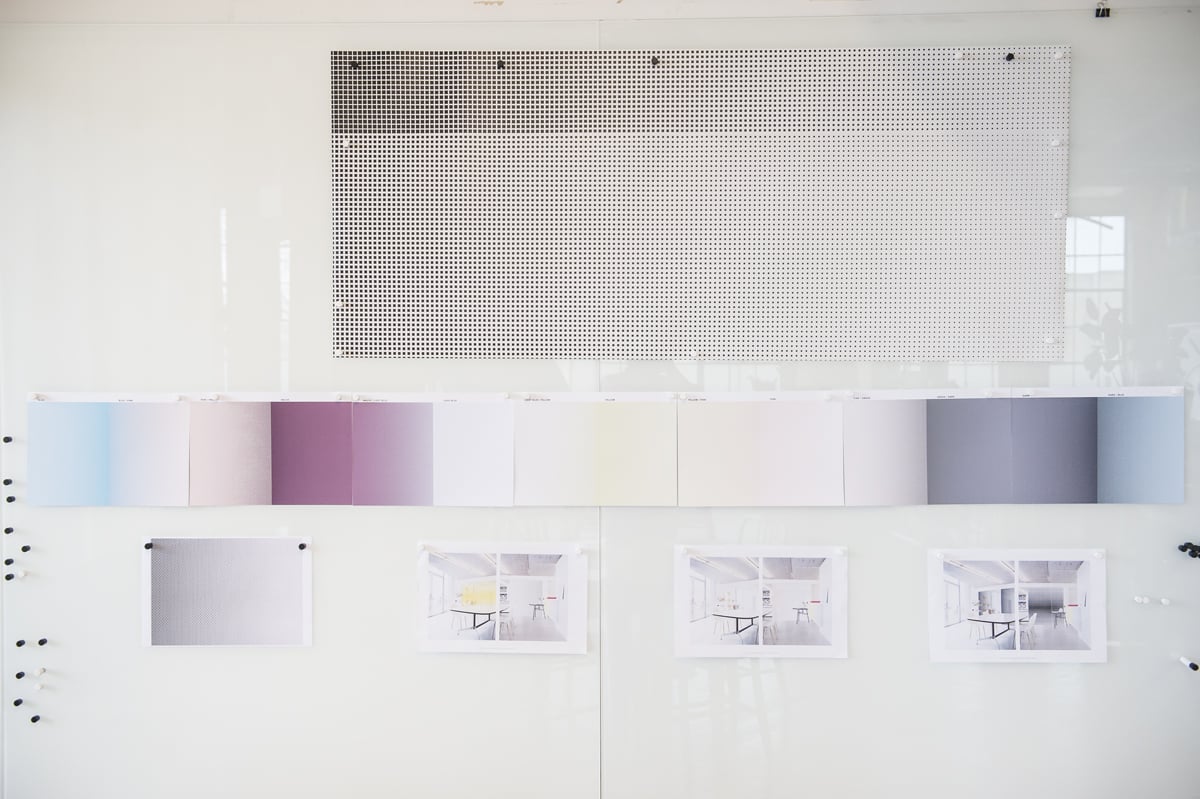 A mood board illustrates the dual nature of the gradient—its application as a pattern to the glass itself, and its interpretation in color, moving from mauve to light blue.
Courtesy John Boehm
---
The new products retain the duo's signature striking, and often unexpected, use of color, combined with Skyline's high-tech specialization in the nuanced transmission of light. Certain features unique to glass—that the design could be one- or two-sided, patterned or etched, colored or transparent—brought new dimensions to their pattern making. The designers found that they could play with orientation, applying the patterns both horizontally and vertically, and increase levels of privacy by layering colors and changing the scale of the dots or squares, sometimes leaving portions of the glass untouched. The gradient itself was central to the design concept, allowing the designers to create the options of subtle, or even overt, shifts in color in a diverse palette, from mauve to light blue to dark gray.
"In large spaces, the panels offer the possibility of showcasing a gradient of the colors, or just one, or an alternating pattern between two to create a sort of wave gradient," says Scholten. "It isn't just an optical decoration, it's very functional. You choose the level of transparency."
The final outcome of this nuanced layering is a unique richness and simultaneous weightlessness, a paradoxical effect made possible only through the use of glass. "It's both subtle and dramatic at the same time, almost immaterial," says Newmark, noting the broad interior applications. "All of those effects build up to create something completely different when selected by an interior designer." For Scholten & Baijings, customization was paramount.
"We designed a sort of tool kit," says Scholten, "hopefully for architects and interior professionals to do what they want without losing the Scholten and Baijings effect and Skyline qualities. They can create so many possibilities—it's a better word than 'effects' for us. It's not only a goal to reach a beautiful effect, but to find a way to have a very functional product."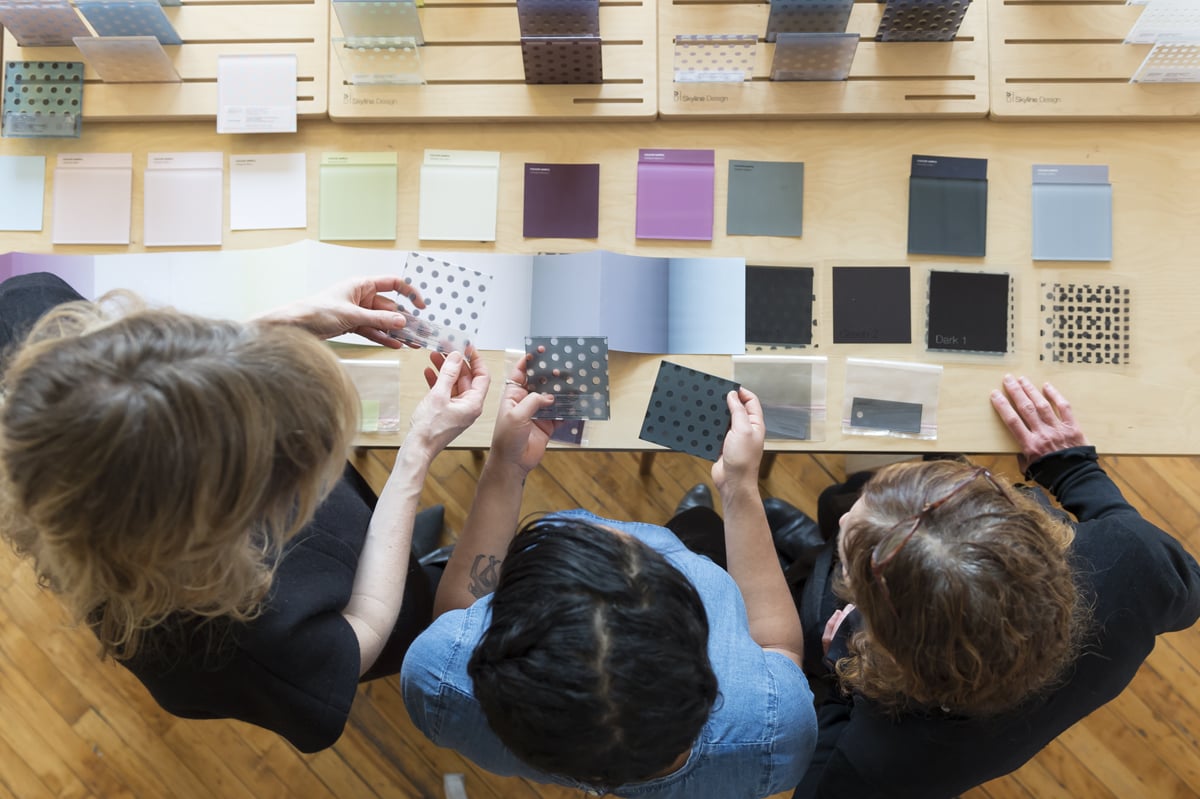 Glass tiles show how both pattern and color can create various material, perceptual, and even thermal effects, which, of course, have a spatial impact.
Courtesy John Boehm
The Glass Gradient Dot (Etch) seen in a domestic setting
Courtesy Inga Powilleit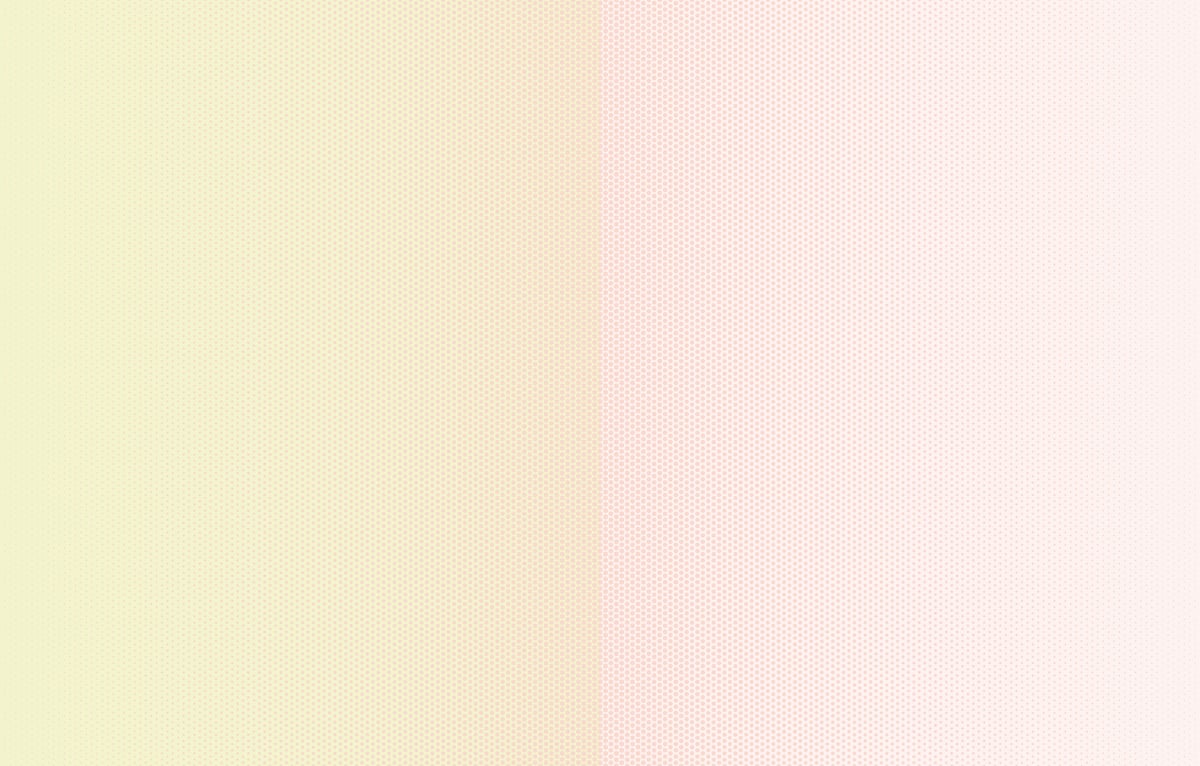 One Glass Gradient Dot color option
Courtesy Scholten & Baijings