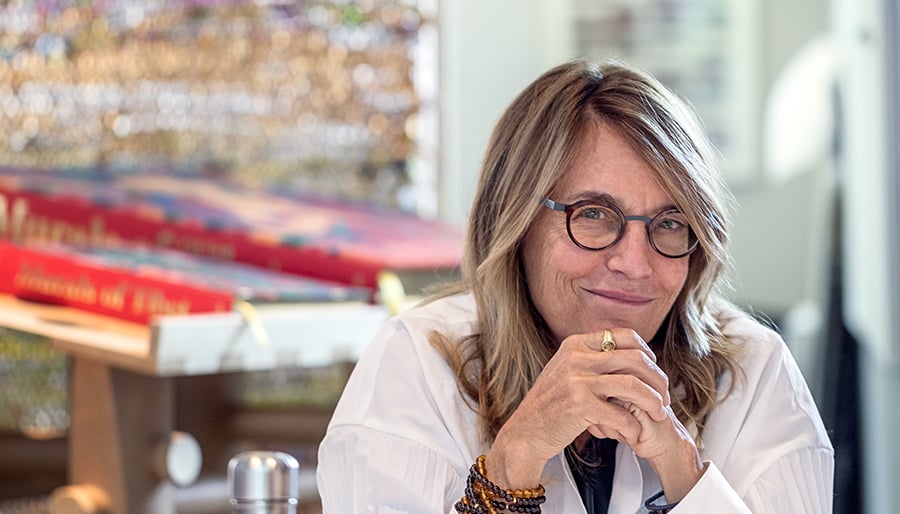 June 3, 2019
Preview Suzanne Tick's Newest Collection
In her new collection for Luum—which debuts at NeoCon—the textile designer looks across time for inspiration.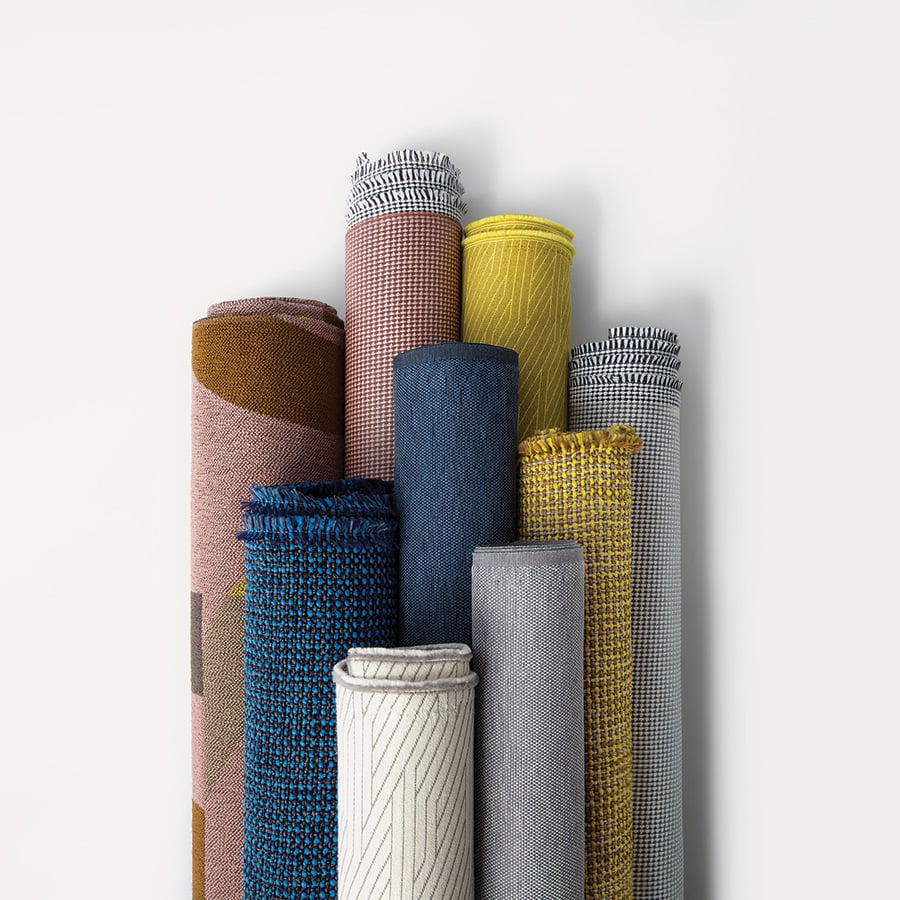 ---
Artist and textile designer Suzanne Tick, founder of Tick Studio, tries to focus on the present. Each day, her staffers meditate together in the office, which is housed in an East Village town house where Tick also lives. The meditation is a prelude to conversation, she explains: "We clear our minds and then…have a thoughtful discussion of what's happening in culture, art, and architecture." But in her work, which includes both her studio weaving practice and her commercial designs for Skyline Design, Tandus Centiva, and Luum (where she is creative director), the designer often finds herself pondering time, whether she's mining movements in art or contemplating design's future demands. Her new collection for Luum, Future Tense, alludes to this way of thinking.
The signature product in Future Tense, Schema, is a large-scale pattern that comes in six vibrant colorways. Tick, a history buff, explains she is fascinated by the creative period surrounding the First World War, when seismic social and political shifts prompted artists and designers to experiment with abstraction and surrealism. Tick and Meagan Phipps, Luum's design director and a collaborator on Schema, note that early-20th-century designers and artists found ways to represent tension and change while offering visual pleasure. And though the bold patterns of Schema evoke a geometric, constructivist sensibility, surrealism also played a role in its design, which was created "in response to contemporary tensions," according to Phipps. "We're living in a surreal time," she notes, in which people can create their own realities thanks to digital technology and social media.
The dialogue results in what Tick calls "a super graphic pattern that changes the dimensions of a space." This adaptability is useful for "the ever-in-flux aesthetic demands of today's offices," which increasingly have to perform like the hospitality world. Schema allows interior designers to bring a wealth of color and pattern into a space, and add rich, woven texture.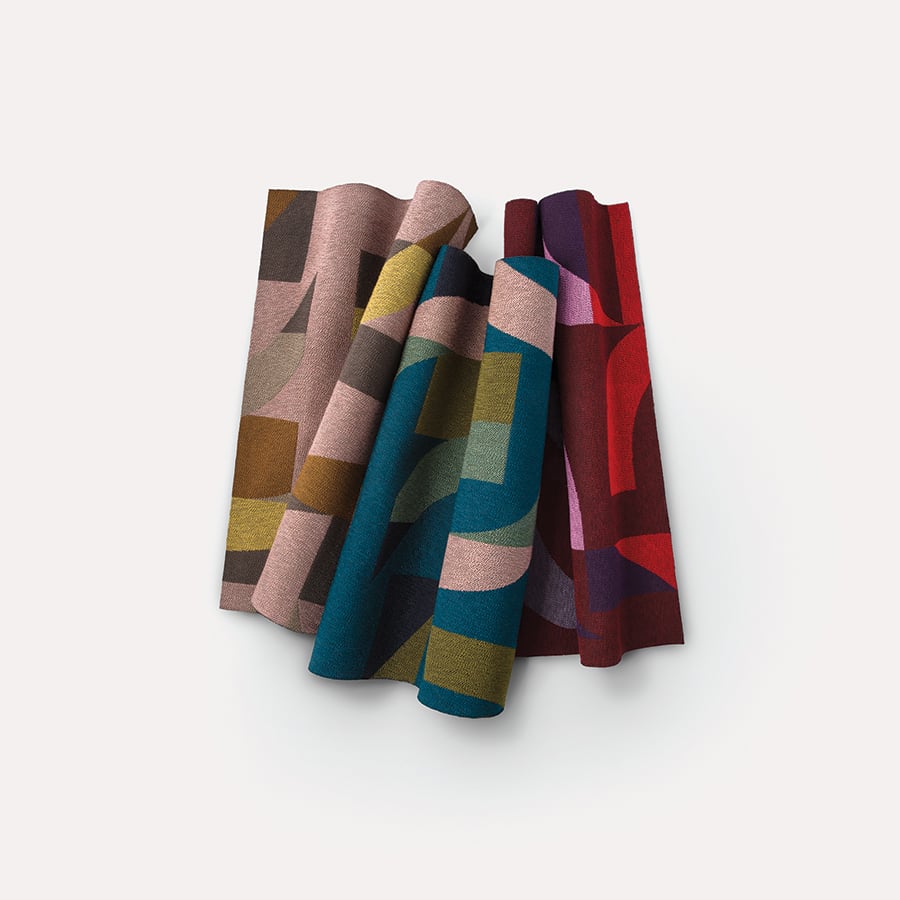 ---
If Schema offers a contemporary take on 20th-century design, another Future Tense design, Color Fuse—which Tick calls "the first translucent polyurethane product"—looks like a message from the future. Tick and her team experimented with warp and weft structures coated in polyurethane to produce a tough, durable fabric that makes its natural materials plainly visible as well. Color Fuse also features a coating that makes the textile easy to clean, and, for the observant, a visual surprise: "It's not printed to look woven," Tick says. "It's the reverse." Additionally, the line pays homage to yet another idea pulled from art history—the offbeat use of industrial materials, as in the work of Eva Hesse, the German-American sculptor who combined latex, plastic, and fiberglass in the 1960s.
Tick and her team make many, many prototypes and experiment widely to find solutions like the printing technique in Color Fuse. And just as they like to look at materials from an artist's perspective, they also look at them in terms of cycles, seeing the reuse of industrial waste as a given in this era. Recycled materials such as Recover Upcycled cotton—made from reclaimed shirts—are used to weave new fabric. Another product in the Future Tense line, Tilt Shift, is 41 percent this repurposed material. Its pattern is inspired by the forced perspective of architectural drawings, and the way in which proportions appear to change as people move through a space.
The future may be uncertain, but let's face it: The present is tense. Today's collections will inevitably reflect this moment of anxiety in the face of stark political division and accelerating climate change. When it debuts at NeoCon this June, Future Tense will be the latest in Tick's portfolio of work to demonstrate her ability to balance the practical and the theoretical. Tick's commitment to upcycling and reuse, paired with her historical perspective on art and design, grounds her collections in an ancient tradition that's shifting to meet the needs of our time.
You may also enjoy "12 Can't-Miss Releases at This Year's NeoCon."
Would you like to comment on this article? Send your thoughts to: [email protected]