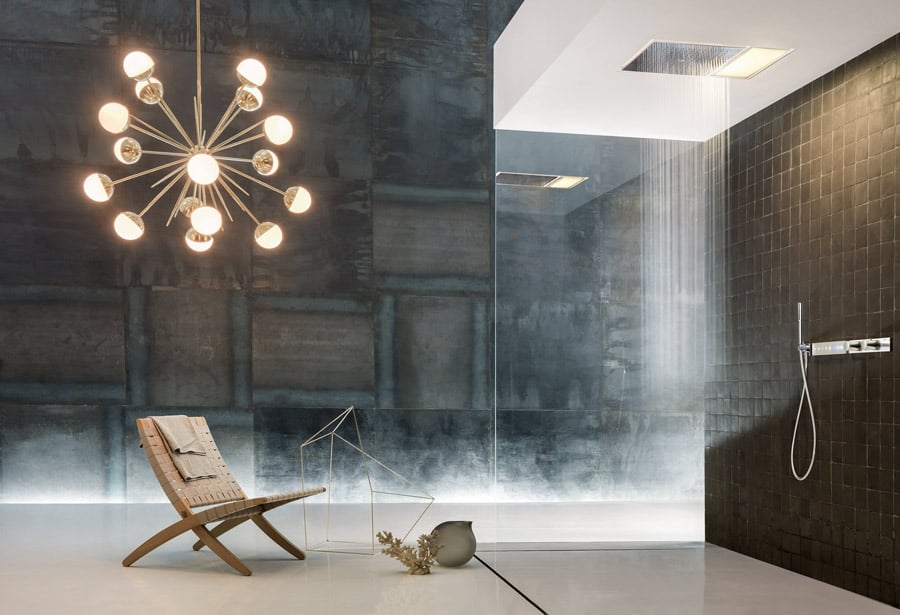 October 3, 2019
Technology in These Kitchen and Bath Products at the A&D Building Works to Keep You Healthy
These three kitchen and bath appliances take advantage of the latest in smart-home technology to promote health and wellness.
Sponsored by:
As smart home technology continues to improve, the latest generation of luxury home appliances incorporate lights, sensors, and apps not only to dazzle, but to make their users healthier and happier. At New York City's A&D Building, where 40 showrooms display everything from handmade tile and carpets to refrigerators and plumbing fixtures, there's a renewed focus on health and wellness. Shifting away from the emphasis on convenience that is commonly associated with smart home products, high-end kitchen and bath brands today are focused on promoting a healthier lifestyle. The resulting products promise their users not only elegant design and a unique user experience, but a wholesome and more fulfilling life.
The Italian purveyor of high-end plumbing—offering everything from hand showers to the kitchen sink—occupies a 2,000 square foot showroom in the A&D Building. The company's Acquadolce shower system, designed by Franco Sargiani, aims to transform the shower into a complete, multi-sensory wellness experience. Driven by a touchscreen control, Acquadolce features rain, mist, and waterfall settings, as well as a light panel that provides a four-color chromotherapy experience to relax and reinvigorate the bather. In addition to being a sleek piece of hardware with simple linear components that provide a feeling of lightness, Acquadolce creates a spa-like environment in the home.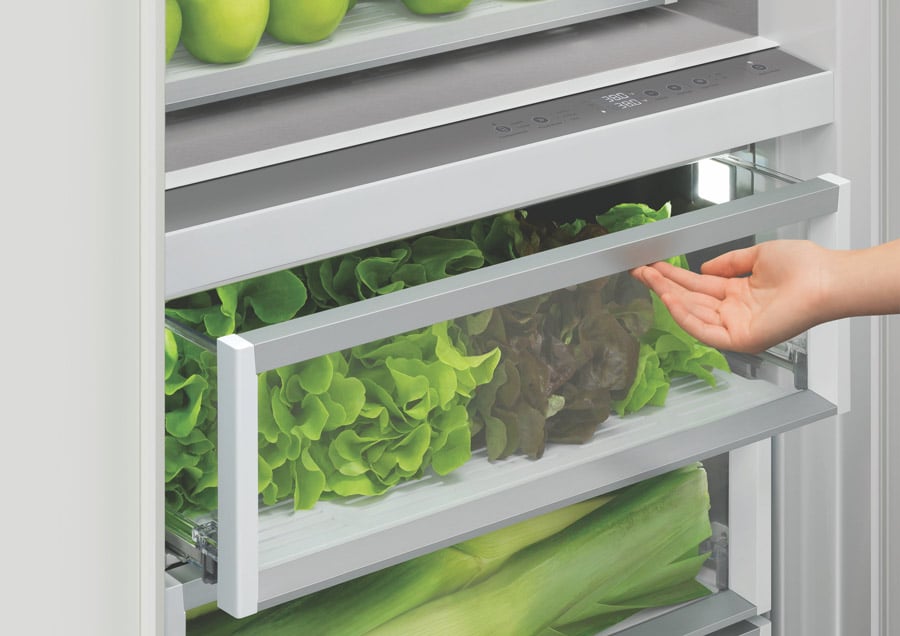 The integrated column format allows these refrigerators and freezers from Fisher & Paykel to be seamlessly integrated into any kitchen. Meanwhile, ActiveSmart™ foodcare technology, consisting of a microprocessor, temperature sensors, and independently controlled fans and air vents evenly distribute cool air throughout the refrigerator and freezer. The system accurately controls humidity and temperature in produce bins to create the perfect microclimate to keep fruits and vegetables fresh, making it easier than ever to eat healthy. ActiveSmart™ technology adapts to daily use, learning how you use your refrigerator to maximize freshness and conserve energy. LED interior lights are energy efficient, produce no heat, and fully illuminate all shelves and doors, so you know exactly what you have in the fridge. "The combination of these technologies," says Shane Rehm, the company's Vice President of Product, "allows food to be stored at optimal temperatures and humidity levels, thus ensuring the preservation of nutrients and allowing food storage for longer periods of time, which helps combat food waste."
The technology integrated into JennAir's ovens and ranges makes for a completely personalized user experience. By connecting appliances to the company's state-of-the-art digital platform and allowing users to control and monitor appliances remotely, the brand provides a safer, easier, and intuitive cooking experience. "This complete digital platform is seamlessly integrated into the full product suite," says Jon Hall, the company's Product and Brand Marketing Director, "allowing owners to start preheating an oven remotely, indulge in assisted culinary adventures with hand-picked recipes, beckon specialists with the touch of a finger and more – all in the pursuit of experiential luxury." Anyone who has ever left the oven on, or had a nagging feeling that they might have, can rest easy with the ability to control their appliances, and even summon expert help from the JennAir call center from the touch of their smartphone. Customization and connectivity combine to make it easier and more fun to prepare healthy meals at home.
For more information about these showrooms and 37 others, visit the A&D Building at 150 E. 58th Street or online at adbuilding.com. The A&D Building is New York City's best address for kitchens, baths and fine furnishings.