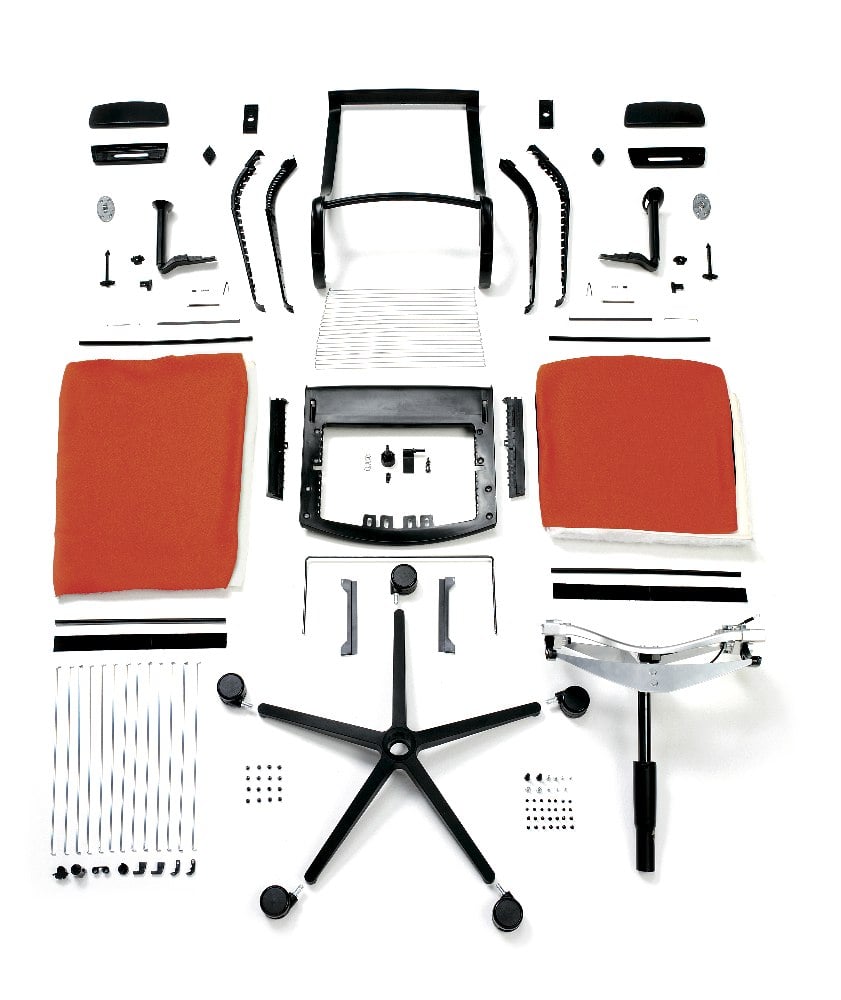 June 6, 2013
Think Again: Steelcase's Think Chair Gets an Environmental Update
Steelcase develops a more comfortable and sustainable version of its groundbreaking chair.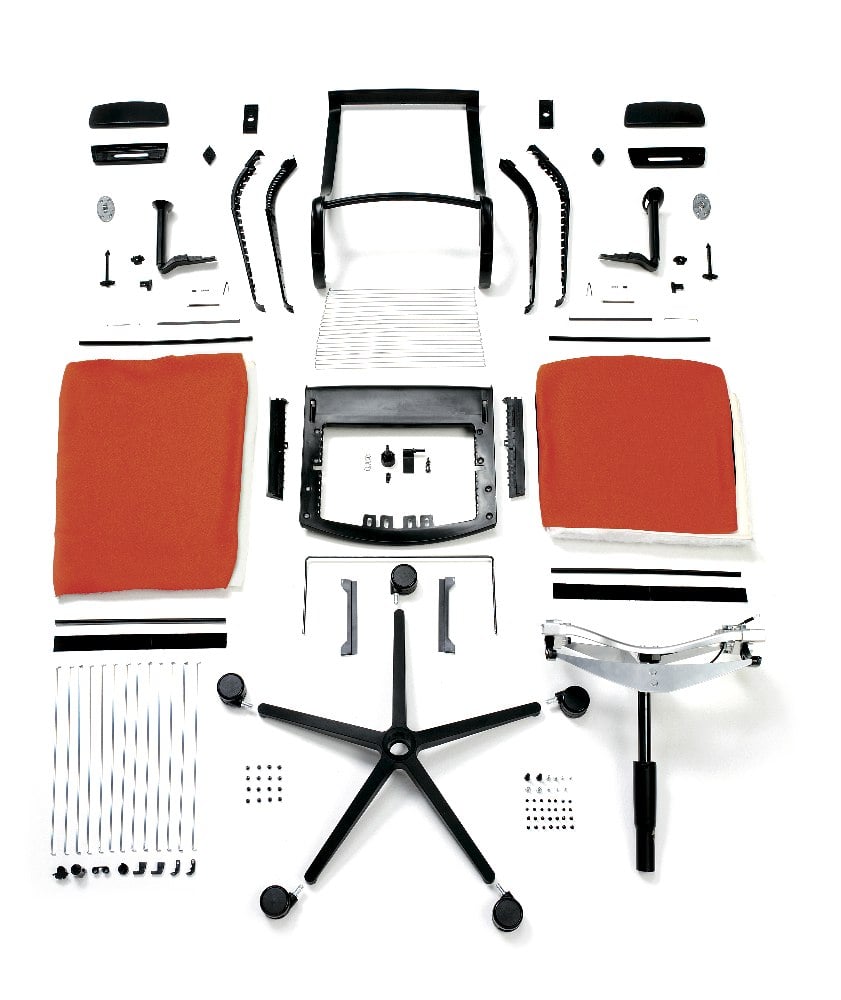 We first featured Steelcase's Think chair in our July 2004 issue ("Some Disassembly Required") because it raised the bar for sustainability in office furniture.
When Steelcase introduced the Think chair in 2004, one early reviewer worried that she liked her chair too much—it was so comfortable that she no longer stood up to take breaks during the workday.
Part of that comfort came from a clear conscience. Steelcase evaluated each stage of the chair's life cycle, to reduce environmental impact. In addition to streamlining manufacturing processes and putting production close to supply, Steelcase built partnerships to encourage consumers to refurbish or recycle the chairs, meaning fewer Thinks end up in landfills.  In short, the Think chair reframed the conversation about eco-conscious furniture.
The new Think chair employs a whole new system for lumbar support, making it extremely intuitive and comfortable.
"It's a global best-seller, one of our most popular chairs," says Katie Hasse, a senior public relations specialist at Steelcase. "When you look at it that way," says Bruce Smith, Steelcase's director of design, "you might say, why should we bother making a new version?"
In fact, the cornerstones of the design—eco-friendliness, elegance, and ergonomics—remain unaltered. "But we've just learned far too much in the last ten years," Smith says. "We felt an obligation to make Think even better."
In terms of performance, Smith says, "the most significant change is in the back." The original Think chair was intuitive—easy to adjust and customize—but Smith saw room for improvement. "We realized you can rely on the user's body to hold that system together." The redesigned lumbar element contains two preloaded springs that work in tandem with the weight and movement of the user. "The whole system works together with your back."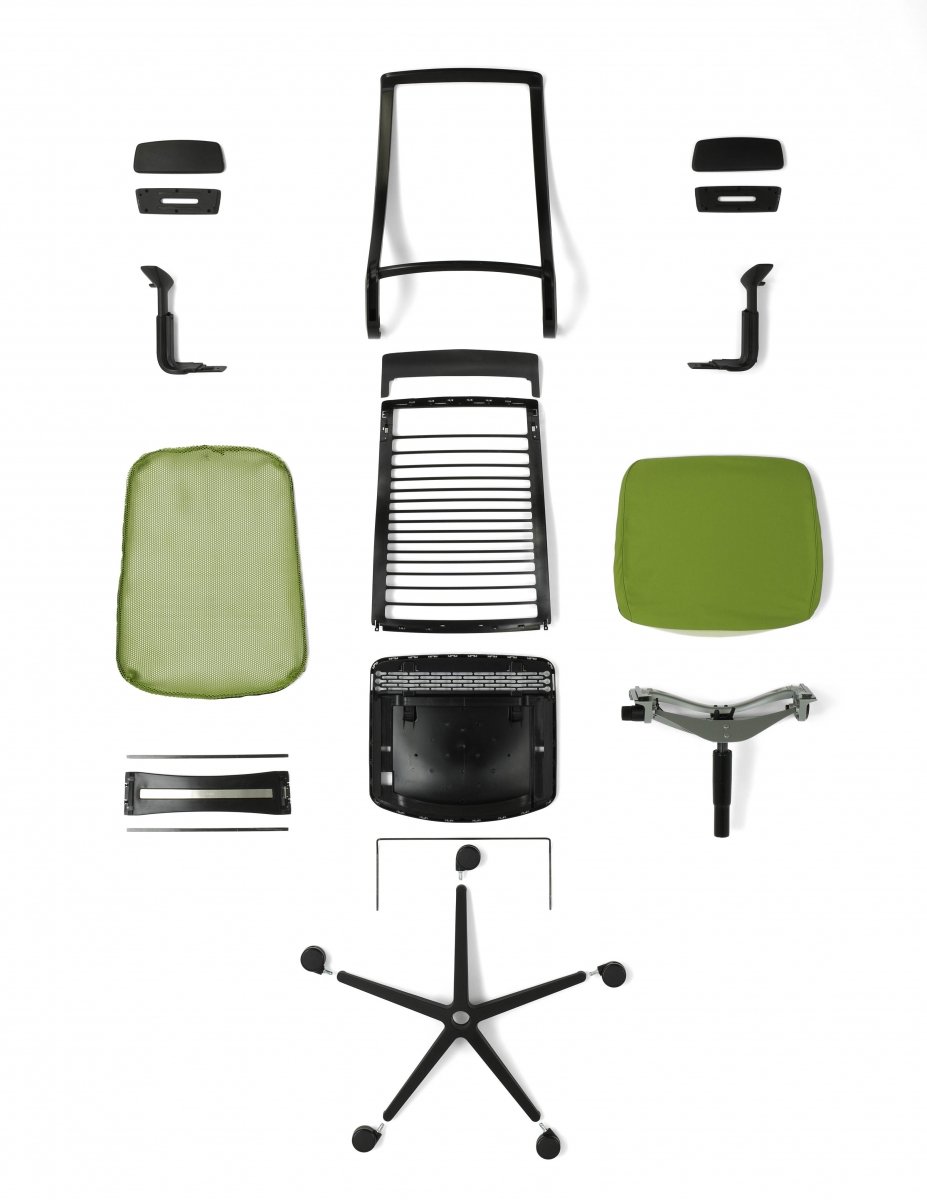 The new Think has significantly fewer parts than the 2004 version.
Another result of the overhaul? "We've reduced the number of components," Smith explains. The original lumbar element contained 20 stainless-steel wire flexors. "They were four different lengths and each one had to be fed in by machine, then locked in place by four screws on each side." In the new design, "those flexors are consolidated into a single element."
The original designer, Glen Oliver Loew, "was incredibly rigorous in how he designed and engineered this chair, and that shows," Smith says. Visual culture, he adds, has caught up to Loew's vision in the last decade. The updates his team has made are still in service to Loew's original ideal—an elegant, eminently recyclable chair.
Images courtesy Steelcase