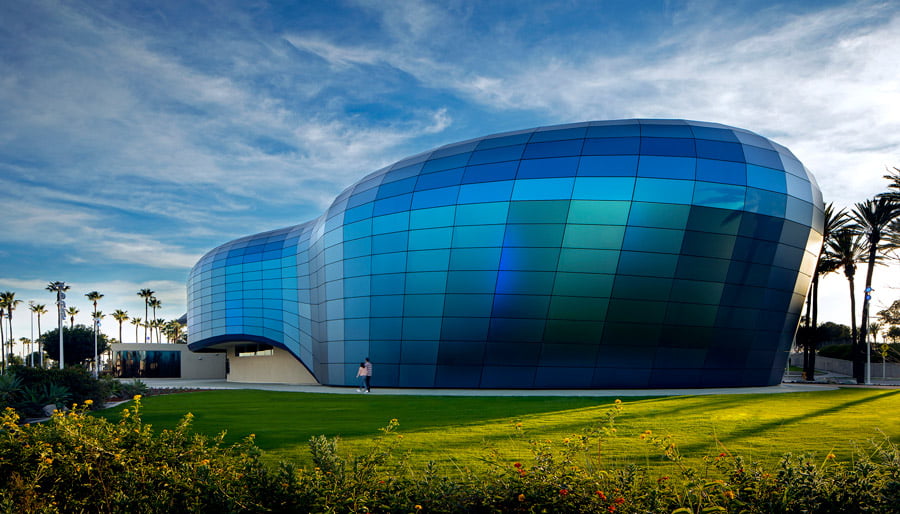 July 31, 2019
This Glass Innovator Pushes the Limits of Beauty and Strength
From innovative fabrication techniques to the development of the super-thin DermaGlass, Pulp Studio unleashes the true potential of glass as a material.
Sponsored by:

---
Pacific Vision, the new multimedia wing of Long Beach's much-loved aquarium, shimmers and shines like a mysterious creature of the deep. An ocean of light-diffusing blue glass panels covers the undulating facade in its entirety.
For Bernard Lax, CEO and co-founder of Pulp Studio–who assisted in the design development of the glass and who was the fabricator of the building's 837 glass elements–beauty has always been paramount.
"Ever since my days 20 years ago working in the world of fashion, my motivation has been to make a big visual impact with what I do," he explains. "Pulp Studio was created with the idea of taking the technical complexity of architectural glass, and adding a more aesthetic dimension."
Lax's obsession with glass, and the possibility of making it "both fashionable and functional" at large scales, began while he and his wife Lynda were developing a new façade for their home in the late 90s. Their ambition was to use the material to evoke design languages from Asia. To achieve the desired effect, they experimented with placing natural substrates, such as rice paper and different grasses, between layers of laminated glass.
"I've always been a big believer that process is more important than product," he says. "Without really having an end product in mind to begin with, we pioneered a completely new way of dealing with glass. We ended up making nine samples merely for ourselves. Eventually, I showed what we had to an architect friend, and she said 'did you realize you have a product line here?' That inspired us to think bigger and to develop our ideas further."
The pair formed Pulp Studio in 1996 in the basement of their home, and soon found themselves supplying glass nationally for stores, restaurants, homes and hotels. Two decades on, the company has won industry recognition and a healthy client list with its huge range of decorative and specialty glass products. These vary in scale from small interior design elements and installations to huge glass panels and windows for icon's like Seattle's Space Needle.
At the studio's 165,000 square-foot LA factory and HQ, over one hundred tradesmen, architects and artisans collaborate with and glass technicians to experiment with digital and ceramic screen printing, laser etching, hand-color coating, LED layering, glass carving, bending, among many other sophisticated techniques.
The latest innovation to emerge from the Pulp production line is DermaGlass®, an extremely thin, highly pliable and scratch-resistant glass panel available in sizes up to 58″ x 118″. As with the company's other products, it can accommodate back-painted coatings or be laminated with graphic interlayers, allowing it to be used in an almost infinite number of ways.
"DermaGlass is just 1.3mm thick and you can shape and bend it relatively easily because its pliable after it's been strengthened," says Lax. "We expect architects and designers to really see its potential in applications where weight is a concern and you want to take a load off of a structure, for example in elevator cabs or on ceilings".
"While the glass itself is somewhat similar to the other ultra thin glass that you get on certain smartphones and PADS, what is completely new is how we are using it at this scale. It took a significant cost, a lot of time and trial and error to get to where we are now, but the end result is special."
Lax is now focussed on expanding the applications of DermaGlass. "With all our products, the fun is in challenging ourselves and others to find creative ways to use it," he says. "That process has already started, and we can't wait to see what the future holds."