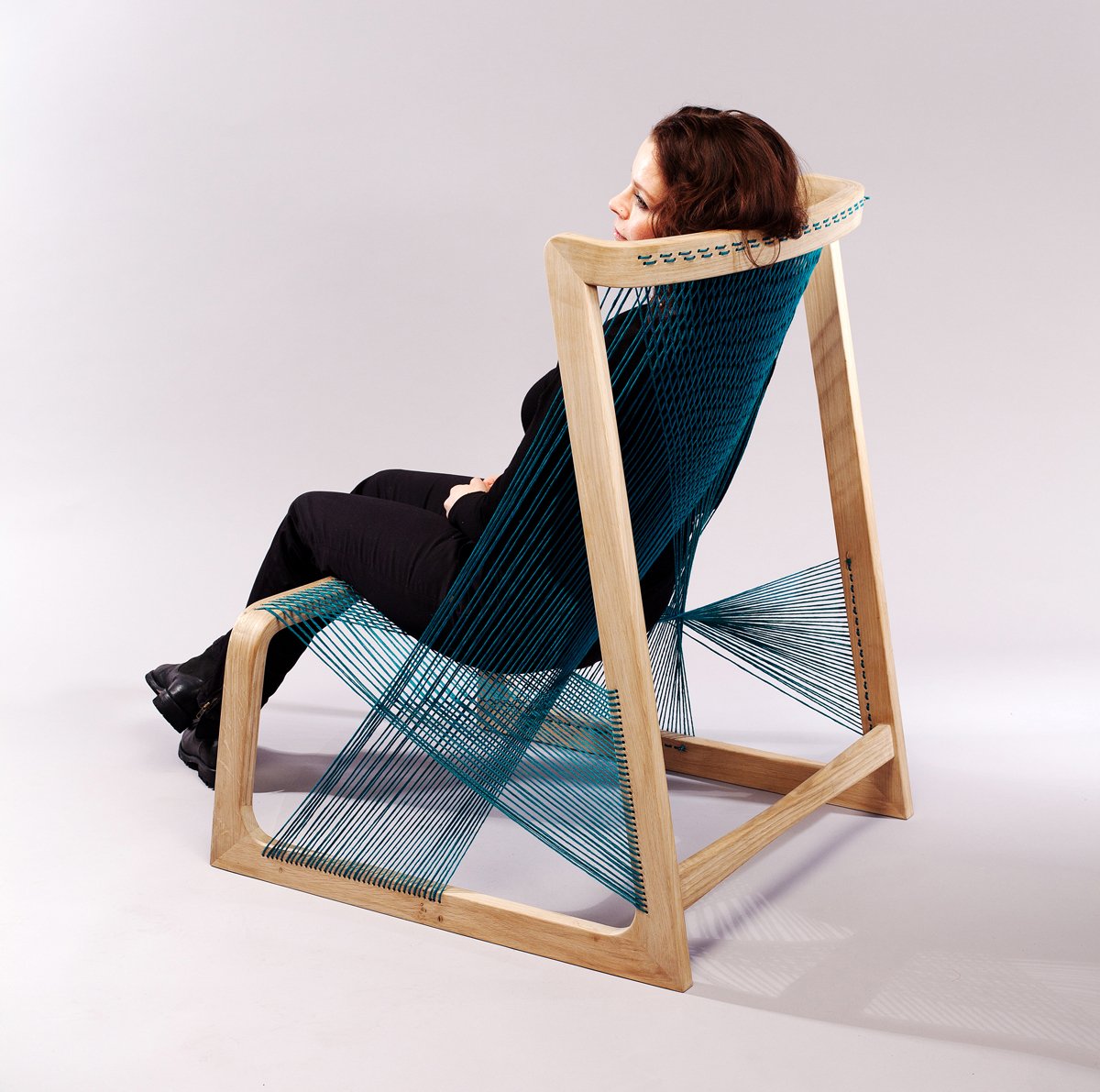 December 13, 2013
This Silk Chair Is More Silk Than Chair
Don't be deceived: you can actually sit in this chair.
"Between a lounge chair and a sculpture" is how Swedish designer Åsa Kärner describes her Alvi Silkchair, and by looks alone, I'd wager it's more of the latter than the former. After all, it's not immediately evident that you can even sit on this thing without collapsing on the floor in a thud. The chair, which sparked the founding of Kärner's eponymous design studio, consists of just silk thread and a wood frame. There is no seat, per se, just a mesh of thread that may or may not be sufficiently tensile to support a sitter's body weight. (It is.)
The oak frame is punched with small holes through which the blue-colored thread is looped and stretched taut. The spindly strings are arranged in waves that elegantly overlap, yielding a three-dimensional moire of silk. Visually, the threads entice with all the appeal of mathematical diagrams or Xenakis sheet music. In fact, the glissandi (see Xenakis's musical notation here) that open and close the Greek musician-architect's most famous work, the Metastasis, look, on paper, very similar to the silk lines that comprise Kärner's chair.
The musical analogy isn't entirely forced: Kärner says she was inspired by traditional Chinese instruments, including the guqin, whose strings are made of silk thread. She first learned of the zither-like instrument at a university lecture that was followed by a muscial performance. The sounds that particular instrument produced were wholy unique, something she says could be attributed to the age of the silk threads themselves. "The long-staple silk is the strongest natural fiber with long durability, which is proven by the fact that there are very old, well preserved Qin instruments still in existence today." 
Kärner, a student at The Royal Danish Academy of Fine Arts' design school, hopes to put the chair into production next year after she finishes up her degree.