November 4, 2019
Three Projects Show Spanish Tile's Wide Range
A hotel, a restaurant, and an office building show how Spanish tile can bring classic style and high performance to any space.
Sponsored by:
"There is a polarity in terms of what is trending for design specifications for tile," says Ryan Fasan, tile expert and consultant for Tile of Spain, a trade organization for the nation's ceramic tile industry. "On the one hand there is a return to the really classic artisanal stuff that's from circa 1900 and then also an application of new and modern technology," he says. While it's true that few materials as ancient as ceramic tile have been so revolutionized by technology, with modern stamping, printing, and firing processes making high performance products available in an extremely wide range of styles. The Spanish tile industry's two centuries of experience have allowed producers to leverage technology to create products that have the classic look and heritage qualities architects and designers want and perform at a 21st-century level.
Tectum: Living Ceramics
When Belgian roofing firm Tectum, one of the country's leading installers of flat roofs, green roofs, balconies, and cladding needed a new headquarters they turned to local firm IN-LIJN to design a comfortable but modern space to house their operations. The structure features two rectangular volumes stacked on top of one another and supported by columns that lend the building the appearance of weightlessness. Forms clad in white tile from Living Ceramics provide an elegant contrast with a black ceramic-clad structure behind, while floor to ceiling windows let in daylight and give the building a sense of lightness.
Inside the building's gleaming white, rectilinear form a comfortable modern office continues the contrast of white and black. Interior walls clad in jet-black tile with a textured surface highlight the brightness and smoothness of glass walls and white ceramic floors. The black tile's unique texture is a major highlight, and one of Living Ceramics specialties. Fasan explains that although adding texture to large-format porcelain is a difficult proposition, the relatively young company has already made an impression with its high-quality textured slabs.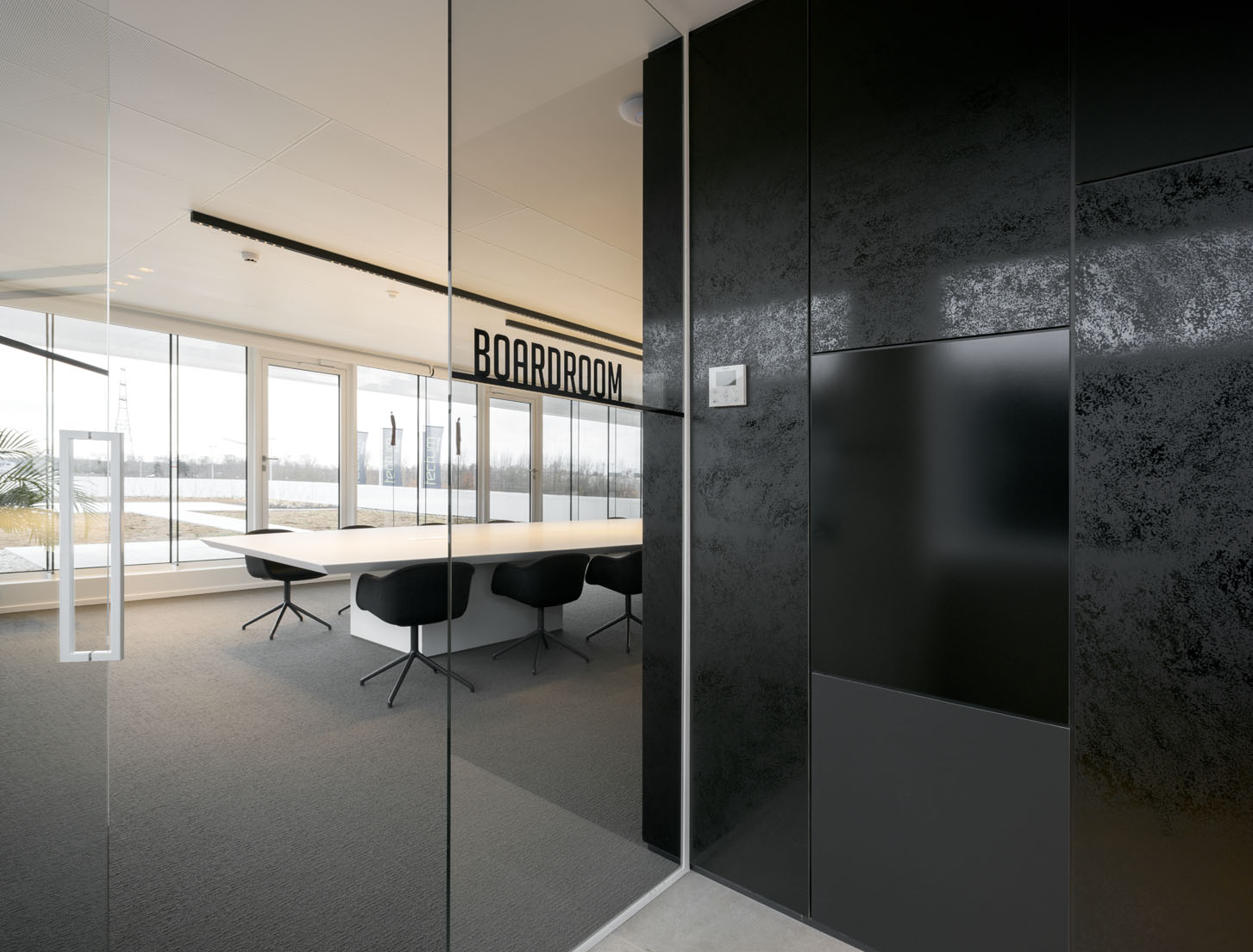 Mercado Little Spain: Vives Ceramica
Since its opening earlier this year, Chef José Andrés's Mercado Little Spain has established itself as beloved spot and major draw inside New York City's Hudson Yards. Home to three restaurants, more than a dozen food kiosks, and several bars, the space pays homage to the gastronomic legacy of Andrés's native Spain. In order to faithfully recreate the experience of a spanish market in Manhattan, designers turned to tile from Vives Ceramica. Nearly every surface in the 34,000 square-foot space is clad in tile that runs the gamut from wood looks with distressed patterns, to tile glazed in bright colors with embossed patterns. In the Mar restaurant, Laterza tiles with a decorative blue pattern compliment the restaurant's traditional Spanish seafood offerings. For desert, visitors head to the Pasteles & Helados kiosk, where along with sweet treats they will encounter Efeso Blanco porcelain tile and Tielebe tile, which features playful geometric designs.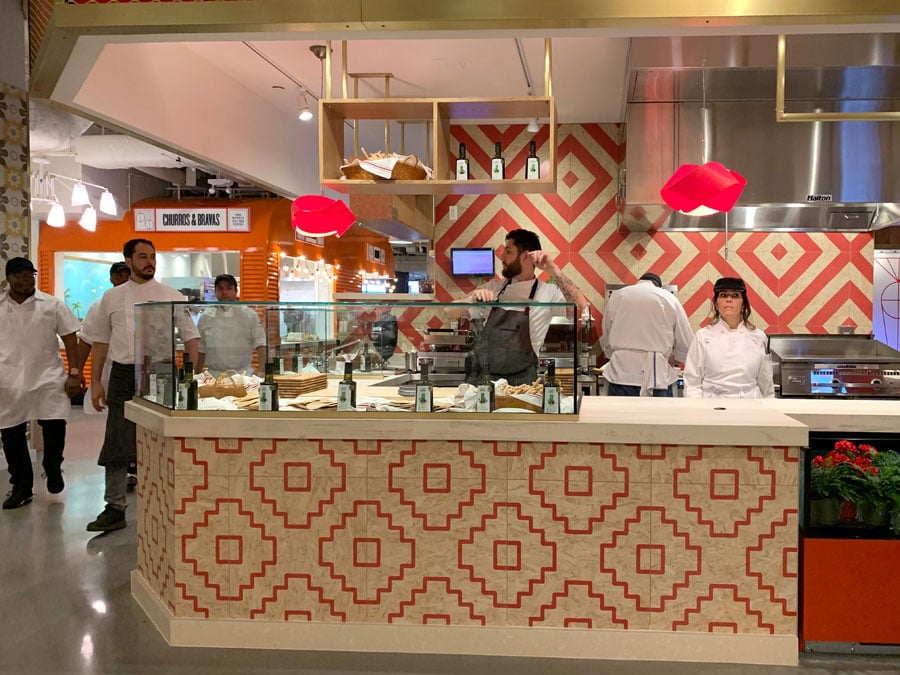 The market's many styles of tile reflect a broader trend in the industry says Fasan, "Tile makers are bringing up some very, very classic styles and using both handmade, unglazed products as well as some high technology products that are a reproduction of something that was done by hand in the past." High definition photography, photoshop, advanced printing technology, and modern kilns have enabled producers to recreate styles that once had to be fired for a week in a traditional tunnel kiln in as little as 45 minutes. That process brings down the price, but it also eliminates inconsistency caused by temperature variations in the firing process and makes for a much more practical version of an extremely classic style.
Edition Hotel: Neolith
The Barcelona EDITION Hotel is a new 100-room boutique luxury hotel near the medieval El Born district in the heart of one of the world's most vibrant cities. Designed by Carlos Ferrater and Xavier Martí of the Office of Architecture in Barcelona (OAB), the hotel occupies a former office building that the architects completely transformed into a contemporary five-star hotel featuring a restaurant, bar, and rooftop pool. The building's ventilated facade is constructed of lightweight, large-format ceramic tile from Spanish provider Neolith, and punctuated by angular bow windows that offer unobstructed views of the city's gothic quarter.
Not only does the combination provide a modern contrast to the area's historic atmosphere, but the efficiency of the ventilated facade and the use of locally-manufactured ceramic cladding also helped earn the building LEED Gold Certification. "Here the facade is a part of the overall performance strategy of the building itself. Depending on the building, a porcelain ventilated facade usually yields around 30% energy savings," explains Fasan. Additional benefits of the porcelain facade include noise attenuation, keeping guest rooms nice and quiet no matter how boisterous the scene on the street is.