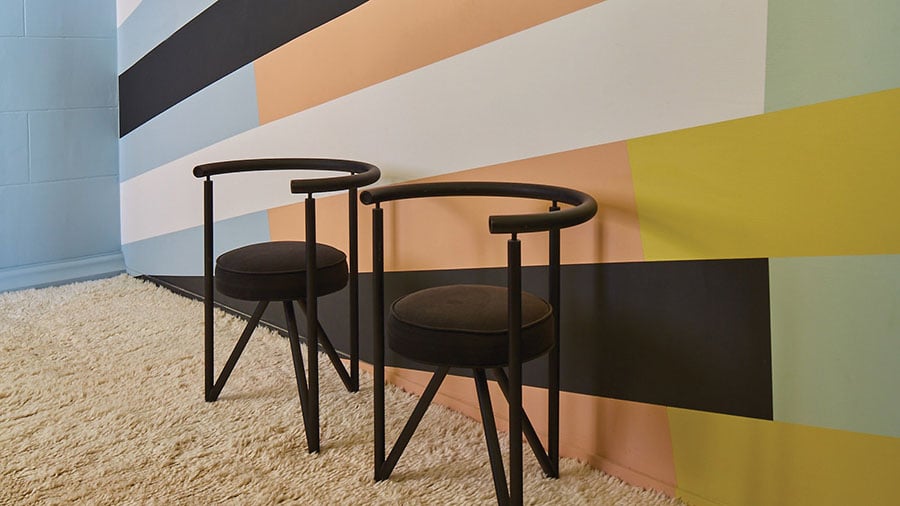 May 3, 2021
Farrow & Ball Expands Its Inventory of Low-VOC Coatings
The new interior paint collection was designed in collaboration with Kelly Wearstler and is as contemporary as it is green.
---
Continuing to build on its environmental commitment 11 years ago to shift all of its paint formulas to water-based chemistry, Farrow & Ball is producing eight new hues mixed using its award-winning, third-party-audited, energy-saving factory methods. The California Collection was developed in collaboration with designer Kelly Wearstler. Here's some background on what goes into those familiar recyclable paint cans.
NONTOXIC
The water-based formula helps the paint qualify as minimal to low in volatile organic compounds (VOCs), which pollute indoor air. It also eliminates the need for chemical solvents to clean brushes and rollers following application.
CHILD-SAFE
The chemistry is third-party certified as safe for children and babies, in line with the International Organization for Standardization's (ISO) guidelines on "Safety of Toys Part 3: Migration of certain elements."
WATER-CONSERVING
The manufacturer treats and recycles 97 percent of its wastewater for reuse on-site.
RECYCLABLE
Cardboard packaging is made using 75 percent recycled content. The paint tins can be infinitely recycled after use because of their high-grade metal.
WASTE-REDUCING
100 percent of the factory's dry waste is diverted from landfills for recycling or conversion to biofuel.
FSC-CERTIFIED
All paper elements from brochures and labels to the company's letters are certified forest-friendly by the U.S. Forest Stewardship Council.
ENERGY-SAVING
Production is audited by the U.K.'s environmental agency to ensure that it complies with the country's Energy Savings Opportunity Scheme.
You may also enjoy "KYOGO Textiles Harness a Millennium-Old Weaving Technique"
Would you like to comment on this article? Send your thoughts to: [email protected]
---
Register here for Metropolis's Think Tank Thursdays and hear what leading firms across North America are thinking and working on today.