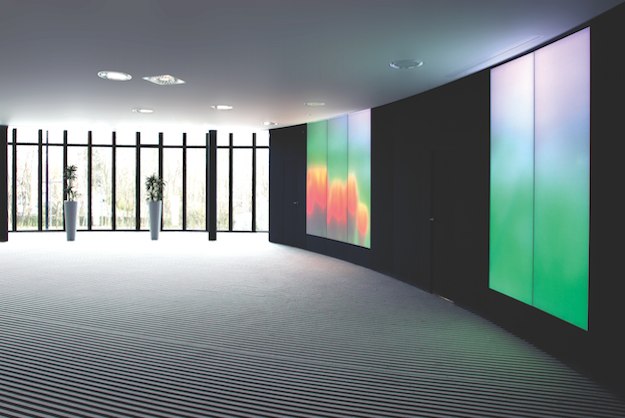 March 1, 2013
A Wall Surface That Emits Light and Absorbs Noise
Philips and Kvadrat join forces to integrate LED displays into a noise-absorbing panel.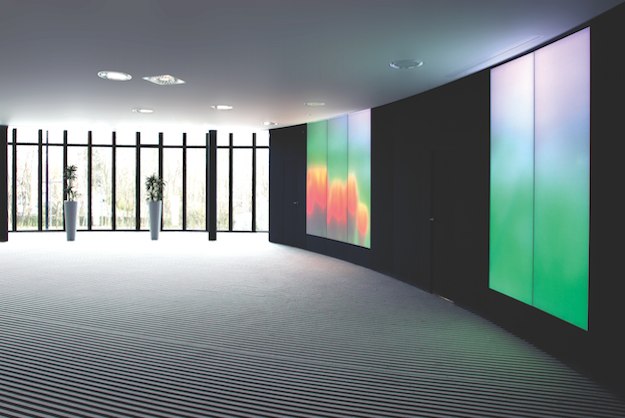 Leon van de Pas thinks big. And fast. In 2010, during his first week on the job as general manager of Philips Lighting's Large Luminous Surfaces venture, he set about evaluating the Lumalive division, which was developing wearables with integrated LED illumination. Within a few days van de Pas decided that Lumalive was not focused enough on the company's core business—lighting.
He began investigating how Philips could use its LED and textile expertise in other ways. It took him one week to find a solution. Van de Pas discovered that Kvadrat Soft Cells was seeking a partner to integrate LEDs into its acoustic wall and ceiling panels. "The combination of textile, acoustics, and lighting gave him an insight into a wide range of fresh possibilities," says Carolin Lukač, the division's marketing communications manager. "In his third week, we built the first prototype of what was to become the Luminous textile panel."
Kvadrat's sound-absorbing panels reduce the "acoustic smog" in offices, hotels, and airport lounges. By integrating multicolored LED strips into the panels, the two companies are upping the ante, creating a soft, glowing atmosphere. In addition customers can download and stream video through an integrated driver box. Luminous will be available throughout the U.S. this May.
COMPOSITION
The panels are available in custom and standard sizes, and in various textiles. The LED strip, with an attached chip, is mounted on acoustic foam.
PROPERTIES
A patented aluminum frame maintains constant tension, keeping the fabric stretched. An attached driver allows for video streaming.
APPLICATIONS
The panels can be installed as part of the original design, or as a post-fit solution. Connectivity requires only a power supply and an Internet cable.