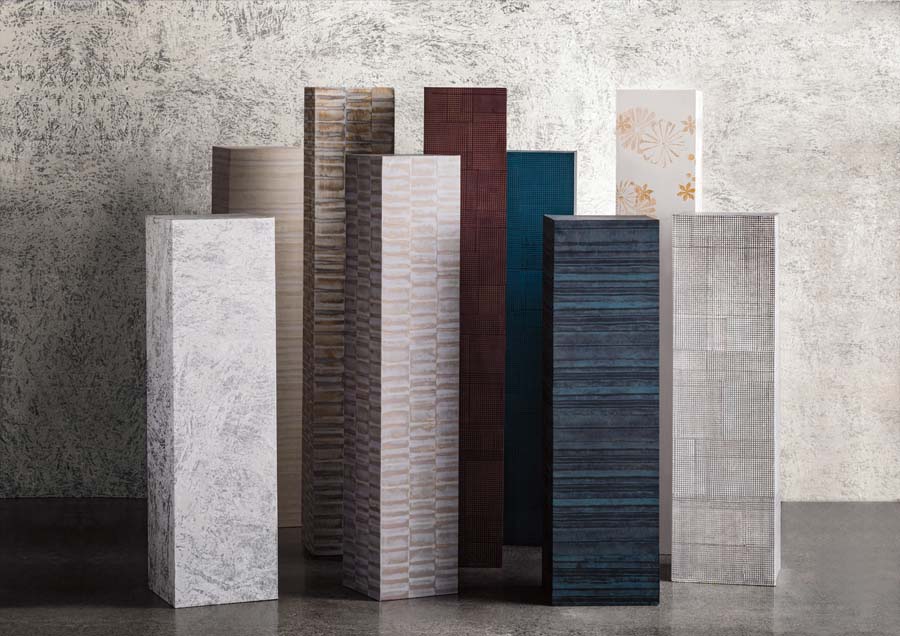 August 29, 2019
Alpha Workshops and Benjamin Moore Team Up For a Handmade Wallpaper Collection
The wallpaper collection by Alpha Workshops for Benjamin Moore, which is hand-printed in a New York studio, shows off the craftsmanship of its makers.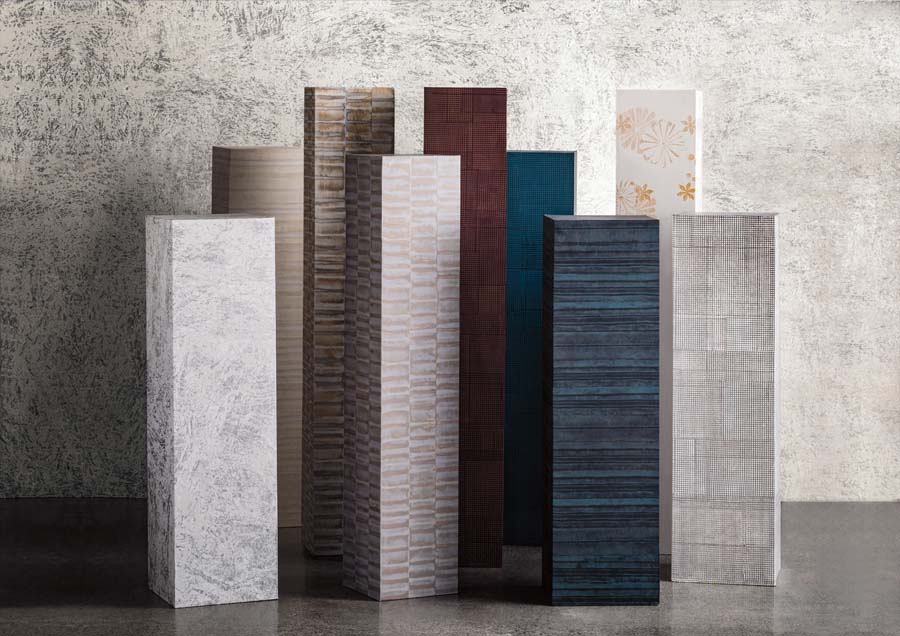 Look closely at an artwork, and it will tell you the story of its creation. There's intention, and action, in every brushstroke. The same can be said of the handmade works produced in the Alpha Workshops Studio, which themselves are works of art. Take, for instance, their recent capsule collection of wallcoverings, which was produced with Benjamin Moore. For it, Alpha Workshops artisans went to work folding, stamping, and painting wallpaper by hand. A full day of production yields just one roll. 
It's clear that the Alpha Workshops Studio takes this process seriously. A twofold organization, the Alpha Workshops Studio School is an employment pipeline into the Alpha Workshops Studio, where the students produce decorative goods, like the capsule collection with Benjamin Moore. Founded in Manhattan in 1995, the studio is unique in that it specializes in decorative arts and finishing education for individuals with visible and invisible disabilities. 
"Every roll of wallpaper that comes from our studio is hand painted by one or more of our skilled artisans—all graduates of the Alpha Workshops Studio School," says Erik Savage, the wallpaper studio manager at the facility.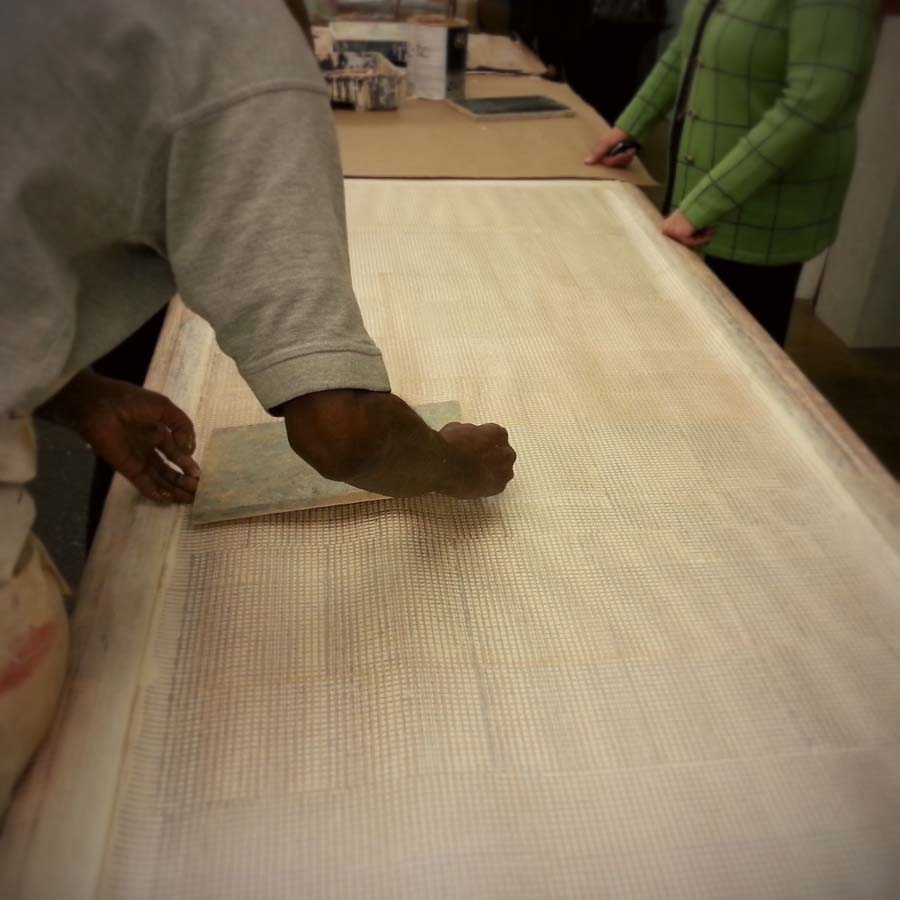 Released this year, the group's wallpaper collection uses high-quality paints from Benjamin Moore, with whom they have partnered for 18 years. "We've used Benjamin Moore paints for as long as I can remember, and they are perfect for the processes involved in making our paper," Savage adds. The wallpaper line, available at Benjamin Moore retailers and on the Alpha Workshops website, includes five wallpaper patterns in three colorways, produced by hand in the Alpha Workshops studio.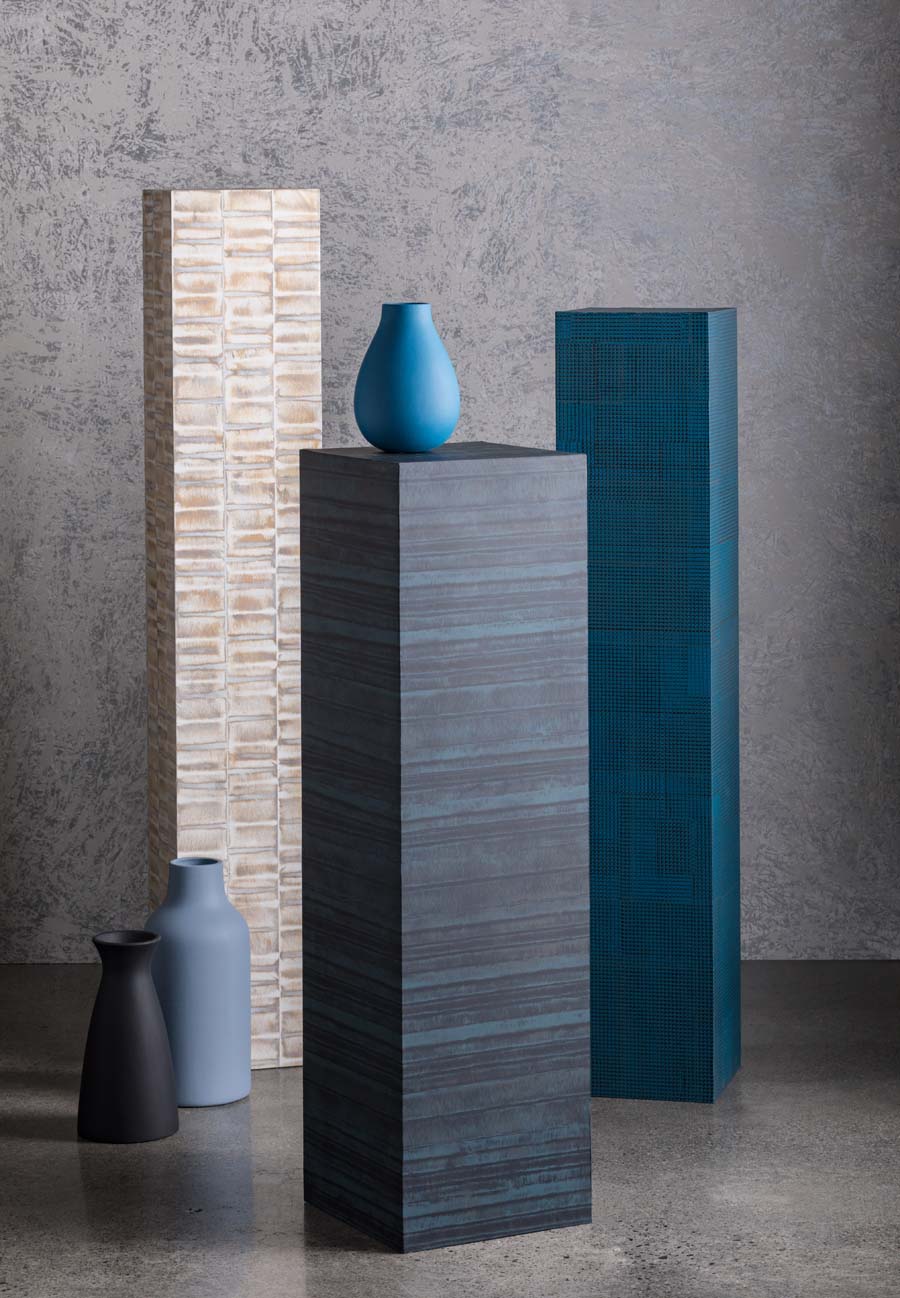 For the Newport pattern, artisans load a grid stamp with paint and press it onto the paper in layers, overlapping the squares for a seemingly never-ending geometric design. The Topography pattern benefits from the company's glossier paints, where each stamp overlays the one before it until it reflects one of three motifs—Gilded Forest, Arctic Air, or Desert Rain. The collection's Spencer and Horizon options require perhaps the most meticulous process: For it, the makers brush paint so lightly that you can see where individual brush hairs have grazed the surface. Then, using origami-like folding techniques, studio workers manipulate the paint to form the pattern repeat. "Each of the patterns is made using different processes," explains Savage. He points to the Kimono pattern specifically: "We start with commercial-grade wallpaper and seal it with polyurethane. The base color is applied by hand with a sponge," and then, he says, the stamping begins. The result: The illusion of shimmering flowers "just beneath a gossamer layer of raw silk."
Benjamin Moore Paints found the studio a perfect fit for the "care and precision" they take in production, says Andrea Magno, director of color marketing and development at Benjamin Moore. For Alpha Workshops, decorative art is about more than just creating a product: It's an opportunity to go beyond the paper and into the mind of the artist. As Savage says, "It is that handcrafted quality that truly makes it special."
You may also enjoy "High Mineral Content: Geology-Inflected Designs Take Over"
Would you like to comment on this article? Send your thoughts to: [email protected]