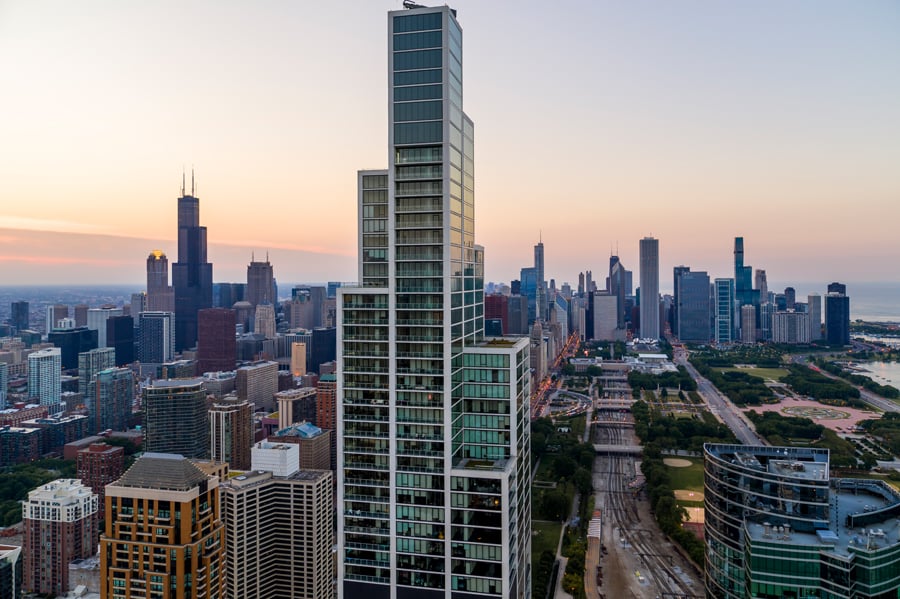 December 9, 2020
Water Wise and Sustainably Made
A 76-story residential tower makes use of bathroom fixtures from Duravit that are sustainably made, efficient to operate, and elegant.

Duravit was a sponsor of the Metropolis Perspective: Sustainability 2020 Symposium.
---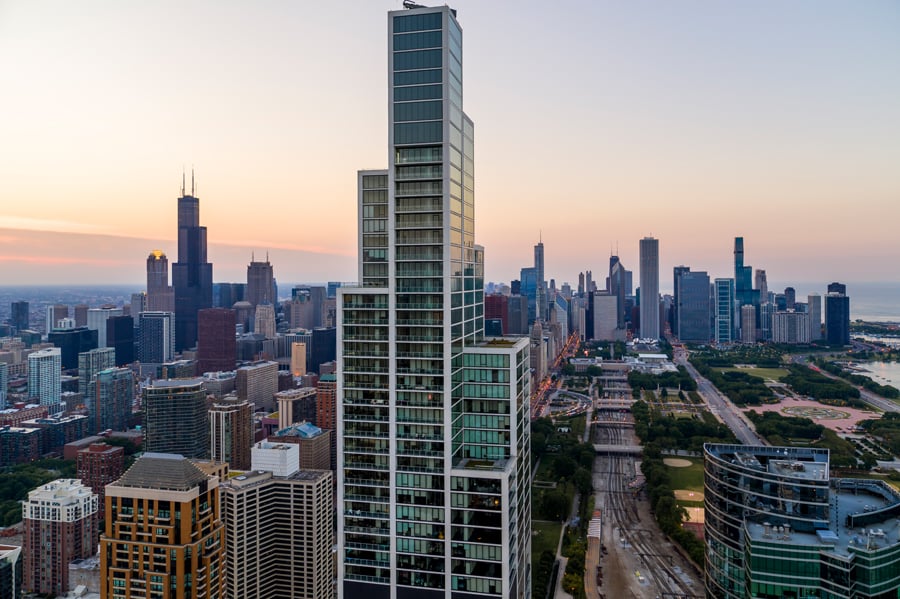 Designed by Rafael Viñoly and The Rockwell Group, and built by McHugh Construction, the 76-story NEMA Chicago is a LEED Silver certified building and the city's tallest residential rental building. Defined by thoughtful design, extensive and bespoke amenity collections, and personalized, tech-powered service, the building is also 28.9 percent more efficient than a baseline construction of the same size.
Along with developing connections to the local community, access to public transportation, and using Low-VOC paints, coatings, adhesives and sealants, and using high-efficiency heat pumps for heating and cooling, in order to achieve LEED Silver status, NEMA Chicago makes use of water efficient plumbing fixtures that don't compromise on quality.
Efficient and elegant fixtures like the ME by Starck two-piece toilet (1.32/0.92 gallons per flush); Architec and D-Code bathtubs; and Vero undermounted washbasins, were provided by Duravit. Using only 1.1 gallons of water per flush average, these toilets exceed the WaterSense requirement of 1.28 gallons per flush. Though that might seem like a small difference, remember that upgrading all the toilets in the United States would save 520 billion gallons of water each year.
Not only do they save water throughout the life of the building, Duravit's sustainable manufacturing cuts down the project's embodied emissions. The brand's DuraCeram® material enables thin-walled products, which use fewer resources to product and transport, reducing the negative impact on the environment. Sustainability is a core part of the 200-year-old company's business, and being based in Germany's Black Forest, it's an issue that's especially close to home.
Working according to rigid environmental quality standards laid out by the Global Reporting Initiative, Duravit's aim is to put everything possible back into the cycle of nature: Wood waste is turned into energy, sanitary ceramic is re-used, and sanitary acrylic is recycled. All excess raw materials such as ABS plastics, board materials, fittings and glass are reused. At the end of the product's life, the components can be easily taken apart and recycled, making them a solution for the near term and the future.