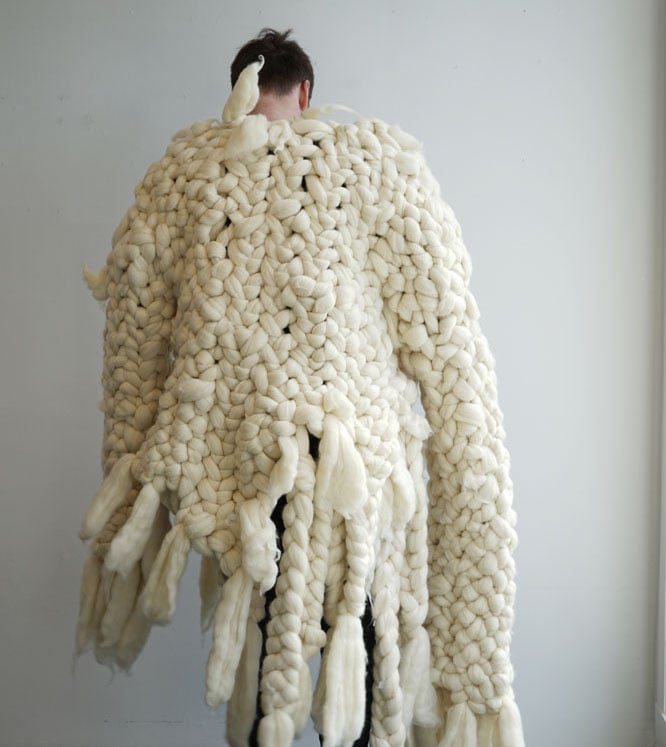 October 27, 2015
Brynjar Sigurðarson Embraces Folksy Materials and Narratives
The Icelandic artist-designer uses unconventional materials and narratives as a generator for his creative work.
---
Nominated by Lidewij Edelkoort, dean of hybrid design studies, Parsons
---
Brynjar Sigurðarson's handwoven sweater, made from southern German merino wool is part of the 2015 collection Society of Things produced by Studio Brynjar & Veronika.
Courtesy Brynjar Sigurðarson
The roots of most of Brynjar Sigurðarson's art and design work can be traced to the traditions of Iceland, but the 29-year-old artist and designer developed his fascination with his native country only upon moving to Switzerland to study at ECAL (École cantonale d'art de Lausanne). "I experienced a whole new perspective on the culture I come from," Sigurðarson says. "Before, I didn't know anything else." He credits the move with cultivating his interest in the anthropology and geology of the region. "If geology is about the production methods of nature, for designers there is much to learn from that," he says. These interests account for much of his work, from his Glacier Project candles and Spectrum vases—resembling waves crashing on Icelandic shores—to his Study Boards, which are visual repositories that bring together drawings, photographs, and collected objects from Icelandic villages.
Sigurðarson's own design process, much like nature's, is often mysterious. "Most of my work follows a feeling. I try to shape what comes to me," the designer says. "I don't really see myself as a conductor, but rather the performer." Not surprisingly, his practice spans many mediums and is almost impossible to pin down. The one constant of Sigurðarson's work—which encompasses drawing, design, theater, and video (a short documentary detailing hermit Borgþór Sveinsson's search for the legendary bull-fish was recently acquired by MAK, the Museum of Applied Arts, in Vienna)—is his preference for examining materials and narratives rather than producing discrete functional objects.
"Most of my work follows a feeling. I try to shape what comes to me. I don't really see myself as a conductor, but rather the performer."
His exploration of Icelandic traditions began with a one-month stay in Vopnafjörður, a remote fishing village in northeast Iceland. Part field study, part art project, the experience left an indelible mark on Sigurðarson's practice. The turning point was meeting a 75-year-old shark hunter and fisherman, whose workshop Sigurðarson spent a week in, learning how to use netting needles to make fishing nets. The designer translated this technique into his 2013 Silent Village collection for Galerie Kreo in Paris. The exhibition showcased a selection of 11 furniture pieces embellished with various found objects and decorative details, including brightly colored rope and nylon fishing wire, in a reference to the binding technique. "I think decoration tends to be highly underestimated," Sigurðarson says. "The decorative parts speak a language, in this case the language of the fishing village."
Now splitting his time between Lausanne and Berlin, where he recently founded a studio with Veronika Seldmair, Sigurðarson continues working on what he dubs "exercises"—process-heavy pieces that oscillate between anthropology and design. "In my work I try to bring up a picture of the ambiguous environment and speak of my experience," he says. "Things such as atmosphere and personal experiences tend to get overly complicated when put into words, so maybe it is not so far off to translate them in the shape of objects."
See the rest of this year's new talents here.
Brynjar Sigurðarson
​Courtesy Brynjar Sigurðarson
​
A pair of slippers from the new Society of Things collection by Studio Brynjar & Veronika. All objects in the collection are either produced by hand at the studio or locally sourced and made by workshops nearby.
Courtesy Studio Brynjar & Veronika
Sigurðarson designed the Glacier Project for Spanish brand PCM as a subtle commentary on the issue of global warming. The project comprises a series of candles crafted to look like glaciers that, when lit, melt and disappear in the same manner as the precious ice forms.
Courtesy PCM Design
The Library Table Sigurðarso designed for his Silent Village collection, a series of furnishings made for Galerie Kreo in Paris, inspired by the field trip he took to Vopnafjörður.
Courtesy Galerie Kreo
---
"Brynjar's work is islandic and Icelandic. There is an invisible bond between him and his place of birth. The creative spirit of Iceland permeates his vision quests wherever he chooses to travel. He is like a fisherman searching for content with stoic calm and a Nordic sense of humor; Brynjar navigates in the peripheries of art, craft, and design. He makes objects, so people call him a designer. Yet his creations are highly ceremonial and even at times tribal, so he is more likely a shaman, designing stuff to remember and incantate, drawing to give meaning to human existence, recording to archive ritual experiences—preserving knowledge for the future." —Lidewij Edelkoort, dean of hybrid design studies, Parsons