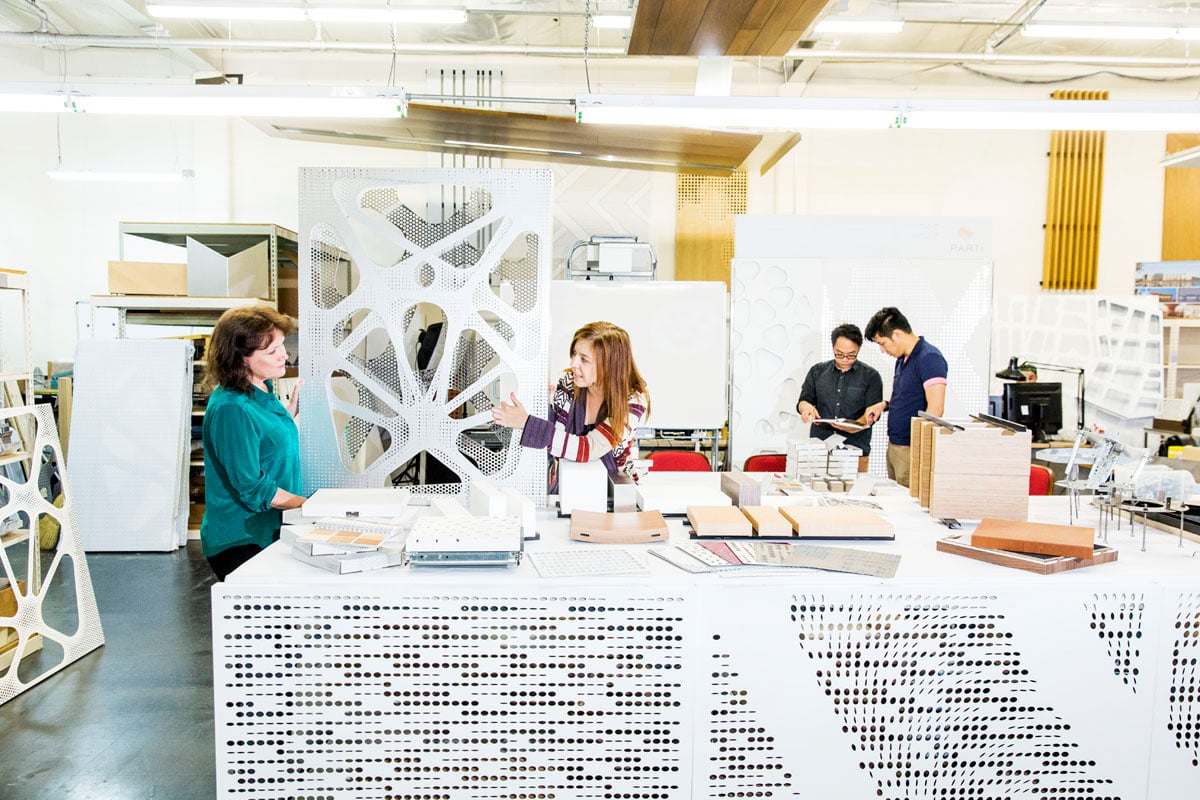 October 13, 2015
Ceilings Plus Joins Forces with SCI-Arc Grads to Push the Limits on Building Products
The Los Angeles-based fabricator Ceilings Plus and SCI-Arc graduates push the limits on building products.
Ceilings Plus president Nancy Mercolino (far left) and her youngest employees—recent graduates of the Southern California Institute of Architecture (SCI-Arc) Oksana Gritcai, Chi Hang Lo, and Johnson Moc— convene in the design studio at the company's L.A. headquarters.
---
From the street, Ceilings Plus's headquarters is just another boxy tilt-up industrial building on a checkerboard of other boxy tilt-up industrial buildings. It's caught somewhere between two major freeways in a flat, mostly treeless manufacturing area in Commerce, California; there are no fast-food restaurants, no convenience stores, no other signs—except the ubiquitous billboards—to indicate that you are even in Los Angeles County, let alone 15 minutes from downtown L.A. Everything but the summer sky seems rendered in Pantone grays, and every couple of minutes, an Airbus or a Boeing 777 hums quietly overhead.
Only inside do you find the first signs of human life. The front-of-house area, where designers, engineers, and project managers are stationed, has been laid out at an angle, another indication that there's something a little different about this place. Ceilings Plus, which designs and manufactures high-performance and high-aesthetic ceiling and wall systems, feeds off this difference.
Nancy Mercolino, the president of Ceilings Plus, sits in a no-nonsense office off to the side that, new computer monitors notwithstanding, looks like it hasn't changed much since the company moved in in the late 1990s. Getting up, she leads me out to show me around the space, where some 20 people work. Full-scale prototypes varying wildly in shape and size loom above, suspended from the exposed roof structure. The overall feeling is equal parts laboratory and factory, kind of like a Silicon Valley garage where, on any given day, engineers and designers are translating designs into painstaking shop drawings, working out details for custom attachment systems, and testing tolerances on mock-ups.
Motioning toward an array of cluttered desks, Mercolino points out the extent of what she calls the design studio, but what will soon be "more of an R&D lounge." Terminology aside, it's really just one area within the larger workspace, sandwiched between the shop and engineering units. In plan it reads like a three-part Venn diagram, with design in the center. These adjacencies are meaningful and part and parcel of a strategy Mercolino gleaned from the 2011 book The Coming Jobs War, by Gallup chairman and CEO Jim Clifton. "It talked a lot about the importance of exporting and innovation to maintain a competitive edge," she says. "And we wanted to stay right on that cutting edge."
In 2012, exports doubled the number of jobs the company was working on. That same year it was awarded the Small Business Exporter of the Year Award by the Export-Import Bank of the United States. These milestones coincided with Ceilings Plus's largest international project to date, as well as its first in the Middle East, the HOK-designed Hamad International Airport in Doha, Qatar. Mercolino's team beat out several other manufacturers to win the bid, despite reservations from the project's general contractor, who wondered how a small, seemingly boutique fabricator could make all the material needed for the job and deliver it to Doha on time. "Right away, we bought a brand-new world-class manufacturing fleet and proved to them how fast we could do it," Mercolino says. "We churned out a panel every 54 seconds, without having the quality suffer." The company eventually produced enough ceiling panels to cover 4.5 million square feet (just over 78 football fields), all of which came out of its L.A. facility.
Employee Javier Castellanos operates a CNC punching machine capable of more than 1,000 hits per minute.
It was a turning point for Mercolino, but her thoughts soon turned toward cultivating the talent who could take full advantage of the company's new hardware. "Businesses like mine need to retain highly educated, creative people to stay ahead globally," she says, and so she went looking for them at the nearby Southern California Institute of Architecture (SCI-Arc), the world-famous architecture school known for being in the vanguard of digital-design pedagogy.
There, Mercolino first encountered parametric design, which, while relatively commonplace in architecture schools, was (and in many ways still is) in its infancy in industry. "Immediately I saw a way to align that technology with our expanding vision," she says. Mercolino soon began recruiting SCI-Arc grads for full-time positions, setting them up at the center of the factory. They quickly turned the place into a version of their alma mater, so that while the design studio has a dedicated location, in reality the entire facility radiates experimentation. All that tinkering, tweaking, discarding, and charretting reminiscent of architecture studios is now very much embedded in the Ceilings Plus ethos.
"In school we often used parametric design, but we couldn't see how it actually works in the real world," says Oksana Gritcai, who graduated from SCI-Arc just last year and was hired to pilot research and development. Johnson Moc figured he would probably work for an architecture firm when he completed his undergraduate studies in 2013. Instead, he came to Ceilings Plus and quickly began working closely with engineers and fabricators. "Together, we can understand what 3D programs like Grasshopper can really do," he explains, adding that he and his coconspirators "have the freedom to really push design, but not in a vacuum."
Left: Moc, who graduated in 2013, inspects a mechanical hub of his own design. Right: Another SCI-Arc graduate, Jorge Miranda, admires a panel of a ceiling system he designed.
Their creative energy has helped Ceilings Plus make its mark in the architecture world in the past few years—not merely as a downstream fabricator of parts but as a full-on design partner to the firms that have onboarded it for their projects. One such client-collaborator was Lester Yuen, a design director at Gensler, who worked with Mercolino and her SCI-Arc crew on a project for the University of Houston's C. T. Bauer College of Business. Central to the design was a fully operable and accessible folded-ceiling system emblazoned with an elaborately perforated acoustic pattern based on the famed cloud murals of the New York Public Library's Rose Reading Room. But it also had to be soundproof. Mercolino invited Yuen to fly out to L.A. and sit down with her team for a couple of days to problem-solve the intricate design. "It was very hard for me to visualize how they were going to do it," Yuen says, "but the rationalization of all these complex shapes came so easily to them."
This type of close collaboration is echoed by architect David Coon of Pelli Clarke Pelli. The firm had been working on the St. Katherine Drexel Chapel at Xavier University in Louisiana, whose design called for a complex roof that integrated a perforated scrim to let sunlight filter through. This screen was the critical architectural element in creating the mystery of the space, but it proved a tricky challenge. Ceilings Plus consulted with the architects during the project's early conceptual stages and later used their Rhino files as the basis for translating the design into actual parts. "We wanted them involved from the beginning so we could understand what our design limitations were," says Coon.
If Mercolino had it her way, her team would be involved at every stage of a project's design process, from concept to fabrication. "Our job is to integrate and collaborate," she says. "We and the architects are supposed to be on the same team."
Then, as if remembering something, she briskly walks over to four large web-like mock-up panels leaning against a wall. "You see these? Now come and take a look at this," she demands. Back in her office, she pulls up a file on her monitor. She highlights the same four panels in the center of an elevation drawing of a three-story-high wall. "We can make customization affordable—it's a myth that repetition lowers costs and maximizes efficiency," she says. She continues: "The machines can adjust to any change in 15 seconds. That's nothing. So we can go after the parti"—French for the big idea or concept behind an architectural design. "We never know where tomorrow is going to take us, but we can go there."
Various steel and wood-veneer acoustical samples; the former are part of the Parti series, Ceilings Plus's latest line of products that marry experimental design with cutting-edge fabrication technology.
Nancy Mercolino, president of Ceilings Plus
Rafael Chavez paints a panel in-house at Ceilings Plus's L.A. factory. All of the company's 20 employees—fabricators, engineers, and designers—share the same open workspace, the result being somewhere between a manufacturing hub and a Silicon Valley garage.
David Park (left) and Chi Hang Lo (right), both SCI-Arc grads, hold up a freshly cut and punched ceiling panel designed using 3D modeling programs such as Rhino. Like his colleagues, Lo appreciates the loose work environment, where "I can continue to study and explore the ideas I did when I was in school."