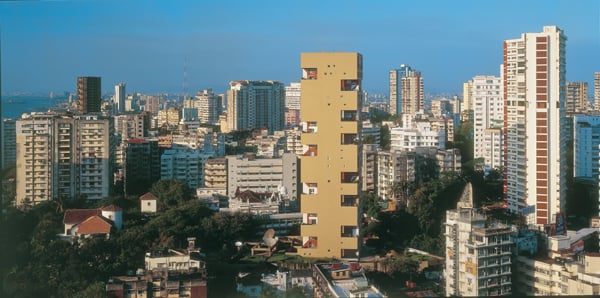 June 17, 2015
Charles Correa, Master of Indian Modernism, Dead at 84
The architect, whose work was marked by its critical regionalist sensibilities, adapted Modernism to an Indian context.
All photos courtesy Charles Correa Associates, unless otherwise noted
Charles Correa, one of the most celebrated, contemporary Indian architects, activists, and planners, died in his home in Mumbai on Tuesday, the BBC reports. He was 84.
Often credited for ushering Modernist architecture into the post-revolutionary Indian city, Correa's work incorporated traditional methods and materials, favoring "open-to-sky spaces," natural ventilation, and low-rise, high-density typologies. As his firm's website succinctly states, Correa's buildings seek "new and eloquent ways to express the cultures in which we live."
After completing his architecture studies at the University of Michigan and MIT, Correa established his own practice back in Mumbai in 1958. His prodigious talent became evident in such early projects as the Handloom Pavilion in Delhi in 1958, and the prestigious Mahatma Gandhi Memorial commission at Sabarmati Ashram in Ahmedabad, completed in 1963.
From 1970 to 1974 Correa held the post of chief architect for New Bombay (Navi Mumbai), an urban expansion project across Bombay harbor, which Correa himself proposed to the city. Work on Navi Mumbai eventually led to the appointment as Chairman of the National Commission on Urbanization in 1985.
Correa's other notable projects include the British Council Building in Delhi (1992), Jawahar Kala Kendra (Arts Center) in Jaipur (1992), and City Centre in Salt Lake City, Kolkata (2004). More recent projects are the McGovern Brain Research Center at MIT (2005), the Champalimaud Centre for the Unknown in Lisbon (2010), and most recently, the Ismaili Centre in Toronto (2014), an important late work in the architect's oeuvre. Correa attached much significance to the geometrical forms of the latter, saying "You don't start by trying to find identity. First you find the facts. You look for the axis mundi. Every culture has a sacred geometry. It's not that you put up some decorations that happen to be Islamic. This is also a community building, a social space that has to be seamless and fluid."
Correa held multiple honors and awards, including the Royal Institute of British Architects Gold Medal (1984), the 7th Aga Khan Award for Architecture (1998), the Padma Vibhusan (2006), and the Gomant Vibhusan, Goa's highest civilian honor (2011). In 2013, RIBA honored Correa in a retrospective of his work, naming him "India's Greatest Architect."
Kanchanjunga Apartments, Mumbai (1983)
Jawahar Kala Kendra arts center, Jaipur (1991)
British Council Delhi (1992)

Church at Parumala (2000)
Courtesy Wikipedia Commons

McGovern Brain Research Center at MIT, Cambridge (2005)
Courtesy Goody Clancy

Ismaili Centre, Toronto (2014)