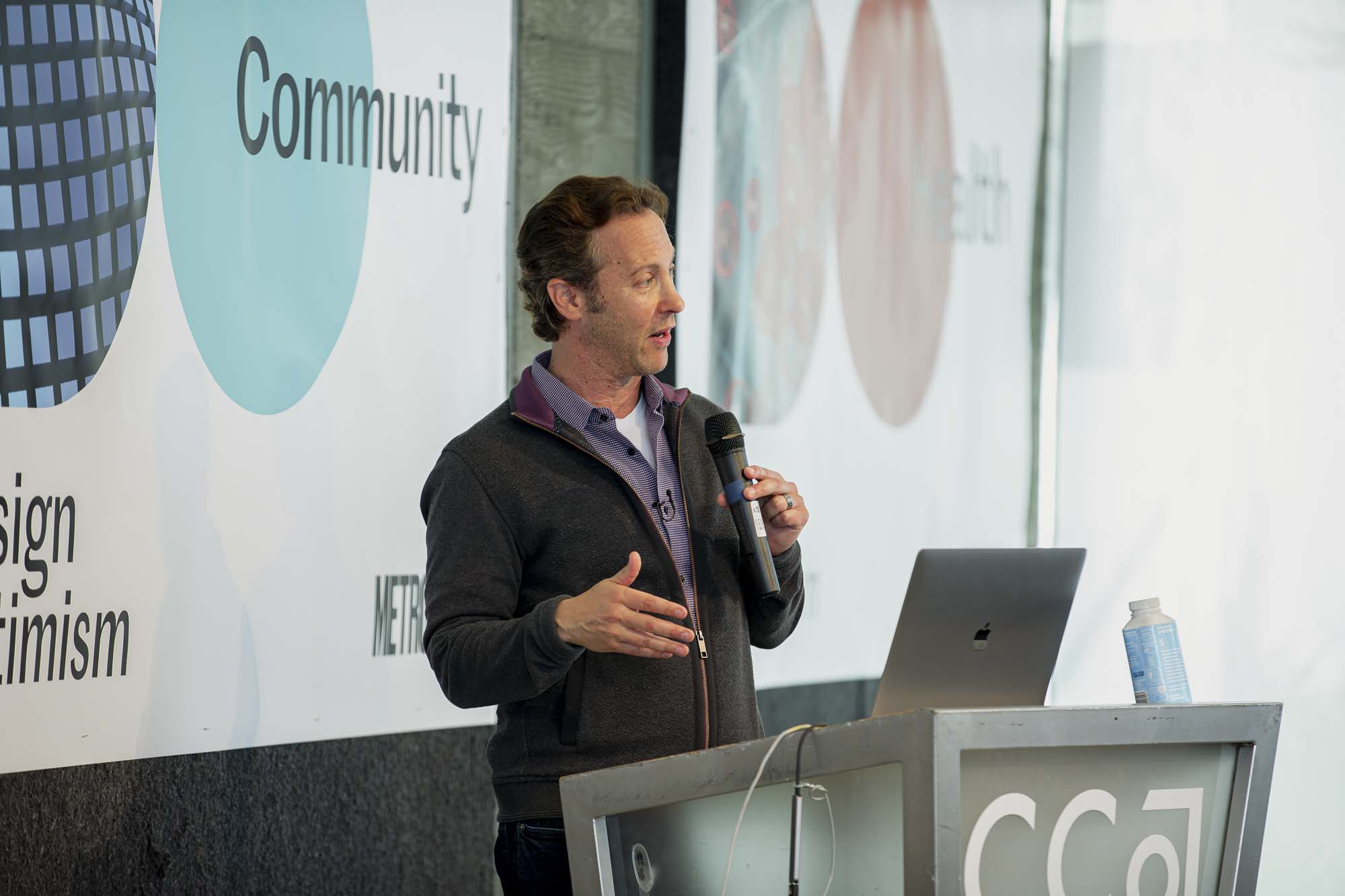 June 29, 2023
How Can Designers Spur Creativity?
Four leaders in design, science, sustainability, community, and health showed the way forward during Design Optimism.
---
What are the key conditions for optimal creativity? They lie in the balance between familiarity and novelty, according to Design Optimism keynote speaker David Eagleman. A neuroscientist and adjunct professor at Stanford University, Eagleman is also the writer and host of the Emmy-nominated PBS series The Brain, and author of books including Livewired and The Runaway Species: How Human Creativity Remakes the World.

Eagleman shared with the audience the idea that we find comfort in repetition but growth in new experiences, and that finding even small ways to stimulate the mind helps us circumvent the path of least resistance. To "grow our neurons," he said, "It's the change, the making something new that matters." According to Eagleman, "Bending, breaking, and blending" are the three basic cognitive operations the brain undertakes to remix past experience and knowledge to create new ideas. When "bending," we change an existing idea; when "blending," we merge two ideas in innovative ways; and in "breaking," we disassemble and rebuild an idea.

To spur creativity, Eagleman suggested that we "proliferate options," as 19th-century artist Hokusai did in his Thirty-six Views of Mount Fuji, a series in which the painter continually reinterpreted the sacred site. Another of his tenets is that creatives "travel different distances from the familiar," pointing to concept cars that never go into production but serve as a means to engage the imagination. Eagleman also emphasized that in daily living, even small steps like brushing teeth with your non-dominant hand or wearing your watch on the opposite wrist are ways of vitalizing the brain. It's always creative, he noted, to "shake things up."
Design Optimism was presented by Grohe, Material Bank, Tarkett, and 3form, in partnership with Garden on the Wall and Ultrafabrics.
Would you like to comment on this article? Send your thoughts to: [email protected]