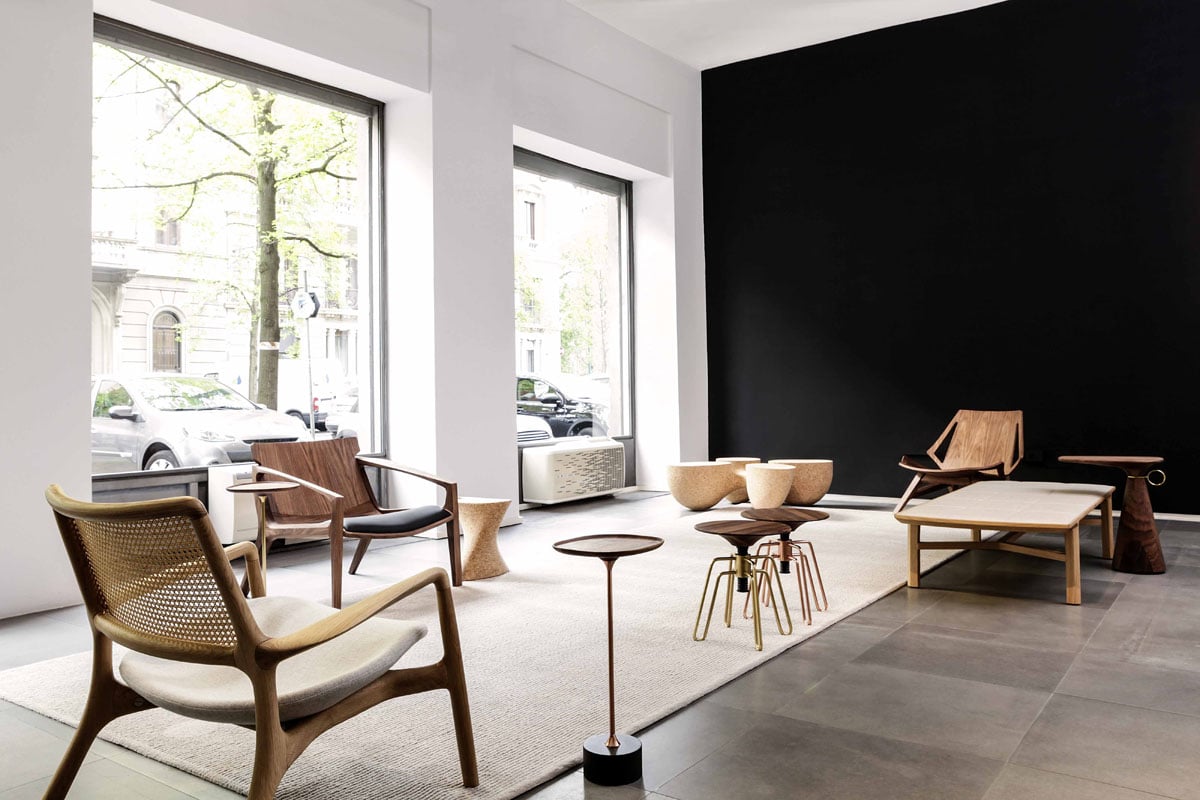 March 3, 2015
A Design Prodigy Breathes New Life Into Brazilian Modernism
The prolific designer skillfully blends Modernist influences with his Brazilian heritage in more than 150 products.
For Sollos's first showing at the 2014 Milan Design Week, designer Jader Almeida designed an installation called "Good News from Brazil." In the foreground is the Mad armchair from 2013, which won an IF product design award.
All product images courtesy Eduardo Camara & Arac i Queiroz | LT.9
---
The 33-year-old Brazilian designer Jader Almeida has a tireless, curious mind. His young age is no indication of inexperience: in his 10-year career, Almeida has developed more than 150 products, in a solid course strengthened by a long partnership with Brazilian furniture manufacturer Sollos.
A native of the southern state of Santa Catarina—a strong industrial center of Brazil—Almeida was exposed to the manufacturing sector early in life. Through an apprenticeship that led to a study of technical drawing and, later, architecture, Almeida maintained his ties with the furniture industry, learning extensively about all stages of production. His love of materials, particularly wood, shines through in his creations. In the wooden Easy chair and Mirah armchair, dramatic proportions do not obscure ingenious joints and handcrafted finishes. The Loose hanger is a sinuous object of markedly Modernist inspiration—Almeida speaks of Oscar Niemeyer's curves when discussing the piece. The Asti side tables and Phillips stools bring brass and wood together in resourceful combinations.
Left: Asti side tables, with a painted carbon steel, brass, or copper base. Center: The Philips stool. Right: The Licce armchair is made of made of brass or carbon steel.
For Adélia Borges, chief curator of the 2015 Brazilian Design Biennial, Almeida's work is characterized by "an extreme simplicity and formal purity." Borges, who penned a volume on Almeida last year that stresses the timelessness of his work, says that "because of his previous [industrial] knowledge—that few people have—he can extract the maximum out of techniques and materials, pushing their boundaries." The organic, fluid lines and rigorous finishes of these pieces feel familiar, and Almeida is quick to admit to having several midcentury icons. "I love the Scandinavian Modernists, but Brazilian Modernism was also very rich," he points out. However, his use of solid and rigorous forms echoes other inspirations, such as John Pawson and Donald Judd.
Almeida's fascination with both industrial and artisanal processes, commitment to continuous work, and holistic understanding of the design process all speak to a time when designers were not stars of the gallery circuit, but an essential, if invisible, component of the industrial cycle.
Left: The Linna armchair won a 2010 International Design Excellence Award. Right: A portrait of the 33-year-old designer
The designer firmly refuses any stereotypes or exoticism, stating that "those characteristics don't entice anyone," thus escaping what Frederico Duarte, a scholar of Brazilian design, calls the "Campana curse." "Despite having little or no products manufactured or sold in their own country," Duarte says, "the Campana brothers became representatives of Brazil in the design world, but also spawned a series of younger designers who produce highly priced, poorly built, limited-edition, one-liner pieces of furniture."
Standing out from this generation, Almeida's work is something else entirely—a coherent pursuit to create beautiful, useful objects that can serve anyone, no matter where. "I've observed how much people value the objects I've created," Almeida says. "Beauty is a promise of happiness, and that's what I vow to achieve." Duarte fully endorses Almeida's pursuit: "After all, this, not semiotically supercharging a chair, is what good designers do."