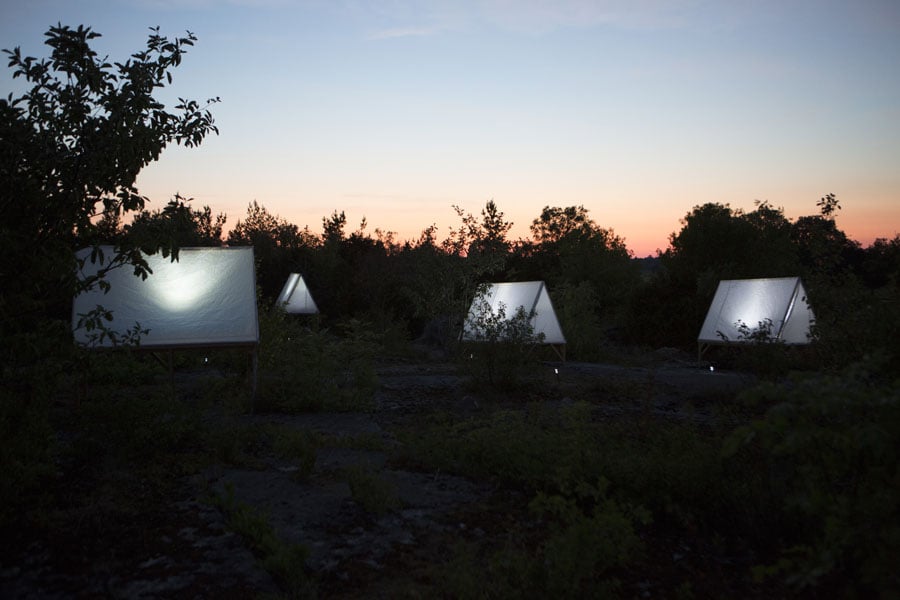 August 25, 2020
Designers on Holiday Puts Adventure and Whimsy Back into Sustainable Design
Tom Gottelier and Bobby Petersen's camp-based residency program advocates for a fiercely ad hoc, experimental, and collaborative approach.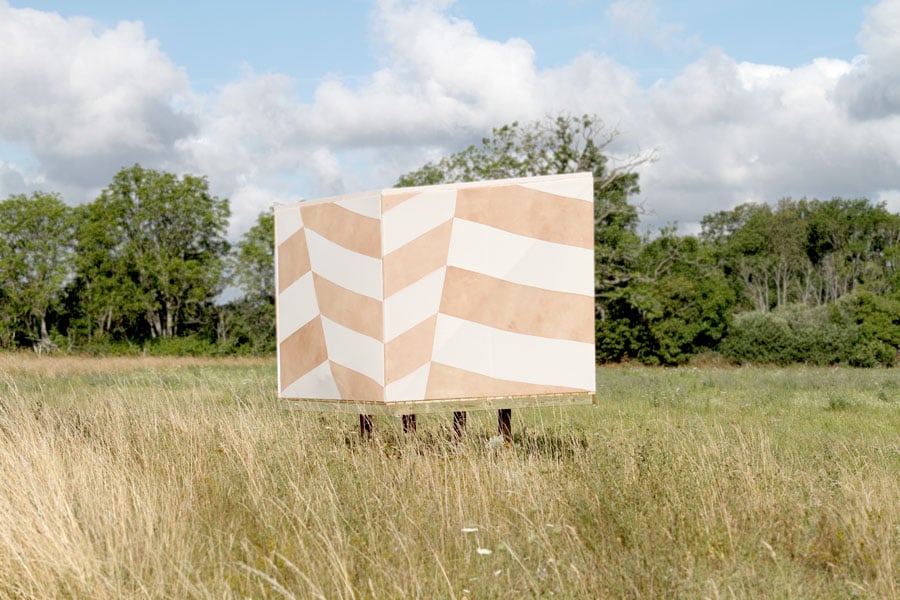 ---
Who said summer camp should only be for listless children? Everyone deserves a little time away. With hurried academic and professional schedules keeping them busy throughout the year, independent designers can benefit from a few weeks spent roughing it on Sweden's bucolic Gotland. A unique experience that combines aspects of camping and traditional art and design residency programs, Designers on Holiday offers them a chance to step away from demanding careers, reconnect with nature, and collaborate with other like-minded talents on projects that reevaluate sustainability.
Established by The Royal College of Art graduates Tom Gottelier and Bobby Petersen in 2014, Designers on Holiday (DOH) occupies an ever-evolving 15-acre campground-cum-campus on the rural island. Over the past six summers, excluding this year due to the COVID-19 pandemic, a long roster of designers and interdisciplinary practitioners have been invited to collaboratively design and build site-specific structures and objects, some more indispensable than others.
---
"We built a plunge pool before a shower. It was more luxury-as-the-mother-of-invention than a necessity in the early days," Peterson admits. "Growing the project as a viable residency program over time and establishing a space to live and operate, we realized that we needed to secure essential elements like sleeping accommodations, a place to eat, and toilet facilities."
After five productive summers, a group of wood-framed tents, micro cabins, and a central dining pavilion, conceived by David Horan and Oscar Honeyman-Novotny, spread out across the site. These core structures are joined by several amenities such as James Shaw's hot tub, Santi Guerrero Font's outdoor cinema, and Avantika Agarwal's sailing boat. DOH regular Julia Georgallis heads up food preparation and maintains a small kitchen garden. Adhering to the principles of self-sufficiency, every structure, tool, device, and accessory has been carefully considered—down to the linens and china used for daily meals. Last summer, Déborah Janssens & Maria Pita Guerreiro left their mark by creating an outdoor gym that includes found rock incorporated free-weights.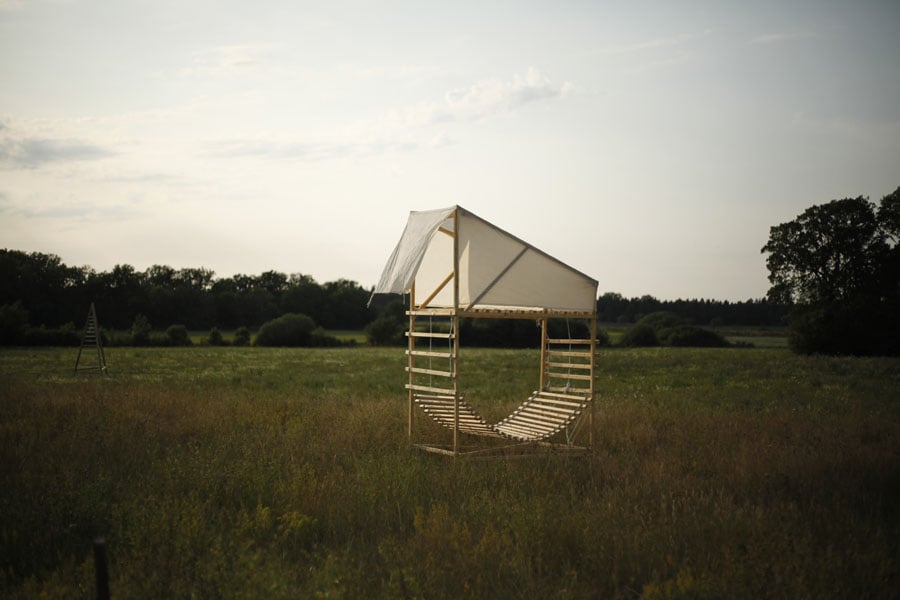 ---
"Although the different projects are initiated or led by specific designers, they are almost always achieved from a collaborative effort. We're careful to select participants who can leave their egos behind," Petersen explains. "When Will Yates Johnson was developing his sauna, another participant suggested turning his original drawing around. Now completed, the triangular structure cantilevers upside down."
While the program's main aim is to explore ways in which we might live together more harmoniously and sustainably, fun is also a key factor. 20 to 30 participants arrive on the site each summer at different intervals to begin or complete their designs. Newcomers join ongoing projects to get a lay of the land before proposing their own concepts. Much like a group of misfit teenagers on an Outward Bound excursion, everyone follows a slightly serious yet slightly whimsical Camp Standard Handbook that emphasizes environmental responsibility, hard work, and play. Here, it's entirely normal for the designers to work hard manually constructing a pavilion for ten hours and then find themselves with the rest of the group in the hot tub or plunge pool for a few drinks.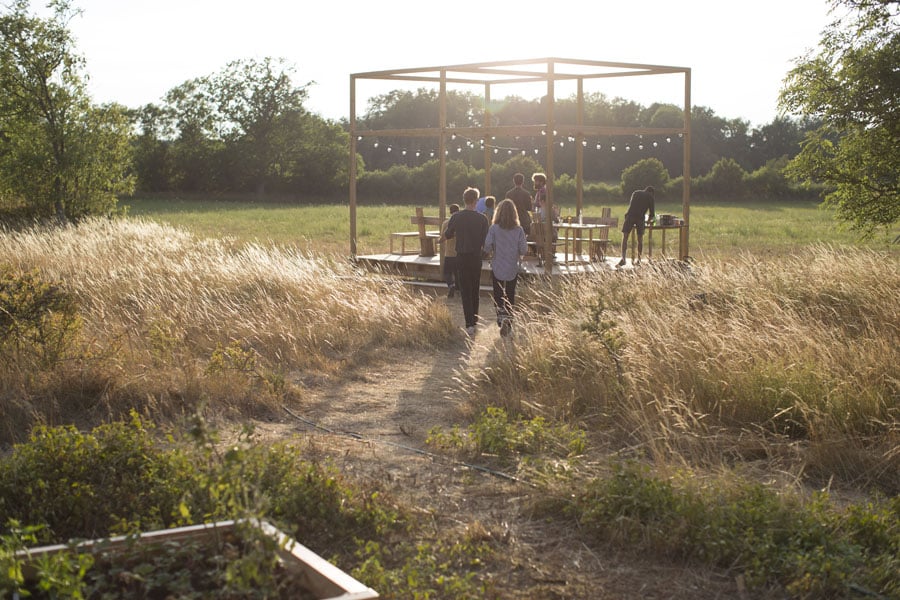 ---
"We try to maintain a kind of DOH vernacular," Gottelier says. "Bobby and I have an idea of how everything should fit together. This also comes down to following strict green guidelines: using non-toxic building materials and finishes, working off of the land as much as possible. These parameters actually inherently guide the architectural style of the campsite."
As facilitators, Peterson and Gottelier also make sure to involve the surrounding community. They tailor every visiting participant's stay with interspersed visits to local architecture practices, craft-based studios, and sites of natural beauty to help inform ongoing projects.
"It's crazy to think that so many designers are willing to give up two weeks of their holidays and spend time with us," Gottelier humbly adds. "There's not much risk for us with the project which keeps pure and allows things to evolve organically. The worst thing that could happen is that we decide not to continue DOH and we're left with a great vacation spot. Of course, we want to keep the program going as long as possible."
---
Designers on Holiday also offers Peterson and Gottelier a chance to test out new ideas that they can bring back into their own respective design-led and sustainability-driven architecture practice. Helmed out of Los Angeles and Oslo, the eponymously named firm champions a similar non-nonsense, exposed wood beam cabin aesthetic. The studio's residential, retail, and fair booth designs incorporate green materials and economize on space and energy consumption. "We genuinely believe that everyone should be sustainable but not gimmicky or feed into the stereotypes of what that entails," Gottelier concludes. "It doesn't take that much more of an effort to be that much better."
Peterson and Gottelier hope to expand aspects of the DOH program to the California desert in the near future, but with the current pandemic and other constraints, plans have been put on hold for now.
You may also enjoy "Beijing's SUPERFLY Blends Pop Culture with Traditional Chinese Street Life"
Would you like to comment on this article? Send your thoughts to: [email protected]
---
Register here for Metropolis Webinars
Connect with experts and design leaders on the most important conversations of the day.