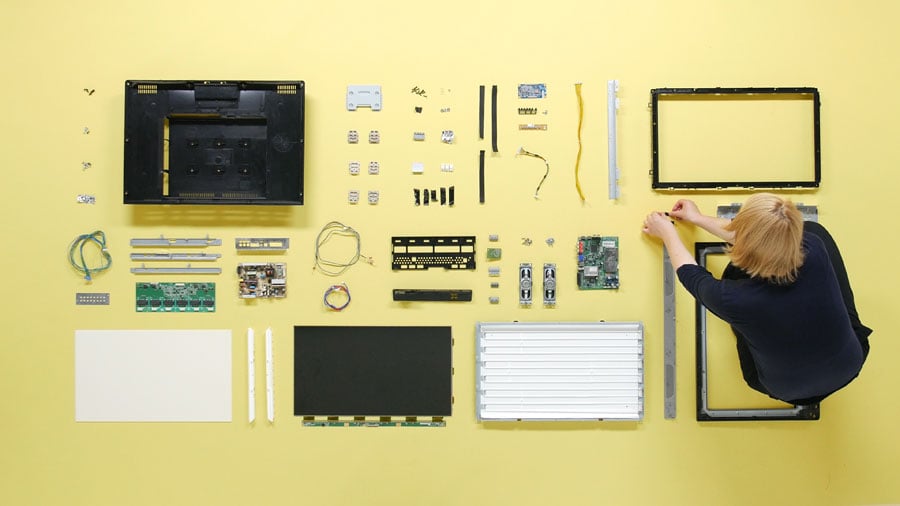 July 28, 2020
Formafantasma Seeks to Redefine What Ecology Means in Today's Complex Design World
Through exhibitions and an upcoming master's program, the Amsterdam-based duo is trailblazing a more dynamic approach to sustainability.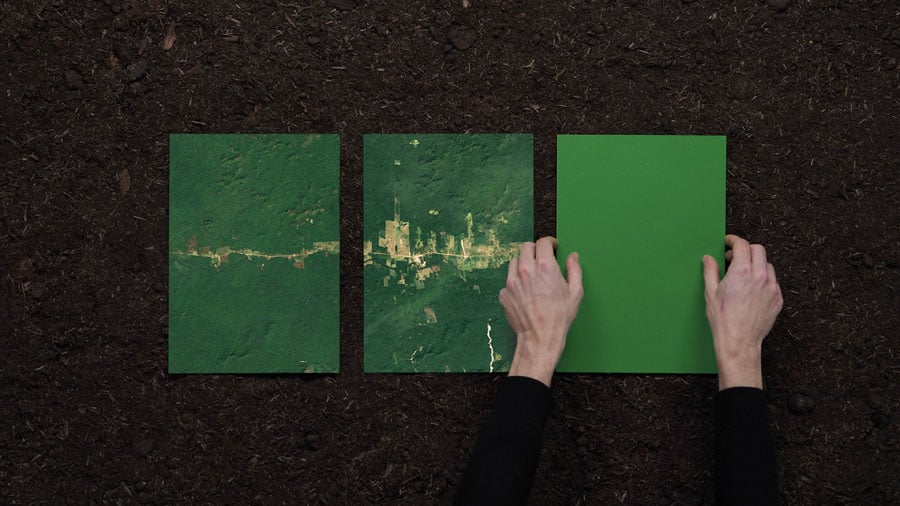 Unless you've been living under a rock for the past decade, Formafantasma—that is, the Amsterdam-based design studio founded by Andrea Trimarchi and Simone Farresin—should be familiar. The Eindhoven-trained duo has taken the design industry by storm with an impressive body of work that bridges the seemingly aloof nature of conceptual research-based thinking with objects, furniture pieces, and interiors. Whether creating a minimalist luminaire for Italian lighting company Flos or a monochromatic scheme for a Caravaggio retrospective at Amsterdam's Rijksmuseum, Formafantasma approaches each of its endeavors holistically. This cross-disciplinary process often incorporates elements of history, ethnography, and sociology as well as materiality, aesthetics, and intuition. Farresin and Trimarchi continuously find new ways to communicate their results and establish methodologies—an approach MoMA chief design curator Paola Antonelli recently identified as "investigative design."
For the past few years, Formafantasma has turned its focus to sustainability, grappling with design's contribution to the ecological crisis. With projects like 2019's ExCinere (a tile collection made from volcanic matter) and 2017's Ore Streams (an exploration of e-waste and its material potential), the practice has examined man's relationship with nature and the ethics of production. This focus is impactful in itself, but perhaps even more so is Formafantasma's unabashed critique of outdated systems. Two of the studio's recent endeavors—the project Cambio and an upcoming Design Academy Eindhoven GEO Design master's program, which the two are spearheading—are further evidence of this shift.
With Cambio, which is set to reopen September 29, Formafantasma has delved deep into the topic of global timber production and the impact it has made on the planet's biosphere. Commissioned by the Serpentine Sackler Gallery and its artistic director Hans Ulrich Obrist, the multilayered research project and subsequent exhibition explore how wood is rampantly extracted, milled, and distributed in different parts of the world. Much like Ore Streams, which uncovered the sometimes clandestine means by which electronic products are recycled, upcycled, and discarded, this latest endeavor seeks to unearth the underlying structures that drive one of the world's largest industries.
"Cambio treats an enormous topic from various historical and contemporary vantage points," Farresin explains. "Yet, I don't think we can say it's about the material itself. We're more concerned about understanding its governance, how it's managed. The exhibition doesn't touch on everything, but provides a good sense of the context and conditions involved."
Incorporating an eclectic array of artifacts, dissected objects, material samples, scientific experiments, infographics, enlarged images, and videos, the exhibition brings together elements from a wide range of sources. However cerebral it might seem to some, the show's carefully considered mise-en-scene represents the best of Formafantasma's own detail-oriented design sensibilities.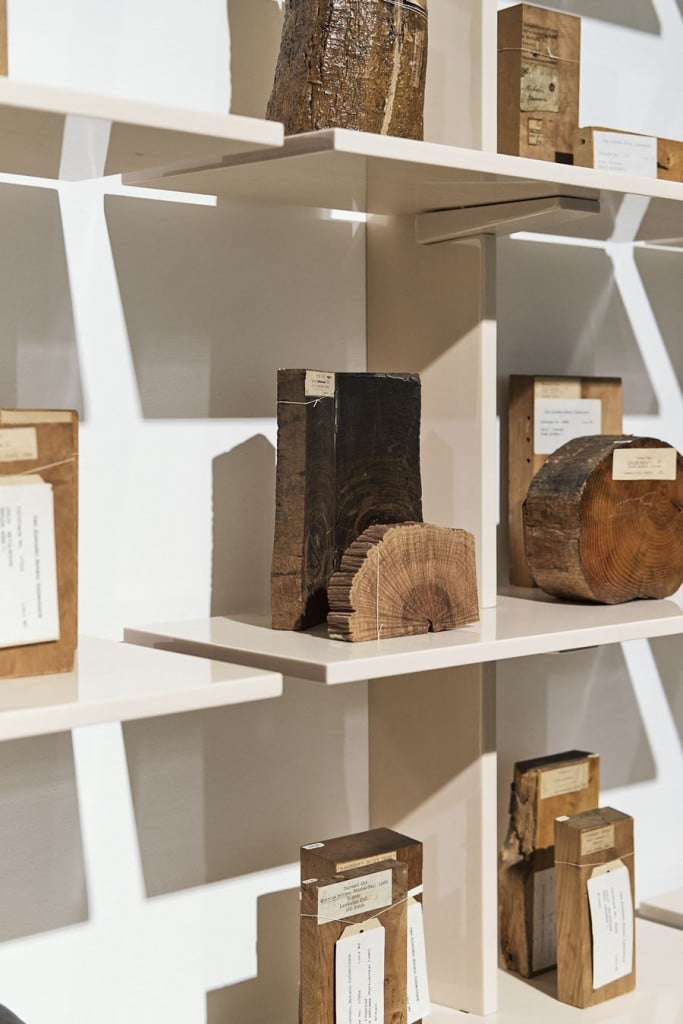 "Much like with our other projects, Cambio started from us reaching out to a number of writers, philosophers, policymakers, practitioners, botanists, climatologists, and activists to get their perspective on this topic," Trimarchi adds. "One connection led to another, and soon we were also collaborating with various institutions. In the end, we had formed a kind of wood-oriented network, with everyone contributing in some form or other." Interviews with those experts and a comprehensive bibliography can be found on an accompanying web platform.
In many ways, this project is indicative of Formafantasma's ability to operate as a facilitator. "Design as a discipline can [provide] a scientist—who might struggle to communicate his or her findings to a larger public—with the means to bypass the field's strict rules," Farrensin reflects. "We have much more freedom in this respect."
The facilitation translates perfectly into Trimarchi and Farresin's role as educators. With their new GEO Design master's program planned to launch this September, Formafantasma will try to distill and impart its tentacular method to the next generation of designers. Students will undertake projects that deal with the social, economic, territorial, and geopolitical forces shaping today's design world. "What Cambio does, and what this program will do, is unpack the complex relationship between design production and the environment," Trimarchi says. "In fact, the first trimester will focus on some of the lessons we've pulled from the project."
Bringing in a group of mentors from a wide range of disciplines will be key to this program's success, the designers explain. Like Formafantasma has done time and time again, students will not only develop new modes of communication and presentation but also engage various stakeholders. "We would also like to encourage them to work on different scales," Farrensin reveals. "Even if they investigate a subject like timber production, which is huge, they can find a way to make a small, doable intervention that can have a significant impact. It's like an acupuncturist who knows which trigger points to hit."
Formafantasma hopes to eventually develop future projects that reckon with nonhuman intelligence and create designs that don't necessarily have to only serve humanity. Trimarchi and Farresin are not merely interested in finding band-aid solutions to our most insurmountable problems, but in confronting them head-on with a set of tools and level of focus that makes them seem more manageable.
You may also enjoy "A New Book Highlights Tom Kundig's Nature-Driven Process Through Recent Projects."
Would you like to comment on this article? Send your thoughts to: [email protected]
---
Register here for Metropolis Webinars
Connect with experts and design leaders on the most important conversations of the day.