April 14, 2021
Future100: Soundscapes Combat the "Tyranny of the Visual"
Two speculative projects examine how small-scale materials and objects can influence acoustic transmission and the experience of space.
A vocabulary of visual terms—sight lines, daylight, transparency—dominates descriptions of architecture, but spaces can also be experienced using other senses. In these two projects, for example, students combat the "tyranny of the visual" by creating designs defined by sound. One unifying characteristic is an attention to how smaller-scale materials and objects influence acoustic transmission: Christopher Sweeney examines the potential of terra-cotta to "produce a gradient of sounds around campus," while Hadiya Bynoe-Seabron imagines music from boom boxes intermingling with "stacked and layered hexagonal forms."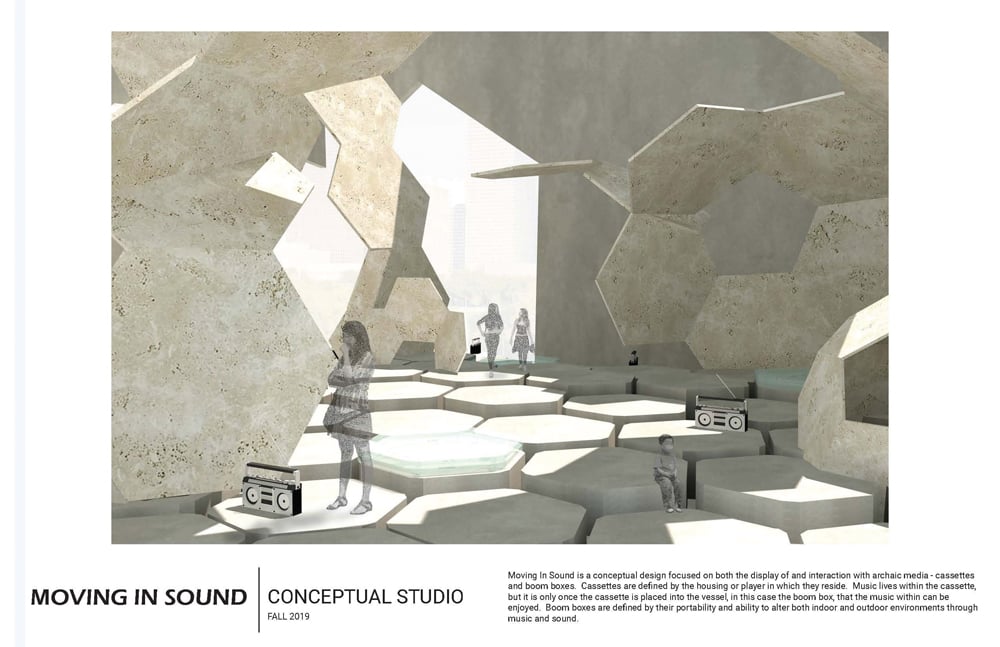 ---
Visit metropolismag.com/future100 to see more groundbreaking student work.
---
HADIYA BYNOE-SEABRON
Drexel University
Graduate Interior Architecture and Design
NOMINATOR: William Mangold, Program Director
Bynoe-Seabron creates her eclectic interiors by layering a mix of organic and synthetic materials and bringing aspects of the natural world into built environments. Layered surfaces also appear in a design for Shapla Center, a community center for climate-displaced Bengali migrants.
---
CHRISTOPHER SWEENEY
University at Buffalo
Graduate Architecture
NOMINATOR: Elaine Chow, Studio Instructor, Professional Development Coordinator
Many of Sweeney's projects reflect an attention to immediate context and circulation, evinced in a handful of installations and the open-ended community center Big Porch. Other projects rely on research to respond to broader economic issues, such as a three-tower housing prototype to address affordability.
---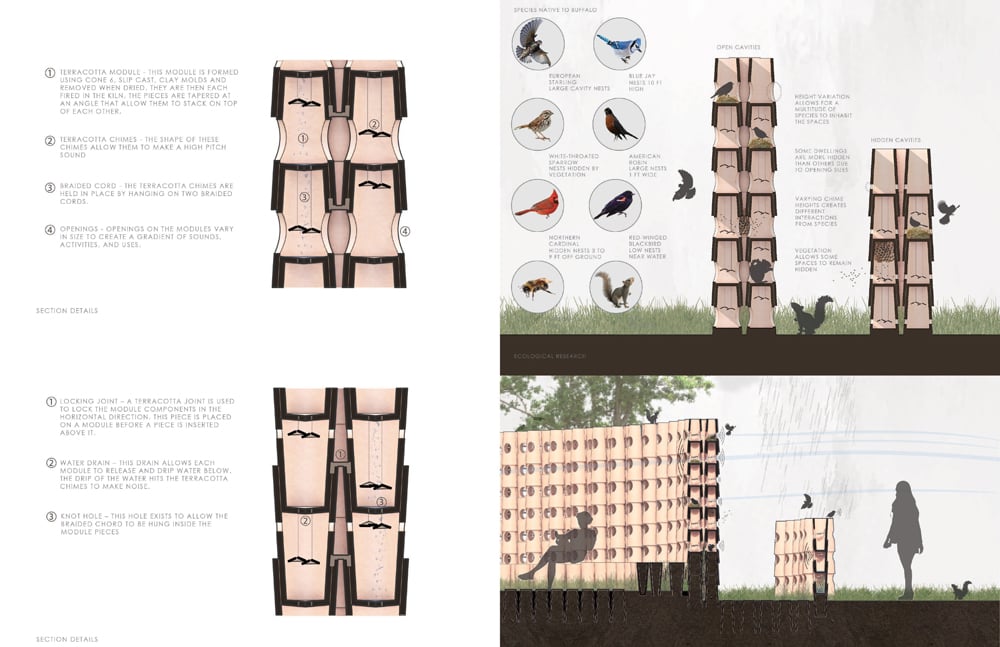 You may also enjoy "Boasting New Exhibitions and a Renovation, the National Building Museum Reopens Today"
Would you like to comment on this article? Send your thoughts to: [email protected]
---
Register here for Metropolis's Think Tank Thursdays and hear what leading firms across North America are thinking and working on today.