February 26, 2019
GAME CHANGERS: The Hip Hop Designers Challenging the Architecture Establishment
Born in the '90s from hip-hop culture, this critical architecture movement has been coalescing for decades though may be poised for a second wave.
---
For more than 40 years since emerging from South Bronx house parties, hip-hop has been a direct, powerful confrontation with the built environment. Hip-hop bloomed in the shadows of housing projects, among the husks of burned-out high-rises, and in view of subways tagged with a rainbow of graffiti. "Broken glass everywhere / People pissing on the stairs, you know they just don't care," Grandmaster Flash and the Furious Five rapped on their seminal 1982 track "The Message."
"Hip-hop is architectural," insists Stephen Slaughter, assistant professor at the University of Cincinnati School of Architecture and Interior Design. "It comes out of a practice of space, of spatial and economic practice, and of people's response to that."
Beginning in the 1990s, architects, academics, and artists like Michael Ford, Amanda Williams, and James Garrett Jr. grappled with the idea of hip-hop-driven architecture. It was teased out in visual artworks such as Williams's 1997 mixed-media collage This Is My Nursery School, which features rap lyrics scrawled over images of parking lots, billboards, and urban detritus, and in academia, as with Garrett's 2004 essay for the Community Arts Network, "Resonant Spaces/Dynamic Flow."
---
A Syracuse University symposium organized by architect and professor Sekou Cooke in 2015 helped crystallize the movement. Late last year, Cooke curated a capstone of sorts, Close to the Edge: The Birth of Hip-Hop Architecture, at New York's Center for Architecture (CFA). The exhibition made a persuasive case for a mature yet emerging global design movement arising from hip-hop culture. Historian, curator, and CFA president Barry Bergdoll compared the show to Philip Johnson's seminal 1932 MoMA exhibition defining the International Style.
"That Philip Johnson show was the beginning of this really deep, really wide debate," Cooke says, reflecting on Bergdoll's analogy. "I want that to happen here and, more importantly, to empower young kids… to express it in their work."
Hip-hop brought that sense of empowerment to artist and designer Nathan Williams. Williams was an architecture undergrad at Cornell and DJing to pay tuition when, in 1993, he created what is considered the earliest documented student exploration of hip-hop architecture. Hip Hop Ar(t)chitecture: Signifyin(g); Sample, Layer, Repeat was a mixed-media collage layering images of black bodies, African patterns, and elements of urban life. Today, Williams is called the godfather of hip-hop architecture.
"The people that were influencing me at school didn't know anything about hip-hop. But they knew about contextualizing and your relationship with the rhythm of what's going on," Williams says. "[When] you don't have a given space, you're going to take the marginalized space, you're taking the in-between."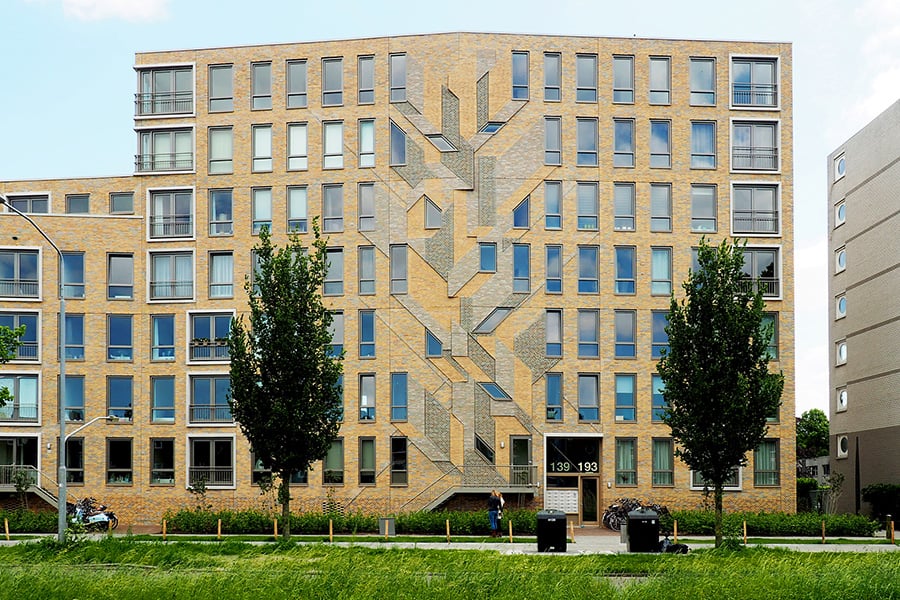 ---
Like Williams, Slaughter—who, in addition to his work at the University of Cincinnati, hosts hip-hop and urbanism workshops at the nonprofit Elementz—grew up immersed in hip-hop culture, listening to conscious rappers like Public Enemy, Queen Latifah, and De La Soul. A commitment to hip-hop and its four elements—DJing, B-boying, MCing, and graffiti—is a common denominator for nearly every hip-hop architect and project. Take, for example, a 2014 low-income housing complex designed by Dutch firm Heren 5 in Haarlem, the Netherlands, whose brick facade by artist Boris "Delta" Tellegen resembles graffiti rendered in brick, or 4RM+ULA's proposal for an arts center in St. Paul, Minnesota, that, when built, will feature dynamic LED lighting that "tags" the building.
Tajai Massey, though, is next level. After spending more than three decades in hip-hop, as a member of Souls of Mischief and Hieroglyphics, the Oakland, California–based rapper went back to school and earned his M.Arch. from UC Berkeley in 2014. Massey, who still raps, now wrestles with applying hip-hop's lessons to his design work in Oakland, where he sees similarities to the early-'70s Bronx.
Indeed, the continual hollowing out of marginalized urban communities across the country could very well be the catalyst for hip-hop architecture's burgeoning second wave. "We're at ground zero," says Massey. "And the conditions that predicted this hip-hop thing, they're happening right now again."
You may also enjoy "In Pittsburgh, Schoolhouse Electric Reimagines an Abandoned Midcentury Modern Building."
Would you like to comment on this article? Send your thoughts to: [email protected]