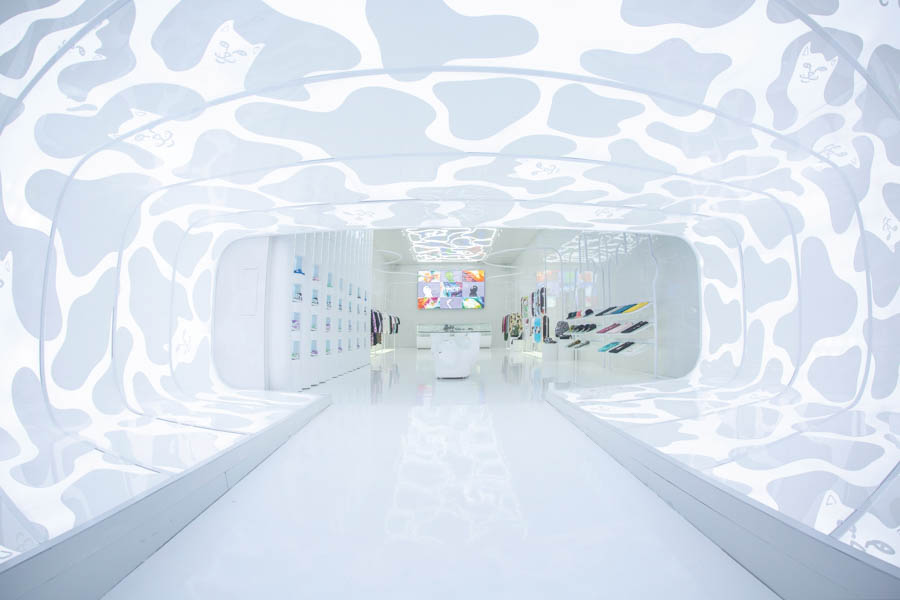 November 13, 2020
New Talent: Jerome Byron Is a Rebel Without a Pause
The architect and designer managed to emerge from the traditional architecture pipeline with his counterculture instincts intact.
Despite his M. Arch from Harvard University Graduate School of Design, and a three-year stint at Skidmore, Owings & Merrill, Jerome Byron sees himself, professionally speaking, as swimming against the tide. Now 33, the architect was first drawn to the design profession in high school. His alma mater, Fort Hayes Metropolitan Education Center in Columbus, Ohio, is a public magnet school dedicated to fine arts and intensive academic instruction. "I focused on painting and drawing with the idea of going to art school. Mostly big oil paintings of people, which I did from photographs, and all sorts of buildings," Byron says.
But being reared by a single mother and spending summers with his contractor uncle on New York City construction sites made him pragmatic enough to take drafting courses, too. "I wanted a skill with a technical, business-related component. I knew I wanted to study architecture," he recalls. "But I had to get in using a fine arts portfolio, not my test scores."
While earning his B. Arch at Pratt Institute in Brooklyn, he learned about some of the profession's notorious norms. "Five years of staying up working in the studio three nights a week, I learned discipline. But I was also discovering that architecture is a very insular world, especially in school, where you may look up to instructors who choose to run their studios like mini offices," he says. "It becomes a special club. I'm not a fan of that. And I was critical of how small and self-referential the architecture world is. In school, so much of what we're asked to draw on is just more architecture."
By contrast, his philosophy is that influences on his practice should come from sources outside the field: His creative process might begin with music, a movie, or imagery, which he admits can be challenging to "mood board" for clients.
In an extreme example, he has been developing a book of house designs titled Test My Gangster: 10 Houses for 10 Rappers, inspired by a song with a similar name by Three 6 Mafia. Each will have a thematic design based on the artists' personalities: One for Outkast was a biodome on Mars.
Two years ago, he completed a bright white flagship for Los Angeles skater store RIPNDIP; its design evokes the overexposed quality of lighting in the Hype Williams–directed film Belly. Even his furniture is iconoclastic: A line of fiberglass-reinforced concrete seating is designed to reclaim the material from its Brutalist associations. The form-poured benches appear thin, pastel-colored, and brittle, but are actually durable.
Still, when he needs them, Byron does use traditional presentation tools—flotation devices to hold up his heady concepts. Clients want to see things before they're done. "So I've learned to work backwards, embracing existing built references a bit more," he says. "My creative process is the same. I just keep it a secret until the end."
You may also enjoy "A Home in L.A. Has an Introverted Facade, but Exuberant Interior"
Would you like to comment on this article? Send your thoughts to: [email protected]
---
Register here for Metropolis's Think Tank Thursdays and hear what leading firms across North America are thinking and working on today.