March 4, 2019
Architect Kevin Roche Passes Away
Roche, the Pritzker Prize–winning architect who completed Eero Saarinen's 12 unfinished projects with John Dinkeloo, also helped author iconic projects like the Ford Foundation and Oakland Museum.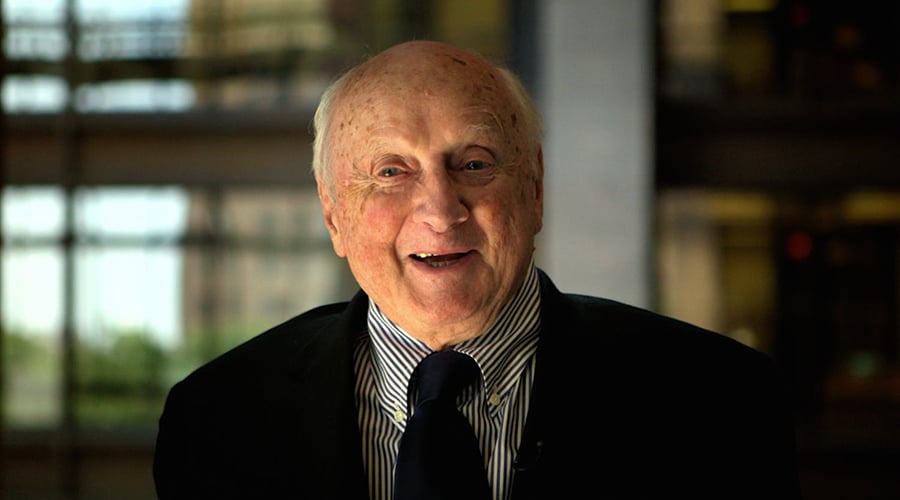 ---
Kevin Roche, the Irish-born architect who practiced for more than 60 years, passed away this past Friday at his Connecticut residence.
Roche's influence on the profession is as deep as it was long. After immigrating to the U.S. and studying briefly under Mies van der Rohe at the Illinois Institute of Technology in Chicago, Roche found his way to Eero Saarinen's office in 1950, where he quickly became a major figure, assisting Saarinen on his major projects such as the CBS Tower, Dulles International Airport, the TWA Flight Center, John Deere Headquarters, and St. Louis Gateway Arch. After Saarineen's untimely death in 1961, Roche and fellow firm architect John Dinkeloo finished Saarinen's uncompleted projects then founded their own eponymous practice in 1966.
The firm, Kevin Roche John Dinkeloo and Associates, assumed a leading role as architects of the country's major corporations and cultural institutions. Two early successes were essential to the firm's ascent: the Oakland Museum in California and the Ford Foundation in New York. The former—opened 1969—is a low-lying, multi-leveled design that features a five-acre green roof designed by Dan Kiley. It was renowned for its openness to the public and represented a milestone of museum architecture. The latter, recently renovated by Gensler, also pioneered a new paradigm, but for the corporate office. It was open, sunlit, green, and designed to encourage a sense of community among its employees. Speaking to Metropolis in 2008, architecture critic Ada Louise Huxtable said, "We were still fighting the battle with developers of that stupid mantra: 'Highest and best use of the land'—which simply means the most money you can wring out of it…. It was simply accepted that there was no other way to build. We were still fighting that, and for Ford to do this was just magnificent. And I must say, when it opened it was so ­beautiful."
---
Projects such as these made Kevin Roche John Dinkeloo and Associates the go-to architect for countless organizations. The Metropolitan Museum of Art and the Central Park Zoo were two long-running clients, and while the firm completed a diverse array of project types, it was most prolific in its design of corporate headquarters. Noted offices include the 1964 John Deere World Headquarters in Moline, Illinois, and 1971 College Life Insurance Company in Indianapolis.
Roche's popularity with corporations may have reflected his design process: it was very much about problem-solving. "On occasion, there's a big gesture, and that's okay," he told The Irish Times in 2017, "but I'm basically a problem-solving construction guy." His pragmatism, however, did not mark a preoccupation with functionalism. "I still don't think architecture pays enough attention to the user, to the person who has to live in the building," he said to The Irish Times. "They don't get nearly enough consideration. Because they're the person who has to live or work in or worship in or whatever in the building. Architects don't always take into account how people find their way around, or how a building fits into environment, or how it can make people happy."
Roche won many accolades: in addition to the Pritzker Prize (1982), he's been awarded the Gold Medal Award for Architecture from the American Academy of Arts and Letters (1990) and the AIA Gold Medal (1993). He continued to design late in life: Roche was design architect for New York City–based KPF's 55 Hudson Yards, which will be among the projects feted at the development's grand opening on March 15.
You may also enjoy "GAME CHANGERS 2019: 6 Individuals, Practices, and Movements Changing Design."
Would you like to comment on this article? Send your thoughts to: [email protected]