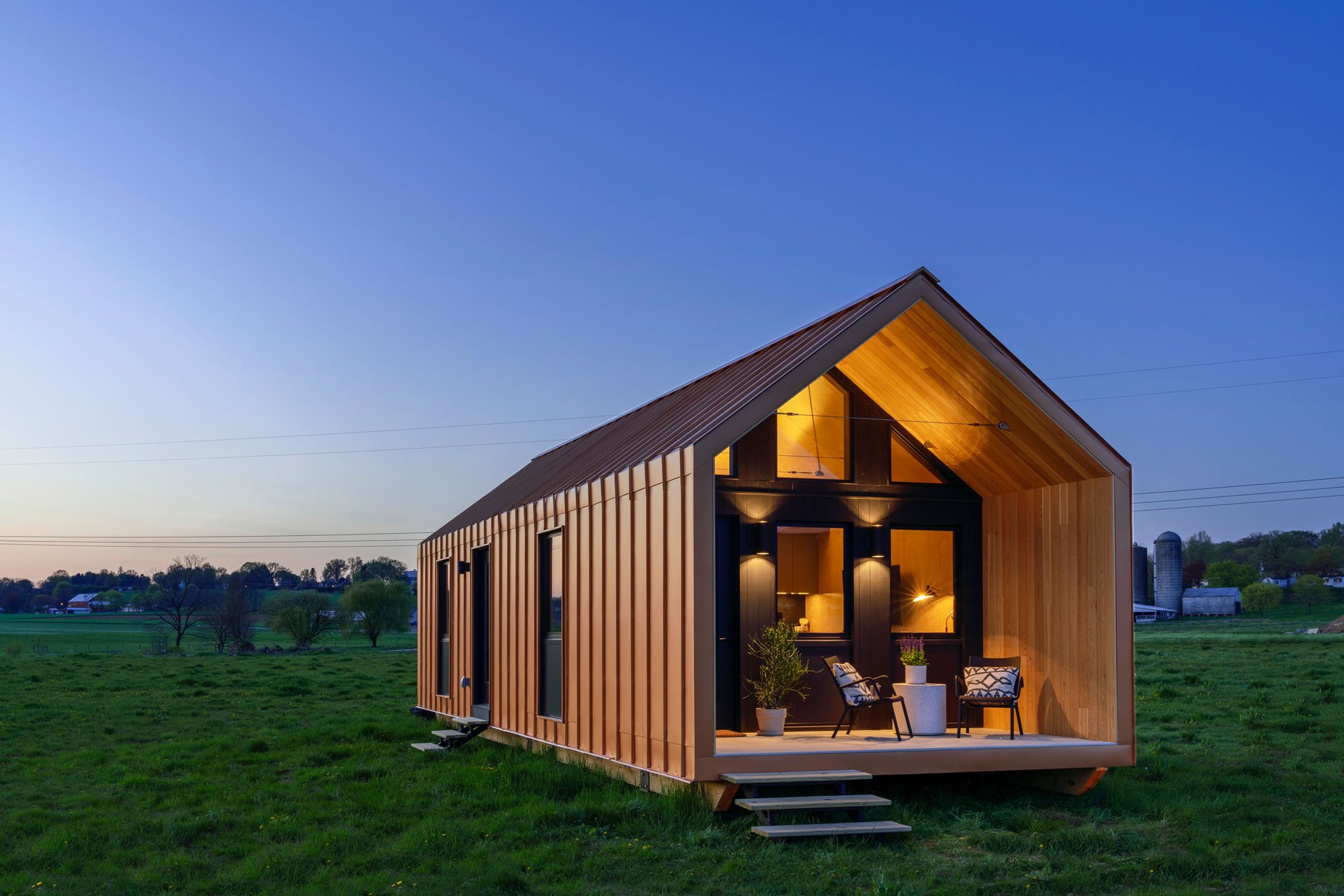 January 18, 2023
Liv-Connected's Design-forward Units Are Helping Redefine Modular Housing
Soaring mortgage rates. Record low housing inventory. And the rent is too damn high. The last few years have been a rollercoaster ride in the real estate market, creating a housing affordability crisis that has hit its worst level in 37 years. Supply chain disruptions caused by the pandemic and war have sent prices skyrocketing, so even for those lucky enough to afford a home, renovation has become costly.
In the midst of this housing crunch, companies such as Liv-Connected have entered the fray to offer more affordable options. What started as an alternative to drab disaster relief trailers became Liv-Connected's first housing prototype. Intended as a fusion of healthcare, architecture and design, the company was founded by doctor and medical entrepreneur Herb Rogove and his architect son Jordan Rogove.
Rogove, who is also the founder of architecture firm DXA Studio, brought on his firm co-founder Wayne Norbeck and architect Joe Wheeler, who is now Liv-Connected's chief innovation officer, to create the company.
While there are numerous prefab housing options on the market, Liv-Connected sought to solve for some of its inherent inefficiencies. One of the most challenging is shipping prefab components cheaply, quickly, and easily—especially when disaster strikes. "We wanted to design rapidly deployable disaster relief solutions," explains Jordan. The team set out to design a prototype that was less "soul crushing" than the typical FEMA trailer but also easy to build.
The first model, Conexus, uses a system of modular components that can be "clicked" together, an idea familiar to any parent of toddlers who play with Magna-Tiles. The components are shipped flat on trucks and are designed to be easy enough to assemble that no specialized construction knowledge is necessary. "The flatbed packing brings down the cost of distribution and transportation, so we can use higher quality materials" says Jordan.
The Conexus starts at $150,000 for the most basic version and Liv-Connected provides recommended floor plans but the pieces are built to be plug-and-play so owners can arrange it in whatever configuration works best for them.
Construction is also meant to be fast and simple. "It was designed to be built with a minimum of three people," says Wayne, who has seen a Conexus home built in as little as four hours with a team of six people. The ingenuity of the design won accolades in a FEMA competition in Texas, placing them as one of four finalists to provide state-of-the-art affordable disaster relief housing in that state.
While the company's roots are in disaster relief, the elevated design combined with affordability means there is a wider potential market for the Conexus. "We are broadening the audience," says Wayne, who typically works with high-end residential clients in New York via his firm DXA Studio. "People who don't hire an architect can get architectural design."
Liv-Connected anticipates the process will resemble the car buying experience, with online configurators that let buyers customize their selection of finishes and materials. As a set of configurable components, Conexus can be highly modular. It can be built as a one-bedroom home with room to expand as a family grows or stacked as a double decker to create duplex row houses.
The company aspires to not only provide affordable housing options but design that also focuses on health and wellbeing. Aesthetic decisions, such as its gabled roof, were driven by function. "[It] folds up and is flat packed," explains Jordan.
The effect is a smaller footprint that feels much more expansive, with high ceilings and large windows opening up the interior. Jordan and his co-founders wanted to create a home that was "uplifting and dignified" and they intentionally chose materials that were not just affordable but also sustainable and resilient.
The team at Liv-Connected want to take the same principles and apply them to the mobile market. Its upcoming Via model has wheels and a tow hitch built in, so owners can transport it to any location. The Via's pricing starts as low as $90,500.
Both models are clad in finished poplar plywood and have one point of connection for utilities. The company is also developing upgrades that integrate advanced healthcare technology such as smart devices that can check vital signs, fall detection, and adjustable counter tops. In a nod to sustainability, future upgrades will include solar and off-the-grid packages, efficient appliances, and recycled materials.
Ultimately, Liv-Connected's ambition is broader than offering a new alternative for affordable housing. "There are a lot of people who are skeptical of modular," admits Jordan. "We want to win them over."
Would you like to comment on this article? Send your thoughts to: [email protected]