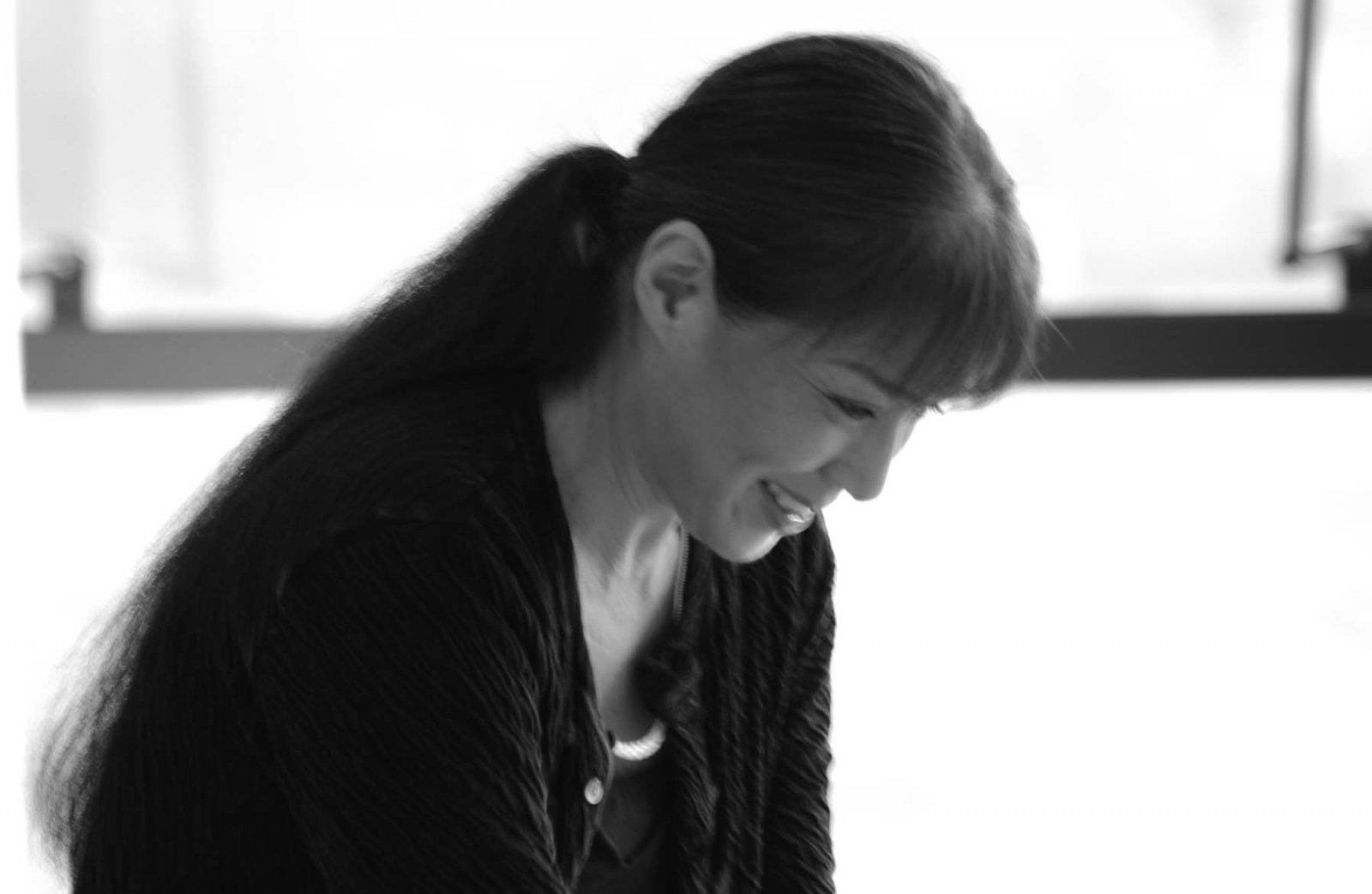 January 26, 2015
Longtime Issey Miyake Collaborator Steps Into the Spotlight
Handcrafted textiles and technically innovative fabrics often seem worlds apart. This Japanese powerhouse has been opening up exciting possibilities for textile design by combining the two.
Courtesy Yasuaki Yoshinaga
One name inevitably crops up in the numerous newspaper articles, magazine features, and books that have been written about fashion designer Issey Miyake in the last three decades. "With his textile designer, Makiko Minagawa…," the typical article says, then offers scant details on this enigmatic designer. But Minagawa has contributed in no small part to Miyake's global acclaim.
Since 1971, the textile designer has been translating Miyake's exacting ideas into innovative fabrics. But over the years her working methods, especially for her own fashion brand, HaaT, have acquired a distinct character, simultaneously embracing the mundane and the special, the old and the new. "Her work feels more rooted in craft, but also more contemporary," says Matilda McQuaid, deputy curatorial director at the Cooper Hewitt, Smithsonian Design Museum, noting the paradox at the heart of Minagawa's stunning textiles.
Minagawa comes from a proud artisanal lineage in Kyoto, Japan—her grandfather specialized in hand-brushing dyes onto silk kimonos, her father designed textiles for fabric screens. But she searched for her own creative voice as a design student, and it was her ability to look at things differently that attracted Miyake. "I was always focused on creating something new, starting in college," she says. "Mr. Miyake wanted something unusual. I was just the right person for him because I always like to challenge. That's my spirit, that's my base. I like extremes."
A sculptural smock (left) in HaaT's Autumn/Winter 2014 collection was inspired by Japanese lanterns. The entire fabric (right) is woven on a jacquard loom with one warp, with differences in weft yarns producing the dimensional effect. The white portions are cotton, with extra weft in wool. The black portions use a yarn with a polyester core.
Left: courtesy Yusuke Miyazaki; Right: courtesy Takuo Itayama
---
One typical story of Minagawa's design process starts with a Roomba. The gray, woolly mess produced inside the little robotic cleaners fascinated her. "I looked at the dust and thought this must be the ultimate CMYK," she says of the neutral shade that results when the colored detritus of everyday life is mixed together. But how to translate this into cloth?
Minagawa approached some mills that were producing organic cotton yarn and asked them to accumulate their fuzzy leftovers. She gave those leftovers to traditional spinners and weavers in Japan's Tōhoku area, which had recently been ravaged by a tsunami. They crafted the fibrous mess into multicolored, incredibly downy scarves that have been part of HaaT's collections since 2011. "It's like Khadi," she explains, referencing the Indian hand-spun, handwoven fabric that Mahatma Gandhi turned into a symbol of empowerment and freedom.
HaaT ensembles blend textile traditions from many cultures. Minagawa has been visiting India since 1983, and has built relationships with craftspeople in the city of Ahmedabad there. This long wool jacket was handwoven in the Kutch region of India. The pashmina stole uses the Japanese Arimatsu tie-dyeing technique.
Courtesy Yusuke Miyazaki
---
Whether she's working with the lone custodian of a nineteenth-century printing technique in Kyoto, or persuading an industrialized mill to create entirely new kinds of yarn, "I do feel they are both the same challenge, and they are both enjoyable," Minagawa says, speaking sometimes through an interpreter, and sometimes with great force and precision in English. "I choose to work with people who are willing and open to new ideas, to experiments. That's where I find joy in this work."
This is epitomized in HaaT, whose upcoming 15th anniversary she recently celebrated in New York City. HaaT—which is an approximate homonym for "heart," as well as meaning "marketplace" in Hindi—is Minagawa's way of marrying traditional Japanese textiles, the high-tech innovation she loves, and craft techniques from India, where she has been visiting for many decades. The brand produces clothing that is as exquisite as it is idiosyncratic. (When Bergdorf Goodman began carrying the line in 2004, the store's fashion director, Roopal Patel, referred to HaaT enthusiasts as a "secret club.")
Shinkoku is a traditional Japanese dyeing technique used to produce a highly saturated black color. Above, left: A cotton dress dyed in this way is made of two layers stitched together in a pattern of triangles. The top layer is then cut up for an appliqué-like effect. Above right: Shinkoku-dyed Thai silk on the left, and the cotton fabric used in the dress.
Left: courtesy Yusuke Miyazaki; Right: courtesy HaaT
---
Minagawa's outfit at the anniversary celebration at Issey Miyake's Tribeca store in New York City was representative of the brand—a cotton jacket in a black as dark as ink. "In Japan, black clothing is a very special thing," explains Nancy S. Talcott, Miyake Design Studio's U.S. liaison. "For formal occasions, it can't be gray or off-black." Four generations ago, a dyer in Kyoto discovered a way to achieve this high saturation of color—by accidentally dropping an egg white onto a kimono. His descendant, the only dyer alive who has mastered this technique, now works with Minagawa.
The jacket has a ragged texture, contributed by the fraying edges of hundreds of black patches that seem to be sewn onto it. In fact, two lengths of fabrics were stitched together in a pattern of triangles, and the negative spaces in the top layer of the cloth were cut through by hand. "After cutting, we send it for shabu-shabu washing. You know what is shabu-shabu?" Minagawa asks. It's Japanese hot pot, the method of cooking meat by agitating it in a boiling bowl of broth.
The designer's process is driven by a wry sense of humor—dyeing cloth in egg whites, then treating it like a piece of meat. Minagawa also loves food metaphors. When talking about the texture of a yarn that is made of soft cotton wrapped around a stiff polyester core, she describes it as "macaroni, just before it is al dente." There, as with the hot-pot method, it's a very subtle effect that Minagawa was expressing. Two to three minutes of shabu-shabu, and the frayed edges of the triangles on her jacket radiate an even darker black.
These fabrics, from the Spring/Summer 2015 collection of Makiko Minagawa's brand HaaT, are a celebration of color. Both use a vanishing technique called temper printing, which was developed in Germany in the nineteenth century and has declined due to the popularity of ink-jet printing.
Courtesy HaaT
---
Such thoughtful, but daring, combinations of textile production processes did not long go unnoticed in art and design circles. "No other fashion and textile design team in Japan has used layering more effectively to create intriguing three-dimensional work than Issey Miyake and Makiko Minagawa," McQuaid wrote in the catalog of Structure and Surface: Contemporary Japanese Textiles, a 1998 exhibition at New York's Museum of Modern Art that was also America's first introduction to the textile designer's work. Other accolades in this part of the world have followed, including a 2006 solo show at the Museum of Fine Arts, in Boston. Minagawa has acquired a knowing audience in the past few years.
The people who came together in New York to celebrate HaaT's anniversary last October, most loyally attired in Minagawa fabrics, were something more than customers, something less than fanatics. Amidst them, the designer remained her matter-of-fact self. When someone expressed awe at how all the details in a single garment could possibly be achieved, she had a twinkle in her eye. "It's a lot of work, you know," she said. "I'm thinking every day."
---